School of Pharmacy

The School of Pharmacy is been approved by the Pharmacy Council of India, All India Council of Technical Education and University Grants Commission. The school started its first batch in the academic year of 2019-20. The school has 6 modern classrooms, 13 modular laboratories with sophisticated instruments. The school is attached to the general hospital which is situated in the campus of Sathyabama Institute of Science and Technology.  Pharmacy School has well-qualified, foreign-trained skilful professional teaching professors with a doctorate or post-graduation degrees. School of Pharmacy motivates and encourages the faculty members to actively participate in research activities. 
The pharmacy career perfectly suits for students who are interested in pharmaceutical sciences and how the medicine assists patients to cope up with their health condition. There are countless exciting career opportunities available for the pharmacists worldwide. Sathyabama School of Pharmacy has one dream of impacting and improving the patient health through erudite and collaborative pharmacy practice and research. The combination of innovative teaching and hands-on interactive learning in our world premier school of Pharmacy, the outcome is always predictable: the students emerge as differentiated graduates who are prepared to meet the challenges of an ever-evolving health care industry. Students will also benefit from training placements and community health services within the industry to provide valuable insights and gain professional experience.
39
Number of Publications
Research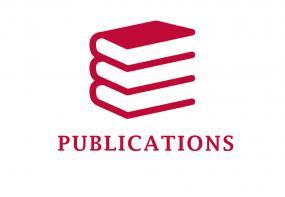 PUBLICATIONS
Scientific papers are published and some are under publication process in various international peer-reviewed open access journals from the different departments of pharmacy like Pharmacology, Pharmaceutical Chemistry and Pharmacy Practice.
Vision
The school aspires to attain academic and research excellence and to maintain a world-class standard
Mission
It aims to graduate fine pioneer pharmacists capable of competing at national and international levels who can bring forth positive health outcomes through the pharmacy profession and community service.
The school prepares graduates for a successful career in a healthcare setting by emphasizing problem-solving, decision making, critical and creative thinking built upon a strong foundation of basic knowledge and skills.
Program Education Objectives (PEO's)
PEO 1: To educate pharmacy graduates with strong fundamental concepts and high technical competence in pharmaceutical sciences and technology, to meet the competence of the pharmaceutical industry.
PEO 2: To train the students to contribute towards the better health outcomes on the prevention and management of diseases.
PEO 3: To encourage the students to participate in continuing pharmacy education for a highly productive career in relation to the concepts of Pharmaceutical Sciences towards serving the cause of society.
Program Outcome (PO's)
PO 1: To provide sound knowledge on the principles of Pharmaceutical Sciences and their applications.
PO 2:To develop the ability for in-depth analytical and critical thinking to overcome the issues related to Pharmaceutical Industry, Regulatory Agencies, Hospital Pharmacy & Community Pharmacy
PO 3:To promote skills to solve, analyse and interpret data generated from Formulation Development, Quality Control & Quality Assurance.
PO 4:To demonstrate knowledge of Research & Development in different disciplines of Pharmaceutical Sciences and Technology that benefit society.
Program Specific Outcomes (PSO's)
PSO 1:To prepare the graduate to success in technical or professional careers in the various pharmaceutical industry or Health care facilities through education and training.
PSO 2:To prepare a graduate of the program to learn and adapt to the constantly evolving trends in the industry.
PSO 3:To strengthen the student pharmacist with an ethical attitude, effective communication skills, teamwork skills, multidisciplinary approach to relate to social necessities.
PSO 4:To pursue a lifelong career of personal and practising professional growth with ethical codes and self-esteem.
Department Highlights
10 plus students from first year have bagged prizes and awards in competitions conducted in national and international conferences in Tamilnadu and Andhra states.
More than 30 students have participated in E-Poster, Poster, Oral, Drawing, Awareness Brochure Framing at National and International Conferences conducted by pharmacy colleges all over India.
3 patents were filed in the fields of Pharmacology and Drug Discovery by the inventors from the School of Pharmacy in 2020.
2 project proposals were submitted to the government funding agencies by the faculties of our school.
Many research activities have been published in the indexed National and International Journals.
The department has organised many Seminars, Webinars, Faculty Development Programmes, Pharmacist Day Celebrations and more education-related activities for the benefit of students' knowledge enhancement.
Health Awareness Programmes are periodically conducted by the students along with the health care professionals like Physicians, Dentists, Nurses and Clinical Pharmacists.
Faculties of School of Pharmacy were the recipients of Outstanding Researcher Award, Distinguished Scientist Award, Best Poster and Best Oral Presentation Awards in 2020.
School of Pharmacy is specialized in providing the evidence-based education to the budding pharmacist.
The abroad trained well-experienced staff members are skilled to train the students to the excellence in the respective departments.
Raman Spectroscopy: Pharmacy researches that involve non-destructive chemical analysis technique to provide detailed information about chemical structure phase and polymorphy, crystallinity and molecular interactions utilize the Raman spectroscopy.
X-Ray Diffractometer: We have high-performance X-ray diffractometers that are designed for elucidating the ultimate quality diffraction data, with easy use and flexibility to change to different applications.
Scanning Electron Microscope: The SEM is utilized for the research studies on studying the surfaces of the solid objects by using a beam of focused electrons with low energy.
Students
Sathyabama Institute of Science and Technology places emphasize on co-curricular and extracurricular activities These activities are student centered and primarily aims to supplement regular curricular activities.Its goal is to represent the student body in making the study experience as rewarding and enjoyable as possible.
International Relations
Centre for Academic Partnership & International Relations is an initiative of Sathyabama Institute of Science and Technology devoted to promote academic alliances with Universities and Institutes at National and International level. The Centre establishes a link through Memorandum of Understanding to facilitate Research Collaboration, Student Exchange Programmes and Faculty Exchange Programmes.
Insights
Collaboration and MOU's
Facilities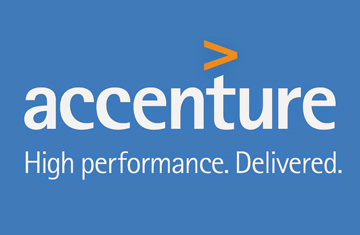 The collaboration and MOU's are underway with many other pharmaceutical companies for training and placements.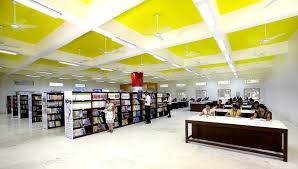 The Central Library: It has a vast collection of books for reference for D. Pharm, B. Pharm students. The books are collected with utmost care as recommended by the Pharmacy Council of India for both practical and theory. There are numerous e-books available for online access to both the faculties and students.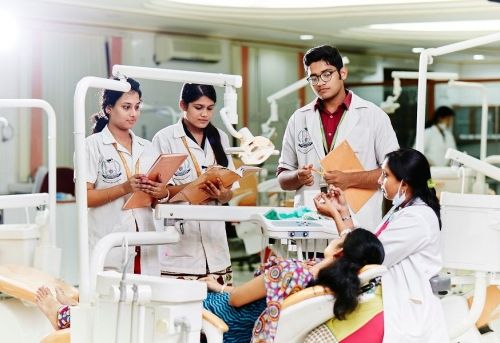 The Dental Hospital: A fully functional dental hospital runs inside the campus for the benefits of the public and students. Students can visit the hospital in case of dental ailments that is situated within the premises.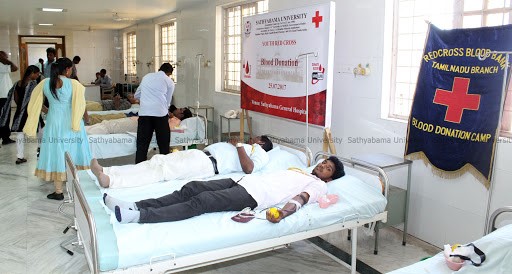 The General Hospital: The general hospital with multi specialities and versatile consultants are working round the clock for the better health of the public and students. Our Pharmacy students are planned to get training and practice in our hospital pharmacy in the areas of dispensing, drug information and drug storage.
Events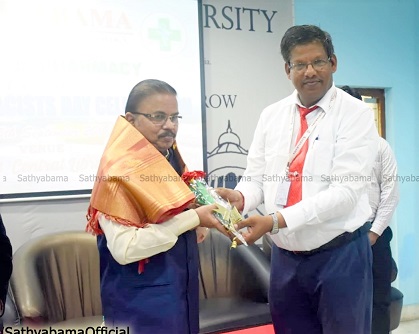 World Pharmacist Day was celebrated on 25 September 2019 to promote and advocate the role of the pharmacist in improving health all over the world. It also was useful in spreading awareness about the importance and role of the pharmacist to every budding student pharmacist.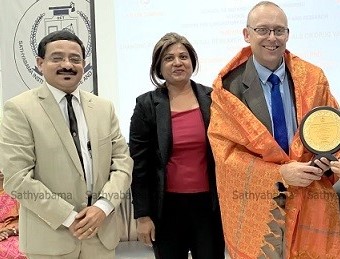 A national symposium was conducted on 18 - 19th November 2019 on the topic "Changing Paradigms in Clinical Research and Clinical Trials on Drug Validation". Various disciplines involved in the pre-clinical research, conduct of clinical trials were discussed. The symposium was very useful in educating the health care researchers on designing, operation, organizing, research computing, regulatory aspects and reporting of clinical trials. It promoted a better understanding among the participants about the importance of clinical trials in the prevention, diagnosis, and treatment of various diseases.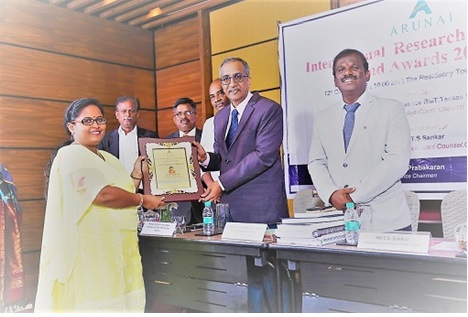 ​"Best Outstanding Scientist Award" by Arunai International Research Foundation was earned by Dr. A. Porselvi, Assistant Professor from the hands of Honorable Thiru. Justice RMT. Teekaa Raman at the International Researchers Connect and Awards 2019, Chennai 12th October 2019.​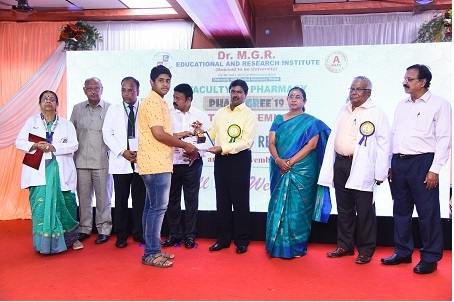 Mr. S. Shyam Sudarsan I B. Pharm student has won II prize in E. Poster Presentation on the topic entitled "A Review on Herbal Drug Discovery in the Recent Decade" at Dr. MGR Educational and Research Institute that held on 12th and 13th November under the guidance of Dr. A. Porselvi, Assistant Professor.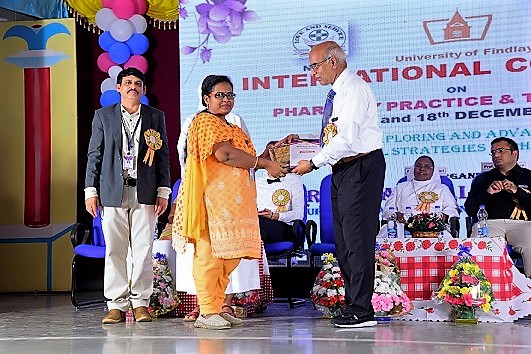 Dr. A. Porselvi, Assistant Professor, has won first prize in Oral Presentation on a topic entitled "A prospective study on the healing outcomes of diabetic foot ulcer after the implementation of clinical pharmacist intervention guidelines", held at International Conference organized by Nirmala College of Pharmacy in collaboration with Findlay University, USA held on 17 and 18th of December, 2019.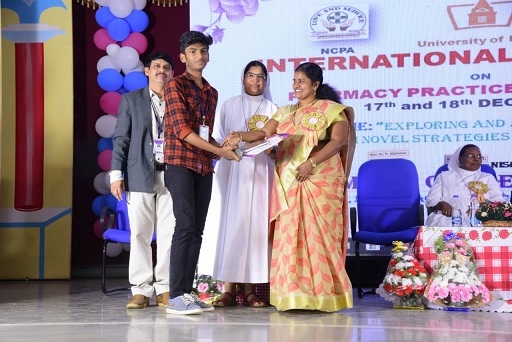 Mr. M. Deepan Balaji, I B.Pharm student has won first prize in Clinical Intervention Competition at International Conference organized by Nirmala College of Pharmacy in collaboration with Findlay University, USA held on 17 and 18th of December, 2019, under the guidance of Dr. A. Porselvi, Assistant Professor.​
Laboratories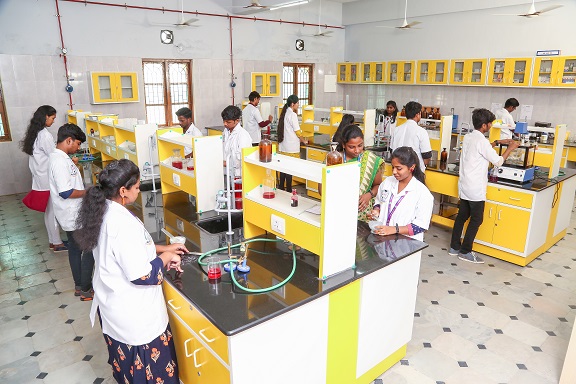 Pharmaceutics Laboratory: The Laboratory intended to provide knowledge on different dosage forms, formulation and its future developmental evolution. It also provides practical knowledge on cosmetics formulation and dosage forms future evolution.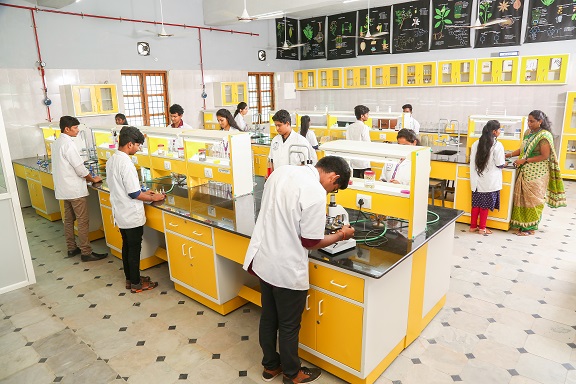 Pharmacognosy Laboratory: The Laboratory concentrates on the collection and identification of drug content and therapeutic use of natural drugs. The foremost concern of this department is to enrich the knowledge of students about phytochemistry and isolation of drugs from plant sources.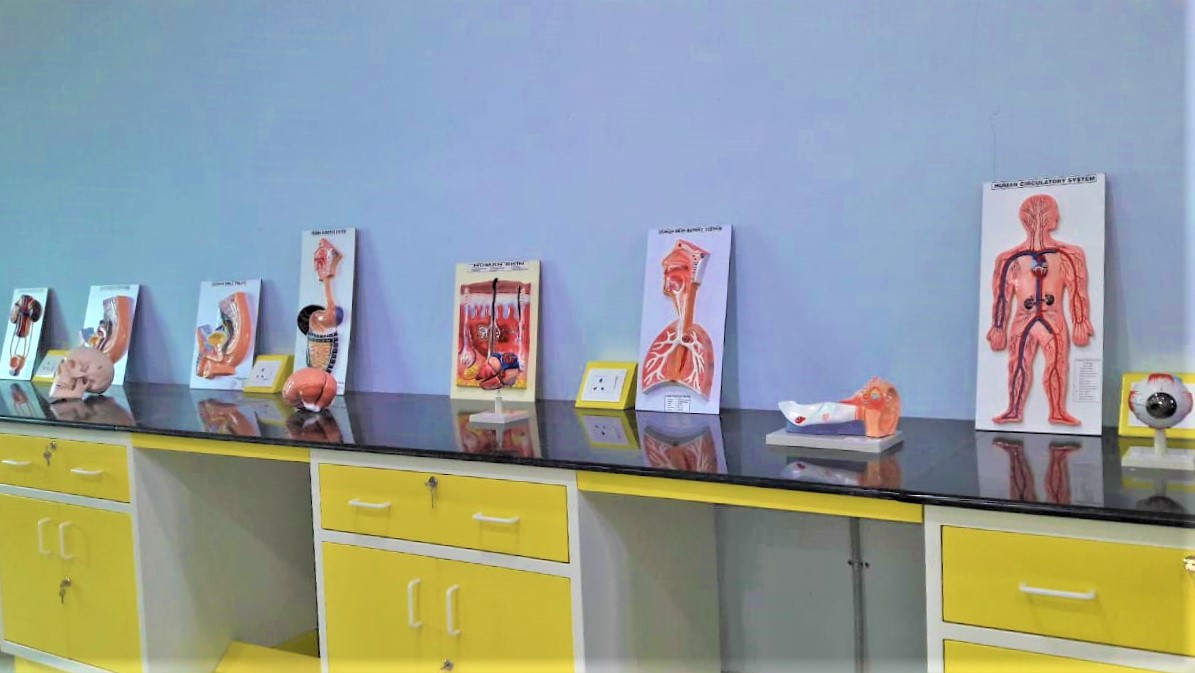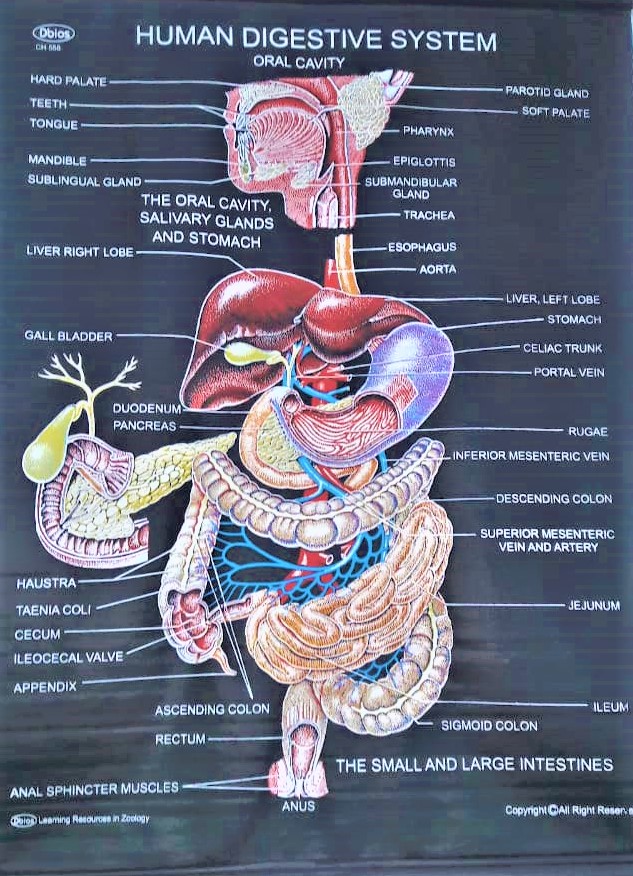 Museum: The museum is situated inside the Pharmacognosy, Pharmaceutics and Human Anatomy Physiology lab, showcases many informative charts, organ models, organ system and function scientific pictorial representations, specimens and Photographs. Different dosage forms are displayed in the Pharmaceutics museum.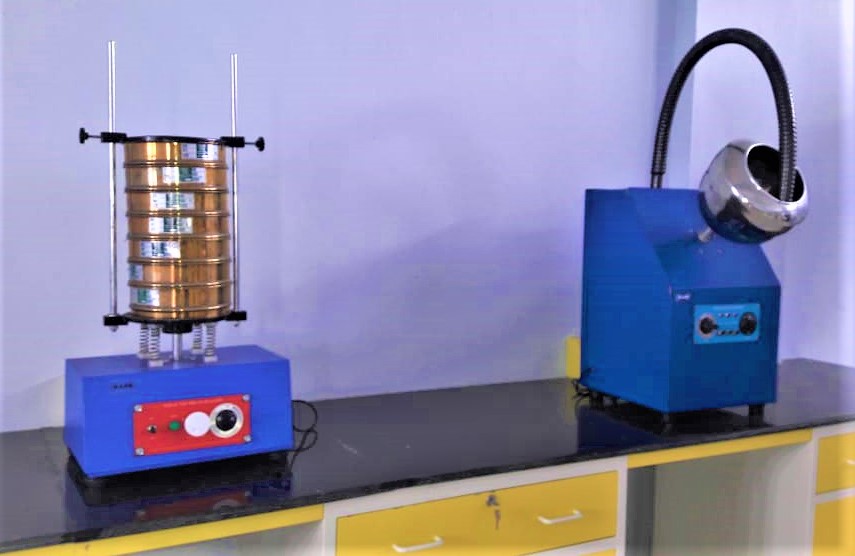 Machine Room: The machine room has sophisticated machinery necessary for the practical learning on formulations and development of tablets, capsules and other dosage forms, such as Ball mill, Cutter mill, Tableting machine, Coating pan, Spray coater, BOD Incubator, Tapping device, Mixer and shakers, Tray dryer, Ampoule filling and sealing machine, Ampoule washing machine, Ampoule clarity test apparatus, Disintegration test apparatus, Mechanical sieve shaker, Capsule filling machine, Friability test apparatus, Dissolution test apparatus, Hot air oven, Vacuum pump, Autoclave.
Curriculum
The curriculum and syllabus are framed by the Pharmacy Council of India, New Delhi for the Bachelor of Pharmacy (B. Pharm) and D. Pharmacy (D. Pharm) courses under Regulation 6, 7 & 8. These regulations shall be called as "The Revised Regulations for the B. Pharm. Degree Program (CBCS) of the Pharmacy Council of India, New Delhi". The regulations framed are subject to modifications from time to time by the Pharmacy Council of India. The course of study for B. Pharm shall extend over a period of eight semesters (four academic years) and six semesters (three academic years) for lateral entry students. Each semester shall consist of not less than 100 working days. The odd semesters shall be conducted from the month of June/July to November/December and the even semesters shall be conducted from December/January to May/June in every calendar year. A candidate is required to put in at least 80% attendance in individual courses considering theory and practical separately. The candidate shall complete the prescribed course satisfactorily to be eligible to appear for the respective examinations.
Dr. P. Shanmugapandiyan,
Dean , School of Pharmacy
9952923477, 044-24503150 Extn:5683