SATHYABAMA has more than 150 buses which are made available to the students and the faculty members for commuting from various points in the city and also from the suburbs like Ennore, Pattabiram, Thiruvallur, Red Hills, Chengleput, Poonamalle, Thiruvettriyur, Kancheepuram to the campus and back. All students should make use of the SATHYABAMA Transport or should stay in the hostel. This facility has made it possible to start the classes in time and thereby helping the academic process. Our bus facilities have enabled us to maintain discipline among students.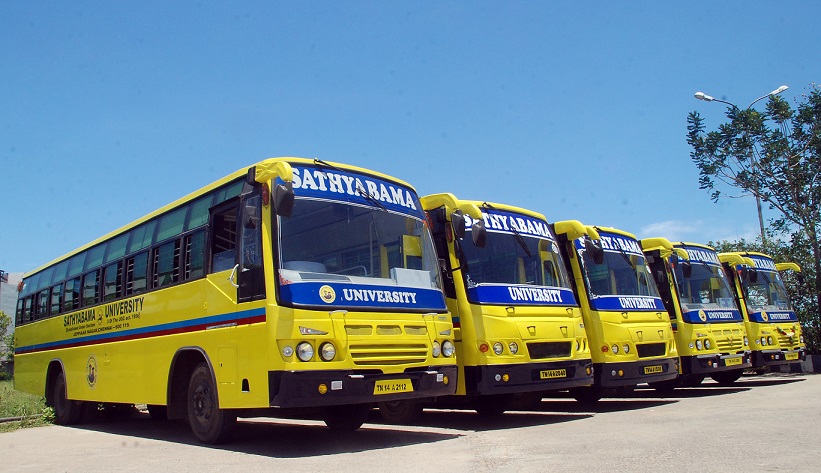 All the buses reach the Campus before 7.40 A.M, so that all the students and faculty can have their breakfast and get ready to attend the classes at 8.00 A.M.
The buses leave the campus at 3.15 P.M, for all the students to reach home safely,for the benefit of those students who are attending training / Special classes,courses  / accessing internet Facility / accessing Library facility etc., special buses are arranged everyday which leave the campus at 5.00 P.M.
Transport Schedule
Route No:1-Thirunindravur (Bus Stop)
Thirunindravur (Bus Stop)- 5.35 A.M
Jaya College - 5.40 A.M
Gandhi Nagar - 5.45 A.M
Pattabiram (Bus Stop) - 5.50 A.M
Hindu College - 5.55 A.M
Seakadu - 6.00 A.M
Avadi (Check Post)- 6.05 A.M
Avadi (Bus Stop) - 6.07 A.M
Govarthanagiri (Bus Stop)- 6.15 A.M
Murthi Nagar (Bus Stop)- 6.20 A.M
University Campus - 7.40 A.M
Route No:2-Korattur
Korattur (Bus Stop) - 6.20 A.M
Korattur - 6.20 A.M
Lucas - 6.25 A.M
Anna Nagar West (Depo Opp)- 6.30 A.M
Shanthi Colony - 6.35 A.M
Blue Star - 6.36 A.M
K 3 Police Station - 6.37 A.M
Anna Arch - 6.40 A.M
Arun Hotel - 6.42 A.M
University Campus -7.40 A.M
Route No:3-Porur (Rountana)
Porur (Rountana) - 6.20 A.M
Karambakkam - 6.22 A.M
Lakshmipuram (Bus Stop) - 6.25 A.M
Jai Garden (Bus Stop) - 6.27 A.M
Valasaravakkam (Bus Stop) - 6.30 A.M
Super Market - 6.33 A.M
Kesavarthini (Bus Stop) - 6.35 A.M
Laymake School - 6.37 A.M
Alwarthiru Nagar (Bus Stop) - 6.40 A.M
Virugambakkam (Signal) - 6.42 A.M
Avichi School (Bus Stop) - 6.45 A.M
University Campus - 7.40 A.M
Route No:4-Vinayagapuram (Bus Stand)
Vinayagapuram (Bus Stand) - 6.20 A.M
Arun Hotel - 6.45 A.M
Metha Nagar (Bus Stop) - 6.50 A.M
Choolaimedu (Bus Stop) - 6.55 A.M
Loyala College (Opp. Bus Stop) - 7.00 A.M
University Campus - 7.40 A.M
Route No:5-Villivakkam (Nadamani Theater)
Villivakkam (Nadamani Theater) - 6.25 A.M
Kellys (Uma Complex) - 6.35 A.M
Purasaivakkam (Garden) - 6.38 A.M
Egmore (Bus Stop) - 6.50 A.M
Chinthatripet (Market) - 6.55 A.M
University Campus - 7.40 A.M
Route No:6-Iyyapakkam Bus Stop
Iyyapakkam Bus Stop-6.10 A.M
Mugapair Radigate- 6.20 A.M
Mugaipair West (J.J. Nagar Bus Stop) - 6.25 A.M
Mugapair Golden Plats (Bus Stop) -6.30 A.M
Dav Cbse Boys School (Bus Stop) - 6.32 A.M
Krishna Nagar (Petro Bunk) -6.35 A.M
University Campus -7.40 A.M
Route No:07-Valluvarrkottam
Valluvarrkottam (Water Tank)-6.40 A.M
Hotel (Pamcrow)-6.43 A.M
Gemini (Under Fly Over)-6.46 A.M
Stella Mary's (College Bus Stop)-6.50 A.M
New Woodlands Hotel (Bus Stop)-6.53 A.M
Valluvar Statue (Bus Stop)-6.56 A.M
Luz Corner (Signal)-6.59 A.M
Mylapore Kulam -7.02 A.M
Mandaveli (Bus Stop)-7.05 A.M
Sathya Studio Bus Stop-7.10 A.M
University Campus-7.40 A.M
Route No:08 - Avadi Bus Stop
Avadi Murugappa Politechnic-6.05 A.M
Vaishnavi Nagar-6.06 A.M
Thirumullaivayil-6.10 A.M
Ambattur (O.T Bus Stop)-6.15 A.M
Dunlop (Bus Stop)-6.18 A.M
Ambattur Estate (Bus Stop)-6.25 A.M
Vavin (Bus Stop)-6.28 A.M
University Campus-7.40 A.M
Route No:09 - Urapakkam (Tea Shop )
Urapakkam (Tea Shop )-6.45 A.M
Vandaloor Zoo-6.50 A.M
Perungalathur (Bus Stop)-6.56 A.M
Eareekarai -6.57 A.M
Tambaram Gate-7.00 A.M
Camproad -7.10 A.M
University Campus-7.40 A.M
Route No:10 - Madhavaram (Post Office)
Madhavaram (Post Office)-6.20 A.M
Moolakadai (Bus Stop)-6.30 A.M
M.R.Nagar (Bus Stop)-6.35 A.M
M.K.B Nagar (Bus Stop)-6.40 A.M
Vyasarpadi (Bus Stop)-6.45 A.M
University Campus-7.40 A.M
Route No:11 - Red Hills (Bus Stand)
Red Hills (Bus Stand)- 6.00 A.M
Kavankarai - 6.07 A.M
Puzhal Jail - 6.08 A.M
Puzhal Camp (Bus Stop) - 6.09 A.M
Puzhal Cycle Shop - 6.10 A.M
Velachery Check Post- 6.50 A.M
Vijaya Nagar- 7.00 A.M
University Campus - 7.40 A.M
Route No:12 - Kolathur (Bus Stop)
Kolathur (Bus Stop)- 6.20 A.M
Moogambigai (Theater)- 6.25 A.M
Anna Statue - 6.30 A.M
Paravalur (Bus Stop) - 6.35 A.M
Venus (Bus Stop) - 6.40 A.M
Jammaliya (Bus Stop) - 6.45 A.M
Bhuvaneswari Theater - 6.55 A.M
Veppery (Bus Stop) - 6.58 A.M
Central (Railway Station) - 7.00 A.M
University Campus - 7.40 A.M
Route No:13 - Villivakkam (Nadamani Theater)
Villivakkam (Nadamani Theater)- 6.25 A.M
Kellys (Uma Complex) - 6.35 A.M
Purasaivakkam (Garden) - 6.38 A.M
Dasprakash Signal- 6.45 A.M
Egmore Police Hospital - 6.50 A.M
Chinthatripet (Market) - 6.55 A.M
University Campus - 7.40 A.M
Route No:14 - Nandambakkam Trade Center
Nandambakkam Trade Center - 6.20 A.M
Butt Road - 6.25 A.M
KathiparaAasarkan Bus Stop - 6.30 A.M
Meenambakam (Bus Stop)- 6.35 A.M
Pallavaram Petrol Bunk - 6.40 A.M
Chrompet (Bus Stop) - 6.45 A.M
Mepz Signal - 6.50 A.M
Tambaram West Bus Depo - 6.55 A.M
University Campus - 7.40 A.M
Route No:15 - AyyapanKoil (Bus Stop)
AyyapanKoil (Bus Stop) - 6.55 A.M
Balaiya Garden - 7.00A.M
Sadasivam Nagar - 7.10 A.M
Ram Nagar- 7.12 A.M
Kaiveli (Bus Stop) - 7.05 A.M
University Campus - 7.40 A.M
Route No:16 - Hasthinapuram
Hasthinapuram - 6.40 A.M
Chitlapakkam Indira Cotton Mills - 6.50 A.M
ChitlapakkamVaradaraja Theater - 6.55 A.M
Poondi Bazar - 6.57 A.M
Camp Road (Bus Stop) - 7.00 A.M
SanthosapuramPoothuKoil - 7.05 A.M
University Campus - 7.40 A.M
Route No:17 - Kumaran Theatre
Kumaran Theatre - 7.00 A.M
Madipakkam (Bus Stop) - 7.10 A.M
Axis Bank - 7.15 A.M
Kovilampakkam (Bus Stop) - 7.20 A.M
Medavakkam (Koot Road) - 7.25 A.M
University Campus - 7.40 A.M
Route No:18 - Kariyanchavadi (Bus Stop)
Kariyanchavadi (Bus Stop) - 6.35 A.M
KumananChavadi (Bus Stop) - 6.40 A.M
Ayyapanthangal (Bus Stop) - 6.45 A.M
Mugalivakkam (Bus Stop) - 6.53 A.M
Velacherry Bye Pass (EareeKarai)- 7.15 A.M
University Campus- 7.40 A.M
Route No:19 - Chengalpet (G.H)
Chengalpet (G.H) - 6.15 A.M
Chengalpet (New Bus Stand) - 6.25 A.M
Chengalpet (Old Bus Stand) - 6.30 A.M
S.P. Koil (Bus Stop) - 6.35 A.M
M.M.Nagar (Bus Stop) - 6.40 A.M
S.R.M. Nagar (Bus Stop) - 6.45 A.M
Srinivasapuram (Bus Stop) - 6.50 A.M
Tagore College - 7.05 A.M
Mambakkam (Bus Stop) - 7.10 A.M
University Campus - 7.40 A.M
Route No:20 - Chengalpet (G.H)
Chengalpet (G.H) - 6.15 A.M
Chengalpet (New Bus Stand) - 6.25 A.M
Chengalpet (Old Bus Stand) - 6.30 A.M
S.P. Koil (Bus Stop) - 6.35 A.M
M.M.Nagar (Bus Stop) - 6.40 A.M
S.R.M. Nagar (Bus Stop) -6.45 A.M
Srinivasapuram (Bus Stop) - 6.50 A.M
Tagore College - 7.05 A.M
Mambakkam (Bus Stop) - 7.10 A.M
University Campus - 7.40 A.M
Route No:21 - Thiruvalluvar (Bus Stop)
Thiruvalluvar (Bus Stop) - 6.00 A.M
Oil Mill (Bus Stop) - 6.05 A.M
Manavalla Nagar - 6.10 A.M
Ondikuppam (Bus Stop) - 6.15 A.M
Aranvoil - 6.20 A.M
Vellavedu (Bus Stop) - 6.25 A.M
Kumananchavadi (Bus Stop) - 6.35 A.M
Porur Signal - 6.45 A.M
Porur Police Station - 6.47 A.M
University Campus - 7.40 A.M
Route No:22 - Saligramam
Saligramam - 6.35 A.M
A.V.M Signal - 6.40 A.M
Vadapalani Depo - 6.42 A.M
Postal Colony - 6.47 A.M
Ayothimandabam - 6.50 A.M
Indian Bank - 6.51 A.M
Brindavanam Street - 6.52 A.M
S.R.M Hospital (Or) Udipi Hotel - 6.55 A.M
Kotturpuram - 7.00 A.M
University Campus - 7.40 A.M
Route No:23 - 12th Main Road
12th Main Road - 6.31 A.M
K4 Police Station - 6.35 A.M
Chinthamani (Signal) - 6.37 A.M
Kilpak Garden (Bus Stop) - 6.40 A.M
Pachaiappas (Opp) - 6.42 A.M
Tailors Road - 6.45 A.M
D.M.S - 6.50 A.M
Anna Arivalayam - 6.52 A.M
S.I.E.T - 6.55 A.M
Kotturpuram - 7.00 A.M
University Campus- 7.40 A.M
Route No:24 - Jailakshmi Theatre
Jailakshmi Theatre - 6.45 A.M
Mount Railway Station - 6.47 A.M
N.G.O Colony (Bus Stop) -6.55 A.M
Brindavan Nagar - 7.00 A.M
Kaiveli (Bus Stop) - 7.05 A.M
University Campus - 7.40 A.M
Route No:25 - Thandayarpet (Manikoondu)
Thandayarpet (Manikoondu) - 6.32 A.M
Maharani (Theater)- 6.35 A.M
Nirmala Store - 6.37 A.M
Mint (Bus Stop)- 6.40 A.M
Broadway Police Station - 6.42 A.M
Maadipoonga (Bus Stop) - 6.43 A.M
University Campus - 7.40 A.M
Route No:26 - C.P.Ramasamy Road
C.P.Ramasamy Road - 6.50 A.M
Kaliappa Hospital (Bus Stop) - 6.55 A.M
Sathyastudio - 6.58 A.M
AmbikaApplam - 7.00 A.M
Kasturi Bai Nagar (Bus Stop) - 7.04 A.M
Indira Nagar (Honda Shoroom) - 7.06 A.M
Indira Nagar (Water Tank) - 7.10 A.M
Thiruvanmiyur (Rto) - 7.12 A.M
University Campus - 7.40 A.M
Route No:27 - Raja Kadai (Bus Stop)
Raja Kadai (Bus Stop) - 6.20 A.M
Thangal (Bus Stop) - 6.22 A.M
Toll Gate (Bus Stop) - 6.25 A.M
Thandayarpet (Depo) - 6.27 A.M
Kalra Hospital (Bus Stop) - 6.30 A.M
Kasimedu (Bus Stop) - 6.33 A.M
Annai Theresa School - 6.34 A.M
Kalmandapam (Bus Stop) - 6.35 A.M
Royapuram Market - 6.40 A.M
University Campus - 7.40 A.M
Route No:28 - Ennore (Bus Stop)
Ennore (Bus Stop) - 6.10 A.M
Kathivakkam (Post Office) - 6.15 A.M
Ernavur - 6.18 A.M
Lift Gate (Bus Stop) - 6.20 A.M
Wimco Nagar (Bus Stop) - 6.23 A.M
Thiruvotriyur (K.G.L. Bunk) - 6.30 A.M
Patriyar Nagar (Vellanchatti School) - 6.33 A.M
Theradi (Bus Stop) - 6.40 A.M
EllaiyamanKoil - 6.43 A.M
Toll Gate (Bus Stop) - 6.50 A.M
University Campus - 7.40 A.M
Route No:29 - Thillai Ganga Nagar (Road)
Thillai Ganga Nagar (Road) - 6.50 A.M
Balaji Dental College - 7.15 A.M
Narayana Puram - 7.20 A.M
Pallikaranai (Bus Stop) -7.17 A.M
Medavakkam (Bus Stop) - 7.20 A.M
University Campus - 7.40 A.M
Route No:30 - Sithalapakkam (Bus Stop)
Sithalapakkam (Bus Stop)- 7.10 A.M
Sankarapuram (Bus Stop) - 7.11 A.M
Indira Nagar (Bus Stop) - 7.12 A.M
Jaya Nagar (Bus Stop) - 7.14 A.M
SithalapakkamKoot Road - 7.15 A.M
Veerapathiran Nagar - 7.17 A.M
Sowmiya Nagar (Bus Stop) - 7.18 A.M
Babu Nagar (Bus Stop) - 7.20 A.M
University Campus - 7.40 A.M
Route No:31 - Karayanchavadi
Karayanchavadi - 6.45 A.M
Porur - 6.50 A.M
Ayyapanthangal (Bus Stop) - 6.55 A.M
Mugalivakkam (Bus Stop) -6.58 A.M
Ramavaram - 7.00 A.M
Butt Road - 7.05 A.M
Velacherry Bye Pass (EareeKarai) - 7.10 A.M
Vijanagar Bus Stand - 7.15 A.M
University Campus - 7.40 A.M
Route No:32 - Dlf Garden City
Dlf Garden City - 7.25 A.M
Kumaran Nagar - 7.35 A.M
College Campus - 7.40 A.M
Route No:33 - DLF Garden City
Dlf Garden City - 7.25 A.M
Kumaran Nagar - 7.35 A.M
College Campus - 7.40 A.M
Route No:34 - MCC College (Bus Stop)
Mcc College (Bus Stop)- 7.05 A.M
Convent (Bus Stop) - 7.07 A.M
Selaiyur Police Station - 7.10 A.M
Camproad Bus Stop - 7.15 A.M
Poothukoil Bus Stop - 7.20 A.M
University Campus - 7.40 A.M
Route No:35- Nanganallur Park
Nanganallur Park - 6.45 A.M
Pazhvanthangal (Sub Way) - 6.50 A.M
Maruthi Cafe (Hotel) - 6.55 A.M
Chitambaram Stores - 6.58 A.M
Cakes Monark (Bus Stop) - 7.00 A.M
Vanuvanpettai Church - 7.03 A.M
University Campus - 7.40 A.M
Route No:36- Anupuram
Anupuram - 6.40 A.M
Anupuram Main Gate - 6.42 A.M
Prb Gate - 6.45 A.M
Poonjeri Toll Gate - 6.50 A.M
Thiruporur - 7.05 A.M
Ellalur Bus Stand - 7.07 A.M
KalavakkamAppartment - 7.10 A.M
Kelambakkam - 7.15 A.M
University Campus - 7.40 A.M
Route No:37- Kalpakkam Bus Stand
Kalpakkam Bus Stand - 6.25 A.M
Kalpakkam Ladies Hostel - 6.30 A.M
Satras Gate - 6.35 A.M
SatrasKottai - 6.37 A.M
Anupuram - 6.40 A.M
Anupuram Main Gate - 6.42 A.M
Prb Gate - 6.45 A.M
Poonjeri Toll Gate - 6.50 A.M
Thiruporur - 7.05 A.M
Ellalur Bus Stand - 7.07 A.M
KalavakkamAppartment - 7.10 A.M
Kelambakkam - 7.15 A.M
University Campus - 7.40 A.M
Route No:38- Besant Nagar (Bus Terminus)
Besant Nagar (Bus Terminus)- 7.00 A.M
Vanandurai (Bus Stop) - 7.05 A.M
Adyar Depo (Signal) - 7.10 A.M
Thiruvanmiyur (Signal) -7.15 A.M
V.G.P - 7.20 A.M
University Campus - 7.40 A.M
Route No:39- Thiruvanmiyur RTO
ThiruvanmiyurRto - 7.00 A.M
R.M. Hospital - 7.05 A.M
Palavakkam (Bus Stop) - 7.10 A.M
Neelankarai (Bus Stop) - 7.15 A.M
University Campus - 7.40 A.M
Route No:40 - Chinmaya Nagar Bus Stop
Chinmaya Nagar Bus Stop - 6.30 A.M
Mettupalayam - 6.45 A.M
Seenuvasa Theater - 6.47 A.M
Kannamapettai - 6.50 A.M
Halda Signal - 7.00 A.M
Thandeeswaram - 7.03 A.M
University Campus - 7.40 A.M
Route No:41 - Thiruvanmiyur RTO
ThiruvanmiyurRto - 7.00 A.M
R.M. Hospital - 7.05 A.M
Palavakkam (Bus Stop) - 7.10 A.M
Neelankarai (Bus Stop) - 7.15 A.M
University Campus - 7.40 A.M
Route No:42 - Thiruvanmiyur RTO
ThiruvanmiyurRto - 7.00 A.M
R.M. Hospital - 7.05 A.M
Palavakkam (Bus Stop) - 7.10 A.M
Neelankarai (Bus Stop) - 7.15 A.M
University Campus - 7.40 A.M
Route No:43 - Perungudi Toll Gate
Perungudi Toll Gate - 7.10 A.M
Thoraipakkam Bus Stop - 7.11 A.M
Jain College - 7.12 A.M
Ptc Bus Stop - 7.13 A.M
Cognizant Bus Stop - 7.15 A.M
University Campus - 7.40 A.M
Route No:44 - Uthandi Toll Gate
Uthandi Toll Gate - 7.10 A.M
Uthandi - 7.12 A.M
Panaiyur Bus Stand - 7.15 A.M
Ecr Water Tank - 7.17 A.M
PrathiyankaraKoil - 7.20 A.M
Sholinganallur Toll Gate - 7.22 A.M
Aloft Hotel - 7.25 A.M
Aavin Factory - 7.27 A.M
University Campus - 7.40 A.M
Route No:45 - Thoraipakkam Bus Stop
Thoraipakkam Bus Stop - 7.11 A.M
Jain College - 7.12 A.M
Ptc Bus Stop - 7.13 A.M
Cognizant Bus Stop - 7.15 A.M
University Campus - 7.40 A.M
Route No:46 - Thirukazhkundram
Thirukazhkundram - 6.25 A.M
Tourist Guest House - 6.30 A.M
Thirukazhkundram Bye Pass - 6.35 A.M
Ecthur - 6.40 A.M
Poonjeri Toll Gate - 6.45 A.M
Mahaballipuram - 6.50 A.M
Patipulam - 7.05 A.M
Kovalam - 7.15 A.M
Kelambakkam - 7.20 A.M
University Campus - 7.40 A.M
Route No:47 - Bharath University
Bharath University - 6.45 A.M
Indira Nagar - 6.50 A.M
Ambedkar Nagar - 7.00 A.M
Camp Road (Bus Stop) - 7.15 A.M
University Campus - 7.40 A.M
Route No:48 - Vengaivasal (Bus Stand)
Vengaivasal (Bus Stand)- 7.00 A.M
Prince College - 7.04 A.M
Santhosapuram (Bus Stop) - 7.14 A.M
PoothuKoil - 7.16 A.M
Essar Petrol Bunk - 7.19 A.M
University Campus- 7.40 A.M
Route No:49 - Thoraipakkam Bus Stop
Thoraipakkam Bus Stop - 7.11 A.M
Jain College - 7.12 A.M
Ptc Bus Stop - 7.13 A.M
Cognizant Bus Stop - 7.15 A.M
University Campus - 7.40 A.M
Route No:50 - Thoraipakkam Bus Stop
Thoraipakkam Bus Stop - 7.11 A.M
Jain College - 7.12 A.M
Ptc Bus Stop - 7.13 A.M
Cognizant Bus Stop - 7.15 A.M
University Campus - 7.40 A.M
Route No:51 - Axis Bank
Axis Bank - 7.05 A.M
Kilkatallai (Bus Stop) - 7.08 A.M
Kovilampakkam (Bus Stop) - 7.17 A.M
KovilambakkamPillayarKoil - 7.20 A.M
MedavakkamKoot Road - 7.22 A.M
University Campus - 7.40 A.M
Route No:52 - Agni College
Agni College - 7.15 A.M
Ags Theatre - 7.30 A.M
University Campus - 7.40 A.M
Route No:53 - Kancheepuram (Bus Stop)
Kancheepuram (Bus Stop) - 5.50 A.M
Keeramandabam - 5.55 A.M
Toll Gate - 6.00 A.M
Iyyampettai (Bus Stop) - 6.15 A.M
Vallajabath (Bus Stop) - 6.17 A.M
Orakadam - 6.30 A.M
Jamai Ice Cream - 6.35 A.M
Kill Padapai - 6.38 A.M
Padapai (Bus Stop) - 6.40 A.M
Sampathuvapuram -6.42 A.M
Manivakkam (Bus Stop) - 6.45 A.M
MudichurBharath Petrol Bunk - 6.47 A.M
Lakshmi Nagar - 6.58 A.M
University Campus - 7.40 A.M
Route No:54 - Kancheepuram (Bus Stop)
Kancheepuram (Bus Stop)- 5.50 A.M
Keeramandabam - 5.55 A.M
Toll Gate - 6.00 A.M
Iyyampettai (Bus Stop) - 6.15 A.M
Vallajabath (Bus Stop) - 6.17 A.M
Orakadam - 6.30 A.M
Jamai Ice Cream - 6.38 A.M
Kill Padapai - 6.42 A.M
Padapai (Bus Stop) - 6.45 A.M
Sampathuvapuram - 6.47 A.M
Manivakkam (Bus Stop) - 6.50 A.M
Vandaloor - 6.55 A.M
Kandigai - 7.00 A.M
Kelambakkam - 7.20 A.M
University Campus - 7.40 A.M
Route No:55 - Sriperumbhadur Arch
Sriperumbhadur Arch - 6.20 A.M
BharathiNagr - 6.30 A.M
Manimangalam - 6.35 A.M
PtcQuateres - 6.40 A.M
Madhanapuram - 6.45 A.M
Parvathi Nagar - 6.46 A.M
Old Perungalathur (Bus Stop) - 6.47 A.M
Padmavathi Mahal - 6.48 A.M
Gandhi Nagar - 6.49 A.M
Bharathi Nagar (Bus Stop) - 6.50 A.M
Krishna Nagar (Bus Stop) - 6.51 A.M
University Campus - 7.40 A.M
Route No:56 - Kummananchavadi MariammanKoil
KummananchavadiMariammanKoil - 6.00 A.M
MangaduKoil Stop - 6.05 A.M
Muthukumaran College - 6.15 A.M
Kundrathur (Bus Stop) - 6.25 A.M
Anakaputhur (Bus Stop) - 6.30 A.M
Pammal (Bus Stop) - 6.40 A.M
Poothukoil - 6.45 A.M
Pallavaram - 6.50 A.M
Chrompet (Bus Stop) - 7.00 A.M
Miet Gate - 7.05 A.M
Sanitorium - 7.10 A.M
University Campus - 7.40 A.M
Route No:57 - Thoraipakkam Bus Stop
Thoraipakkam Bus Stop - 7.11 A.M
Jain College - 7.12 A.M
Ptc Bus Stop - 7.13 A.M
Cognizant Bus Stop - 7.15 A.M
University Campus - 7.40 A.M
Route No:58 - Ameer Mahal (Bus Stop)
Ameer Mahal (Bus Stop) -6.40 A.M
Royapettah (G.H Bus Stop) - 6.45 A.M
Ajantha (Bus Stop) - 6.50 A.M
Russian Emforce (Complex) - 7.00 A.M
University Campus - 7.40 A.M
Route No:59 - Kodambakkam (Power House)
Kodambakkam (Power House)- 6.45 A.M
Kodambakkam (Meenakshi College) - 6.47 A.M
Kodambakkam (Bridge) - 6.50 A.M
Panagal Park - 6.55 A.M
Venkatanarayana Road - 7.00 A.M
Nandhanam Signal - 7.00 A.M
University Campus - 7.40 A.M
Route No:60 - Agni College
Agni College - 7.15 A.M
Ags Theatre - 7.30 A.M
University Campus - 7.40 A.M
Route No:61 - Madambakkam
Madambakkam - 6.55.A.M
KozhiPannai - 7.02 A.M
Rajakilpakkam - 7.10 A.M
Kamarajapuram - 7.15 A.M
Sembakkam - 7.20 A.M
Gowriwakkam - 7.22 A.M
University Campus - 7.40 A.M
Route No:62- Agni College
Agni College - 7.15 A.M
Ags Theatre - 7.30 A.M
University Campus - 7.40 A.M
Route No:63- Agni College
Agni College - 7.15 A.M
Ags Theatre - 7.30 A.M
University Campus - 7.40 A.M
Route No:64- Kelambakkam Police Station
Kelambakkam Police Station - 7.15 A.M
Kelambakkam Petrol Bunk - 7.16 A.M
Standard Charted Bank - 7.18 A.M
Padur (Bus Stop) - 7.20 A.M
Atchaya Homes - 7.25 A.M
Navalur (Bus Stop) - 7.30 A.M
University Campus - 7.40 A.M
Route No:65- Tansi Nagar (Bus Stop)
Tansi Nagar (Bus Stop) - 7.05 A.M
Baby Nagar (Bus Stop) - 7.10 A.M
Bharathi Nagar - 7.12.A.M
PillaiyarKoil Stop - 7.15 A.M
Taramani- 7.18 A.M
MgrSalai - 7.20 A.M
University Campus - 7.40 A.M
Route No:66- Kumaran Theatre
Kumaran Theatre - 7.00 A.M
Madipakkam (Bus Stop) - 7.10 A.M
Axis Bank - 7.15 A.M
Kovilampakkam (Bus Stop) - 7.20 A.M
Medavakkam (Koot Road) - 7.25 A.M
University Campus - 7.40 A.M
Route No:67- Navalur (Bus Stop)
Navalur (Bus Stop)- 7.30 A.M
University Campus - 7.40 A.M
Route No:68- Kelambakkam Police Station
Kelambakkam Police Station - 7.15 A.M
Kelambakkam Petrol Bunk - 7.16 A.M
Standard Charted Bank - 7.18 A.M
Padur (Bus Stop) - 7.20 A.M
Atchaya Homes - 7.25 A.M
Navalur (Bus Stop) - 7.30 A.M
University Campus - 7.40 A.M
Route No:69- Porur (Rountana)
Porur (Rountana) - 6.20 A.M
Karambakkam - 6.22 A.M
Lakshmipuram (Bus Stop) - 6.25 A.M
Jai Garden (Bus Stop) - 6.27 A.M
Valasaravakkam (Bus Stop) - 6.30 A.M
Super Market - 6.33 A.M
Kesavarthini (Bus Stop) - 6.35 A.M
Laymake School - 6.37 A.M
Alwarthiru Nagar (Bus Stop) - 6.40 A.M
Virugambakkam (Signal) - 6.42 A.M
Avichi School (Bus Stop) - 6.45 A.M
Velacherry Bye Pass - 7.10 A.M
University Campus - 7.40 A.M
Route No:70- Muthapudepettai
Muthapudepettai - 6.00 A.M
Mugapair Golden Plats (Bus Stop) - 6.30 A.M
DavCbse Boys School (Bus Stop) - 6.32 A.M
Krishna Nagar (Petro Bunk) - 6.35 A.M
Thirumangalam - 6.40 A.M
Thirumangalam Signal - 6.45 A.M
University Campus - 7.40 A.M
Route No:71- Bollini Hillside
Bollini Hillside - 7.25 A.M
Kumaran Nagar - 7.35 A.M
University Campus - 7.40 A.M
Route No:72- Thiruvanmiyur RTO
ThiruvanmiyurRtO - 7.00 A.M
R.M. Hospital - 7.05 A.M
Palavakkam (Bus Stop) - 7.10 A.M
Neelankarai (Bus Stop) - 7.15 A.M
University Campus - 7.40 A.M
Route No:73- Kelambakkam Police Station
Kelambakkam Police Station - 7.15 A.M
Kelambakkam Petrol Bunk -7.16 A.M
Standard Charted Bank - 7.18 A.M
Padur (Bus Stop) - 7.20 A.M
Atchaya Homes - 7.25 A.M
Navalur (Bus Stop) - 7.30 A.M
University Campus - 7.40 A.M
Route No:74- Navalur (Bus Stop)
Navalur (Bus Stop)- 7.30 A.M
University Campus - 7.40 A.M
Route No:75- Kelambakkam Police Station
Kelambakkam Police Station - 7.15 A.M
Kelambakkam Petrol Bunk -7.16 A.M
Standard Charted Bank - 7.18 A.M
Padur (Bus Stop) - 7.20 A.M
Atchaya Homes - 7.25 A.M
Navalur (Bus Stop) - 7.30 A.M
University Campus - 7.40 A.M
Route No:76- Thiruvanmiyur RTO
ThiruvanmiyurRtO - 7.00 A.M
R.M. Hospital - 7.05 A.M
Palavakkam (Bus Stop) - 7.10 A.M
Neelankarai (Bus Stop) - 7.15 A.M
University Campus - 7.40 A.M
Route No:77- Thoraipakkam Bus Stop
Thoraipakkam Bus Stop - 7.11 A.M
Jain College - 7.12 A.M
Ptc Bus Stop - 7.13 A.M
Cognizant Bus Stop - 7.15 A.M
University Campus - 7.40 A.M
Route No:78- Kelambakkam Police Station
Kelambakkam Police Station - 7.15 A.M
Kelambakkam Petrol Bunk - 7.16 A.M
Standard Charted Bank - 7.18 A.M
Padur (Bus Stop) - 7.20 A.M
Atchaya Homes - 7.25 A.M
Navalur (Bus Stop)- 7.30 A.M
University Campus - 7.40 A.M
Route No:79- Thiruporur Bus Stand
Thiruporur Bus Stand - 7.00.A.M
Vijay ShanthiAppartments - 7.05.A.M
Kelambakkam Police Station - 7.15 A.M
Kelambakkam Petrol Bunk - 7.16 A.M
Standard Charted Bank - 7.18 A.M
Padur (Bus Stop) - 7.20 A.M
Atchaya Homes - 7.25 A.M
Navalur (Bus Stop) -7.30 A.M
University Campus - 7.40 A.M
Route No:80- Thiruporur Bus Stand
Thiruporur Bus Stand - 7.00.A.M
Vijay ShanthiAppartments - 7.05.A.M
Kelambakkam Police Station - 7.15 A.M
Kelambakkam Petrol Bunk - 7.16 A.M
Standard Charted Bank - 7.18 A.M
Padur (Bus Stop) - 7.20 A.M
Atchaya Homes - 7.25 A.M
Navalur (Bus Stop) - 7.30 A.M
University Campus - 7.40 A.M
Contact Us
The Transport Coordinator
Department of Transport
Sathyabama Institute of Science and Technology
E-mail :[email protected]
Contact No: 044-24503150