Placement training is offered to students at different stages of their academics. Industrial training requirements are identified, training programs are designed and facilitated to students effectively. The training modules are regularly upgraded based on the current industry expectations and interactions with the recruiters.
Training Process: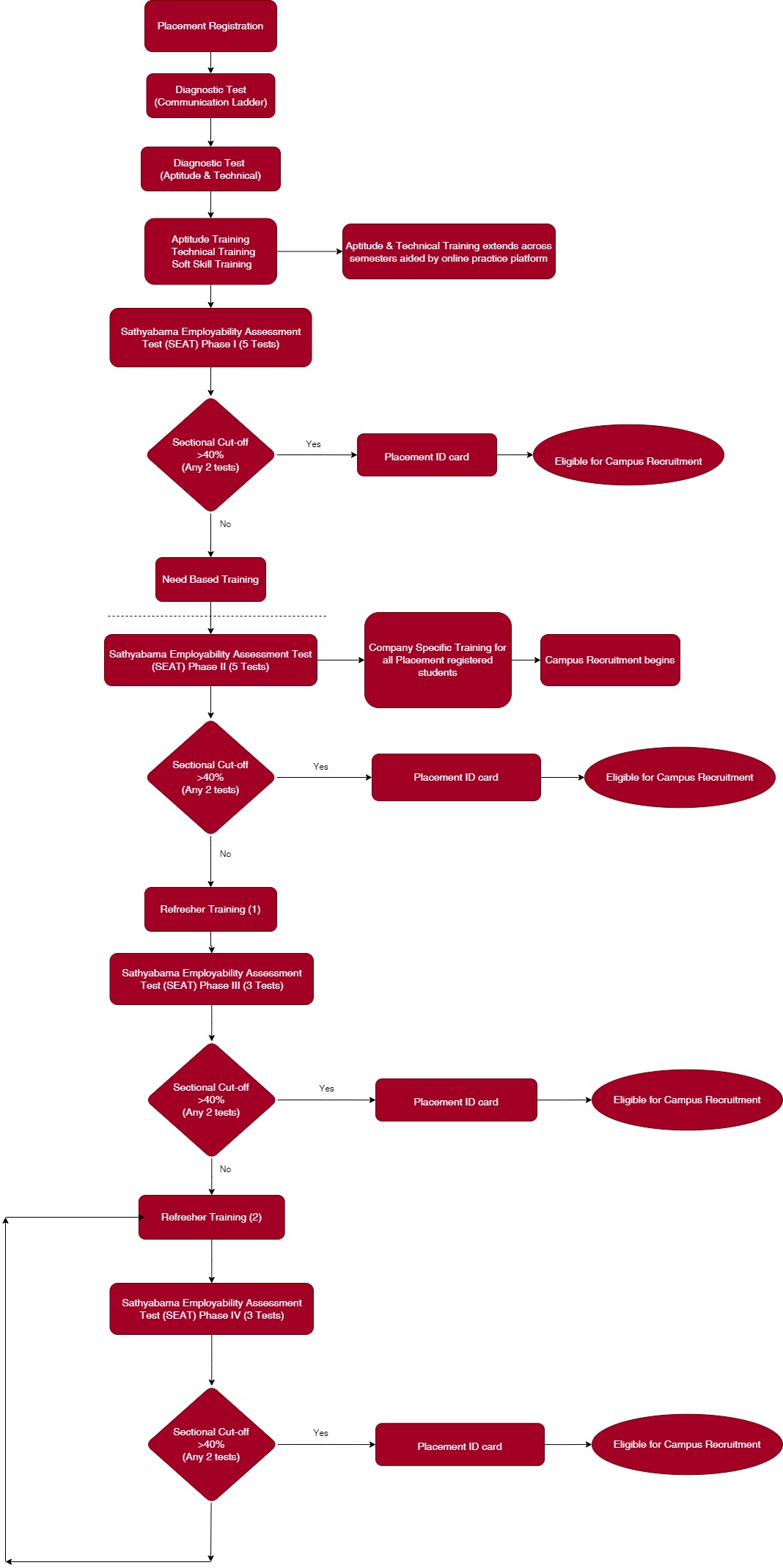 Training Outcomes:
Training outcomes are designed to help students identify their strengths and interests; expose them to a wide range of opportunities to enhance clarity about their goals; and guide them to pursue internships, jobs and leadership experiences that best suits them personally and professionally. We have created the environment which gives the students the right balance between their academic commitments and co-curricular activities in order to excel in both.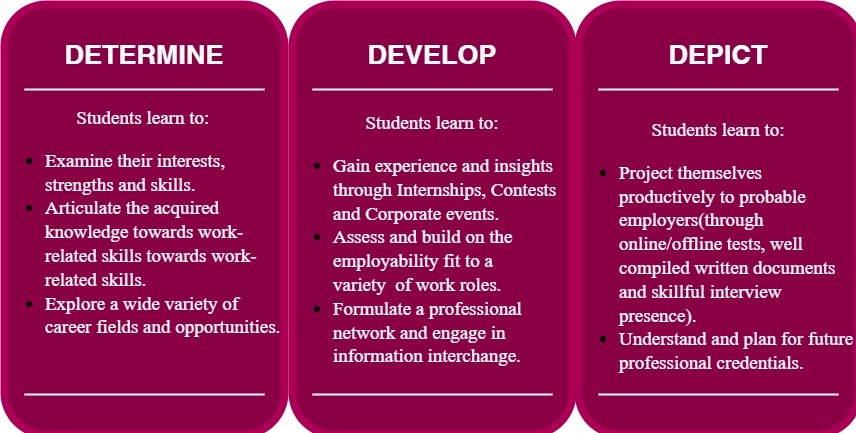 Training Outcome 1: Determine
Students learn to:
Examine their interests, strengths and skills
Articulate the acquired knowledge towards work-related skills
Explore a wide variety of career fields and opportunities

Training Outcome 2: Develop
Students learn to:
Gain experience and insights through Internships, Contests and Corporate events
Assess and build on the employability fit to a variety of work roles
Formulate a professional network and engage in information interchange

Training Outcome 3: Depict
Students learn to:
Project themselves productively to probable employers (through online/offline tests, well compiled written documents and skillful interview presence)
Understand and plan for future professional credentials
Training Modules: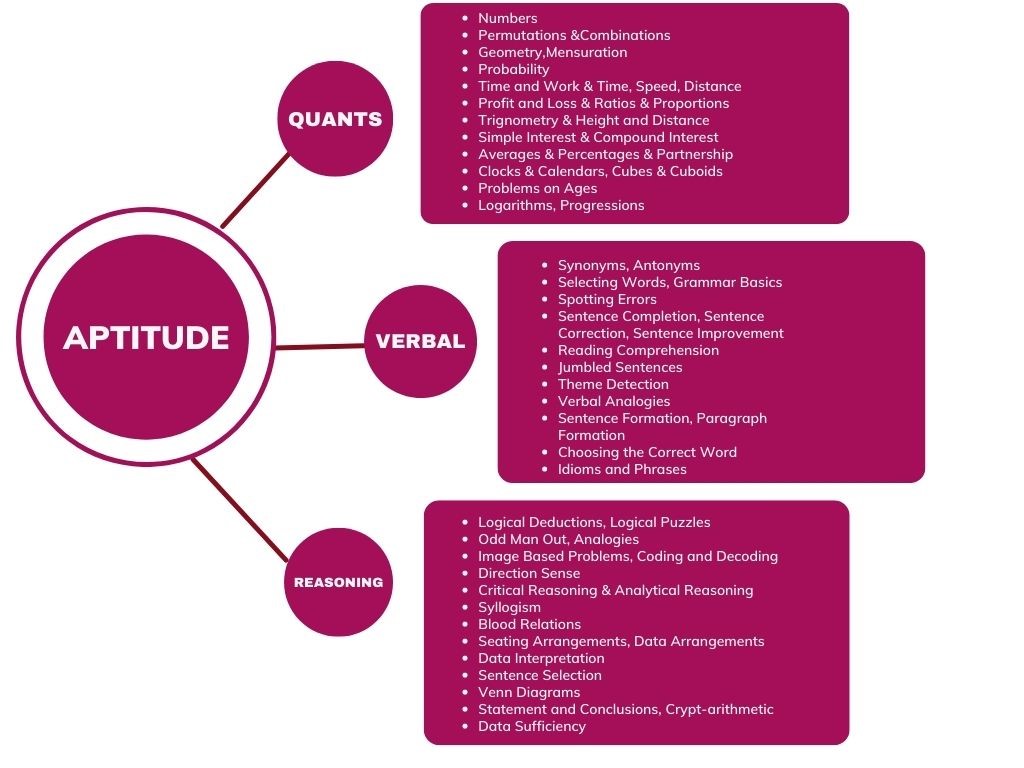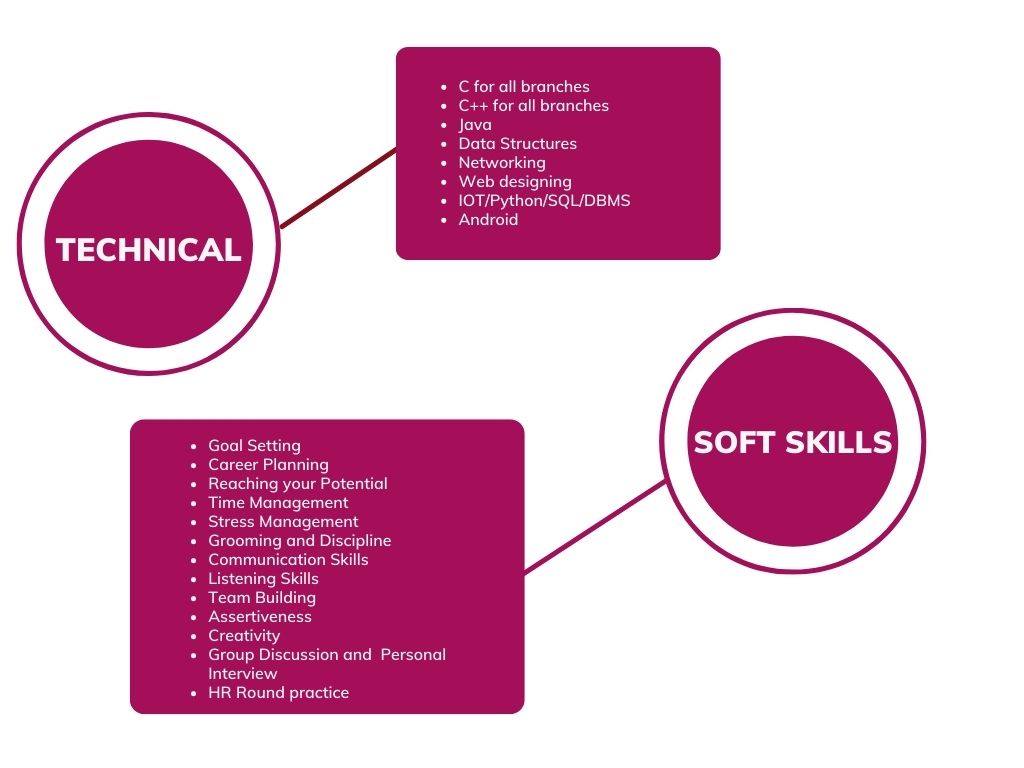 Skill Development Programme:
Skill Development Programs to enhance Academic and Technical knowledge as well as Soft skills, appropriate to the current corporate environment are offered through the year. These programmes are geared to empower the students through 360° skill development thereby boosting their employability. We engage Subject matter Industry experts and highly trained faculty to impart these sessions to our students.
Online Practice and Assessments:
As we understand that assessments are a vital part in improving the students' aptitude skills, we are offering the students an interactive, learning-centric, user-friendly, robust test taking platform which gives immediate, insightful performance report with detailed explanation. The online assessment system is a boon to improve their aptitude skills consistently.
The Online Practice/Assessment Platform has: 
High quality tests with varied difficulty levels.
Instant results with in-depth analysis.
Explanatory answers for each question.
Varieties of customized reports possible.
Students can login by Clicking here, an online test taking portal for Practice/Assessment.
Career Development Programme:
Our Placement and Training Cell offers Career Development Program for the students who are raring to enter the corporate world and introduce them to the prospective employers according to their aspirations and background. The training programs have been formulated after a thorough analysis of unique requirement of various companies as the required skills will vary according to the company's requirement. We impart this training program with the help of reputed training Institutes. They enable our students to gain a competitive edge in the recruitment process, groom their confidence and develop their personality. The training modules will be formulated to improve our students' skills.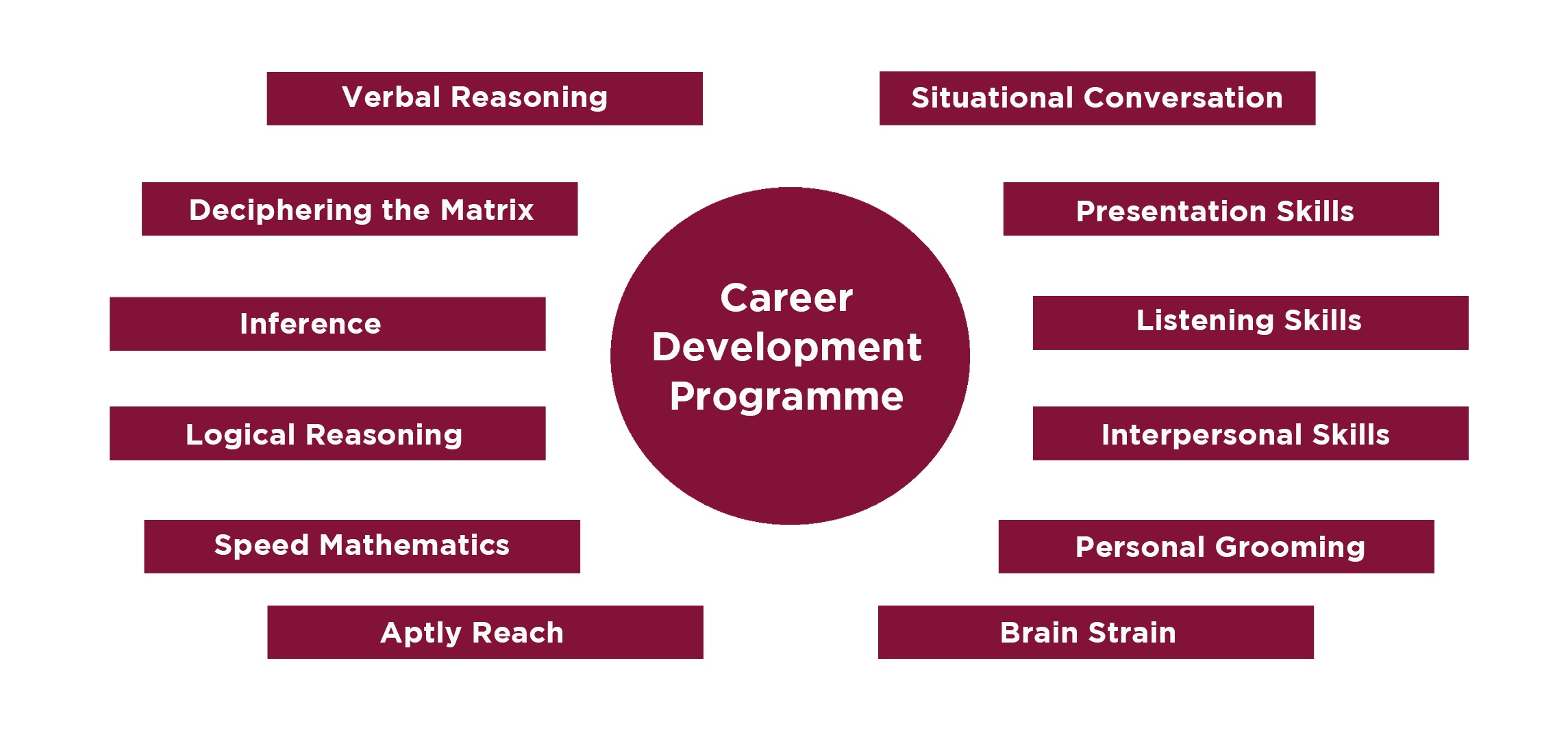 Value Added Skill Development:
BEC – Business English Certificate program been offered to our students to develop their listening, speaking, reading and writing skills. Students are encouraged to take this during their second year of studies with us.
Regular Seminars are conducted to keep in touch with the recent trends in the Higher education scenario by resource persons from United States Educational Foundation in India (USEFI) - a part of U.S. Embassy, U.K. Consulate, Professors from Foreign Universities and our Alumni who have done Higher Studies and employed in India and Abroad.
Networking courses are also conducted for students on the following areas:

CCNA - CISCO CERTIFIED NETWORK ADMINISTRATORS
MCP - MICROSOFT CERTIFIED PROFESSIONALS
MCSE - MICROSOFT CERTIFIED SOFTWARE ENGINEERS

Software courses for Non-IT students are also conducted in the following areas:

JAVA PROGRAMMING
VISUAL PROGRAMMING
C & C + + PROGRAMMING
INTERNET PROGRAMMING (HTML, XML, ASP, JAVA SCRIPT)
ORACLE
J2EE

Career Guidance

Comprehensive career guidance is offered to our students to enhance the ability of our students to narrow down their best career options from the vast array of career choices available in the globalized market. 

Remedial Coaching 

Remedial coaching to provide extra assistance to students who, for whatever reason, have fallen behind are organized on a need basis. This allows for students to revisit core skills and each student is able to graduate without skills gaps.

Personal Counselling   

Esteemed Alumni contribute to the welfare of current SIST students by engaging with them and providing in-depth counseling focused on the student's immediate or near future career concerns.

Foreign Language Training 

Proficiency in a foreign language is an incomparable asset. We have conducted Japanese language coaching classes for our students to meet our recruiter's expectations.