An ongoing interaction between the Industry and Institute is an essential one. To strengthen the relationship between industry and our institute, the Industry-Institution Interaction Cell was established in the year 2012 which provides an excellent platform for both the students as well as the faculty members to be aware of industry expectations from the graduates. IIIC (Industry Institute Interaction Cell) serves as a podium to showcase the best practices, latest technologies in industry stand point and their implementation.
Better interaction between Technical institutions and industry is the need of the hour. The exposure that the students will get will have an immediate effect on the subsequent placement of these young graduating engineers in various industries across the globe. With the advent of globalization and opening up of Indian economy to the outside world, there is stiff competition.
Also, IIIC promotes industry experts to continuously partake in curriculum design and career development programs which play a significant role in honing the skill set of the students. Towards up scaling the academia in the Global knowledge index, ample industrial exposure is provided to the faculty members to enhance the Teaching Learning Process and enable the Institution to produce quality students in turn.
Our students also take part in various industry related contests, both nationally and internationally. Our students have won many laurels in Hackathons and Coding contests.
Objectives:
To explore and identify common avenues of interaction with the industry.
To establish Centre of Excellence by Industry/ corporate to provide real time exposure on technologies.
To promote various research activities by the faculty members and students.
To establish convergence with industrial and research organizations from various fields through MOUs as a form of interaction.
Constitution of the Cell:
| Name | Designation / Department | Role |
| --- | --- | --- |
| Dr.E. John Bruce | Dean-Placements / Placement Cell | Coordinator |
| Mr. A Veeramuthu | Associate Professor / Placement Cell | Member |
| Mr.S. Dhamodharan | Assistant Professor / CSE | Member |
| Mr. I.Hasini Raj | Placement Coordinator / Placement Cell | Member |
| Mr. Nivin Joy | Associate Professor / Mech | Member |
| Mr. P. Prakash | Associate Professor / Bio-Tech | Member |
| Dr. S Nandha Kumar | Assistant Professor / Civil | Member |
| Dr.J.Rani | Assistant Professor / MBA | Member |
Roles:
To give industrial exposure to Faculty members and students, thus enabling them to tune their Knowledge to cope with the industrial culture.
To organize Workshop on trending technologies by experts in the field.
To assist the Departments in organizing workshops, conferences and symposia with joint participation of the industries.
Encouraging Engineers from industries to visit institution to deliver lectures
To organize industrial visits for Faculty members and students.
To coordinate/ identify industrial partners for proposing 'Centre for Excellence'.
To assist the Training and Placement Division.
Visit of industry executives and practicing engineers to the institute for seeing research work and laboratories.
Memorandum of Understanding between the institute and industries to bring the two sides emotionally and strategically closer.
Visits of faculty to industry for study and discussions or delivering lectures on subjects of mutual interest.
Visiting faculty/professors from industries.
Practical training of students in industries.
Club Activities:
Student club activities are the student-focused extracurricular activities and programs at our placement cell in university premises. Student activities are generally designed to allow students to get more involved and offer them opportunities in leadership skills, programming skills and employment.  These activities are typically overseen by a Mentor of Student Activities, Student Affairs in student development cell. The mentor often guide club and set standards for student-run organizations, and can also help network with other institutions through organizations for conducting the various events across India.
We have run two different clubs through Placement Cell, names are
1. Cognizant Students Club:
Cognizant Students Club of our Institute is constantly engaged to work on real time projects. Today, Cognizant's Mentors were in our campus with all the club members, discussing innovative ideas and further steps to build effective mobile and web applications in the field of Life Sciences. There were great talks and debate sessions also were held.
Benefits of Cognizant Student Club
Leadership skills
Technical / non-technical skills
Teamwork
Time management
Interpersonal skills and so on...
We can say that Cognizant is diving Campus In this way also they are shaping the students before recruiting. Cognizant is Building a new system on campuses.

Group Photo 2020 Batch

Group Photo 2021 Batch
2. Sathyabama Coding Club:
Sathyabama Coding Club was started in February, 2018.  This is an initiative by Sathyabama Institute of Science and Technology to enhance student's ability towards Hackathons. Club members conduct workshops and events on new technologies that's buzzing around the world and includes off campus and campus hour meetings. The members of the club were divided into respective domains and each member should be part of at least one domain and work for that respective domain. The basic domains include Big data analytics, Internet of Things, Ethical hacking, Web Development, Android Development, Artificial Intelligence and Machine learning.
Everyone in Coding Club is part of a team and help each other to solve real world problems, so that they could improve their skills like team work, management, coding etc. Members of the club need to finish their work either from available resources on internet or developing their own idea from scratch. Since the formation of this club, many innovative projects such as Sathyabama TBI website, Sathyabama cultural website, Android app for outside shop were developed. We do webinars through Skype once in every two weeks and it serves as a great platform for the students to clarify their doubts and implement new ideas.

Cloud Fest 2019

Coding Ninja 2020
Industry Collaborations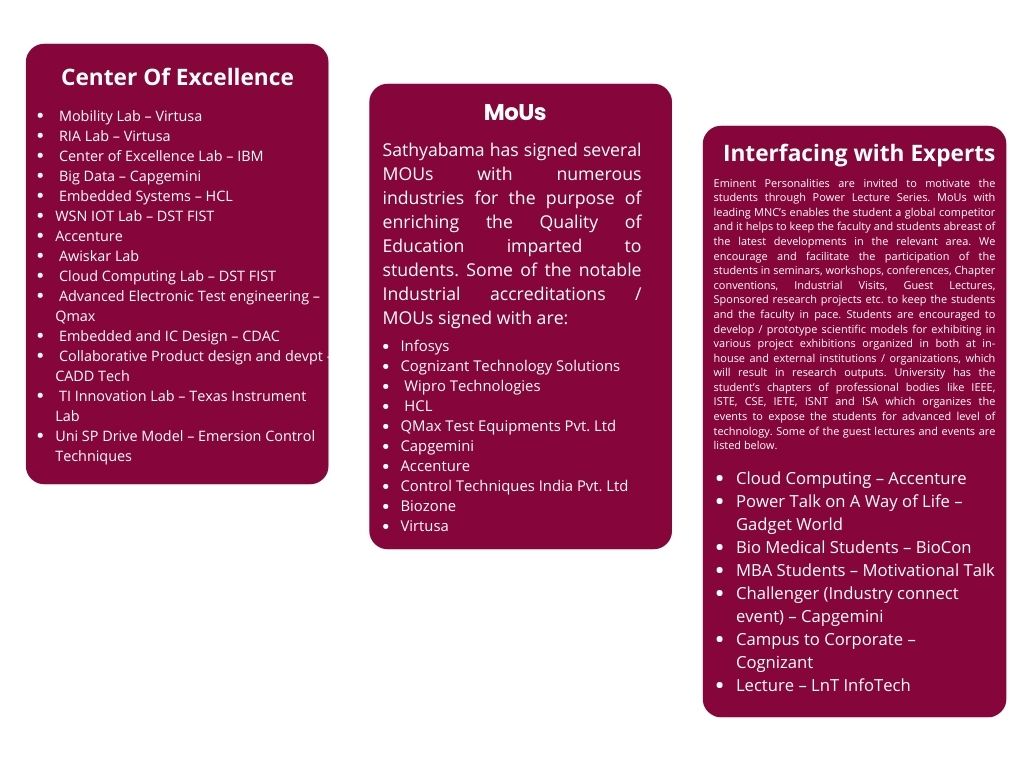 1. Center Of Excellence:
| | |
| --- | --- |
| ♦ Mobility Lab – Virtusa  | ♦ RIA Lab – Virtusa |
| ♦ Center of Excellence Lab – IBM | ♦ Big Data – Capgemini |
| ♦ Embedded Systems – HCL | ♦ WSN IOT Lab – DST FIST |
| ♦ Accenture  | ♦ Awiskar Lab |
| ♦ Cloud Computing Lab – DST FIST | ♦ Advanced Electronic Test engineering – Qmax |
| ♦ Embedded and IC Design – CDAC  | ♦ Collaborative Product design and devpt – CADD Tech |
| ♦ TI Innovation Lab – Texas Instrument Lab | ♦ Uni SP Drive Model – Emersion Control Techniques |
2. MoUs:
Sathyabama has signed several MOUs with numerous industries for the purpose of enriching the Quality of Education imparted to students. Some of the notable Industrial accreditations / MOUs signed with are:
| | |
| --- | --- |
| ♦ Infosys | ♦ Cognizant Technology Solutions |
| ♦ Wipro Technologies  | ♦ HCL |
| ♦ QMax Test Equipments Pvt. Ltd | ♦ Capgemini |
| ♦ Accenture | ♦ Control Techniques India Pvt. Ltd |
| ♦ Biozone | ♦ Virtusa |
3. Interfacing with Experts:
Eminent Personalities are invited to motivate the students through Power Lecture Series. MoUs with leading MNC's enables the student a global competitor and it helps to keep the faculty and students abreast of the latest developments in the relevant area. We encourage and facilitate the participation of the students in seminars, workshops, conferences, Chapter conventions, Industrial Visits, Guest Lectures, Sponsored research projects etc. to keep the students and the faculty in pace. Students are encouraged to develop / prototype scientific models for exhibiting in various project exhibitions organized in both at in-house and external institutions / organizations, which will result in research outputs. University has the student's chapters of professional bodies like IEEE, ISTE, CSE, IETE, ISNT and ISA which organizes the events to expose the students for advanced level of technology. Some of the guest lectures and events are listed below.
Cloud Computing – Accenture


Power Talk on A Way of Life – Gadget World


Bio Medical Students – Bio Con


MBA Students – Motivational Talk


Challenger (Industry connect event) – Capgemini


Campus to Corporate – Cognizant


Lecture – LnT InfoTech