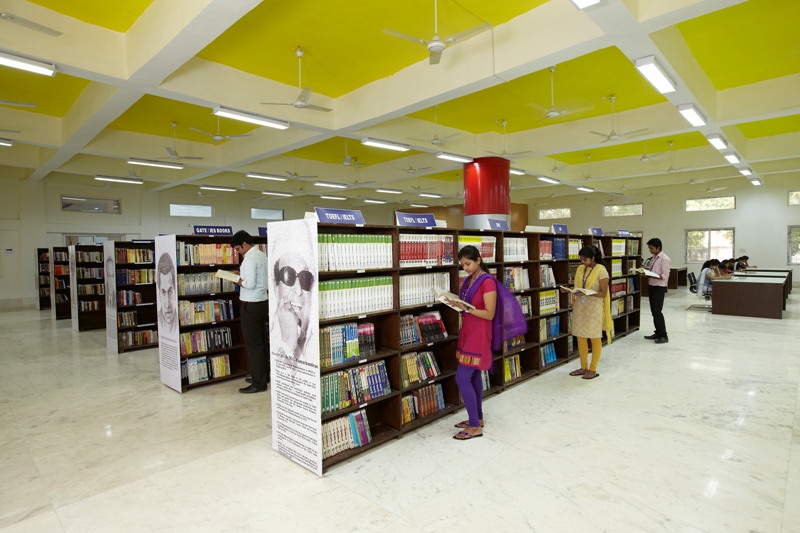 "Learn for a life – Live after the life", Advisory Bureau of Higher Studies principle is to inculcate the habit of delightful reading among the intermittent readers and also to satisfy the thirst of voracious readers in the campus besides continuously guiding students in various fronts of their development. A spectrum of activities supported by series of programs initiation and successful completion is the mere reflection of the standard of work, since its inception. It stands as the focal point of information in the campus and has a definite role in the institution development.

 Career building, Counseling and Motivation are the objectives based on which this intellectual wing of SATHYABAMA is moving forward. It has got a wide variety of collection of nearly 19,000 books with divergent titles, which are classified into distinct sections to cater the learning needs of the students. To improve communication skills of students, CD's on vocabulary, listening, writing and oratory skills are made available. Magazines related to the Personality Development, Health, Science, Tamil Literature and many other areas are procured every year to uplift the spirit of reading and thereby learning among the students.

Foreign Language classes such as German, Japanese and French are offered to support the overall student development. It holds extension of services to the placement activities by offering the training in preparing for campus interviews and various entrance examinations along with training to unfold the secret of success in clearing exams like IAS, GRE, TOEFL and IELTS. 

The Advisory Bureau serves as the epicenter for the information related to the higher studies and encourages students for a progressive career. It also conducts seminars from eminent speakers to enlighten the students towards recent challenges in learning, trends in different fields of Engineering and Science. Resource persons from well-known higher education consultancies like IDP, Princeton Review, Jamboree and Byju are invited to share the prospects of career in abroad, Visa Procedures, Admission in various institutes etc., to the student community. 

Advisory Bureau is also actively involved in developing the skill set of student community with the inception of certificate courses like "Vedic Mathematics in Engineering Applications". It even extends its service to enhance the overall class room listening experience of the students through the periodical workshops like "Perception Listening".   This intellectual home also offers its share of helping hand to the unprivileged students by developing their communication skills, meeting their training requirements and in making them more competent in their areas of study.
Our University is a referral partner of IDP: IELTS Australia – Test Centre and our students can register for IELTS examination in the campus itself.
For any queries student shall reach at [email protected]
Click here for Letter of Recommendation, Recommendation Letter Format, and Sample Letter