School of Nursing


Sathyabama College of Nursing offers training in Nursing at the undergraduate level. The Institution is been approved by Government of Tamil Nadu, Indian Nursing Council and Tamil Nadu Nurses and Midwives Council. College started its first batch in the academic year 2019-20. The Institution provides training specially to develop skills in problem solving and critical thinking. The students will be updated with advanced technologies in patient care, comfort and safety even in disaster situations.
Our students excel in sports, curricular and co-curricular activities. College has an excellent, efficient and highly motivated faculty who plan meticulously all the curricular and co-curricular activities for the students.
Humanism in nursing is not relegated to the next place in the Institution. The graduate nurses from Sathyabama College of Nursing will be the Brand Ambassadors for the provision of care with compassion
1555
Advanced Learning Resources
600
Well Equipped Hospitals with Advanced Technologies for Quality Care
6
Smart Class Rooms & Air Conditioned Laboratories
Research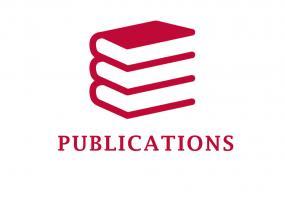 Publications
The faculty and students of the Nursing are constantly engaged in research activities and motivated to publish their research findings in the peer-reviewed national and international journals, conferences and book chapters.
International journal of Nursing studies, Indian journal of haematology and blood transfusion, Indian journal of public health, Indian journal of palliative care, Journal of communicable diseases, Journal of clinical nursing, Nurse education today, Advances in nursing science, American journal of Nursing, Journal of applied nursing research, British journal of Nursing, Australian nursing and midwifery journal, TNNMC's Journal of paediatric nursing, TNNMC'S journal of medical and surgical nursing, TNNMC's Journal of community health nursing, TNNMC's Journal of obstetrics and gynaecological nursing,TNNMC's Journal of mental health nursing,TNNMC's Journal of Nursing administration and education
Vision
Sathyabama College of Nursing envisions being a world class Institution of Eminence producing skillful nurses who would serve efficiently in the global level.
Mission
To strengthen the fundamental knowledge on recent trends in the nursing profession by introducing new sessions in the educational programme which can ultimately enhance the employability skill.
To extend the lead time of nursing at the frontiers through relevant Research and Development.
To prepare efficient nursing leaders through training in nursing administration management.
To describe values, code of ethics and professional conduct of nurses in India.
To indoctrinate knowledge in serving the rural and urban community.
Programme Educational Objectives (PEO'S)
Apply knowledge obtained from physiological and behavioral sciences, medicine including alternative systems of medicine in the provision of nursing care to individual, family and community.
Demonstrate critical thinking skills in making decisions in all situations in order to provide quality care.
Provide promotive, preventive, curative and rehabilitative health care services in par with the national health policies and programme.
Participate effectively as a member of the health team in health care delivery system.
Contribute interest towards the advancement of self and of the profession.
Utilize recent trends and technology in providing health care.
Programme Outcomes (PO'S)
Knowledge on Nursing Basics: apply knowledge regarding concept of health and scope of nursing in identifying patients' basic health care needs.
Problem Solving Approach: identify the various health problems, etiology, patho-physiology, clinical manifestations, diagnostic measures and nursing management with problem solving skills.
Nurse and the Community: demonstrate the roles and responsibilities of a nurse in health care delivery system in rural and urban community.
Communication and Nursing Education: develop effective human relations in context of nursing.
Nursing Research: apply knowledge in identifying the societal needs and conduct research projects as a team.
Programme Specific Outcomes(PSO'S)
Facilitate the nursing concepts and to take a challenging role in health care setting.
Encompass the knowledge in the community thereby taking a lead in public health nursing.
Realize and equip with modern nursing concepts in occupational health.
Department Highlights
The College offers a generic undergraduate program.
The Nursing program has a strong leadership focus with advanced learning resources.
Various Memorandum of Understanding is made with nearby Corporate, Government Hospitals, Rural & Urban Health Centers.
Regular quality check in our programme to ensure the best manpower in the society.
Provision of strong foundation in Fundamentals, Medical & Surgical, Pediatric, Psychiatric, Community Health, Obstetrics & Gynaecological Nursing.
Training in organising Mass Health Education Programme in Rural and Urban Community.
Empowerment of knowledge through Continuing Nursing Education, Problem Based Learning Workshops & Simulations in academic and Clinical Fields.
100% placement assistance is given after completion of the degree in various Multispeciality hospitals.
We equip the students with scientific knowledge and develop proficiency in caring for patients with medical surgical disorders in various health care settings and in community with evidence based practice
Students
Sathyabama Institute of Science and Technology places emphasize on co-curricular and extracurricular activities These activities are student centered and primarily aims to supplement regular curricular activities.Its goal is to represent the student body in making the study experience as rewarding and enjoyable as possible.
International Relations
Centre for Academic Partnership & International Relations is an initiative of Sathyabama Institute of Science and Technology devoted to promote academic alliances with Universities and Institutes at National and International level. The Centre establishes a link through Memorandum of Understanding to facilitate Research Collaboration, Student Exchange Programmes and Faculty Exchange Programmes.
Standard Operating Procedures and Policy Manual
Insights
Collaboration and MOU's
Facilities
Industrial Collaboration:
Government Hospital, Tiruporrur, Chenaglapttu
Primary Health Center, Paduvancherry, Chennai
Urban Health Center, Chemmencherry, Chennai
Public Health Center, Mambalam, Chennai
Dr.Boaz Psychiatric Rehabilitation Center, Chennai
Dr.Kamakshi Memorial Hospital, Pallikaranai
Kauvery Hospitals, Chennai
Memorandum of Understanding has been signed with the following Multi Speciality Hospitals for providing Clinical Experience to the students with the motto of acquiring a wide knowledge in the clinical practice.
Sathyabama College of Nursing has signed an MOU with Nirvana Consultant limited for IELTS training and placements at UK NHS wef 5th May 2022.
MOU with kauvery Hospitals, Chennai has been signed to undertake Internship training for B.Sc Nursing Students
ACCESSIBILITY & INFRASTRUCTURE
The college is housed in Sathyabama Institute of Science and Technology Campus, which also has various institutions, spread over an area of more than 100 acres and attached to 100 bedded General Hospital. The infrastructure is available as per the Indian Nursing Council Requirements for the students' comfortable learning.
Class rooms: Class rooms are well furnished and well equipped with latest audio visual aids.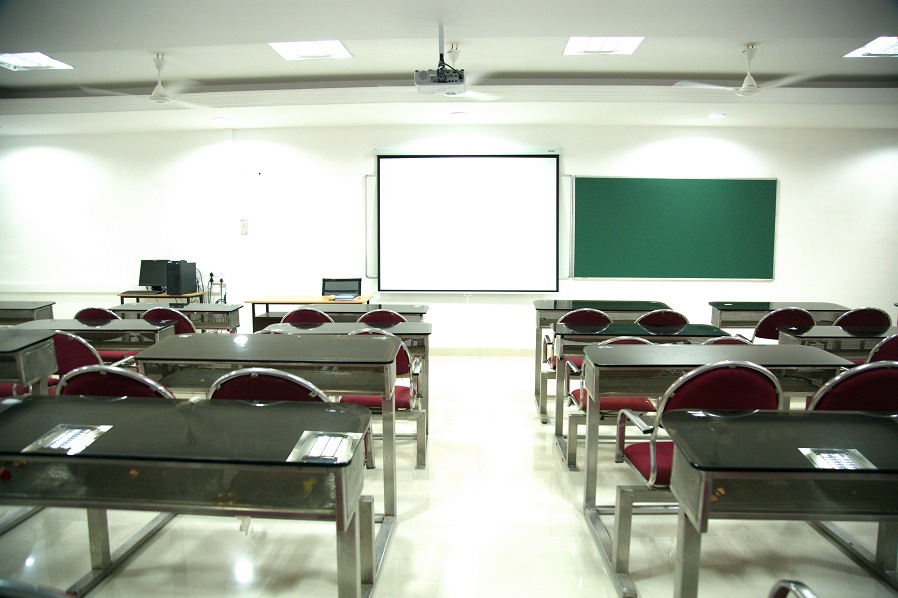 Laboratory:
All the departments have separate laboratories that are fully equipped with advanced Mannequins, Simulators, Models, Specimens, Audio Visual Aids, computers and necessary articles for procedure demonstrations which will be practiced in the clinical setting by the students.
Nursing Foundation Lab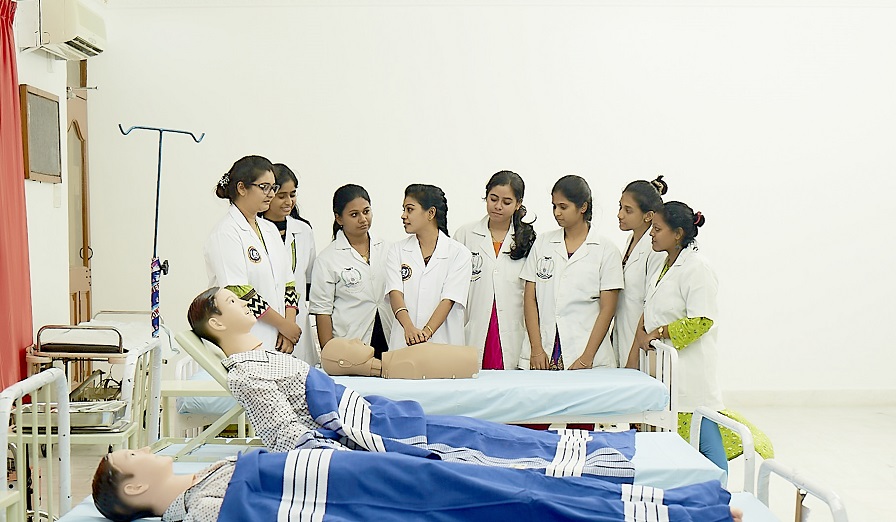 Nursing Foundation lab is a patient simulator. Nursing is an art and science that needs a lot of practice. The Nursing Foundation lab is the practical area of the students where they perform all nursing procedures prior to the exposure to the clinical field. The faculty uses the lab for various demonstrations of procedures in nursing. This spacious laboratory is well equipped with patient simulator, cardio-pulmonary resuscitation manikin, life form hand simulation, etc. in addition to the facilities in real ward situation.
Material and Child Health Nursing Lab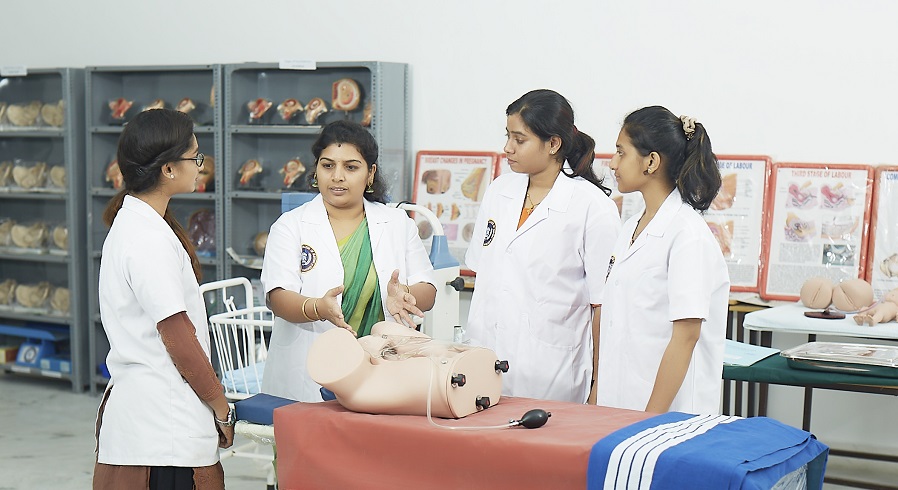 Provision of nursing care to mother and child is an important nursing responsibility for which students are trained during their training. MCH Lab provides a learning atmosphere to the students for developing skills before performing procedures in the hospital. Different types of exhibits, posters, growth charts, immunization etc are also displayed. A separate section is designated to teach students regarding selection of playful material for different age groups.
Community Health Nursing Lab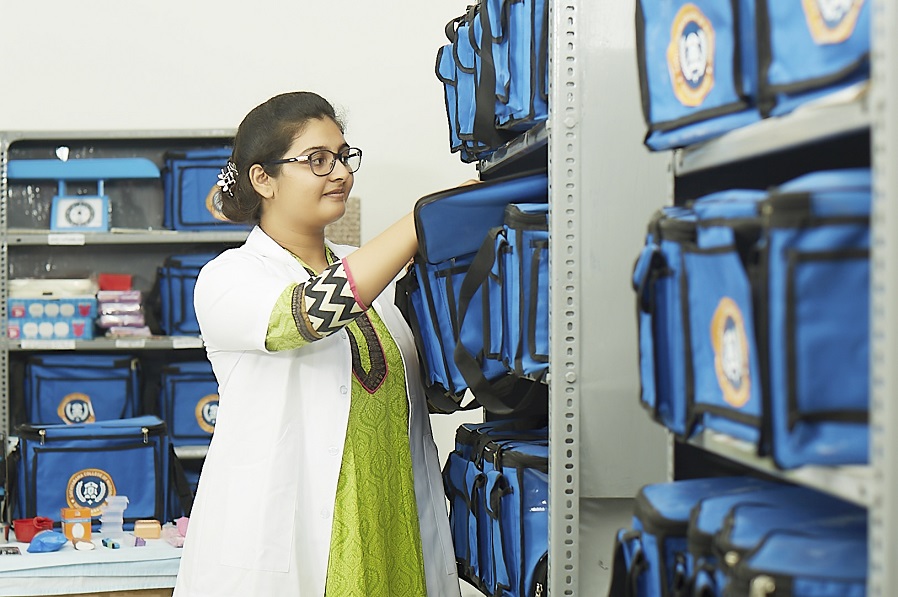 Community Health Nursing laboratory helps the students to develop enviable knowledge and attitude on comprehensive care to the individual, family and community. The laboratory is equipped with community bags and articles for performing various procedures such as screening of diseases and care of minor ailments in urban and rural communities. The laboratory consists of models like ideal village, different types of wells, latrines, methods of water purification etc. Family folders for home visits are maintained in the laboratory.
Nutrition Lab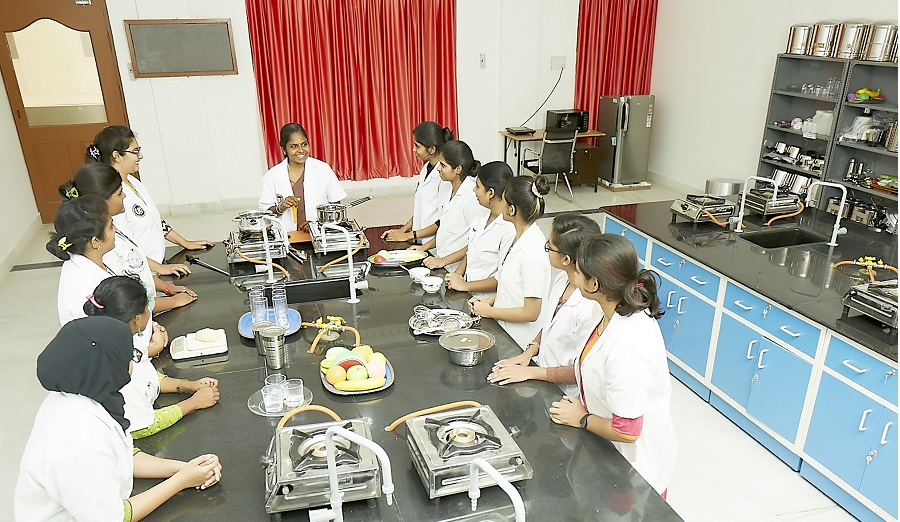 The laboratory is used by students for basic cooking skills, and learning about the influence of culture on food. Applied human nutrition students also use the laboratory for modifying recipes to meet special dietary requirements or based on health goals. The laboratory is used for extra-curricular activities for the nutrition students and staff, such as the healthy eating cooking session covering basic knife and cookery skills.
Library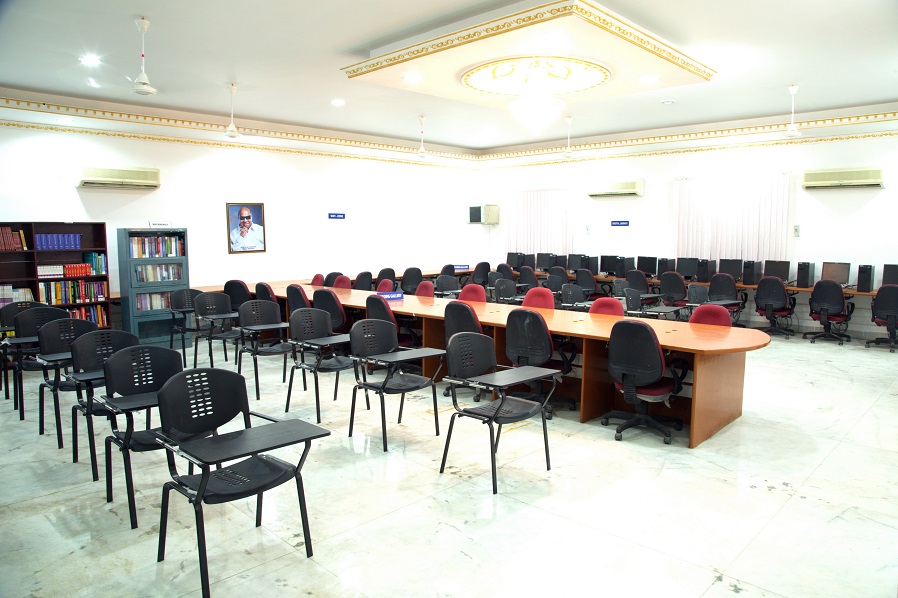 Spread over 2400 sq. ft., well-stacked with the latest editions of books and journals (both Indian and International). 1635 Books, 10 National Journals and 5 International Journals are currently available as per Indian Nursing Council Norms. In tune with the current trend of education, a virtual library with internet access, media resource services, computerized database access and E-access are also available.
Outreach / Extension Activities

Lamp lighting ceremony of the 4th batch of BSc (Nursing) students took place on 2nd December 2022, at Dental Auditorium. Mrs.Gowri Mohan, Maternal and Child Health Officer, Greater Chennai Corporation, was invited as the Chief Guest of this ceremony, this ceremony was presided over by Mr.Arulselvan Vice president and Ms.Maria Catherine Jayapriya, Vice president of Sathyabama Institute of Science and Technology.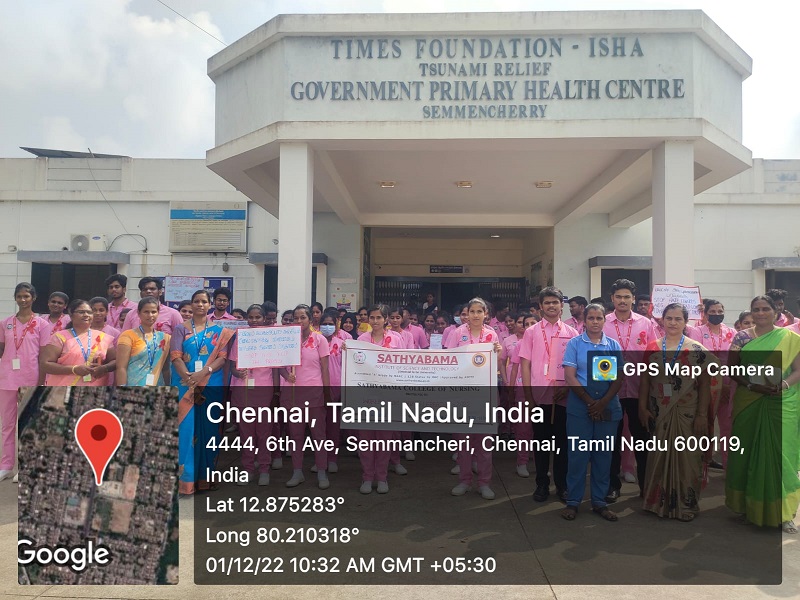 In commemoration of World Aids Day, we at Sathyabama College of Nursing organized an outreach rally on the theme "EQUALIZE". It is a wakeup call for all of us to focus on the practical solutions to alleviate inequality and put an end to life threatening disease 'AIDS'. Mrs. Suganth, Staff Nurse & Mrs.Shanthi, Sector Health Nurse from Semmanchery primary health center hoist the green flag to start the outreach Rally.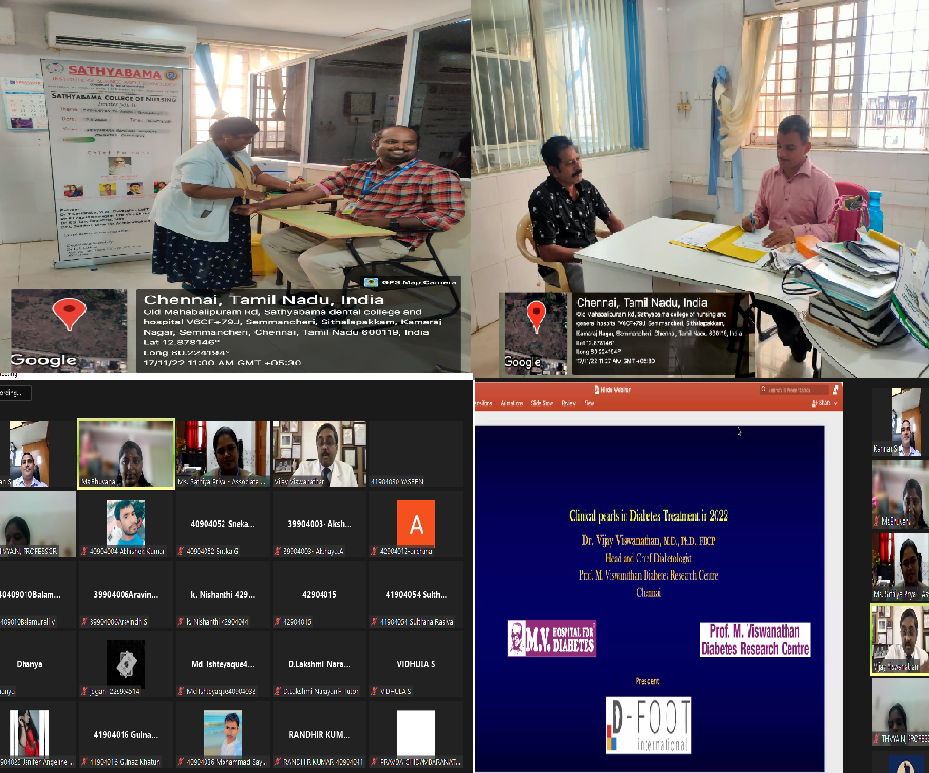 Sathyabama college of Nursing in coordination with Sathyabama General Hospital organised a Diabetes week celebration from 14.11.2022 to 18.11.2022 commemorating the World Diabetes Day 2022 on the Theme: "Education to protect tomorrow". Dr.VIJAY VISWANATHAN M.D., Ph.D., FRCP,M.V. Hospital for Diabetes &Prof.M.Viswanathan Diabetes Research Centre, Royapuram Chennai,was the eminent speaker gave an excellent speech on the theme of diabetes day
1st Batch of B.Sc Nursing Inauguration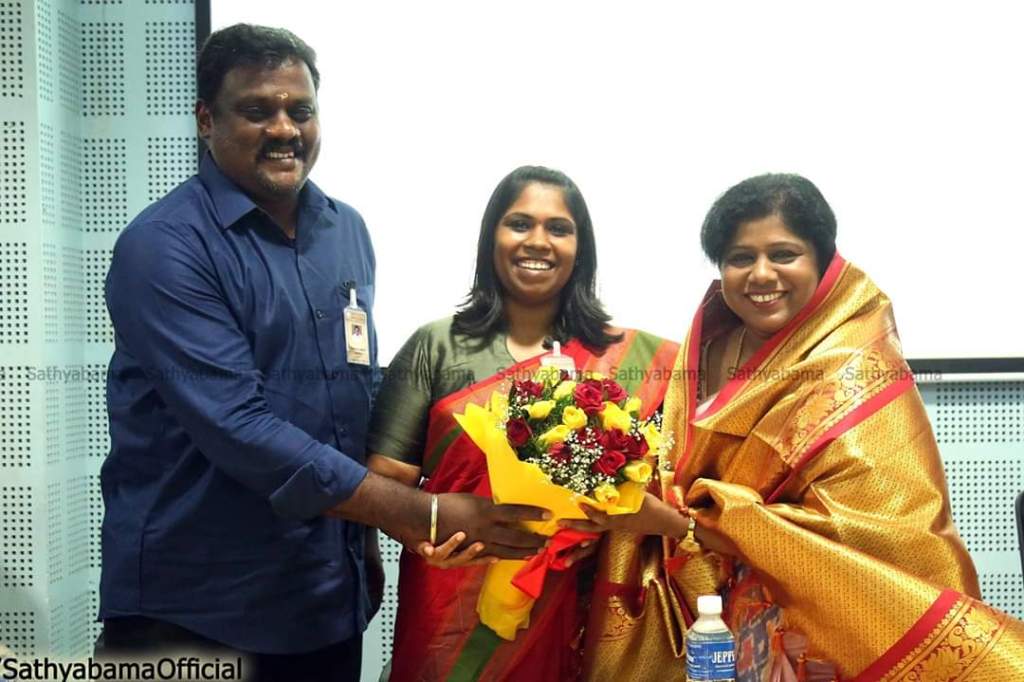 Sathyabama College of Nursing celebrated the inaugural function of first batch of B.Sc Nursing Students (2019-2020) on 30th October 2019. Prof.Dr. L. Lakshmi, Dean, Sathyabama College of Nursing, welcomed the freshers. Prof.Dr. S. ANI GRACE KALAIMATHI, Registrar, Tamilnadu Nurses & Midwives Council presided over the function as the chief guest and blessed the students for their bright future in the profession.The Chief patrons were Dr.Mariazeena Johnson, Chancellor Madam & Dr.Marie Johnson, President Sir. Chancellor madam inspired the Freshers with her motivational speech.
1st Batch of B.Sc Nursing Lamp Lighting Ceremony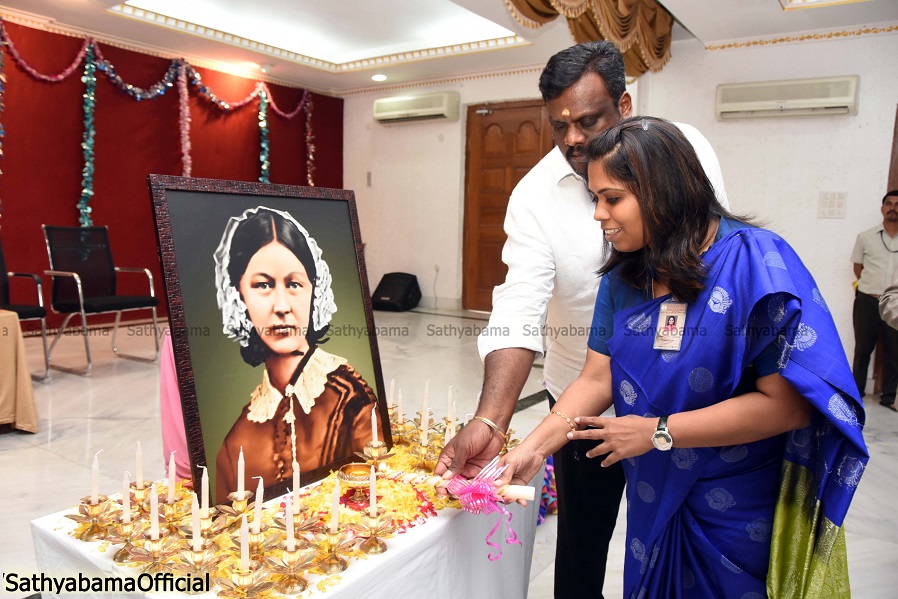 Sathyabama College of Nursing celebrated the Lamp Lighting Ceremony of its first Batch B.Sc Nursing Students on 14th February, 2020. The programme started with procession of the students along with the dignitaries followed by invocation song. Dr.Mariazeena Johnson, Chancellor, Dr.Marie Johnson, President, Ms.Muthuram G, Nursing Superintendent and the Chief Guest of the day lightened the Kuthu villaku followed by enlightening of the students lamp by our Chancellor Madam and Chief Guest.
Webinar Series on: The Changing Role of Nursing in Covid-19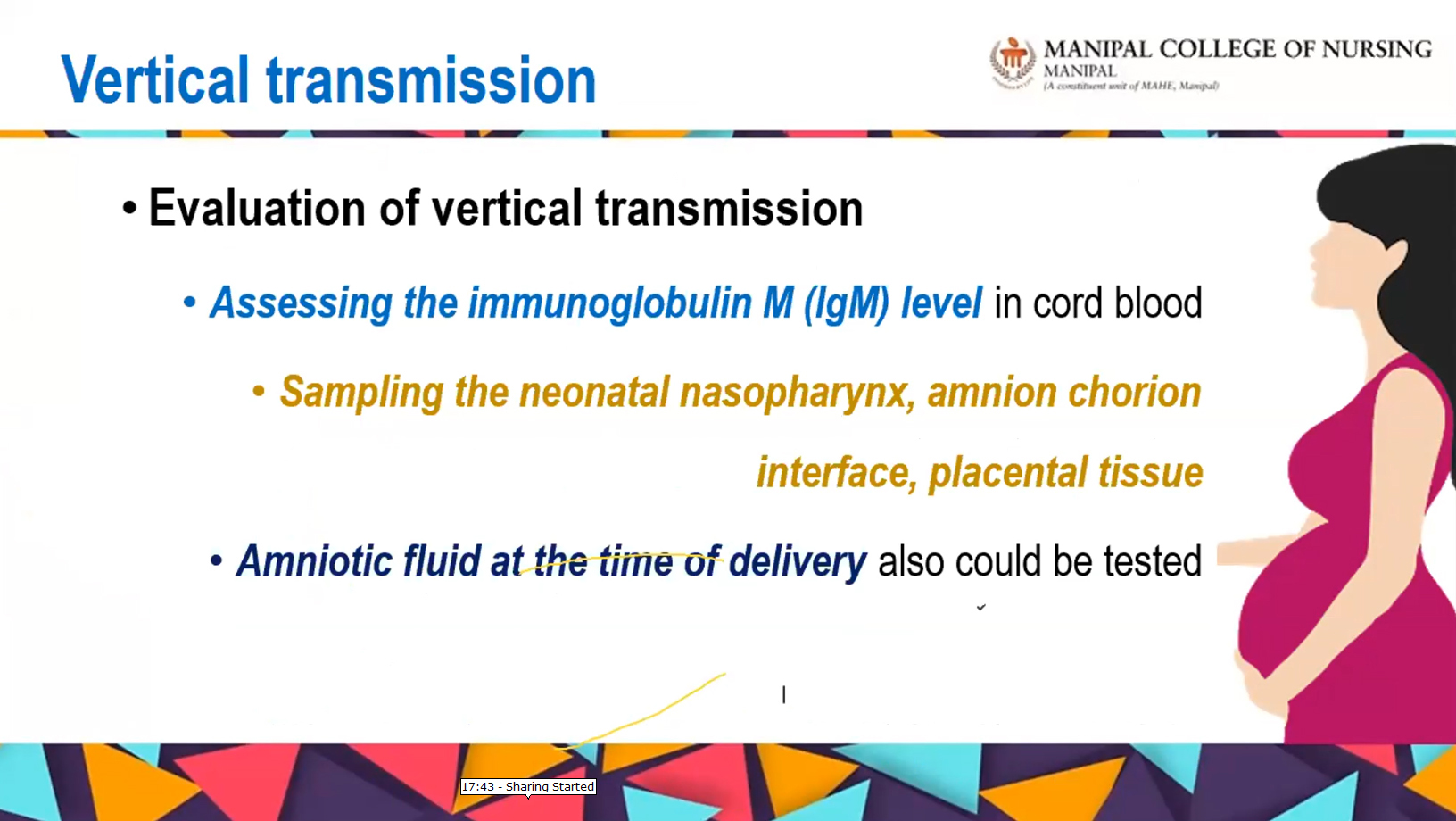 This webinar was aimed at increasing our awareness on the role of nurses in this particular situation. Dr. Judith Angelitta Noronha, a Professor and Associate Dean, Dept. of Maternal Health Nursing, Manipal College of Nursing, Manipal Academy of Higher Education, Dr. Sailaxmi Gandhi is the Additional Professor and Head of the Dept of Nursing, NIMHANS. She also holds the post of Nursing Consultant in Psychiatric Rehabilitation Centre &Dr. Shyamala Kumar, Nursing Director, NMC Hospital, DIP, Dubai were the speakers of the webinar.
Virtual Lecdem on Hemodynamic Assessment and Monitoring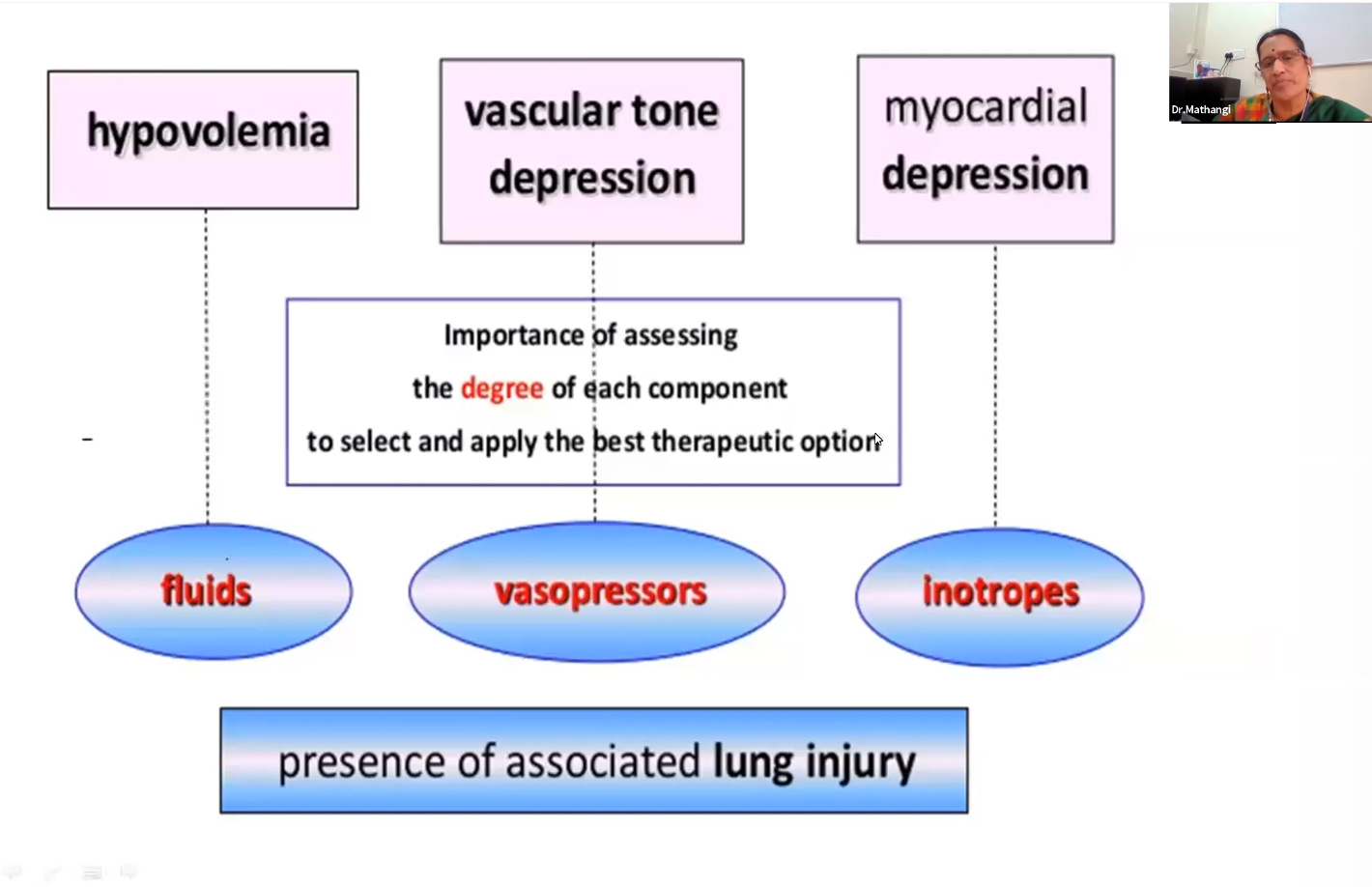 As health professionals, it is one of the key duties of nurses to early recognise the abnormal changes in vital functions of the body and effectively monitor until it is deemed necessary. Moreover, COVID-19 patients are prone to deteriorate rapidly and the management differs case-to-case and with time-to-time, largely based on symptoms and hemodynamic changes. Dr.D.C.Mathangiis a Professor &amp, Head, Dept of Mind Body Medicine &amp, Lifestyle Sciences,Sri Ramachandra Institute of Higher Education and Research, Porur, Chennai.
Online CNE on Essential Communication skills for Nurses during Covid 19-The Do's and Dont's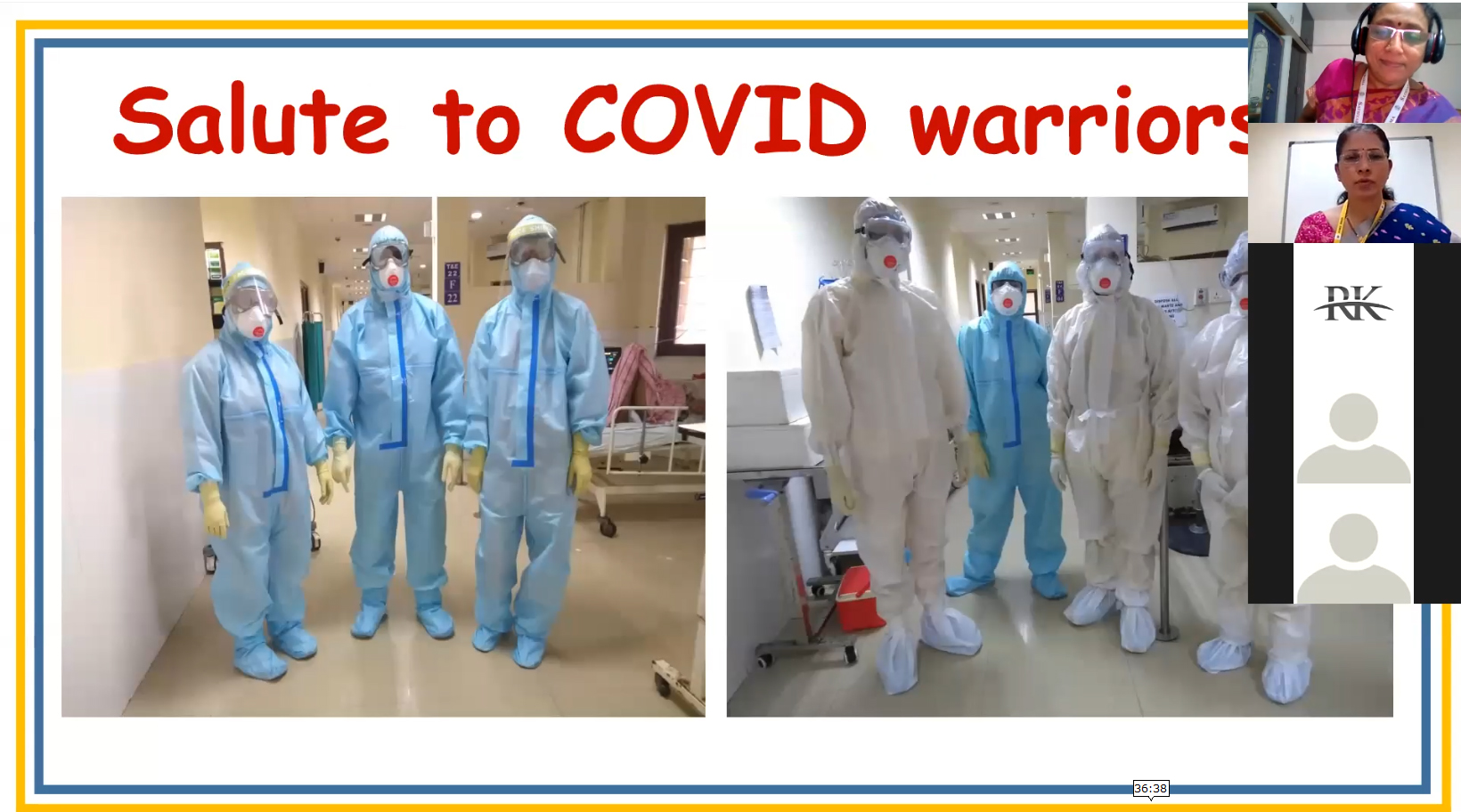 Dr. Asha P Shetty, Professor cum Principal, College of Nursing, Chief Nursing Officer (Additional responsibility), All India Institute Medical Sciences, Bhubaneswar, is a doctorate in Nursing, the expert speaker highlighted on the significance of communication among the nurses during the care of COVID patients. The programme was successful.
Faculty Development Programme on Emerging Learning management System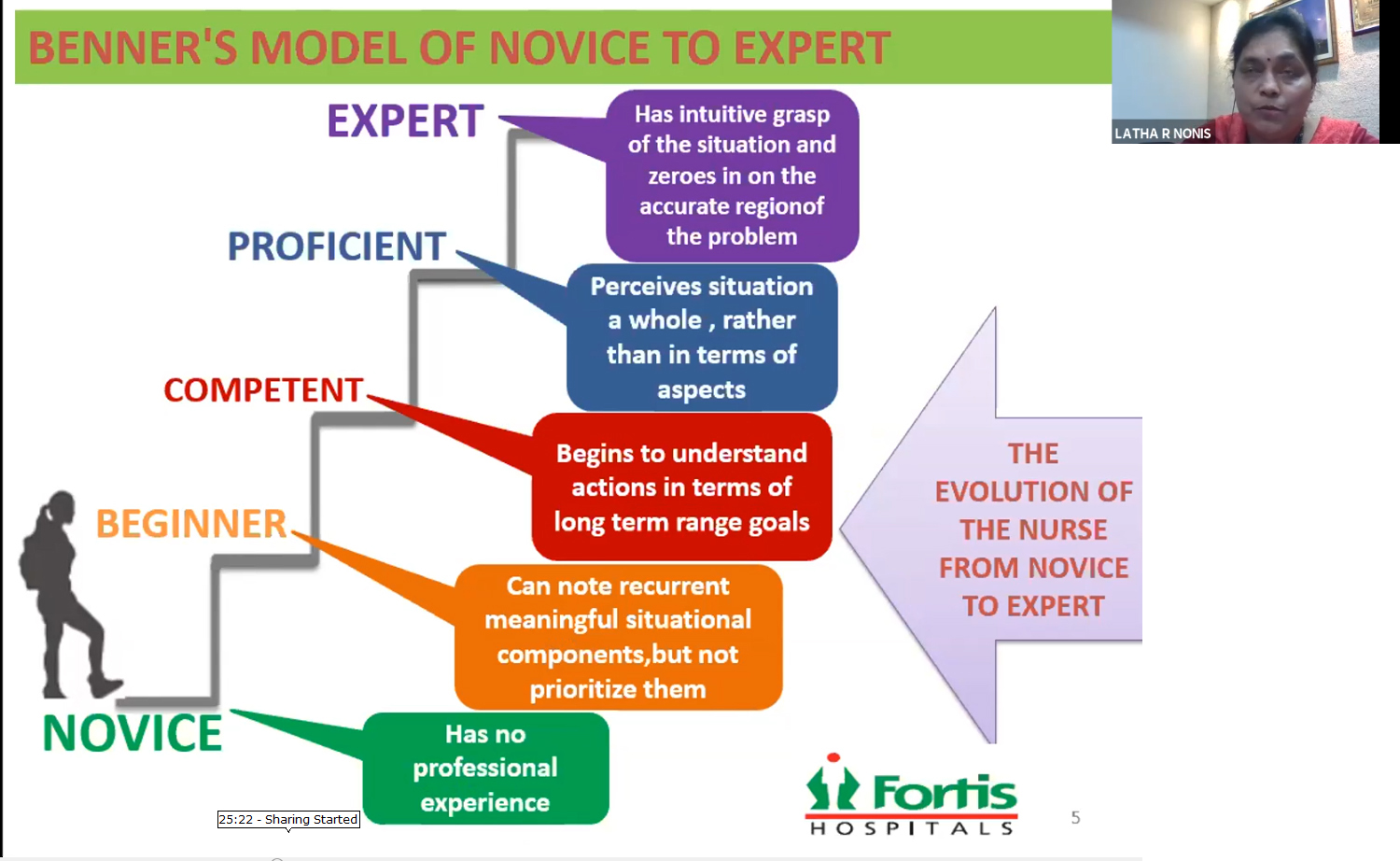 Faculty Development Programme on the Emerging Trends in Learning Management System was organised by Sathyabama College of Nursing, Sathyabama Institute of Science and Technology between 21st- 25th July 2020. Ms. Latha Nonis, Head of Nursing, Fortis Hospital, Bangalore was the Expert Speaker and elaborated about various strategies and techniques to assess the clinical judgemental skills and the significance of clinical decision making. session on "Online Assessment Methods" was briefed by Dr.Girija Sivakumar, Professor , karpaga Vinayaga Institute of Medical Sciences and Research Centre, Madhuranthagam. session on "Nuts and bolts of Learning Management System" was comprehensated by Dr.Chinmay Shah, Associate Professor and Head, Department of Physiology, Bio Ethics Unit, Govt. Medical College, Bhavnagar. session on "Making Online classes more interactive" was dealt by Dr.D.C. Mathangi, Professor and Head, Department of Mind Body Medicine and Lifestyle Sciences. session on "Designing and Development of Outcome Based Curriculum" by Dr.Narasimman Swaminathan, Vice Principal, Faculty of Allied Health Sciences, SRIHER, Chennai.
World Breast Feeding Week -2020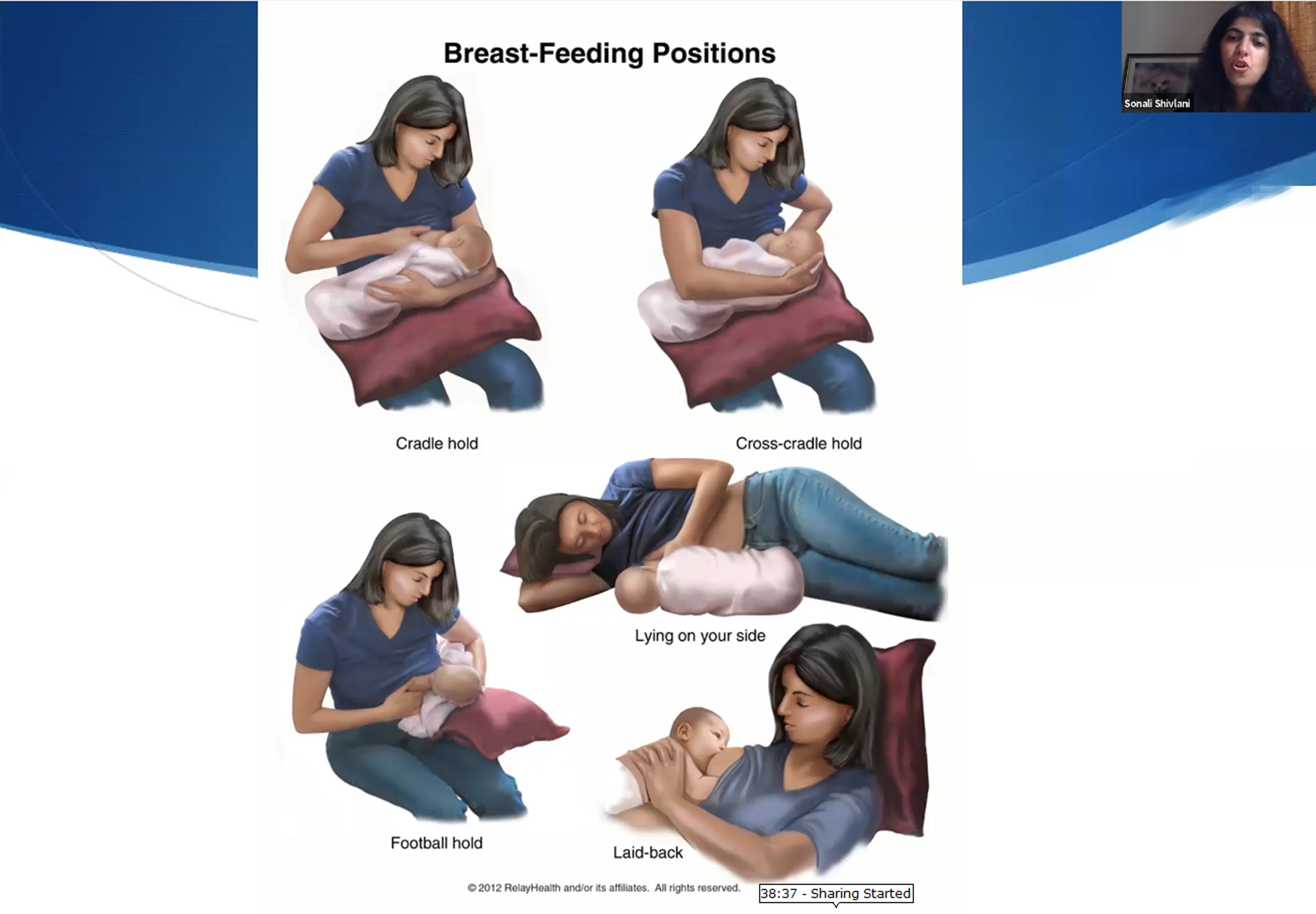 World Breastfeeding Week was celebrated on 8th, August 2020 by organizing e-Lecture cum Simulation and Observation. It was dealt by Dr.Sonali Shivlani, Executive Director & Consultant, Childbirth and Pregnancy & Postnatal Association of India. CAPPA conducts professional training programs in Birth, Lactation and New Parent Education. She demonstrated about recent skilled breast feeding techniques and Counseling services to the lactating mothers.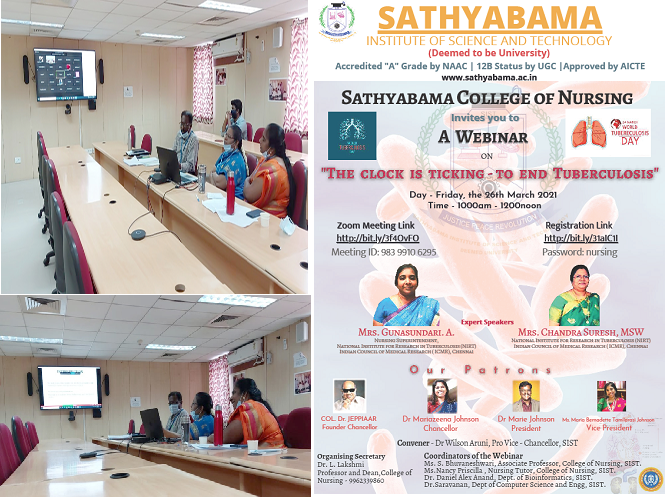 In commemoration of World TB day, we at Sathyabama College of Nursing organised a Webinar on the theme "The clock is ticking: it's time to end TB". TB remains the biggest infectious disease killer. Mrs.Guna Sundari A, Nursing Superintendent & Mrs. Chandra Suresh, MSW from National Institute of Research in Tuberculosis- Indian Council of Medical Research (NIRT-ICMR) was the Expert speakers and they emphasised on the significance of Medical Management, prevention, Counselling for adherence to the treatment process and vaccination.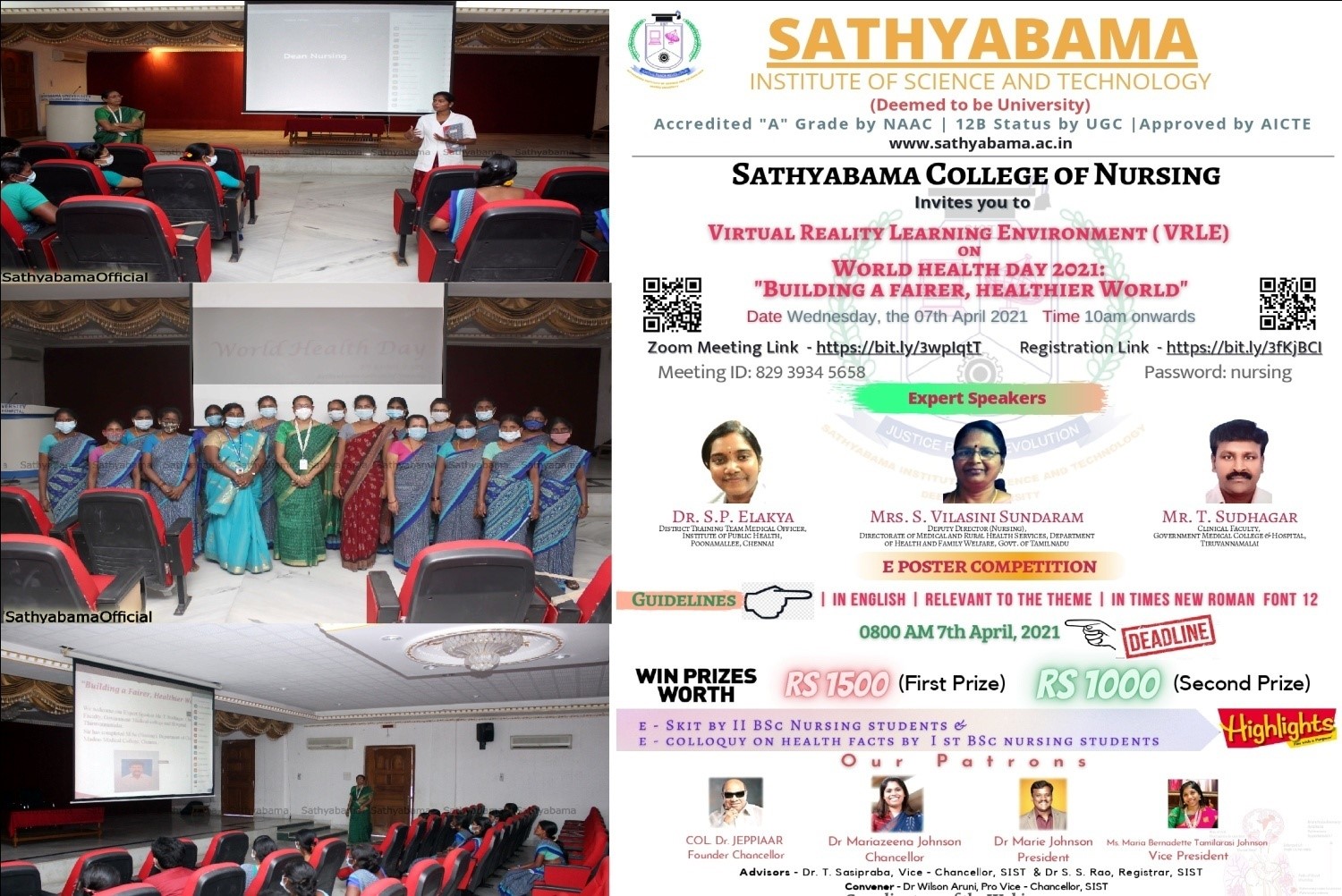 In commemoration of world Health day, We at Sathyabama College of Nursing organised a webinar on the theme "Building a fairer, healthier world for everyone". Our Expert Speakers were Dr.S.P.Elakiya, District training team medical officer, Institute of Public Health, Poonamallee, Chennai, Mrs. Vilasini Sundaram, Deputy Director( Nursing ) Directorate of Medical and Rural Health Services, Department of Health and Family Welfare, Govt. of Tamil Nadu & Mr. Sudhagar, Clinical Faculty, Government medical college and hospital, Tiruvannamalai.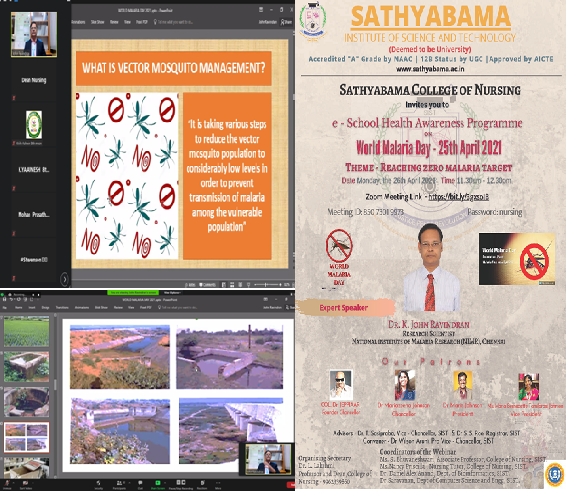 In commemoration of World Malaria Day April, 2021, we at Sathyabama College of Nursing organized an e-School Health Programme on "Reaching the zero Malaria target" by Dr. K.John Ravindran, Research Scientist, National Institute of Malaria Research (NIMR), Chennai. Sir, has a wide research knowledge in the vector biology.Our Expert Speaker shared us the need for joining hands to break the chain of malaria as a small mosquito kills the human.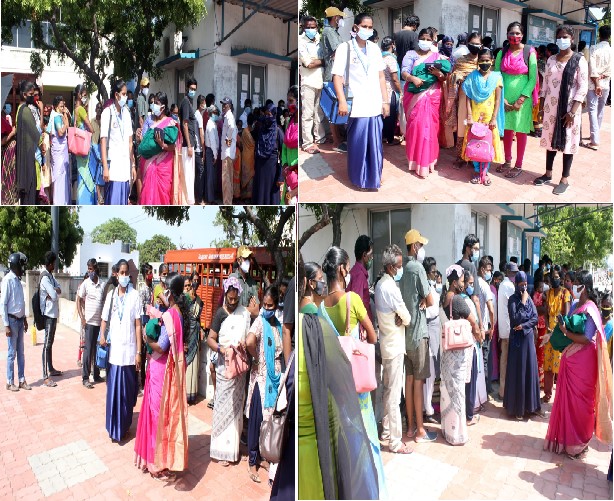 We at Sathyabama College of Nursing organised Breast feeding awareness street play on 9th August 2021 at sholinganallur. This year, for WBW 2021, WABA has selected the theme: Protect Breastfeeding: A Shared Responsibility. The theme is aligned with thematic area of the WBW-SDG 2030 campaign which highlights the links between breastfeeding and survival, health and wellbeing of women, children and nations.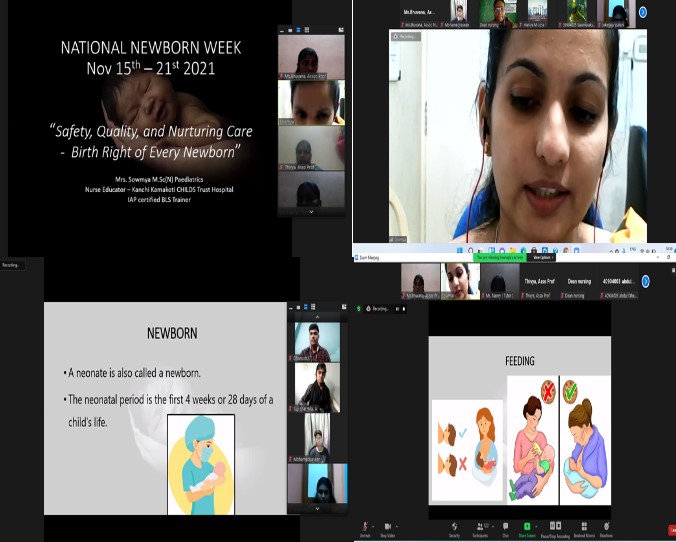 In commemoration of National New Borne Care Week on 15th -21st November 2021, we at Sathyabama College of Nursing organised a Webmeet on 19th November 2021 on the theme "Give'Safety, quality and nurturing care - birth right of every newborn'". The message conveys the essential contribution of our Expert Speaker Ms. Sowmiya Saria Chandy, Nurse Educator/Quality, Kanchi Kamakoti Child Trust Hospital, Nungambakkam, Chennai.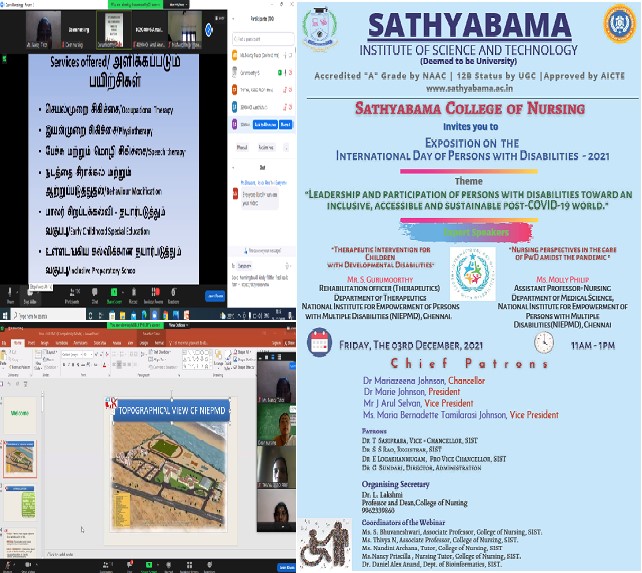 In commemoration of International day of Persons with Disabilities, we at Sathyabama College of Nursing organised an Exposition on 03.12.2021 on the theme "Leadership and participation of persons with disabilities toward an inclusive, accessible and sustainable post-COVID 19 world'. The message conveys the essential contribution of our Expert Speakers, Mr. Gurumoorthy, Rehabilitation Officer (Therapeutics) Department of Therapeutics, National Institute for Empowerment of Persons with Multiple Disabilities, Chennai. And Ms. Molly Philip M.Sc (Nursing) Assistant Professor – Nursing, Department of Medical Sciences, National Institute for Empowerment of Persons with Multiple Disabilities, Chennai.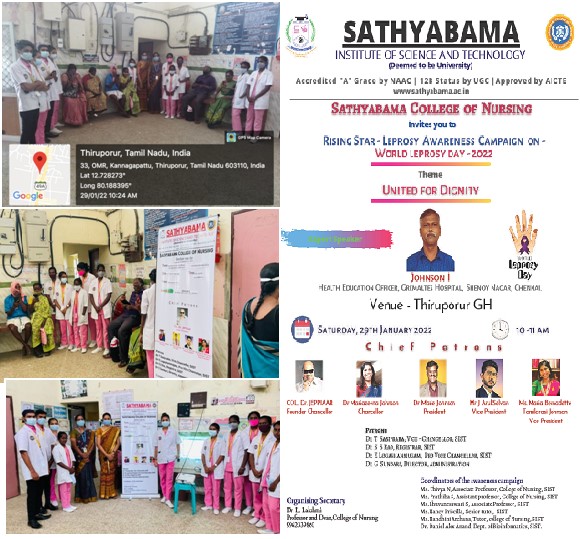 Sathyabama College of Nursing organized a Virtual CNE-Rising Star: Leprosy Awareness Campaign on 29th January 2022 to commemorate World Leprosy Day 2022 on the theme United for dignity. The Expert Speaker of the program was Mr.Johnson I, M.A Sociology, Health education Officer, Gremaltes hospital, Shenoy Nagar, Chennai.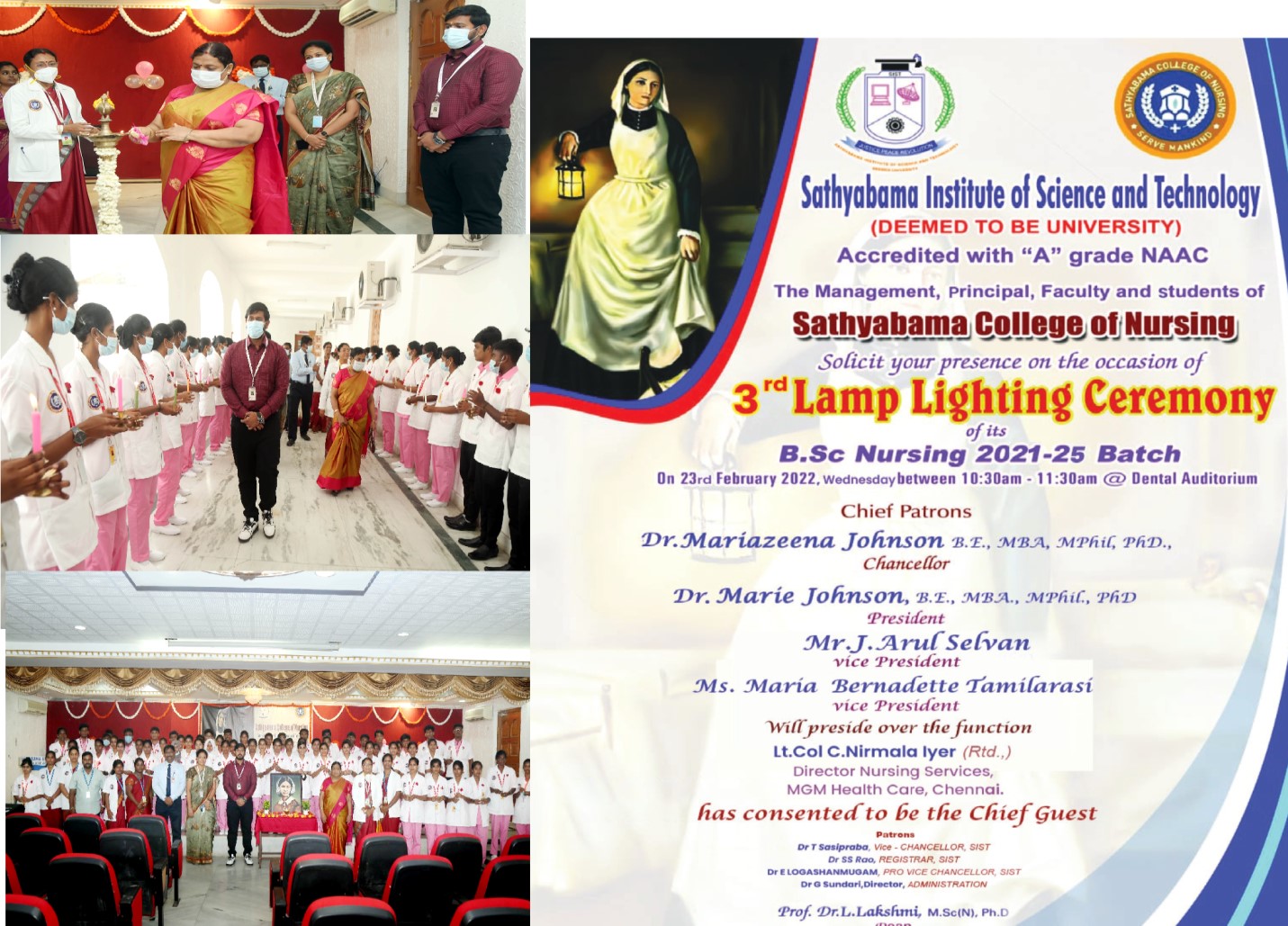 Sathyabama College of Nursing celebrated the Lamp Lighting Ceremony of its 3rd Batch B.Sc Nursing Students on 23rd February, 2022. The lamp lighting is an auspicious occasion in which formally recognizes the students' entry into the Nursing profession. Mr.Arulselvan J, Vice President, Dr.T.Sasipraba, Vice Chancellor, Dr.S.S.Rao, and Mrs.Lt.Col.Nirmala Iyer (Retd.,), the Chief Guest of the day lightened the Kuthu villaku followed by enlightening of the students' lamp. Our students undertook the pledge symbolizing their professional entry with the lamp held in their hands.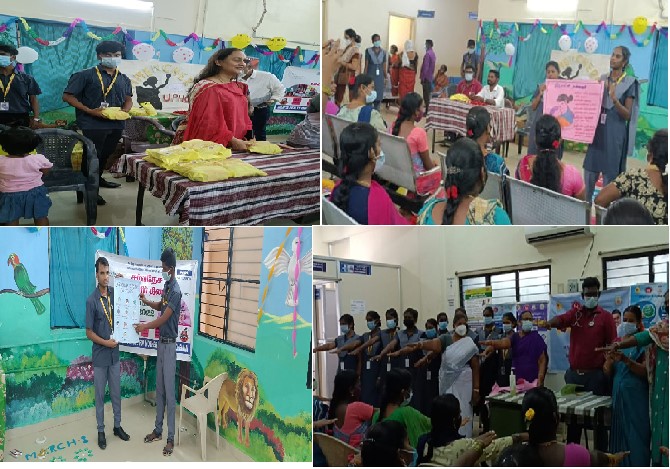 In commemoration of International Women's day, Sathyabama College of Nursing in coordination with Semmencherry Urban Primary Health Centre organised an Awareness programme on 08th March 2022 on the theme "Maternal care and breastfeeding importance'.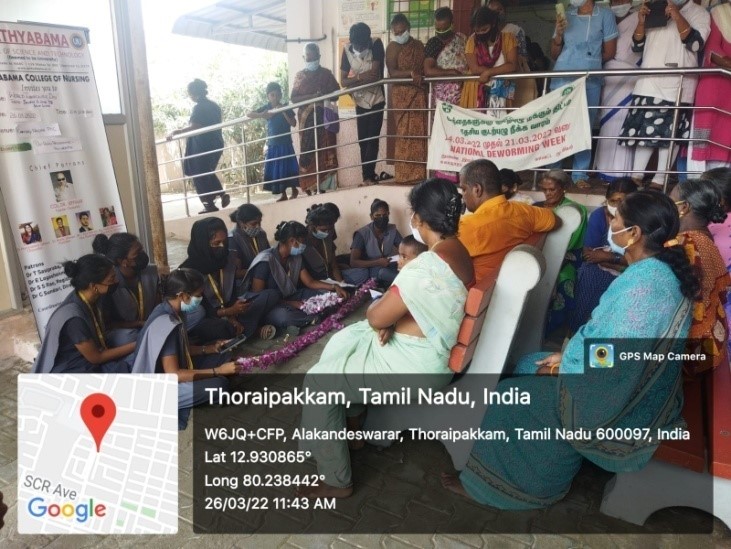 Sathyabama College of Nursing had organized a CNE- Outreach Programme- Villupattu to commemorate World Tuberculosis Day 2022 on the theme "Invest to end TB" at Kannagi Nagar PHC, Shollinganallur, Chennai on 26th March,2022.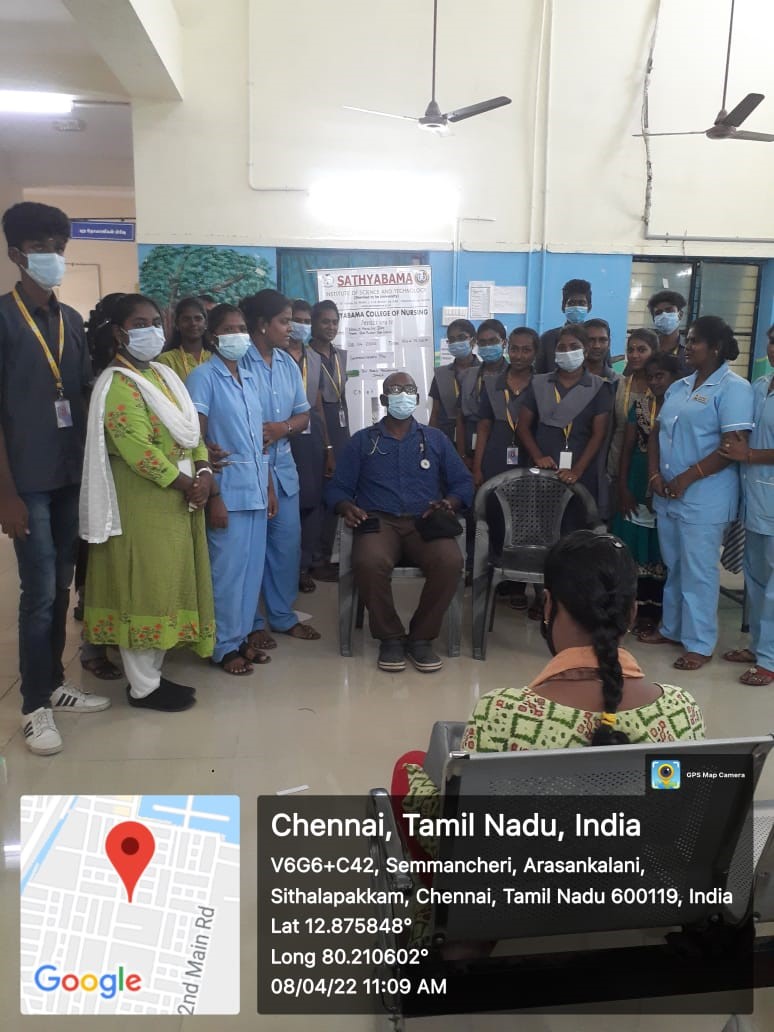 Sathyabama College of Nursing had organized a CNE- Dance Drama on "Green & Healthy recovery from the Covid 19 pandemic" to commemorate World Health Day, 2022 on 8th April, 2022 at Semmencherry PHC, Chennai.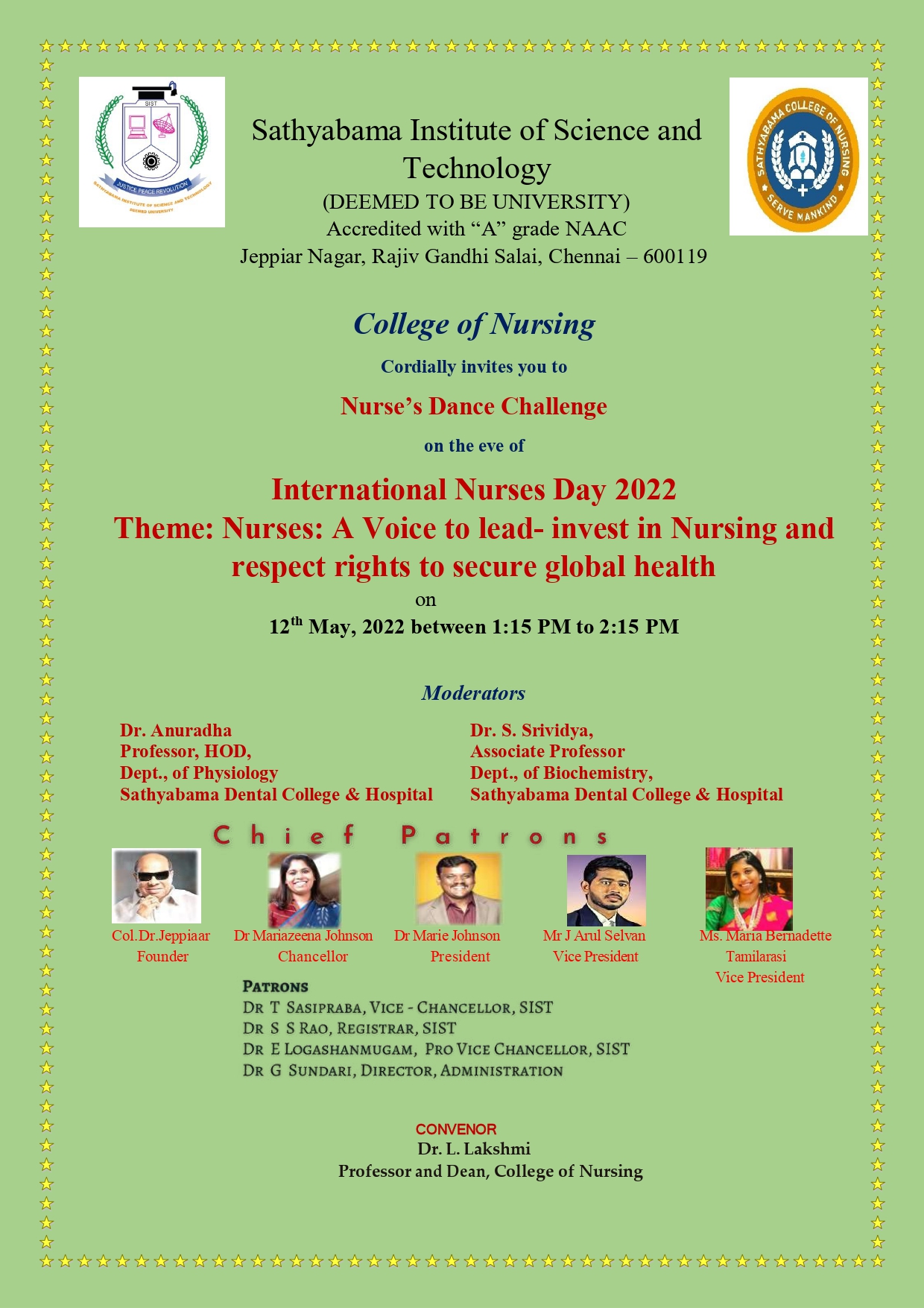 Sathyabama college of Nursing had Celebrated International Nurses Day on 12th May 2022, the theme of the Nurses day was Nurses a voice to lead – invest in Nursing & Respect rights to secure Global Health. On that Special Day Programme were conducted, All the I year, II Year & III Year Nursing Students participated and attended the Programme.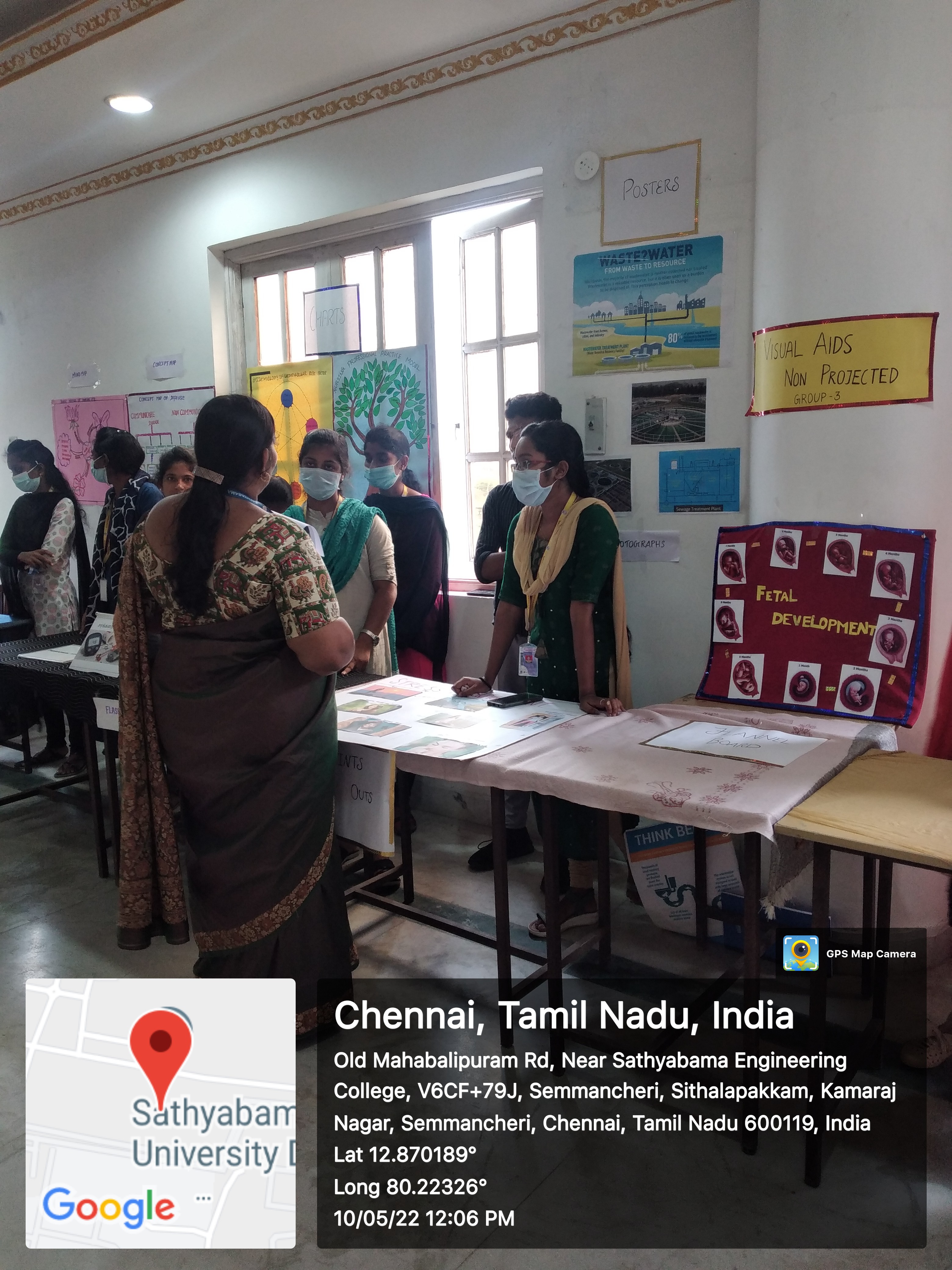 we at Sathyabama College of Nursing organized Exhibition on 10.05.2022 at 11am to 12 Pm. on the theme "Types of A V AIDS". In this total 60 students from 2nd year were participated. They were divided in to 5 groups. Topics were given to students based on the theme. Topics are following as: Audio aids (I) video: Projected (II) and Non projected (III), Audio visual aids (IV) and Traditional aids (V).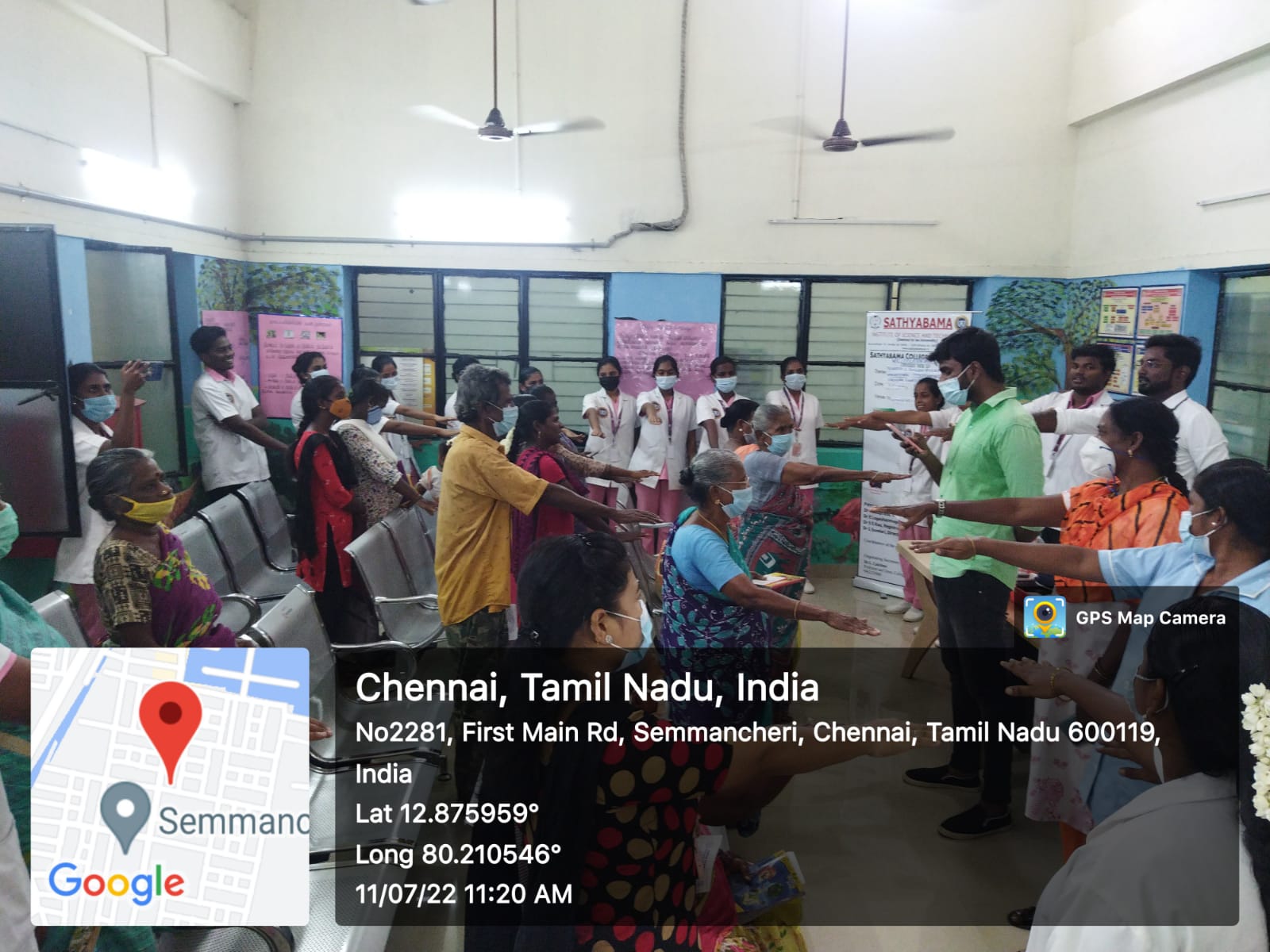 Sathyabama college of Nursing had organized a CNE- Outreach Programme- Health Talk to commemorate World Population day 2022 on the theme, "Towards a resilient future for all- harassing opportunities and ensuring rights and choices for all".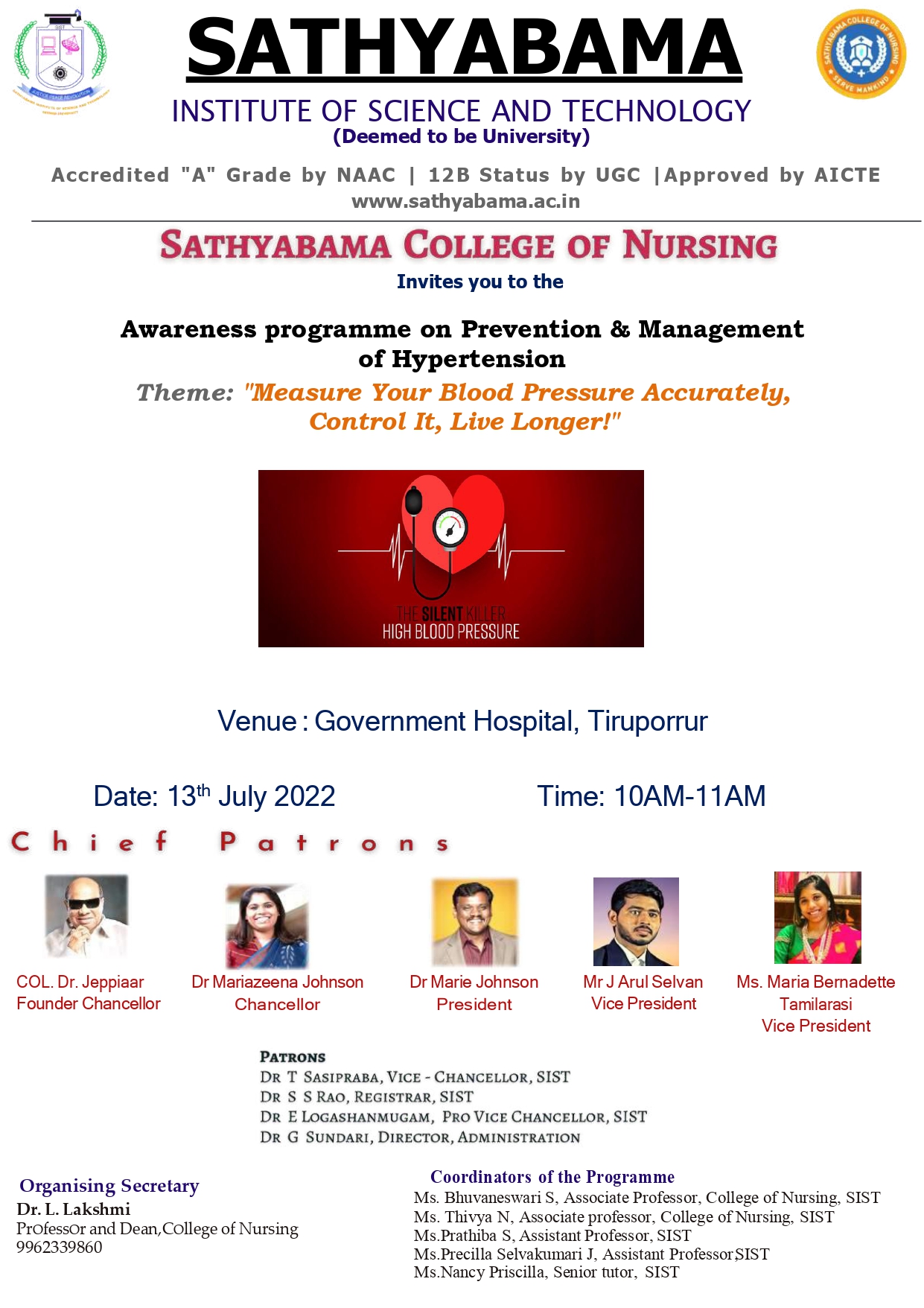 An awareness programme was organized on 13th July 2022 at Thiruporur general hospital by Sathyabama College of Nursing, B.Sc Nursing II year students, on the theme " Measure your blood Pressure Accurately, Control It, Live Longer!" Nearly 50 patients participated.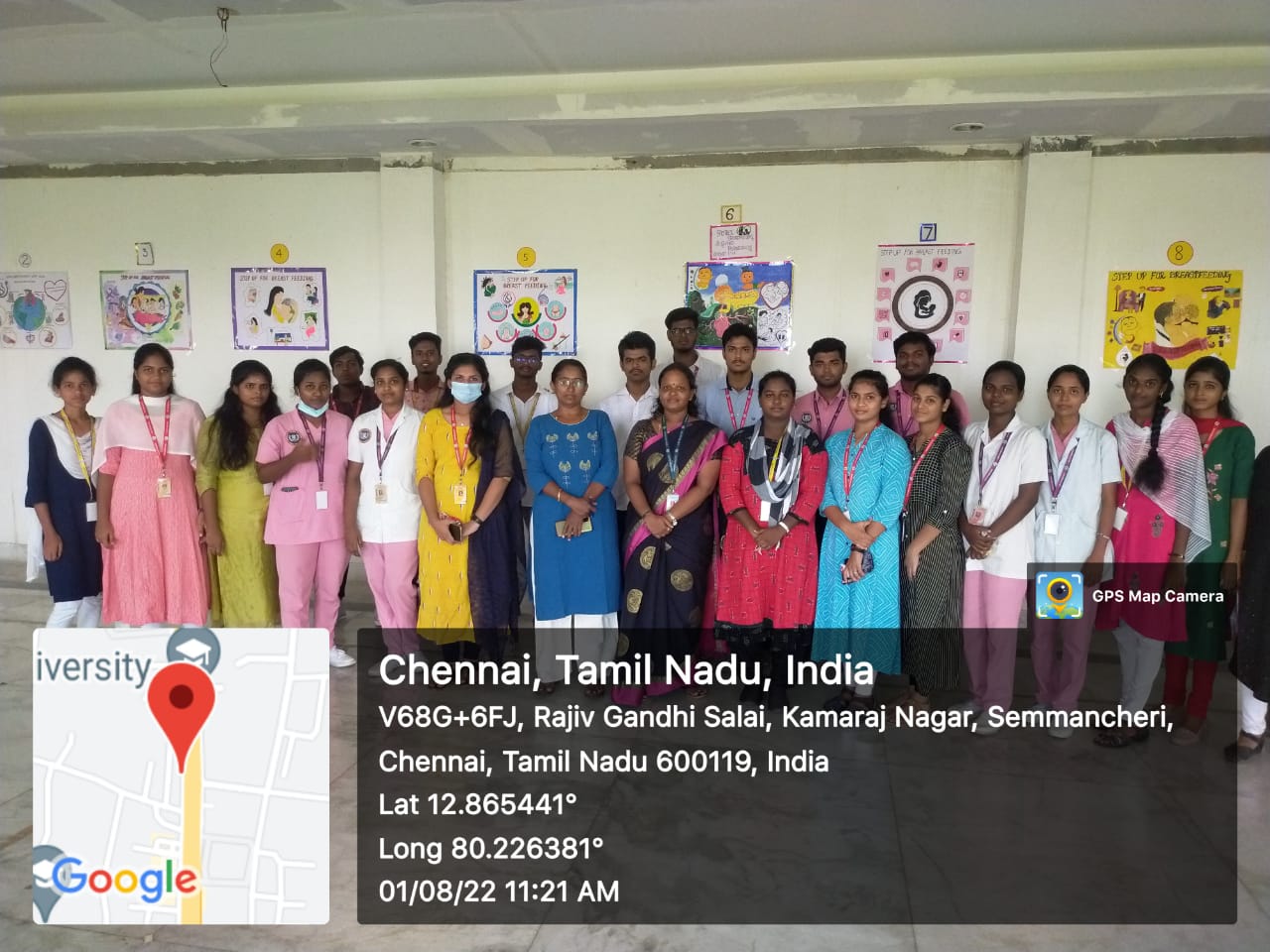 In lieu of World Breastfeeding week celebration, Sathyabama College of nursing organized various program related to the theme of this year "Step up for Breast feeding" from 1st August 2022- 6th August 2022 by III year BSc Nursing Students. Mothers Forum at Thiruporur GH. Antenatal and post natal mothers were the target audience.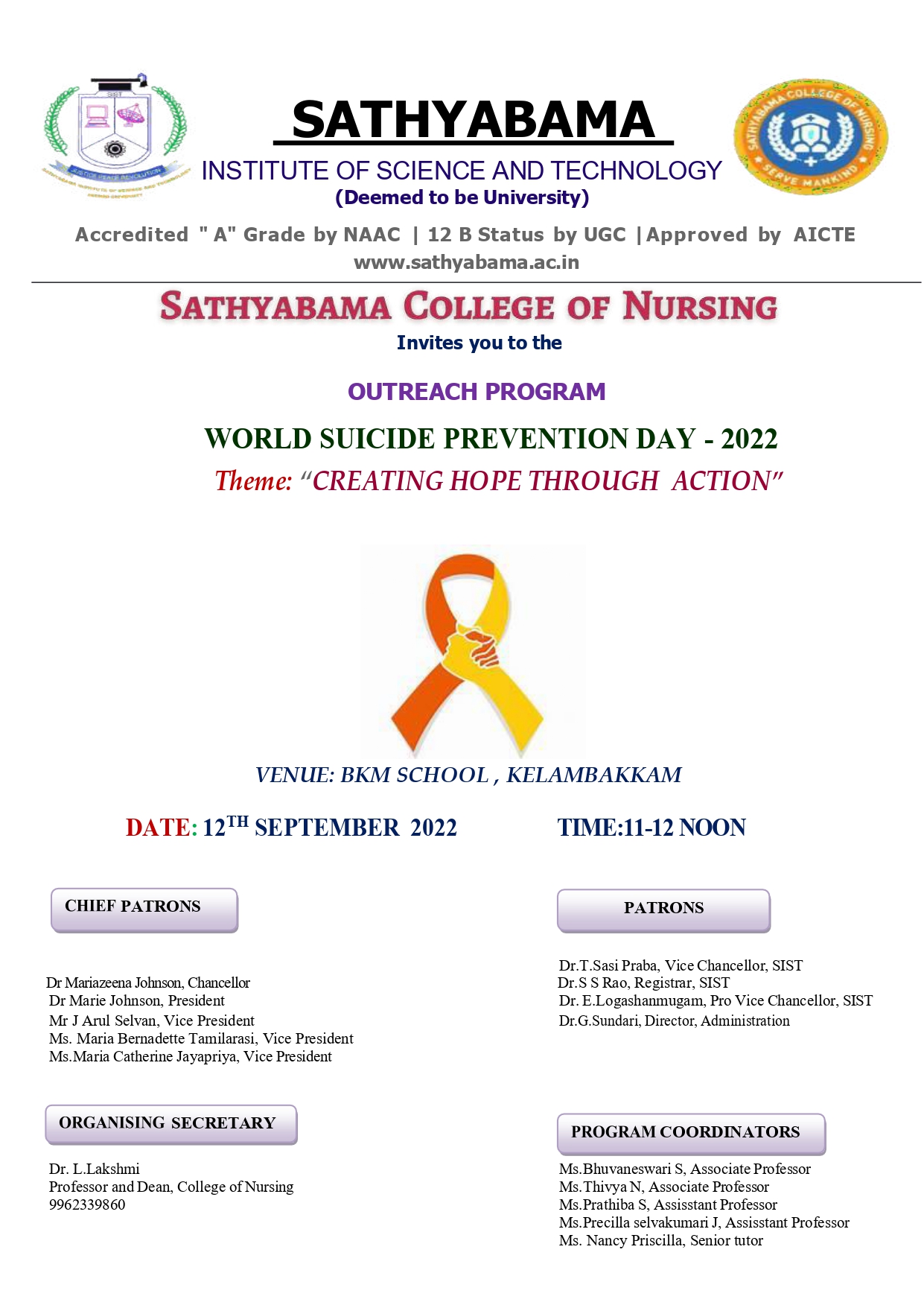 Sathyabama College of Nursing had organized a CNE - Outreach Programme - to commemorate World suicide prevention day - 2022 on the theme "Creating hope through action" on 12th September 2022 at BKM School, Kelambakkam. The day is about to highlight stress and stress management. Stress is a normal reaction the body has when changes occur, resulting in physical, emotional and intellectual responses. Stress management training can help you deal with changes in a healthier way. The participants of the programme were 100 students from 12th standard. The session was enthusiastic and interactive.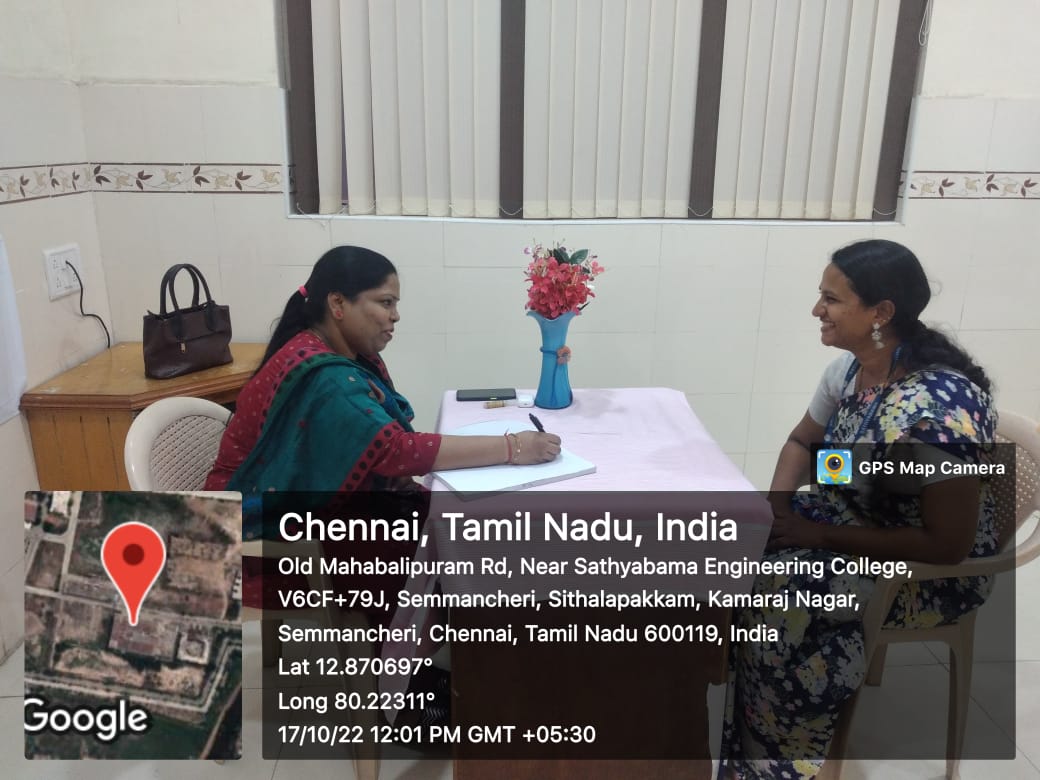 Placement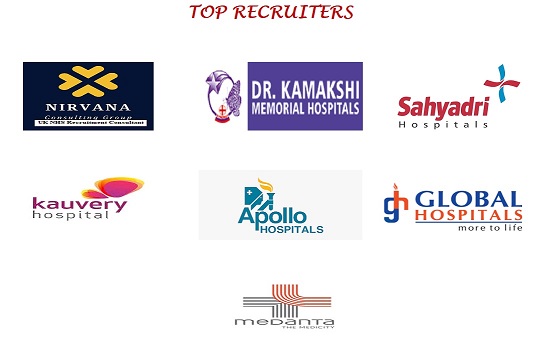 Dr.L.Lakshmi
Dean - School of Nursing
+91 9840925268 / 044 - 24503152 Extension:5741