School of Electrical and Electronics

School of Electrical and Electronics Engineering consistently and competently drives towards excellence through our departments of Electronics and Communication Engineering, Electronics and Telecommunication Engineering, Electrical and Electronics Engineering and Electronics and Instrumentation Engineering.   With a strong emphasis on converting science to technology, the prime focus of our school is to impart quality education through hands on training, workshops and research in the frontiers of Signal/Image Processing,VLSI Design, Power Electronics, Embedded systems, Wind Energy, Nanotechnology and Telecommunications.
Our school has developed on board communication subsystem, ground station control, electronic power supply, attitude determination control systems and has calibrated spectrometer for the successful launch of SATHYABAMASAT" on June 22nd, 2016. Mission of 'SATHYABAMASAT' to measure greenhouse gases emission is made successful through continuous collection and processing of satellite data by our students from the ground station in our premises. Combined expertise of staff and students of our school has resulted around 30 research projects sponsored by government and  R&D organizations like DST, IGCAR, BRNS, BRFST, TNSCST, ISRO, DRDO.
It opens a wide spectrum of opportunities for placement in dream companies not only limited to his area of study. It is evident in the consistent placement record of over 90% every year in every department of the school. Some of our major recruiters are Samsung, HP Electronics, NTT Data, MBIT Wireless, Wipro, HCL Technologies, Infosys, Capgemini, L & T Infotech, Tech Mahindra etc. Excellent infrastructure, expert faculty members and enthusiastic students have also made remarkable contributions in product development, patents and paper publications.
The Department of Electronics and Communication Engineering was established in the year 1988. We offer B.E. Electronics and Communication Engineering and M.E. Embedded and IoT. The prime focus of our department is to impart quality education with a strong emphasis on converting basic science to technology, through hands on training, workshops and research in the frontiers of VLSI Design, Embedded systems, Nanotechnology, Image Processing and Wireless Communications. We enjoy a symbiotic relationship with many leading institutions and industries in India. Having understood the paradigm shift from degree based education to skill based education, Choice Based Credit System is followed which enhances the employability skill of the students for placement in core companies and top MNCs like TCS, CTS, HCL, Wipro, Infosys, Accenture, Mind Tree and Mphasis.
Our students excel in state of art technologies in their field of specialization, show excellent skill in problem solving, software development and testing. They are groomed with leadership qualities and team spirit with a positive ethical attitude. It opens a wide spectrum of opportunities in becoming entrepreneurs, in securing placement and pursuing higher studies in reputed educational institutions. Highly competent faculty with rich research and academic process help in the holistic development of the students. They have sponsored research projects from government and R&D organizations such as DST, TNSCST, DRDO, BRNS, BRFST, DAE and UBA.
20
State of art Laboratories
Research
Funded Projects
Publications
Patents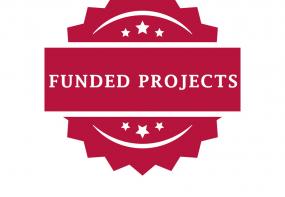 FUNDED PROJECTS:
The faculty members and students of ECE Department have developed ADCS subsystem and on board communication system for Sathyabama satellite and ground station for acquiring signals from the satellite. We are committed to provide excellence in fundamental and applied research for the development of innovative technologies. It is evident from the academic research, sponsored research and consultancy activities undertaken by the department from various government agencies, public and private sectors. Sponsored research projects resulted in setting up high end infrastructure facilities in the institution. Faculty of our department has successfully completed 30 research projects sponsored by various R&D/ Government organizations such as BRNS, BRFST, DST, TNSCST, IGCAR. . BRNS has recognized our faculty for their outstanding research by awarding 'A' grade. They have successfully developed working models/ equipment namely fast response eddy current meter, single pixel camera, active magnetic bearing for R & D organizations.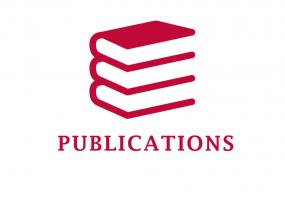 PUBLICATIONS
Research publications are where results and knowledge derived by research are shared and taught to others in the world. Our faculty and students published their research findings in high impact SCI indexed journals periodically. Our faculty are reviewers in journals which include IEEE transactions, Springer Publications etc. Citation index of our research papers is the evidence for the quality of research. The faculty members at the University have published several books, book chapters and monographs.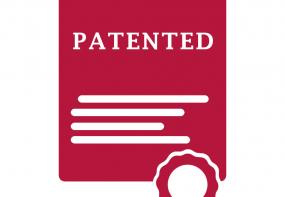 PATENTS
Our faculty and students are actively involved in developing indigenous products. These products are patented which further results in commercialization. "Virtual Laboratory for Digital Logic Circuits" has been developed and deployed. The Electronics and Communication Engineering Department has 12 granted design patents and 7 patents are published and 25 patents filed..
Vision
The Department of Electronics and Communication Engineering envisions to be a world class department of eminence nurturing responsible citizens who would serve as an effective technical manpower excelling in the global industrial requirements.
Mission
To strengthen the basics, update and introduce courses that are relevant to the current trends in the field of Electronics and Communication which can enhance the employability skill.
To extend frontiers of cognizance through relevant and contextual Research and Development.
To furnish the graduates with leadership and entrepreneurial knowledge and skills.
To inculcate ethical behavior in order to serve the community at large.
Program Educational Objectives (PEOs)
PEO1: Excel with extensive knowledge in the field of Electronics and Communication to practice and to pursue higher studies.
PEO2: Serve the final users with innovative technologies to meet current industrial requirements.
PEO3: Resolve technological issues to serve the society in a socially ethical and responsible manner.
PEO4: Excel in their chosen career by working as an individual or in a team.
Program Outcomes(POs)
PO1 Engineering knowledge: Apply the knowledge of mathematics, science, engineering fundamentals, and an engineering specialization to the solution of complex engineering problems.
PO2 Problem analysis: Identify, formulate, review research literature, and analyze complex engineering problems reaching substantiated conclusions using first principles of mathematics, natural sciences, and engineering sciences
PO3 Design/development of solutions: Design solutions for complex engineering problems and design system components or processes that meet the specified needs with appropriate consideration for the public health and safety, and the cultural, societal, and environmental considerations.
PO4 Conduct investigations of complex problems: Use research-based knowledge and research methods including design of experiments, analysis and interpretation of data, and synthesis of the information to provide valid conclusions.
PO5 Modern tool usage: Create, select, and apply appropriate techniques, resources, and modern engineering and IT tools including prediction and modeling to complex engineering activities with an understanding of the limitations.
PO6 The engineer and society: Apply reasoning informed by the contextual knowledge to assess societal, health, safety, legal and cultural issues and the consequent responsibilities relevant to the professional engineering practice
PO7 Environment and sustainability: Understand the impact of the professional engineering solutions in societal and environmental contexts, and demonstrate the knowledge of, and need for sustainable development
PO8 Ethics: Apply ethical principles and commit to professional ethics and responsibilities and norms of the engineering practice.
PO9 Individual and team work: Function effectively as an individual, and as a member or leader in diverse teams, and in multidisciplinary settings.
PO10 Communication: Communicate effectively on complex engineering activities with the engineering community and with society at large, such as, being able to comprehend and write effective reports and design documentation, make effective presentations, and give and receive clear instructions.
PO11 Project management and finance: Demonstrate knowledge and understanding of the engineering and management principles and apply these to one's own work, as a member and leader in a team, to manage projects and in multidisciplinary environments.
PO12 Life-long learning: Recognize the need for and have the preparation and ability to engage independent and life-long learning in the broadest context of technological change.
Programme Specific Outcomes (PSOs)
PSO1: Facilitate the concepts of basic Electronic Design, Development and troubleshooting of analog, digital electronic circuits and antennas in par with the recent trends and also to produce expertise in addressing challenges related to IC design and system level verification.
PSO2: Encompass the knowledge of Signal and Image processing and to implement for real time scenario.
PSO3: Realize and equip with the advancements in the field of Embedded, IOT and Wireless Technologies
Department Highlights
Department of ECE has talented and highly experienced faculty members who use their expertise in the holistic development of the department. Faculty encourages, motivate and develop intellectual and socially responsible graduates. Few of their accomplishments are listed below.
Faculty and students of our department has successfully completed 30 research projects sponsored by various R&D/ Government organizations such as BRNS, BRFST, DST, TNSCST, IGCAR, etc. They have successfully developed working models/equipments namely Teletector, fast response eddy current meter, single pixel camera, active magnetic bearing for R & D organizations.
The total funding received through sponsored projects is Rs.3,60,82,575/-
2000+ publications in refereed journals indexed in Scopus and Web of Science with a total citation of 1860+
12 patents are granted, 7 published and 25 patents are filed.
The faculty members and students of ECE Department has developed ADCS subsystem and on board communication system for Sathyabama satellite and ground station for acquiring signals from the satellite
BRNS has recognized and awarded Dr. B. Sheela Rani, for successfully developing a software tool for weld flaw characterization from ultrasonic testing.
Dr. E. Logashanmugam has successfully developed single pixel camera for which BRNS has awarded grade 'A'.
Three of our faculty members have been recognized by CTS with best teacher award.
Major university in-house projects are being developed by the students of the department.
Members in Professional bodies like IEEE, IEI, ISTE.
Innovative teaching learning approach.
Excellent infrastructure with state of art laboratories with latest configuration and software.
High placement consecutively.
Students
Sathyabama Institute of Science and Technology places emphasize on co-curricular and extracurricular activities These activities are student centered and primarily aims to supplement regular curricular activities.Its goal is to represent the student body in making the study experience as rewarding and enjoyable as possible.
International Relations
Centre for Academic Partnership & International Relations is an initiative of Sathyabama Institute of Science and Technology devoted to promote academic alliances with Universities and Institutes at National and International level. The Centre establishes a link through Memorandum of Understanding to facilitate Research Collaboration, Student Exchange Programmes and Faculty Exchange Programmes.
Insights
Collaboration and MOU's
Facilities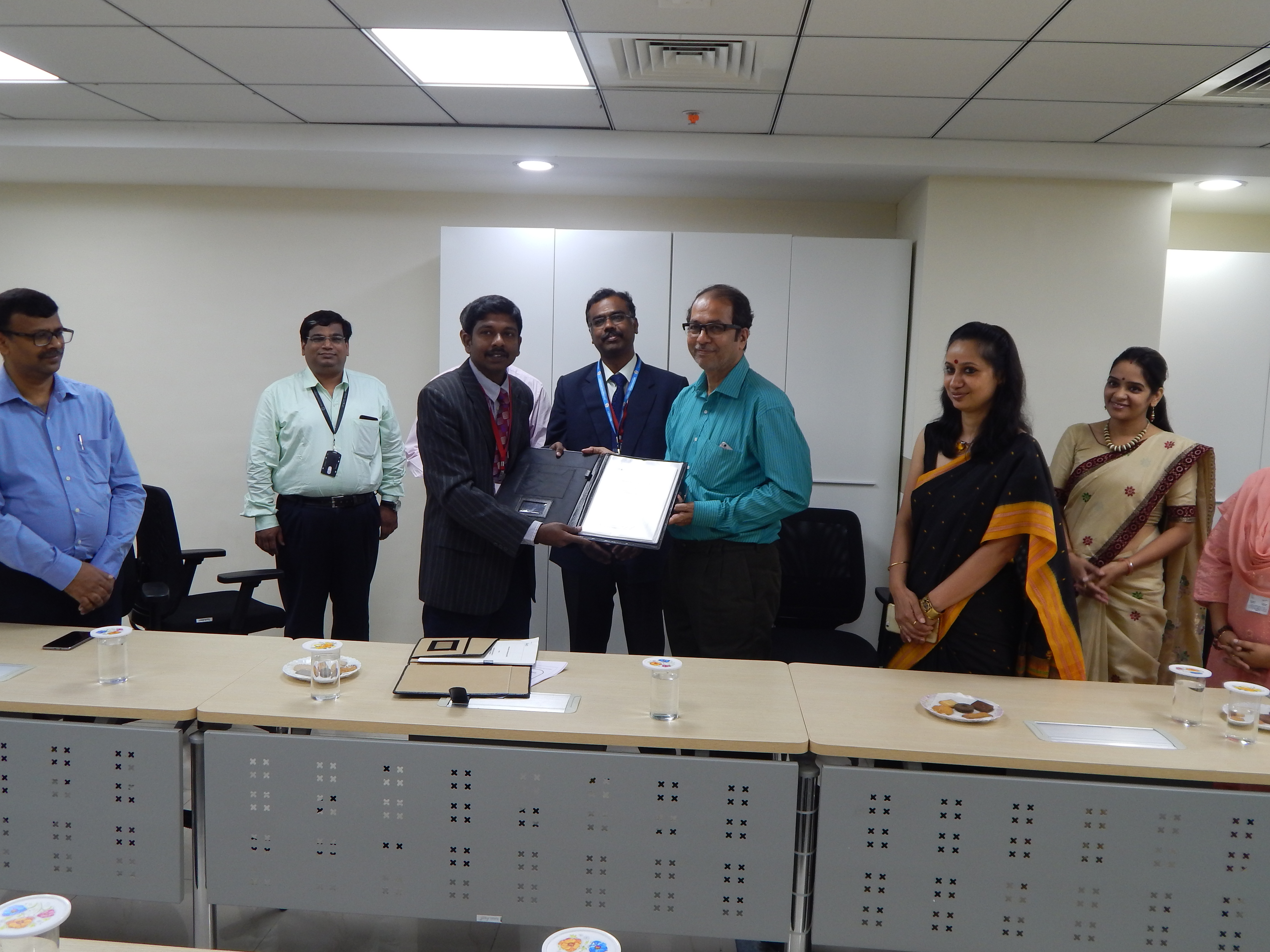 Industry Institute interaction bridges the gap between theoretical science and technological advances. Having understood clearly, department of ECE has Memoranda of Understanding with HCL Technologies, Qmax Technologies and BSNL. Centres of excellence are established through this MOU and a series of activities from hands on training to direct placement are carried out.The Department of Electronics and Communication Engineering has signed Memorandum of Understanding with various universities across the world. Semester Abroad Programmes, Student Exchange Programmes, Staff Exchange Programmes, Student Internships Abroad, International Conferences are conducted as a follow up to these MoUs. Some of The MOUs signed by ECE department are
Vedamrit Technology Solutions Pvt Ltd, Chennai
HCL Technologies Limited, Chennai
Centre for Development of Advanced Computing, Pune
Reliance Jio Infocomm Limited, Mumbai
Realtime Technosoft, Chennai
Analog Electronics, Chennai
I Sys, Chennai
BSNL, Chennai
Centre of Excellence for Advanced Electronic Test Engineering: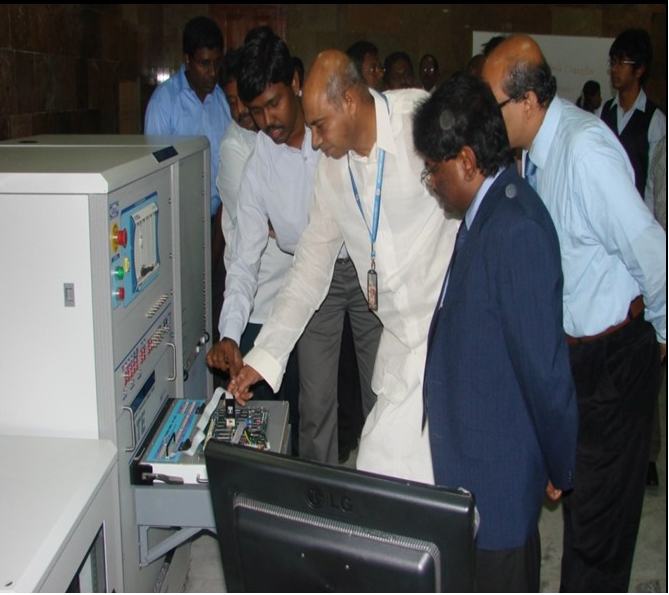 In association with QMAX technologies, Advanced Electronic Test Engineering (Research) Centre was established in the department in 2014. Major equipment such as Boundary scan test system and demonstration boards QMAX PANTHER (CT256 Reverse Engineering system), QT 200 Mixed signal test system, QT900 test system and QMAX Software for QT200 test system were provided by the company. Company professionals trained the faculty of Department of ECE. The faculty expertly trains the students in various areas like PCB layout design, fabrication & testing, advanced test engineering and embedded system design, advanced electronic test engineering, embedded system design using PIC microcontroller and advanced electronic test engineering
Sathyabama NI LabVIEW Academy: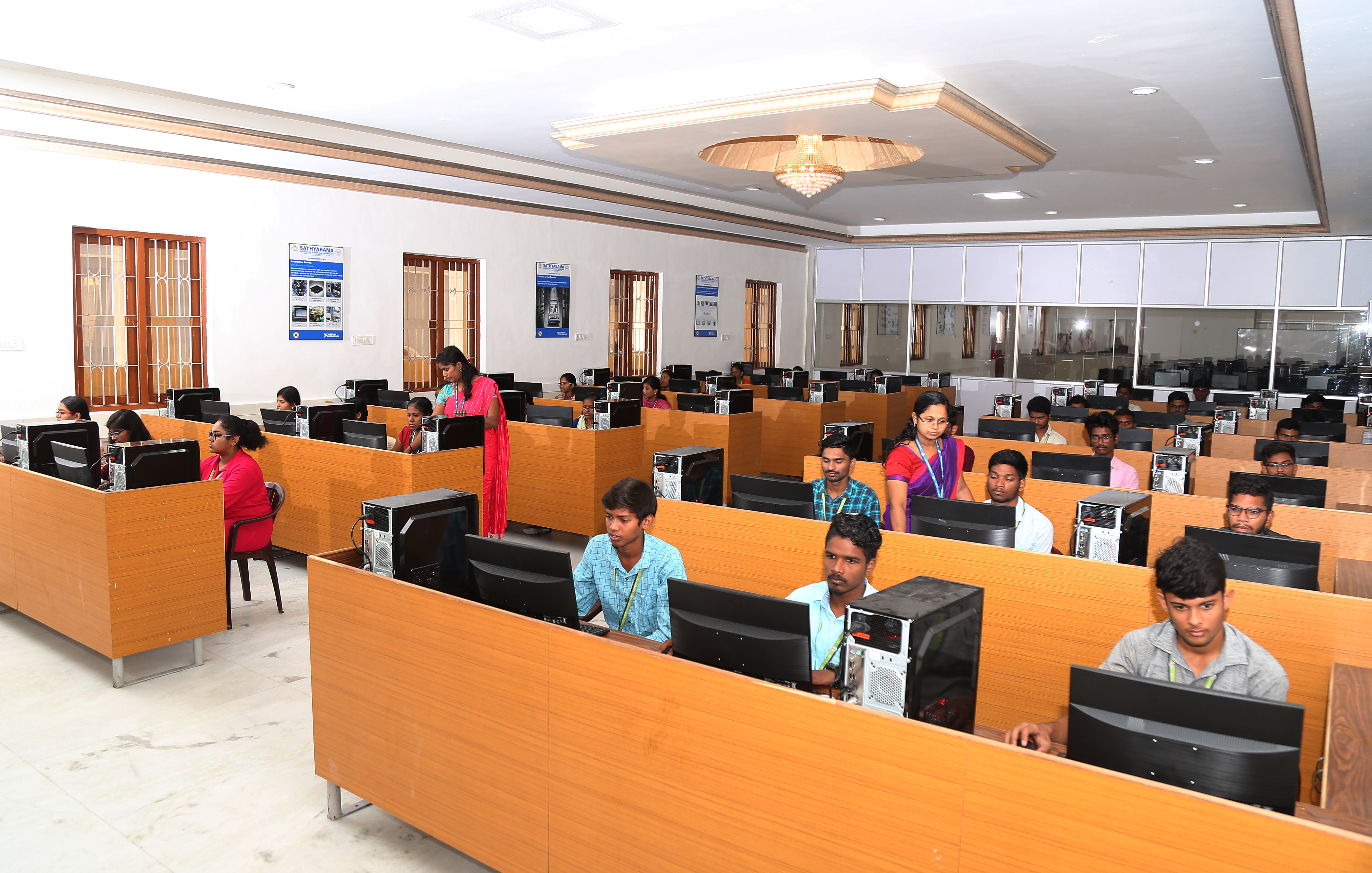 Sathyabama Institute of Science and Technology in association with National Instruments Systems (India) Private Limited ("NI"), Bangalore has set up a lab called "Sathyabama-NI LabVIEW Academy" in September 2018, to enhance the teaching learning process and motivate the students and staff to carry out real time project and research work. An MOU has been signed between Sathyabama and NI for a period of three years. The LabVIEW Academy program provides with a classroom curriculum package that supports both credit and non-credit courses. The program strives to foster a culture of project-based learning and innovation. After completing the program, students have the opportunity, knowledge, and tools to attempt the Certified LabVIEW Associate Developer (CLAD) & CLD exam, which is a professional certification that is recognized by many companies as an indication of how industry ready the student is. NI will provide training as per the Competence Development Program on semester basis from third semester either directly or through its authorized Success Assurance Partner team members.Project-Based Learning (PBL) is one of the most frequently referenced learning models in engineering education. By applying theory through hands-on activities and authentic design challenges Project-Based Learning has been changing the approach of engineering education globally.
Centre of Excellence on Embedded Programming & IC Design: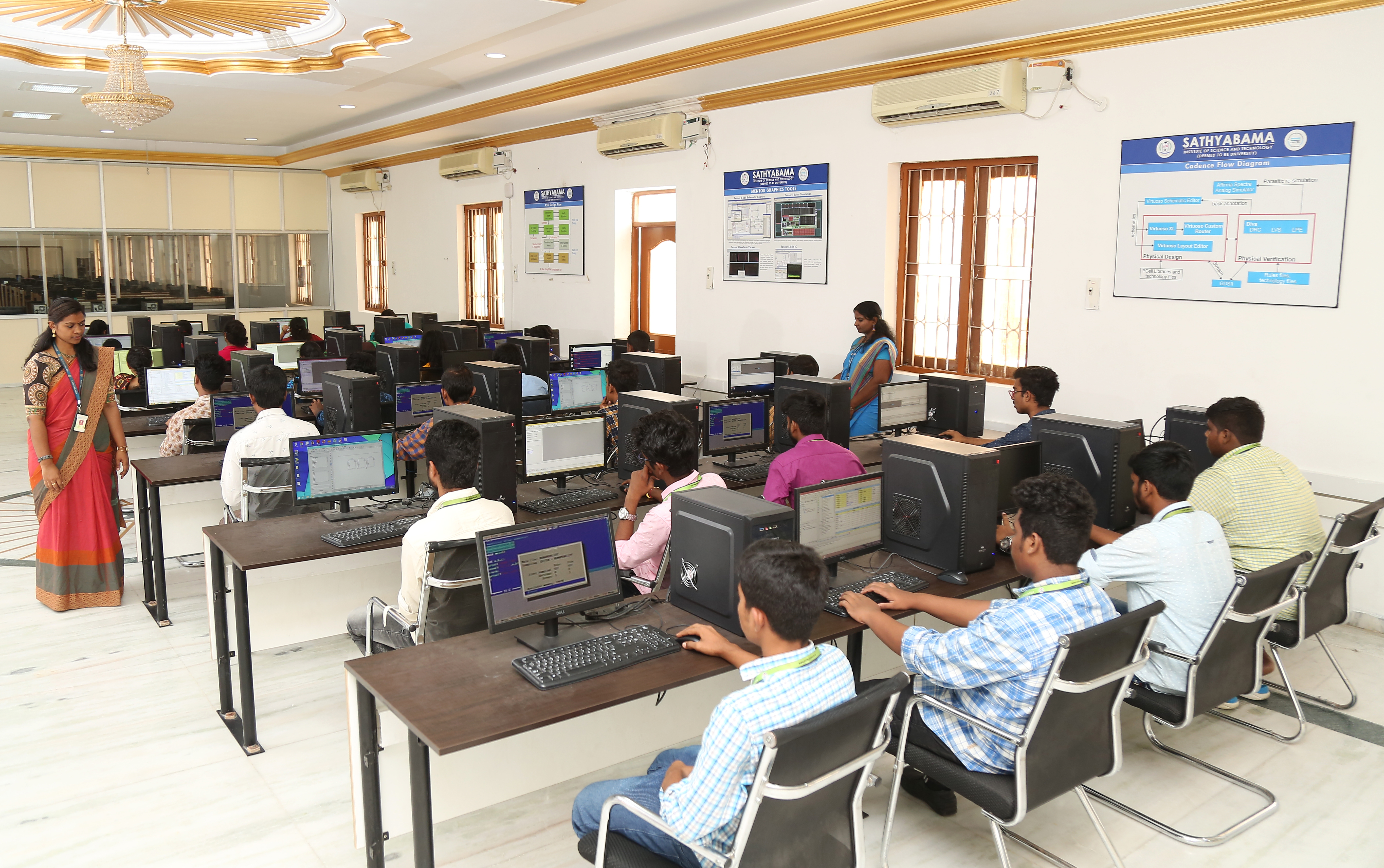 This Centre was established in association with Innovation and Incubator Lab CDAC Pune for the benefit of our students with World Class Amenities (Digital Library/IEEE & ACM Springers Access). Comprehensive Laboratory has been setup to enhance the skills of students, researchers and academicians. The laboratory kit comes with various nodes supporting different protocols and Gateway. It also comes with a lab manual to streamline the learning process on various communication technologies and networking topologies. This centre has required software and APIs to interface sensors to plug and play with nodes in implementing newer algorithms. This centre is equipped with 2 numbers of accelerator cards - NVIDIA K40 accelerator card and NVIDIA P5000 for deep learning. Other computing resources such as Raspberry PI, Beagle bone Black, ARM cortex M3/M4 boards – LPC 2148, Lora WAN equipped motes/nodes, TI motes with the capabilities of Thread, ZigBee etc. are also available to enhance the research activities and develop quick prototype and POC for product design and developments.
Centre of Excellence in Embedded and Imaging Technologies: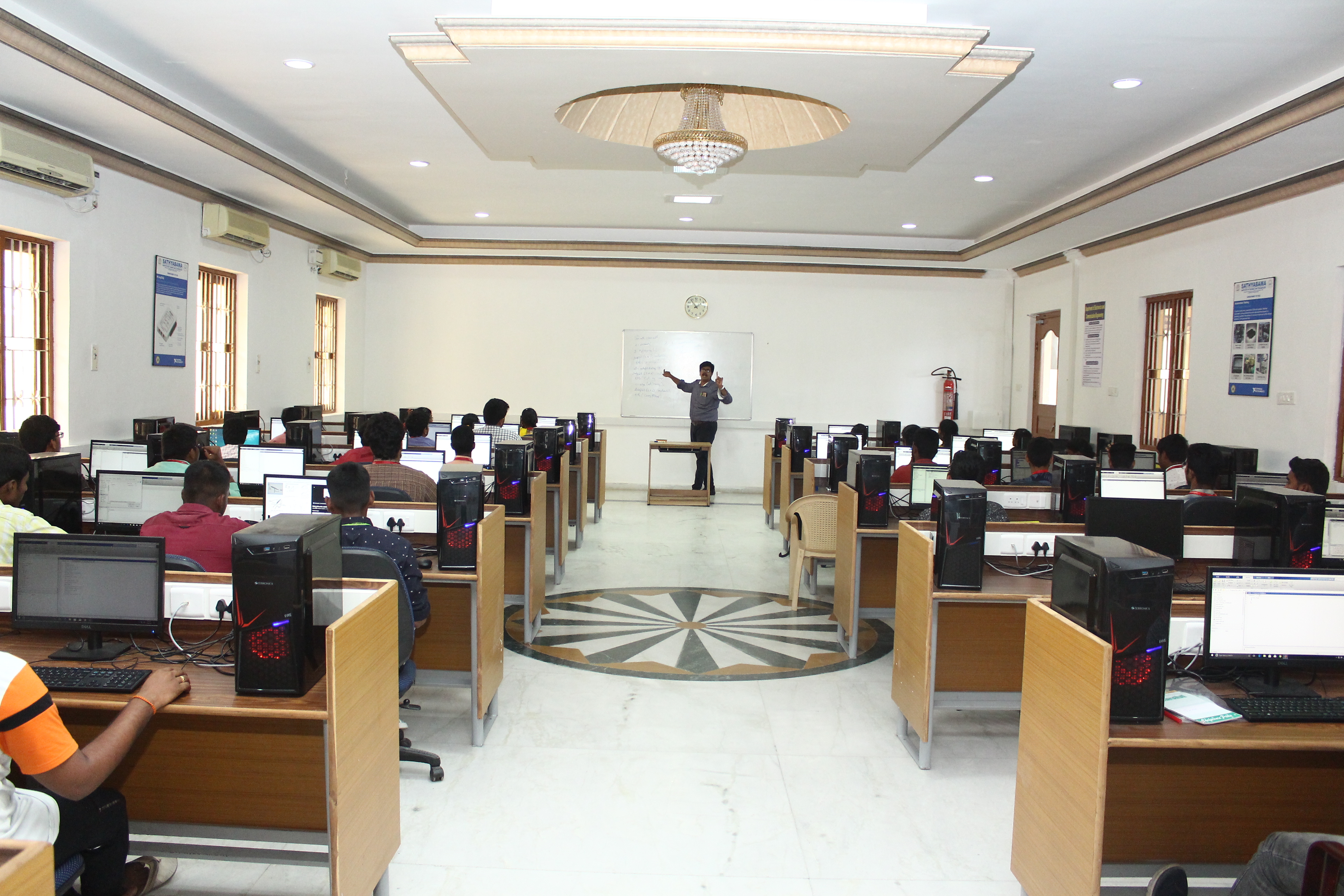 Centre of excellence in Embedded and Imaging technologies established in association with HCL Technologies in January 2019.Through this center, the students of the department are given free training on embedded system in linux platform and is recruited by HCL after the selection procedure. This provides an opportunity for students to enter core domain. Recently Mr.Thillaivasan.V, Technical manager and Mr.Stephen Paulraj, Senior Technical Specialist has given training to students.
Sathyabama Amateur Radio Station (HAM radio):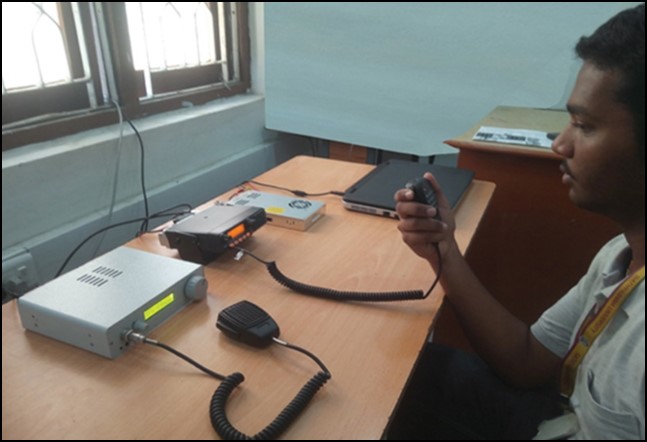 Sathyabama Amateur radio station has VHF band FTM-3100 FM Transceiver with operational bandwidth of (136-174 MHz), 65Watts RF output power and a Home brewed HF band (3-30)MHz, 20 Watts RF output power. CP22 Vertical Dipole antenna is installed for VHF band communications and a FAN dipole antenna for HF band communications. The distance covered by the Radio transmitters is around (200-400) Km. Students use this facility to learn, design, fabricate and test RF transmitters and receivers and enhance their practical skills. HAM license holders use this facility to communicate with fellow HAM community members.
Laboratories
Analog Integrated Circuits Laboratory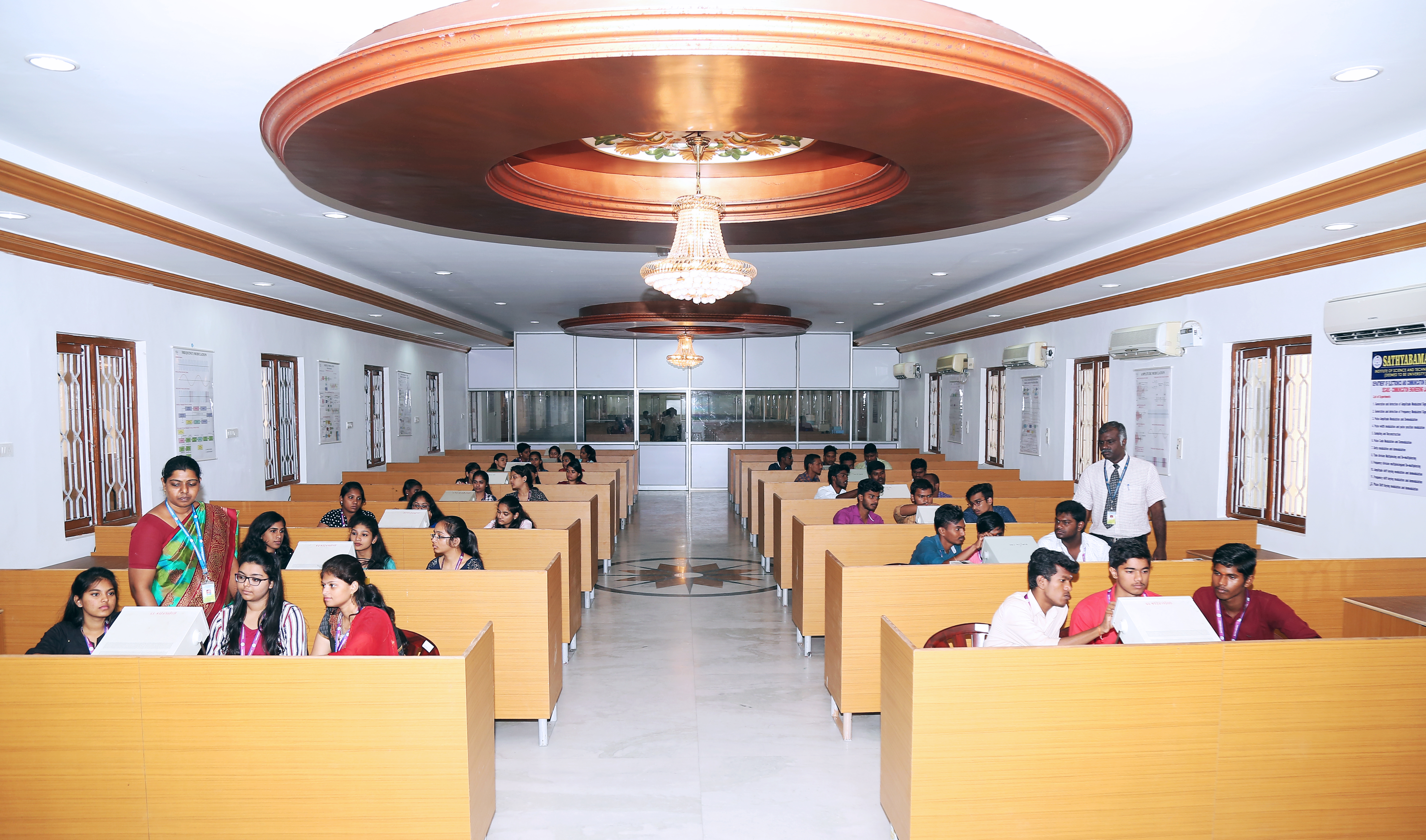 The Analog Integrated Circuits laboratory helps the students to gain practical knowledge on Operational Amplifier applications like arithmetic circuits, filters and oscillators also provides knowledge on IC555 timer and IC723. This laboratory enable the students to build the basic applications of Op-Amp, VCO , PLL, filters, oscillators and DAC using IC 741 Op-Amp.It also enables the students implement various circuits like multivibrators and Voltage Regulators using ICs. This lab is equipped with CRO 20/30MHz, Linear IC Tester, Function Generator (3MHz), Audio Oscillator (100KHz), LCR Meter. This laboratory enables the student to construct and troubleshoot any circuit containing op-amps and IC555.
Communication Engineering Laboratory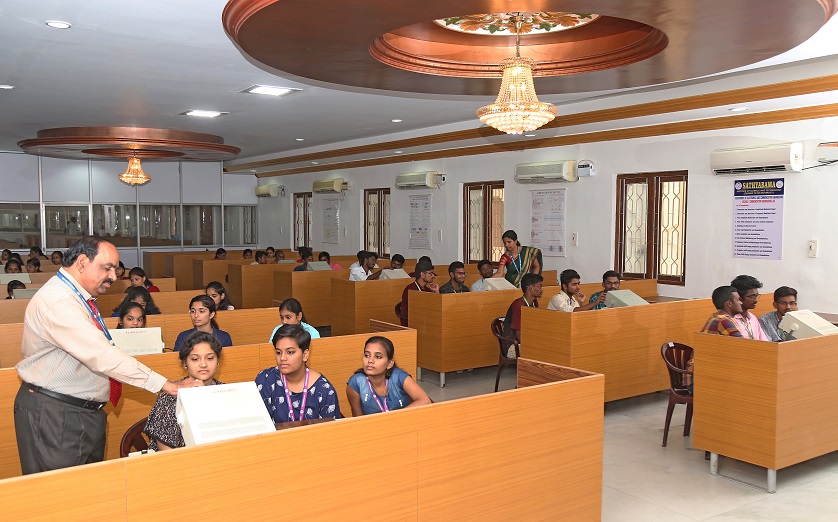 The communication engineering laboratory presently serves to give the ECE students a laboratory experience in basic electronic communications systems. In this laboratory the concepts of all type of modulation & demodulation can be studied. The recent communication techniques can be demonstrated with available equipment. Students conduct experiments in the laboratory where they become acquainted with oscilloscopes, signal generators and spectrum analysers. This laboratory is equipped with Network Analyser(5KHz-15GHZ), Spectrum Analyser (1GHz), Digital Storage Oscilloscope (100/60/20 MHz), Antenna Trainer Kit, Digital Modulation Trainer Kit (ASK, FSK, QPSK,BPSK, QAM) FDM & TDM trainer kit , AM Signal Generator 10MHz, Function Generator 2MHz and Audio Oscillator 100KHz.
VLSI Design Laboratory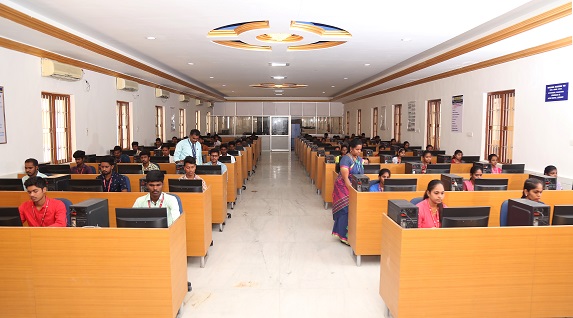 Ever since its inception the VLSI Design laboratory has constantly been upgraded to match with the technologies of the modern era. This lab is equipped with VLSI design tools such as, Cadence University Suite, Xilinx-Vivaldo, Mentor Graphics Tools, MicroWind, HFSS, FPGA and CPLD development platforms. The focus of this laboratory is widely spread towards different pros and cons of the entire upgrading VLSI domain. Development works at different levels such as semiconductor device simulation, circuits & system design and research in some recent trends like Biomedical signal processing has extensively being carried out.
Digital Signal Processing Laboratory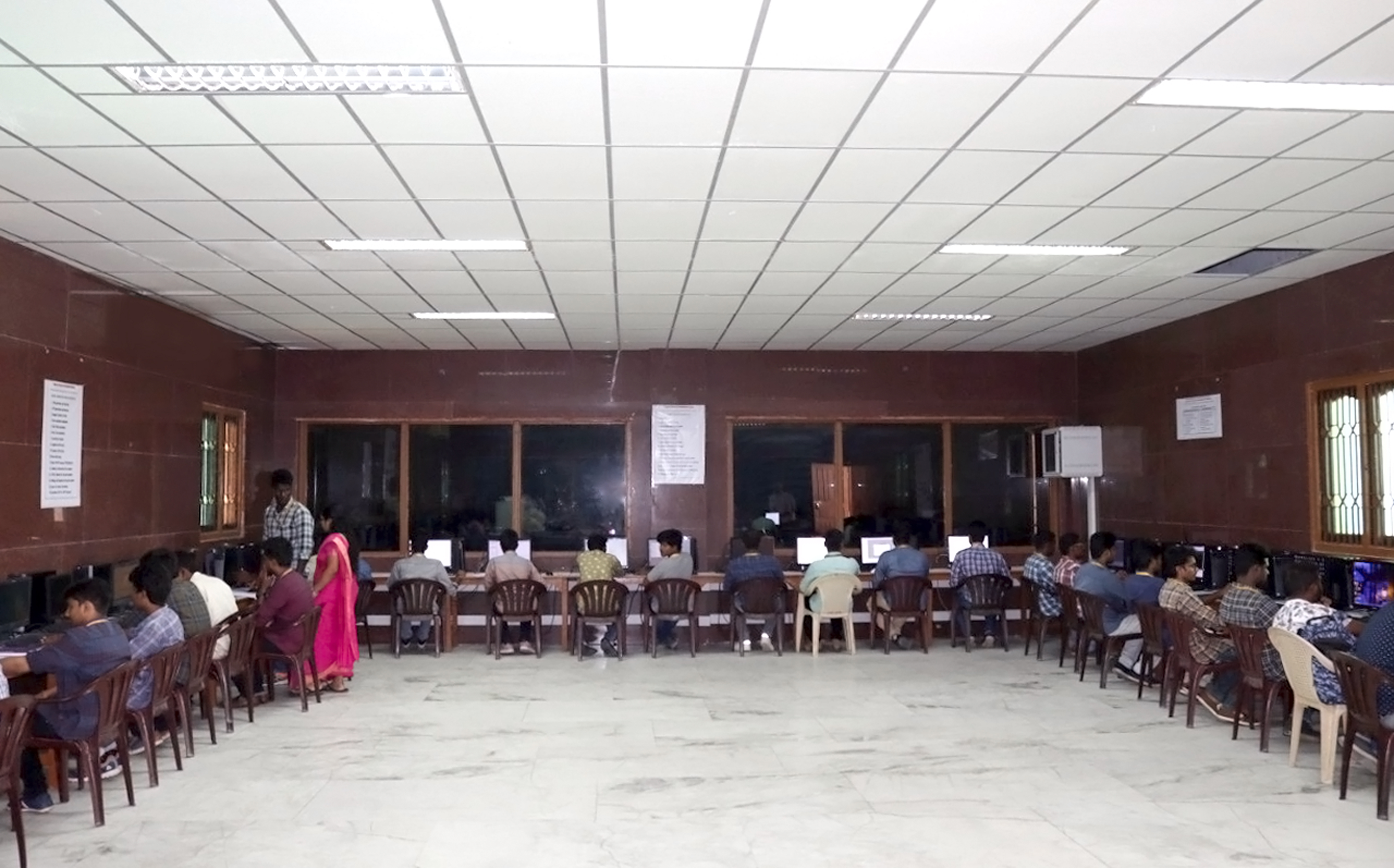 Digital Signal Processing (DSP) is concerned with the representation of signals as a sequence of numbers and the operations carried out on the signals to extract specific information contained in them. The objective of the laboratory is to enable the students simulate and experiment with digital signals and systems and apply the theory they have studied in DSP courses. Students can implement digital signal processing algorithms using different computational platforms and DSP tools. They can critically analyze the behavior of their implementation, and observe the specific limitations inherent to the computational platform and tools.This lab includes Pentium computers with specialized Digital Signal Processing Hardware/Software as well as specialized computer language compilers software and trainer kits.
Electronic Circuits Laboratory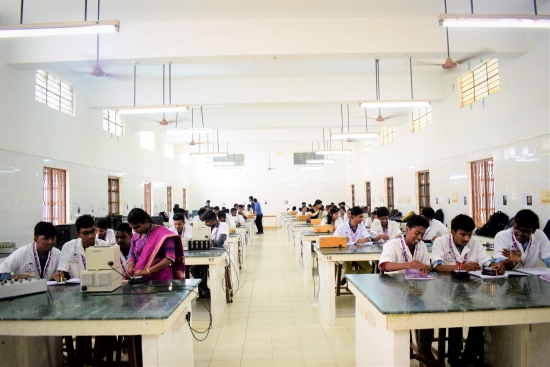 This laboratory caters mainly to the Electronics Circuits I and Electronics Circuits II laboratories for Second year Electronics and Communication Engineering students. Each lab experiment has a design part, simulation and an actual experimental verification in the laboratory (bread-boarding/soldering). The basic objective is to give hands-on experience in the design and implementation of analog and mixed-signal circuits. This lab is equipped with components like Cathode Ray Oscilloscope (15/20/30 MHz), Digital IC Trainer Kits, Function Generator (3MHz), Audio Oscillator (100KHz). This laboratory also has PSpice software which helps the students to simulator and learn all the circuits.
Microwave and Microcontroller Laboratory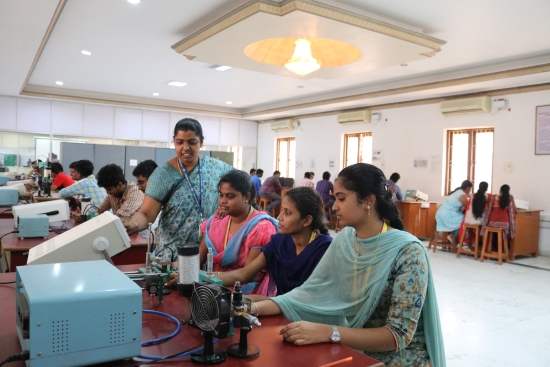 The Microwave Engineering laboratory provides the resources for the conduction of experiments on various RF and Microwave devices for undergraduate and postgraduate students. The lab is equipped with high-quality hardware components and EM simulation tools like ANSYS HFSS, ANSYS Maxwell. The state-of-art facilities in the microwave lab help the students to practice the characterization and device development which enables them to get trained with the practices followed in RF & Telecom companies, embedded system industries and Radar systems.
The microprocessor laboratory is equipped with the state-of-art equipment and modern Microcontrollers & Microprocessors kit which enables to learn and implement the theoretical concepts pertaining to the Reduced Instruction Set Computing (RISC) and Complex Instruction Set Computing (CISC) architectures. Students are exposed to the latest 32-bit ARM Processor, 16-bit PIC Microcontroller besides the traditional 8-bit Intel 8051 microcontroller architecture and various Integrated Development Environment (IDE) tools. This laboratory is extensively used for conducting lab sessions and to carry out Project-Based Learning and Research-Based Learning activities by the students.
EElectronic Devices Laboratory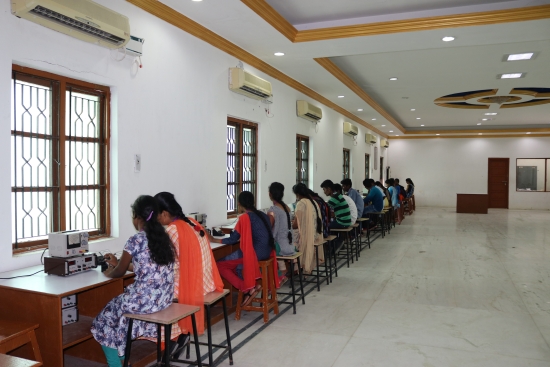 This laboratory provides the foundation of electronics engineering. This laboratory aims at providing students the knowledge about various electronic devices. Students are made familiar with electronic circuits and their intended use in various applications. This Laboratory is primarily aimed to meet the requirements of practical work meant for Active Components basic analysis, designing and testing of Amplifier and Oscillators. All basic Electronic devices and their characteristics, applications can be studied. Using these devices the small electronic circuits can be constructed and can be checked. Electron devices lab is special and well equipped with the latest signal generators, oscilloscopes, digital trainer kits and measuring instruments. Students of various branches design and test their analog/digital/mixed signals, digital circuits as part of their curriculum. Guidance is provided to the students by a team of expert faculty and lab technicians. The laboratory is well equipped with a whole range of Analog and Digital Storage Oscilloscopes, VHF Function Generators, Power supplies of various ranges , Multi-meters , volt meters, ammeters , Decade capacitance, inductance and resistance boxes and PCs for electronic system design Frequency counter and a variety of Active and Passive Components, etc.
Events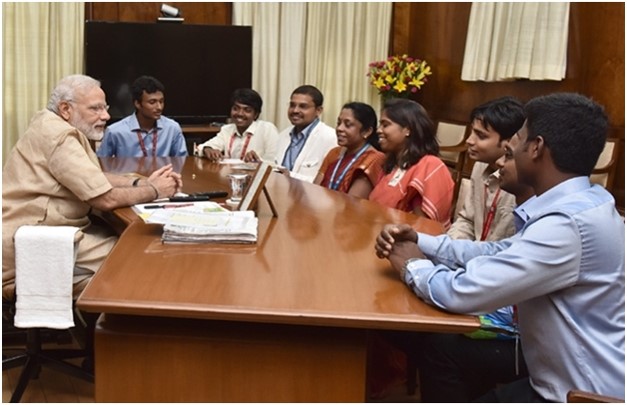 "Sathyabama-Sat" team felicitated by the Prime Minister
SATHYABAMA SAT:
To maximize the learning experience of the students, Sathyabama University has taken up its first initiative to develop a nanosatellite. A team of students and faculty members from different discipline has worked under the guidance of scientists from the Indian Space Research Organization (ISRO) to develop SATHYABAMA SAT. The work aims at providing real-time design and development experience of compact space systems to the students.
Our students of Electronics and communication Engineering contributed for the development of on-board communication subsystem, ground station control, electronic power supply design, attitude determination control systems, calibration of spectrometer and data processing for Sathyabama Sat. Team of students involved in building satellite "Sathyabama-Sat" felicitated by the Prime Minister, Shri. Narendra Modi, in New Delhi on July 19, 2016.
The SATHYABAMA SAT nanosatellite's mission objective is to monitor the concentration of greenhouse gases present in the atmosphere, obtain the pollution model for India through the data collected using spectrometer payload, interpret the acquired data and represent the concentration of greenhouse gases in PPM. The spectrometer operates in the near infrared band 900 nm to 1700 nm and features a surface resolution of approximately 1.5 km when deployed in Low Earth Orbit (LEO).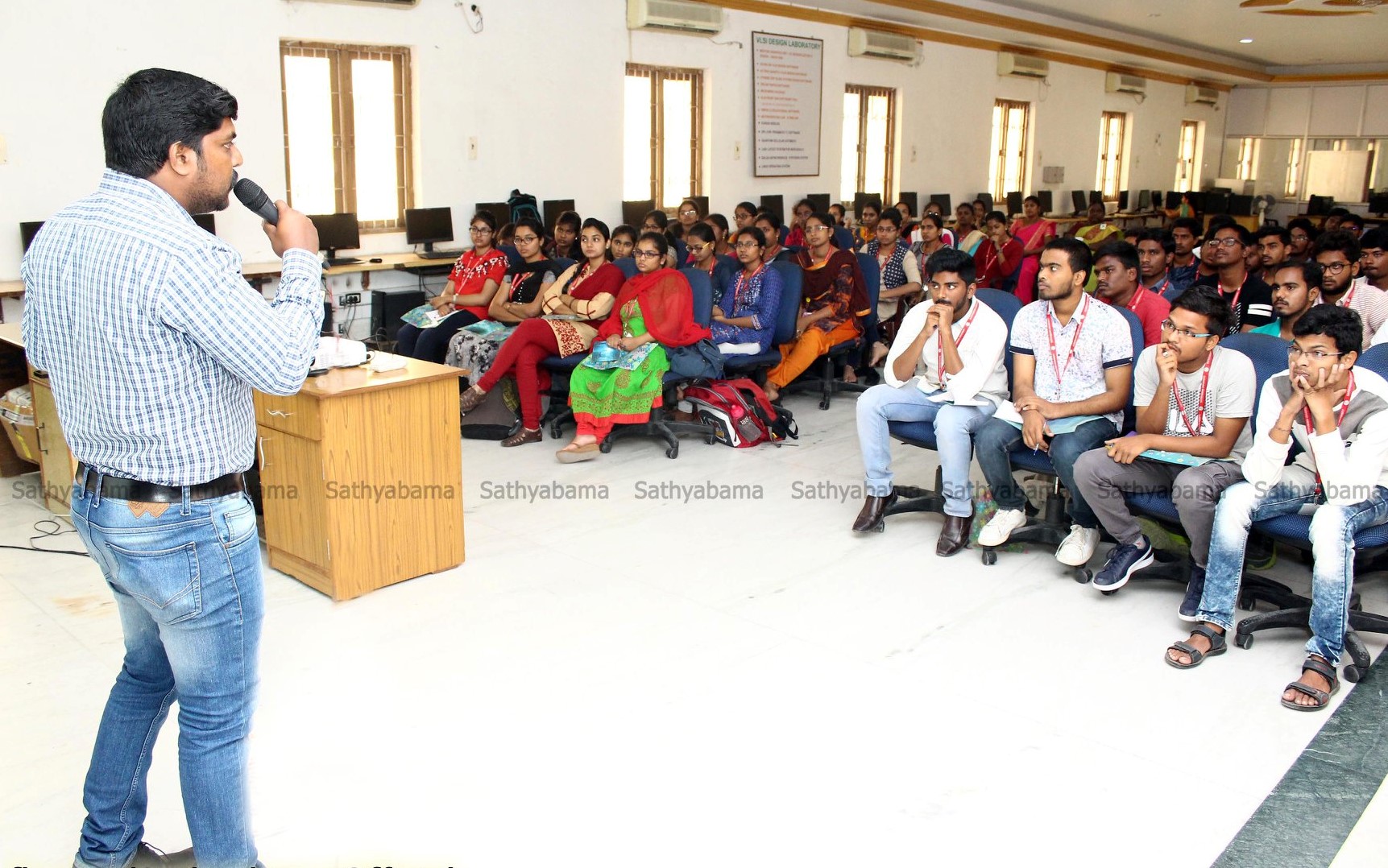 Workshop on Microsoft share point
WORKSHOP:
Department of Electronics and Communication Engineering, School of Electrical and Electronics has organized one day workshop on "The Fundamentals of SharePoint and Applications of Microsoft Office 365", on 9th February, 2019. Mr. E. Siva Krishna Kumar, Senior Associate, Cognizant Technology Solutions Pvt. Ltd​. Chennai, handled the sessions. Hands on practice was given on SharePoint Online and Microsoft Share Point (Office 365). Students from ECE and CSE departments participated in the workshop and were benefited from the enlightened theoretical and practical sessions.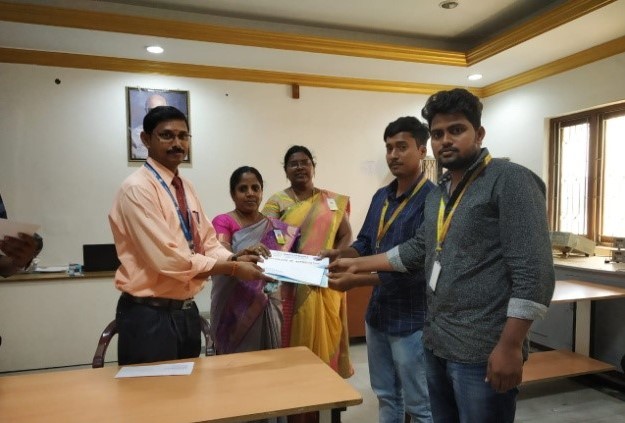 Winners of Technical Symposium " TECHNO HOLMES"
TECHNO HOLMES:
One day National Level Technical Symposium "TECHNO HOLMES" is organised by ISTE Student Chapter, Sathyabama Institute of Science and Technology, on 16th March, 2019 at Central Library Ground Floor from 9.00 AM to 3.00 PM. The program was lightened by Chief Guest Dr. Chinna Raj, Executive Secretary of ISTE Delhi, followed by Dean, HOD, and faculty advisor of ECE. Three prizes were given by HOD of ECE Dr. T. Ravi and ISTE Faculty Advisor Dr.M. Sumathi to the best performance of the candidates as token of appreciation.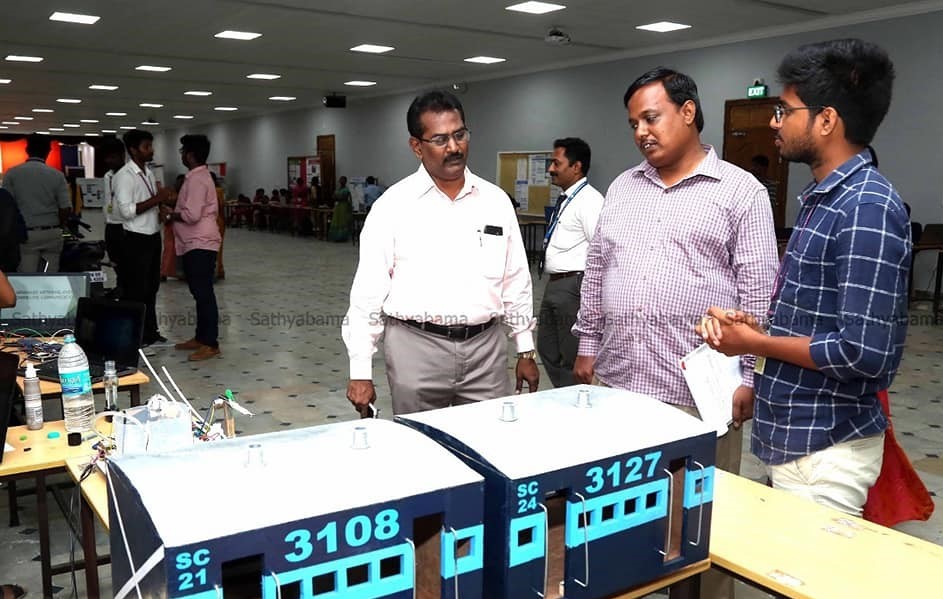 Prize winners of Technical exhibition " Technovation 2019"
TECHNOVATION:
Project Exhibition was organized for final year students to showcase their projects on 10th April, 2019. Students from ECE department participated in the exhibition enthusiastically exhibiting and demonstrating the prototype of the project models. Experts from industry glimpsed and validated the exhibited models. Winners were appreciated with cash prize and certificates. The following projects from ECE department won first and second prizes in Technovation 2019.The first position was given to the project entitled "Surgical Aid Device using LoRa WAN" done by Mr. Vimal Kumar. S and Mr. Vignesh. S from ECE department. The second prize was received by the project entitled "Synchronized Control and Automation with Extensive Safety Measures in Smart Train" by Mr. Bandi Chaithanya and Mr. Baisani Dwarakanath Reddy from department of ECE.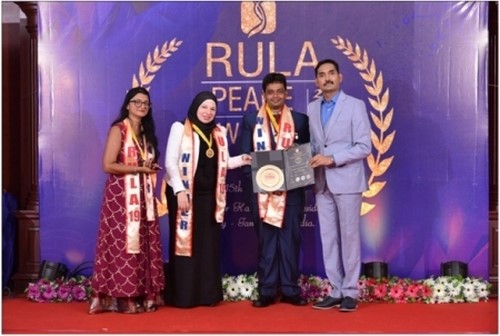 Tumula Mani Kota Rajasekhar receives "Best Researcher Of The Year In Electronics" Award
BEST RESEARCHER OF THE YEAR IN ELECTRONICS:
Our ECE student TUMULA MANI KOTA RAJASEKHAR received "BEST RESEARCHER OF THE YEAR IN ELECTRONICS" presented by RULA in coordination with WRC (WORLD RESEARCH COUNCIL) on August 15th 2019. RULA awards incorporated with the World Research Council strives for the collaboration of innovative ideas, experimentation, research theses, journals & periodicals on multifarious topics all over the world, for the dissemination of research creativity to bring all under one roof. "BEST RESEARCHER OF THE YEAR IN ELECTRONICS" award is given to the ones who had performed an excellent innovative work in the field of ELECTRONICS under "RESEARCH PEACE AWARDS". Tumula Mani Kota Rajasekhar is awarded this award for his innovative works in the field of electronics. The award is presented by Rn ABUTHAHIR (Field of management research DUBAI) and also the president of WORLD RESEARCH COUNCIL (WRC).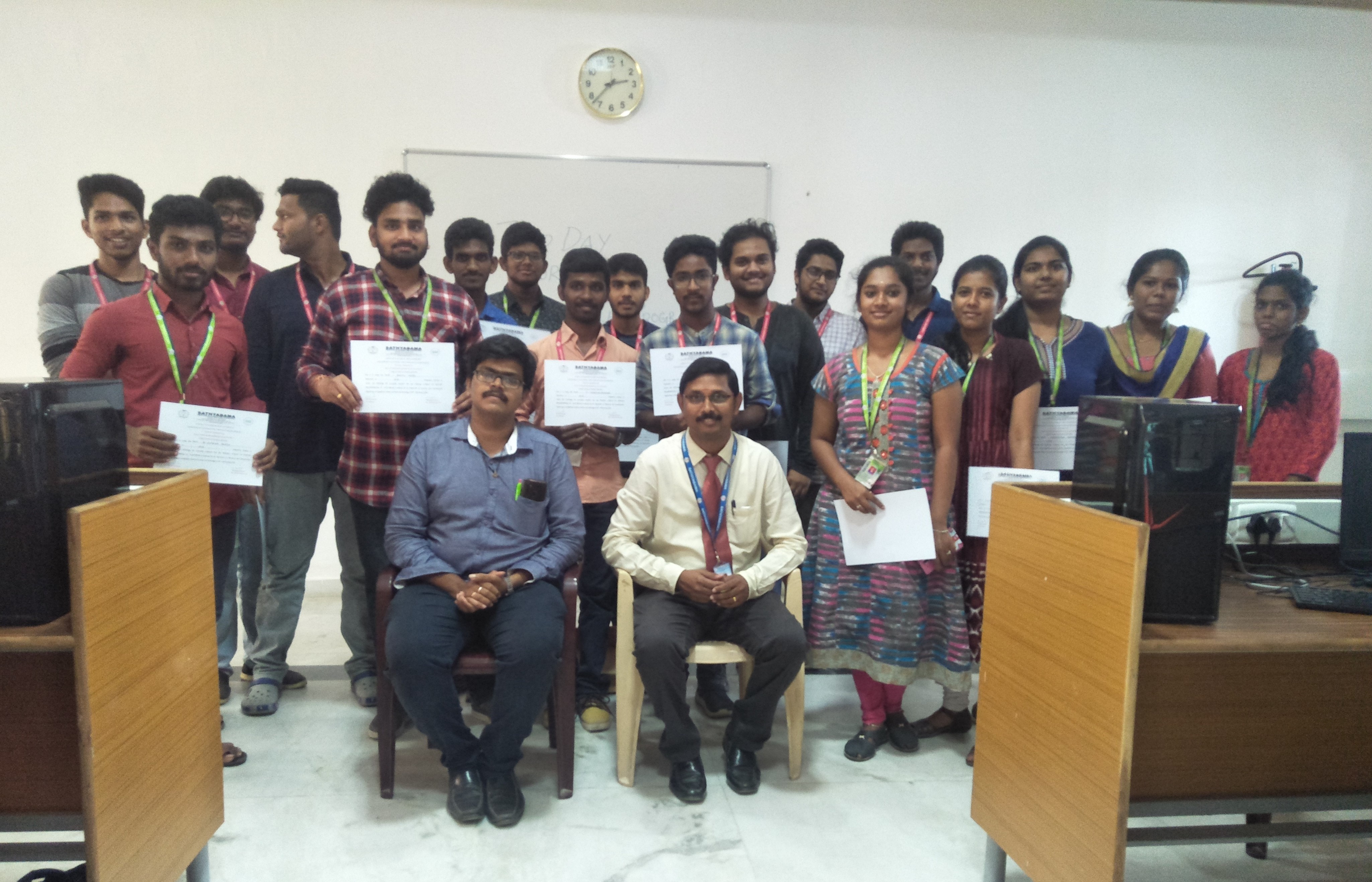 Students who participated in the workshop
WORKSHOP ON "ROLE OF MATLAB PROGRAMMING IN ELECTRONICS":
Two days workshop on Role of Matlab programming in electronics is conducted at department of ECE on the day of 29th &30th January 2020 The hands on training given to 3rd year ECE and 2nd year ECE students under the topic of image processing and signal processing using matlab for realizing the mini project Totally 60 students participated one academic and industry resource persons handle the sessions both days.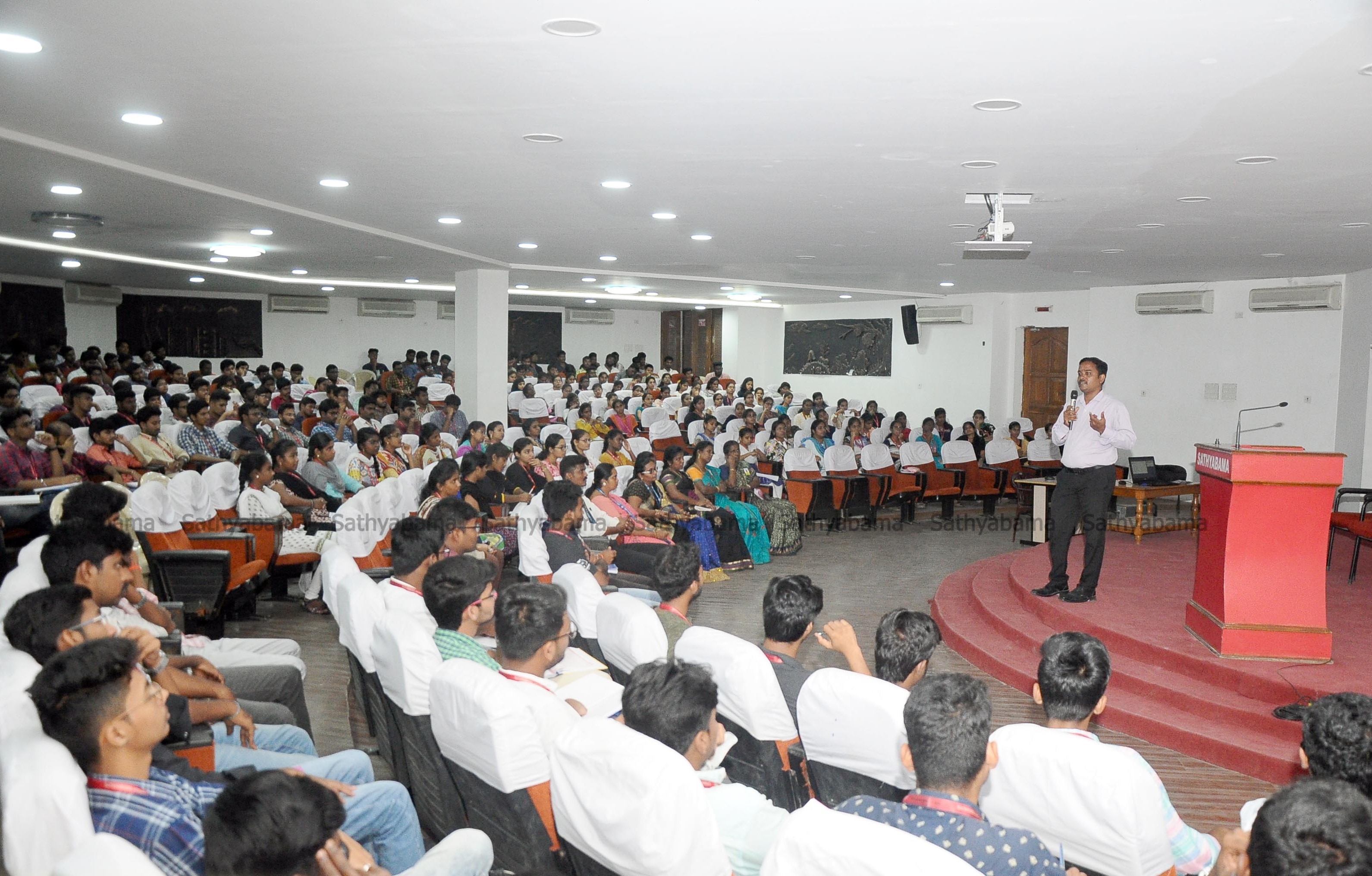 Guest Lecture on "Complex Engineering Problems in MATLAB"
GUEST LECTURE:
Guest Lecture on "Complex Engineering Problems in MATLAB" has been arranged by the ECE Department for third year students on 11th February, 2020. Mr. R.R. Santhosh, from Accenture Technologies, Chennai, delivered the lecture on Control and looping statements in MATLAB. He also discussed the methods to solve complex engineering problems in real-world applications.
Placement
The Placement cell acts as an interface between the students and industries and is dedicated to help the students towards their campus placement and industrial training. Throughout the year, senior executives and alumni from a variety of industry and enterprise participate in scheduled informal discussions on industry and career trends. Representatives share practical advice and insights gained from their own backgrounds and experiences. The campus placement activities are regularly carried out every year for all the students of the department. The campus placement offers three kinds of jobs namely Core, IT and ITES for the students.
The Department of Electronics and Communication Engineering has always been the choice for many recruiters, who come back year after year in search of fresh minds. Our department students have been provided job offers in reputed IT, dream and core companies such as Siemens, Mitsuba, Bosch, Mphasis, Tech Mahindra, Nokia, Nissi, Capgemini, Wipro, Infosys, HCL etc.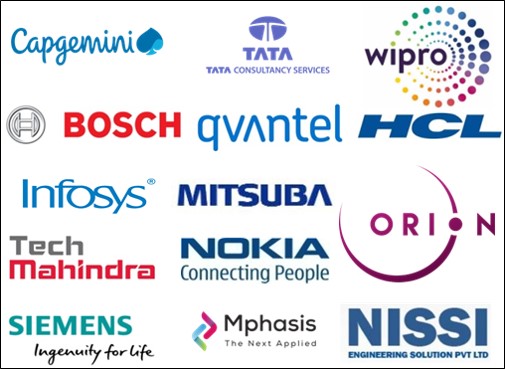 Top recruiters of ECE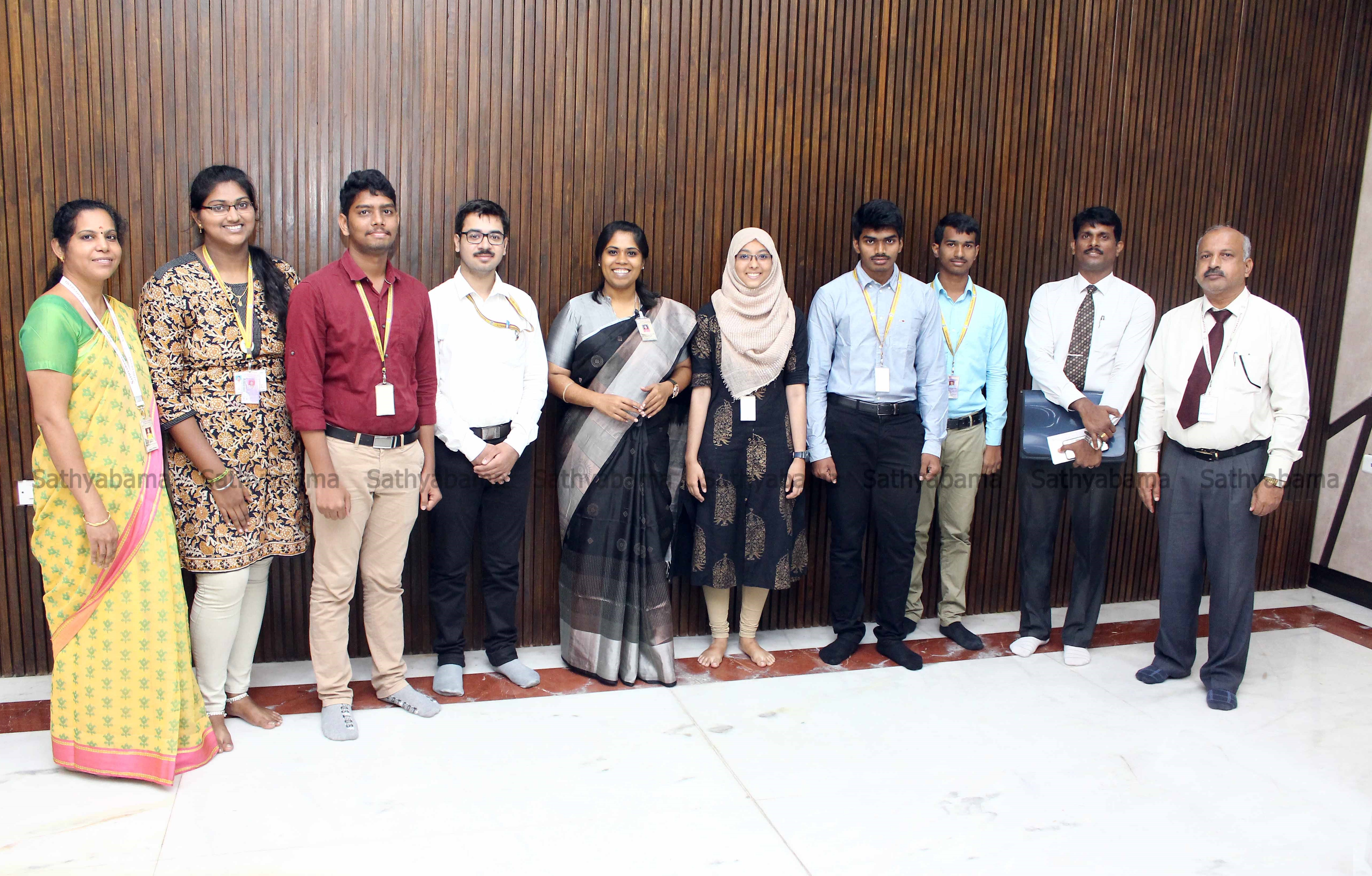 2016-2020 batch ECE Students placed in Amazon through campus recruitment held on 18th July 2019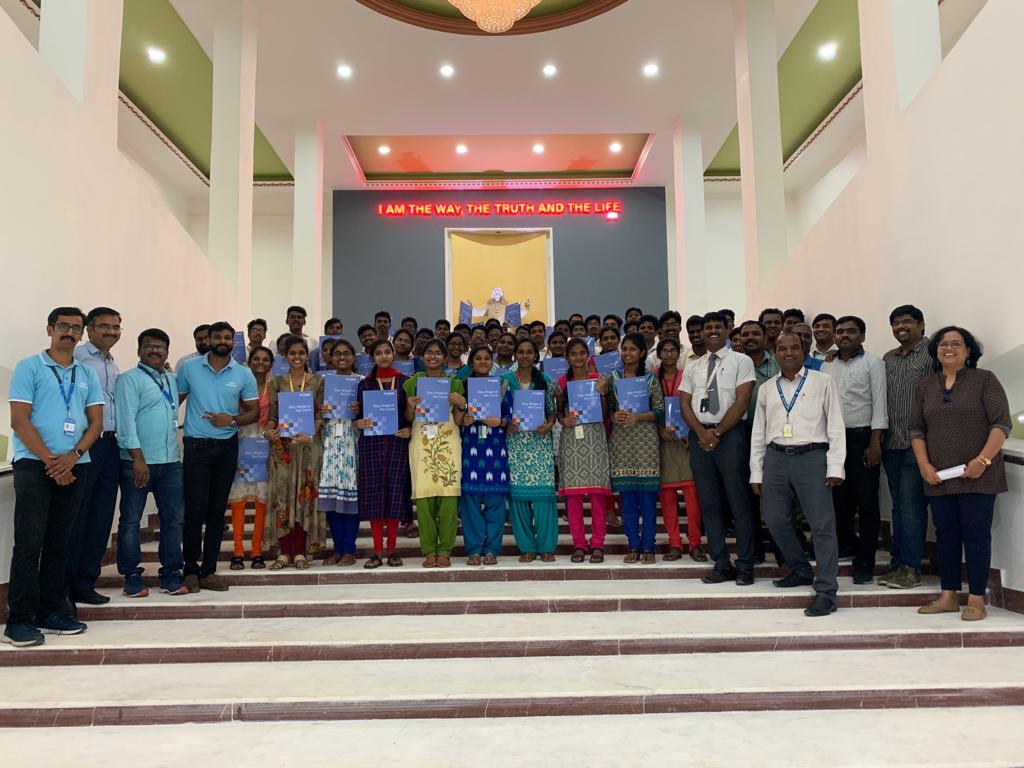 NTT Data selects of ECE 2016-2020 batch receiving offer letters on 27th September 2019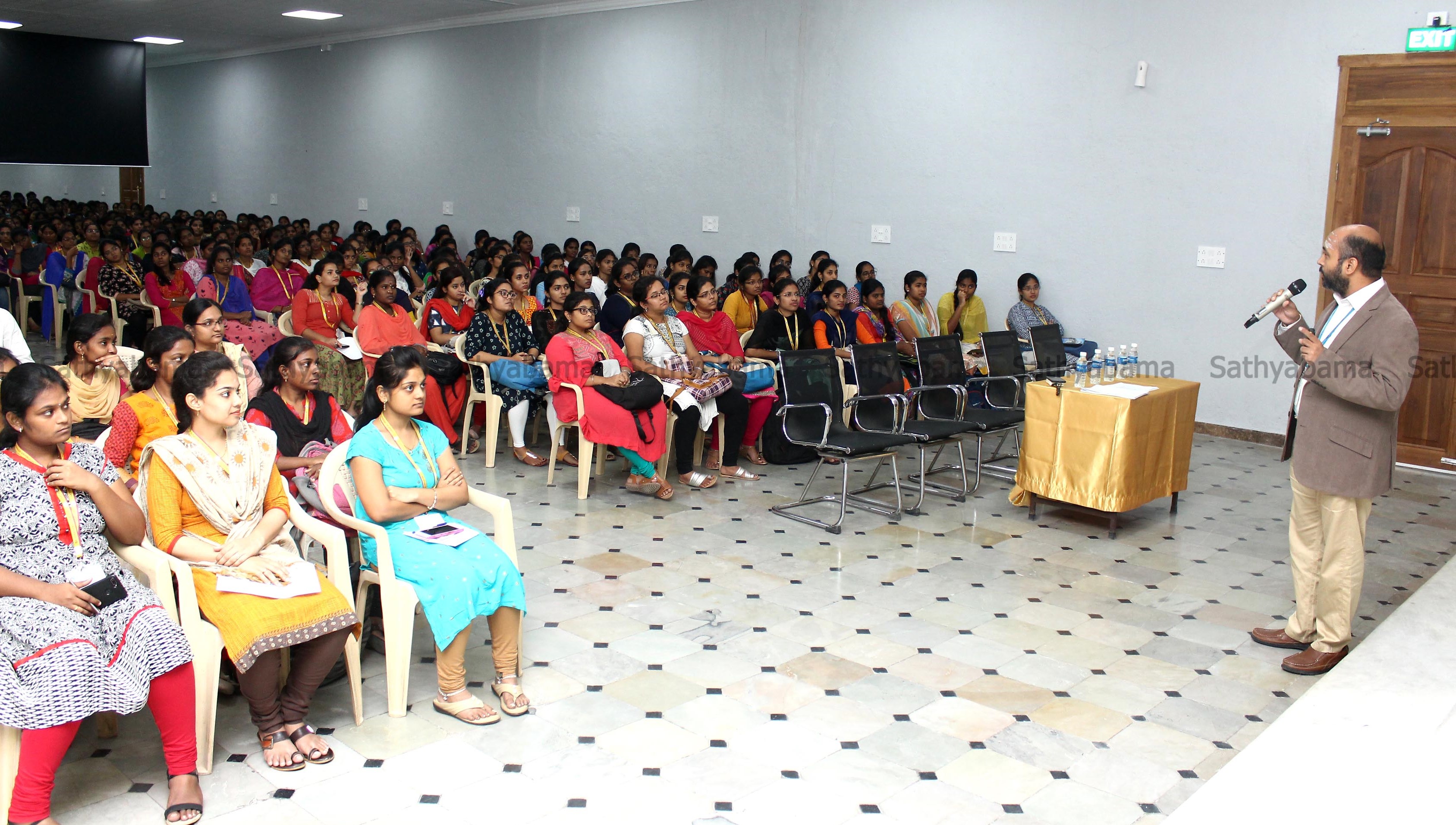 Glimpse of Wipro Pre-placement talk during the campus recruitment program held on 16th September 2019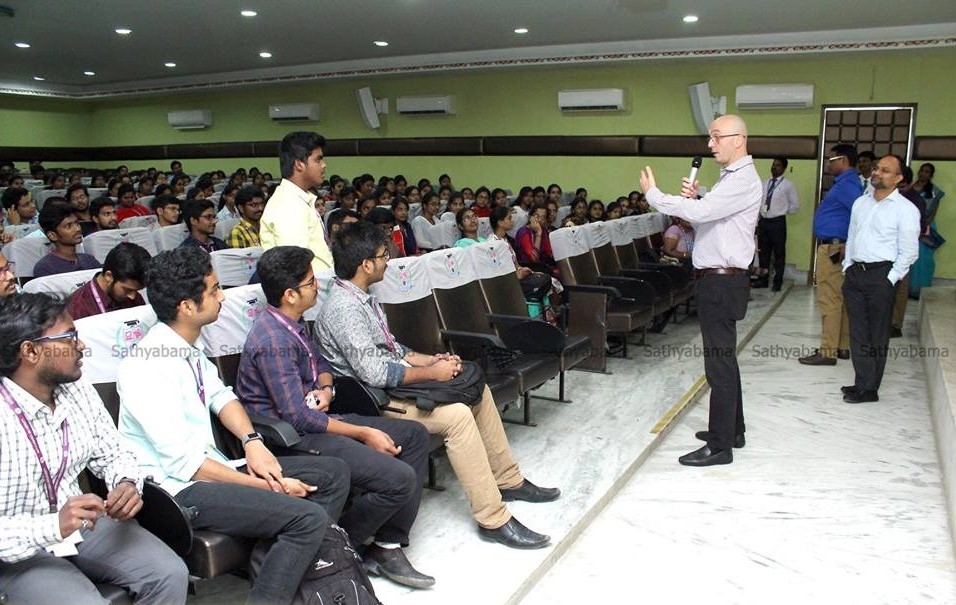 Cognizant's Early Engagement Program for Sathyabama Selects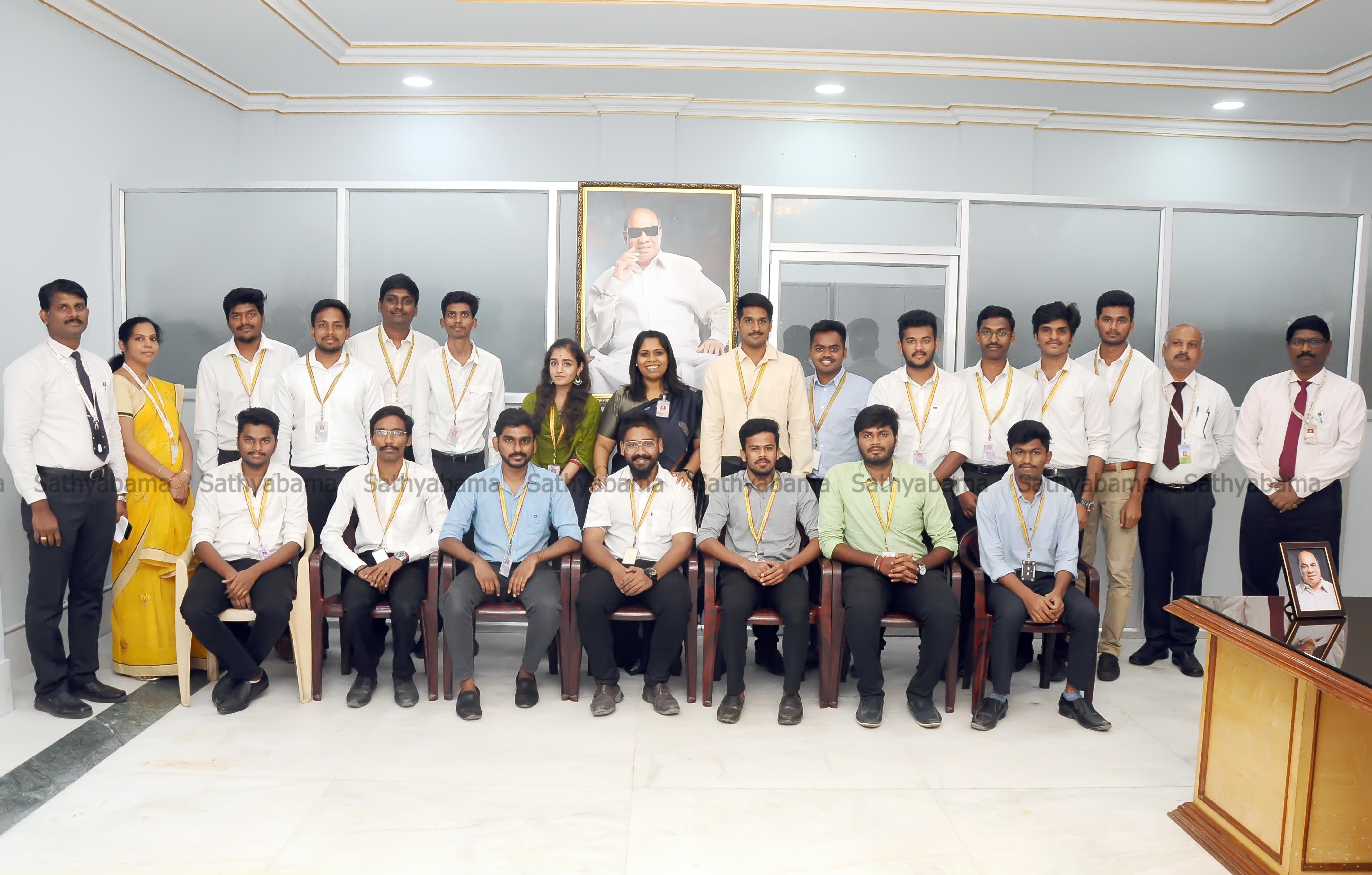 2016-2020 batch ECE students placed in DXC Technologies, through our campus recruitment held on 29th January 2020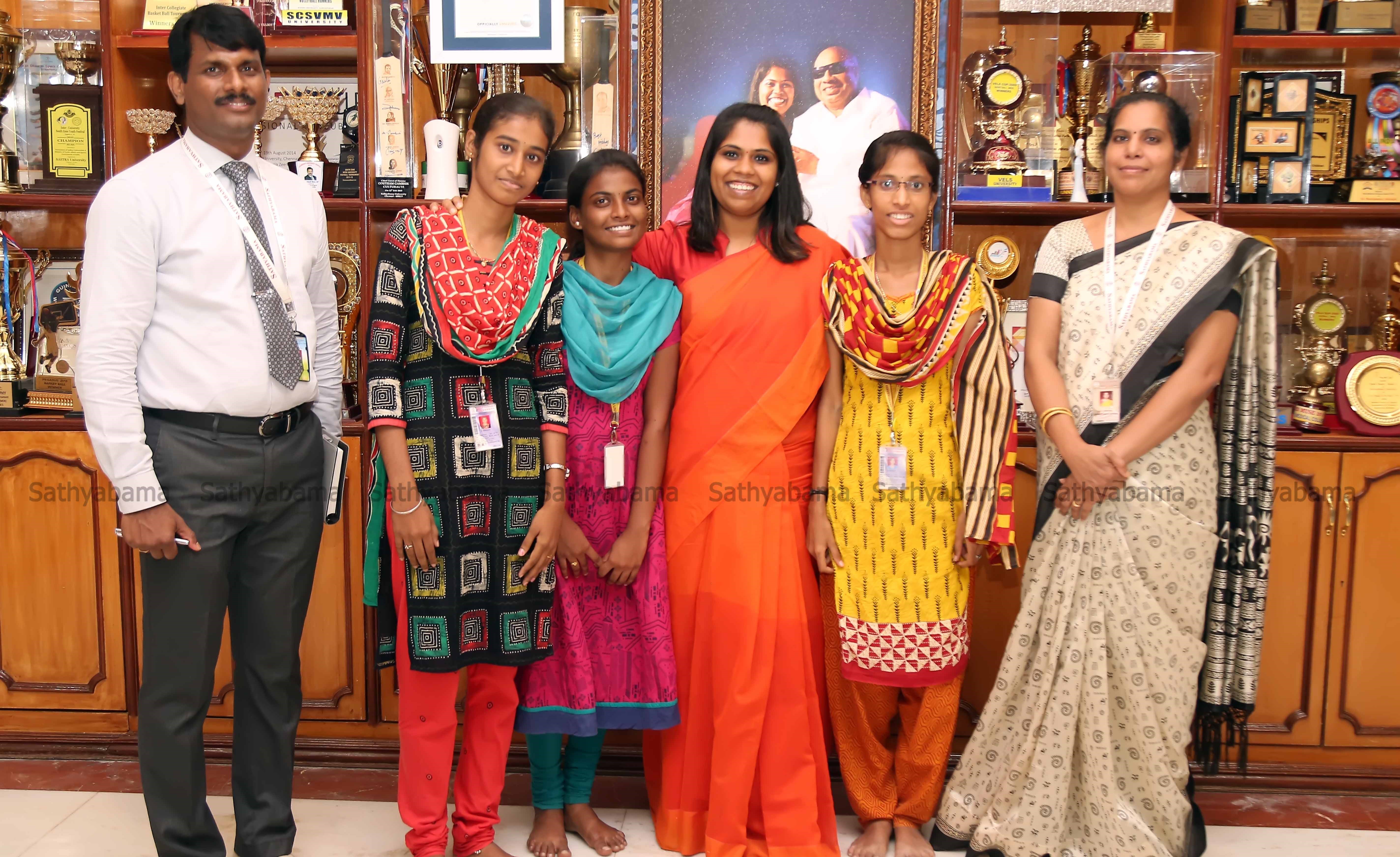 2016-2020 batch final year students placed in MrCooper through campus recruitment
Placed students of ECE 2016-2020 batch during the Day1 of campus recruitment
Professional Bodies
In a view to develop technical / scientific ideas and standards for helping the society, the department of ECE coordinates various professional forums. Students exchange their ideas and views through these forums which brings an effective linkage between technical institutions / industries globally.
The various professional forums are
1.Institute of Electrical and Electronics Engineers - IEEE
2.Indian Society for Technical Education - ISTE
3.Institute of Engineers - IEI
IEEE STUDENT BRANCH (BRANCH CODE: 36301)
IEEE Student Chapter was established in the year 1999. The IEEE student Branch of our institution received certificate of appreciation for "largest membership" in the year 2012 and 2013 consecutively. In addition, the branch has received certificate of appreciation for organizing activities towards advancement of IEEE and Engineering professions. IEEE student branch consistently organize technical events like workshops, hands on training and special lectures in cutting edge technologies. Students expand their knowledge by attending these events of advance technologies. Also, student branch hosts a National Level Technical Symposium "SILICON" every year; as a platform for students to showcase their leadership and technical skills.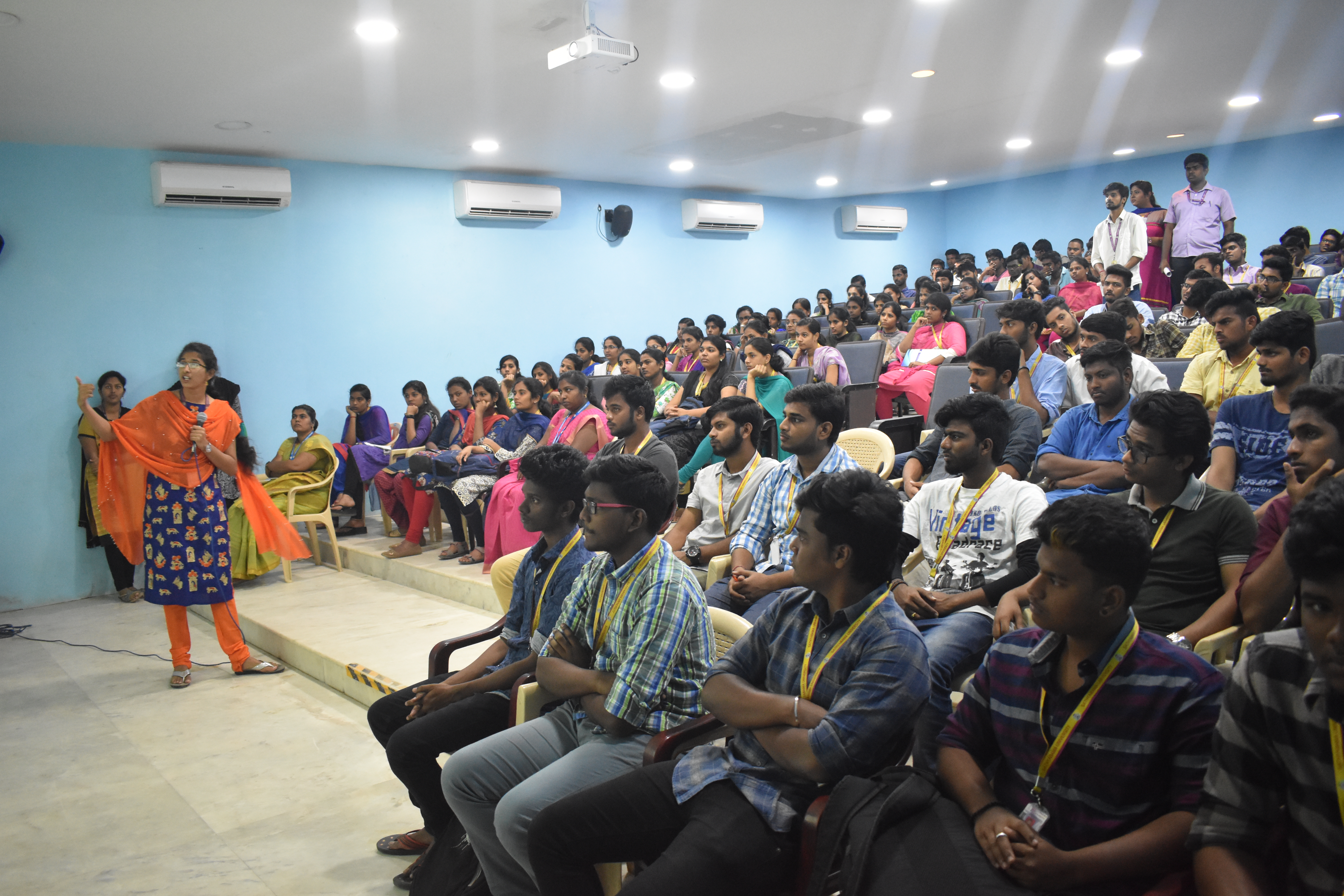 IEEE Awareness Program
ISTE STUDENT CHAPTER
The ISTE Faculty and Students Chapter were inaugurated on 31st October, 2018 and introduced ISTE Student Office bearers in Second floor, Administrative Building Auditorium. The Guest of Honor Dr.K.Manivannan, Vice-President, ISTE New Delhi, inaugurated the faculty and student chapter. The Life-Time Membership Certificates was distributed to around 10 Teaching Faculty and membership cards to Students. The office bearers of the student chapter are introduced. Various events are planned to be conducted in the forthcoming semester. 105 students are active ISTE members and presently the faculty advisor is Dr. M.Sumathi.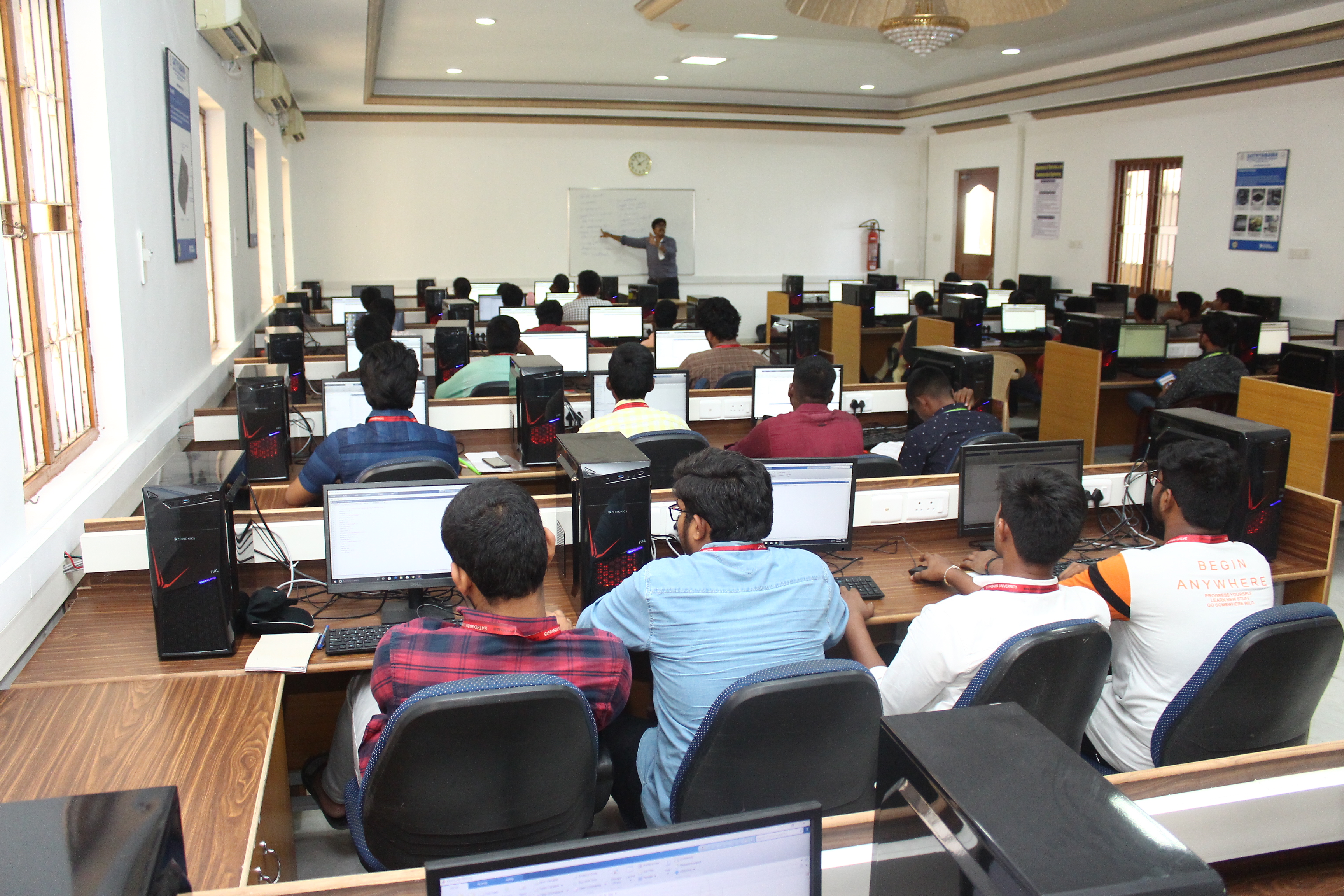 Workshop on Matlab organised by ISTE Students Chapter
IEI Student Chapter
The Inaugural ceremony of the IEI – STUDENT CHAPTER of Sathyabama Institute of Science and Technology, Chennai was held on 4th March, 2020 i.e on the occasion of World Engineer's Day. Dr.T.M.Gunaraja, Centenary President of IEI and Chairman of Information communications WFEO was the chief guest of the ceremony. Er.R.Ramdoss, Chairman of IEI-TNSC and Dr.Palanikumar, Chairman of IEI-local chapter, Kanchipuram enlightened the ceremony with their gracious presence. Dr. S. Karthikeyan, FIE., Coordinator IEI -STUDENT CHAPTER, Sathyabama Institute of Science and Technology delivered the welcome address. Dr. T. Sasipraba, Pro- Vice Chancellor, Dr. G. Sundari, Dean of student affairs addressed the gathering. Chief guest Dr. T. M. Gunaraja gave an enlightening talk on the Engineer's role in society for sustainable development and also stressed on the importance of Engineering in Present and Future. Guest of honors Er. R. Ramadoss and Dr. Palani Kumar briefed about the benefits of being a member in IEI and also motivated the students to take part and conduct events enthusiastically. The Office Bearers (student members) of IEI-STUDENT CHAPTER, Sathyabama Institute of Science and Technology delivered the vote of thanks.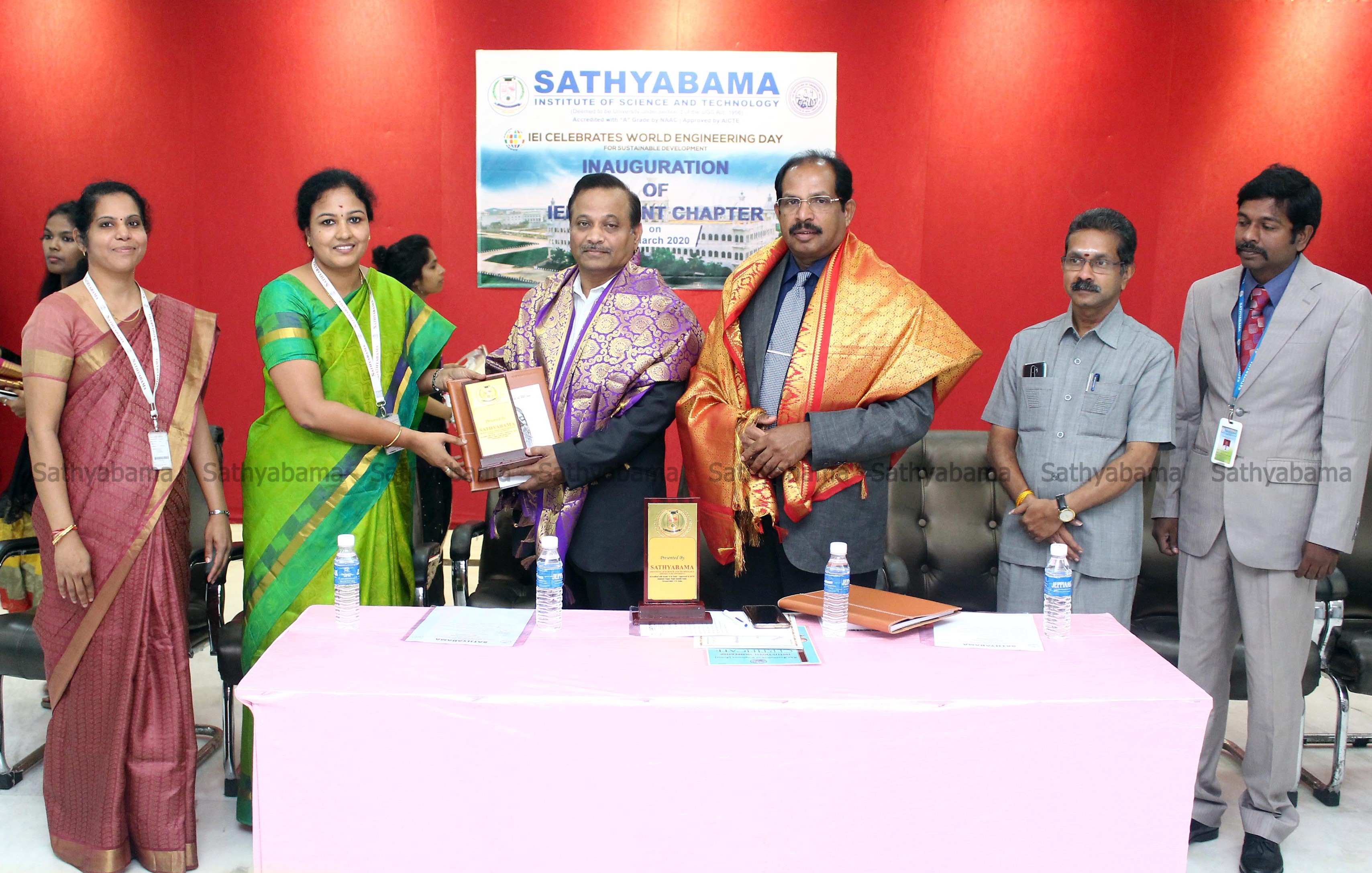 Inaugural ceremony of IEI Students chapter
Curriculum
The main objective of the B.E (ECE) program is to equip students with necessary core competency to succeed long-term in engineering / entrepreneurship careers after completing their B.E degree and are preparing to undertake PG studies and research as career options. As a discipline, ECE focuses on the design of underlying hardware systems. Our curriculum is directed to applications in major areas such as telecommunications, energy and electronics sectors, while encouraging development of necessary skills for integration of hardware and software components. We believe that many creative opportunities exist at the boundaries of traditional CSE and ECE, and have accordingly planned for cross-training of students across disciplinary boundaries.
Click here to download - Regular
Upcoming Events
Department of Electronics and Communication in association with IEEE students branch organizing an online FDP on, "Intellectual Property Rights" From 20th July to 25th July 2020.
Department of Electronics and Communication in association with IEI organizing an online Contest, "LOCKDOWN INNOVATION" on 29th and 30th July 2020.
Department of Electronics and Communication in association with IEI organizing an online live webinar on " Augumented Reality and Virtual Reality" on 29th of July 2020.
Distinguished Alumni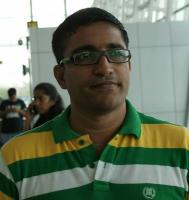 Mr. Somasundaram Jambunathan (1996-2000), Ass. Director, CTS ,Chennai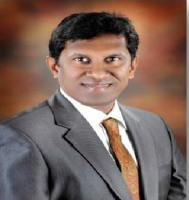 Mr.Venkatesh P (1991-1995) Director, Seagate Technology, Bengaluru, India.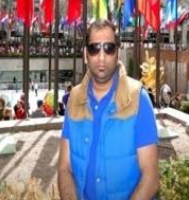 Mr.Srikanth Madipelli (2003-2005), Asst. Vice President, BARCLAYS BANK, USA.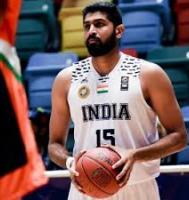 Mr.Rikin Pethani , (2007 -2011 ), Indian basketball player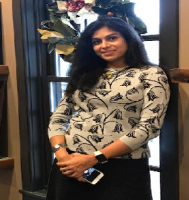 Ms.Pavithra Ramamurthy ,(1994-1998),Manager, Honda Engineering, USA
Dr. N.M.Nandhitha M.E., Ph.D.,
Dean - School of Electronics
+91 9384611971 / 044 - 24503150 Extension:5499