School of Building and Environment


School of Building and Environment, consistently ranks amongst the best schools in Architecture and Civil Engineering in the city. Having completed twenty-five years of its journey in the field of education, it is time to pause and reflect the milestones of the past. With a humble start with thirteen students in 1993, the school now offers undergraduate programs in Architecture, Civil Engineering, and Design. Postgraduate programmes are offered in Building Management, Sustainable Architecture, and Structural Engineering along with Doctoral Research. The school focuses on experiential learning with critical thinking processes, innovation, research and continuous modification of teaching methodologies in order to make our students ready to face the challenges of the future.
The learning experience in the School is enhanced by regular interaction with practitioners in the industry. The school believes in providing the students with the freedom to express and grow their own creative skills with hands-on experiences by organizing workshops, educational tours, industrial visits, seminars and symposiums on a regular basis. The School is committed to serving the needs of society and encourages the students to be sensitive to societal needs. Our faculty members and students are regularly involved in the community and social activities and lead the effort to make a better world through the design of better buildings and cities.    
Our Top Recruiters
STUDENT TESTIMONIALS
Department of Architecture is considered one of the foremost institutions of Architecture in Tamil Nadu and is recognized as a renowned institute of Architecture all over the world. It is proud of having educated architects who are now placed in renowned architectural firms in India and abroad. Offering the Undergraduate programme since 1993, the department has been recognized nationally for its academic rigor. In a span of 29 years, the school has been able to provide quality Architectural education. The Postgraduate programs in Architecture with a specialization in Building Management was introduced in the year 2006 and Sustainable Architecture in the year 2014. The Department aims to evolve into an insightful school of architectural thought by imparting holistic education and to develop architects of high personal integrity and values focusing on human, socio-cultural, environmental, scientific and technological, aesthetic and philosophical values. The faculty consists of full-time core and visiting faculty ensuring a higher faculty-student ratio. Contributions of leading practitioners from across the country have been of immense strength to the department. The long-term goal of the Architecture Department is to develop the department into a Centre for Architectural Excellence, focusing on the latest trends in architectural education, practices, and research.
25
YEARS OF ARCHITECTURAL EDUCATION
Vision
Facilitate an innovative and educative platform for creating context specific built environment through multi-dimensional approaches and strategies that are responsive to changing societal demands.
Mission
To empower the students by providing opportunities to develop their creative abilities and critically engage with the complexities of built form and environment.
Integrating critical inquiry throughout the curriculum along with innovative pedagogy.
Facilitate the students to design and develop context driven, environmentally sensitive and people centric approaches to accomplish the temporal needs of the society.
Programme Outcomes (PO's)
PO1 Architectural Knowledge: Demonstrate competence in Architectural Design fundamentals and principles.
PO2 Problem Analysis: Identify, formulate, analyze and solve complex problems with designing knowledge and technical competencies.
PO3 Design/Development of Solutions: Design solutions for complex, open-ended design problems that meet statutory needs with a thrust on health, safety, economical, environmental, cultural and societal considerations.
PO4 Conducting Investigations of architectural design Problems: Decode the design problem to develop logical solutions which are functionally effective and aesthetically pleasing.
PO5 Modern Tool Usage: Select and apply drafting, visualization, and modeling tools and appropriate techniques and resources in architectural design.
PO6 The Architect and Society: Apply reasoning informed by contextual knowledge to assess societal, health, safety, legal and cultural issues and the consequent responsibilities relevant to professional practice.
PO7 Environment and Sustainability: Analyze the social and environmental aspects of design and construction with an understanding of sustainable principles.
PO8 Ethics: Apply ethical principles and commit to professional ethics and responsibilities and norms of architectural practice.
PO9 Individual and Teamwork: Work effectively as an individual, and as a member or leader in diverse teams and in multi-disciplinary settings.
PO10 Communication: Communicate ideas within the architectural community and with society at large, such as making effective design presentations, case study analysis, design documentation, being able to comprehend and write effective reports, and give and receive clear instructions.
PO11 Project Management and Finance: Incorporate project finance, economics and business practices in project management. Demonstrate knowledge and understanding of the architectural principles and apply these to one's own work, as a member and leader in a team, to manage projects in multidisciplinary environments.
PO12 Life-long Learning: Ability to update and maintain their competence and contribute to the advancement of knowledge.
Programme Specific Objectives (PSO's)
PSO1: Develop rich knowledge base and analytical skills in design, structures, materials and construction techniques necessary to formulate and solve practical problems.
PSO2: Ability to communicate ideas and design and also to work in collaboration with other architects and professionals from different disciplines.
PSO3: Acquire the skills necessary to comprehend, evaluate, and utilize modern and developing technologies in order to design and create appropriate solutions.
Program Education Objectives (PEOs)
Graduates will be able to
Solve real time problems through their comprehensive knowledge ranging from the micro to macro level contexts which enable them to recognize and provide sustainable solutions to the users.
Provide exemplary knowledge on planning, designing and executing architectural projects at the site, neighbourhood and urban level.
Demonstrate leadership quality and effectively undertake responsibilities within their profession and dynamically contribute as part of an organization or as entrepreneurs
Follow the practices associated with the architectural profession and facilitate the solutions through active participation in various professional societies and educational institution
Department Highlights
Dedicated and experienced faculty members with specializations in various domains in Architecture.
State of art infrastructure facilities including CAD lab, environment lab, model making lab, carpentry lab and building services lab.
Well equipped library with over 7,000 books and journals.
Experiential learning though hands on workshops, case study visits and site visits.
Experimental pedagogies in theory as well as studio oriented courses.
Regular interactions with visiting faculty, practicing and eminent designers.
Collaborative workshops and conferences in association with renowned institutions at the national and international level.
Achievements of faculty and students at National and International forums.
Close collaborations with industrial organizations, NGOs & various professional bodies
International certification programmes on AUTOCAD, REVIT, SKETCHUP, PHOTOSHOP are offered to the students.
Students
Sathyabama Institute of Science and Technology places emphasize on co-curricular and extracurricular activities These activities are student centered and primarily aims to supplement regular curricular activities.Its goal is to represent the student body in making the study experience as rewarding and enjoyable as possible.
Insights
Collaboration and MOU's
Facilities
The School of Building and Environment had a number of collaborations with various esteemed organizations:
Institute for Transportation and Development Policy
Primentus, Chennai
Vectorworks Inc., USA
Engineering Project Management Consultancy and Research Private Limited
Space Cadd Designers and Constructions
KKM Soft Private Limited
INTACH
INSDAG
Infinity PMC solutions Private Limited.
Studio Classrooms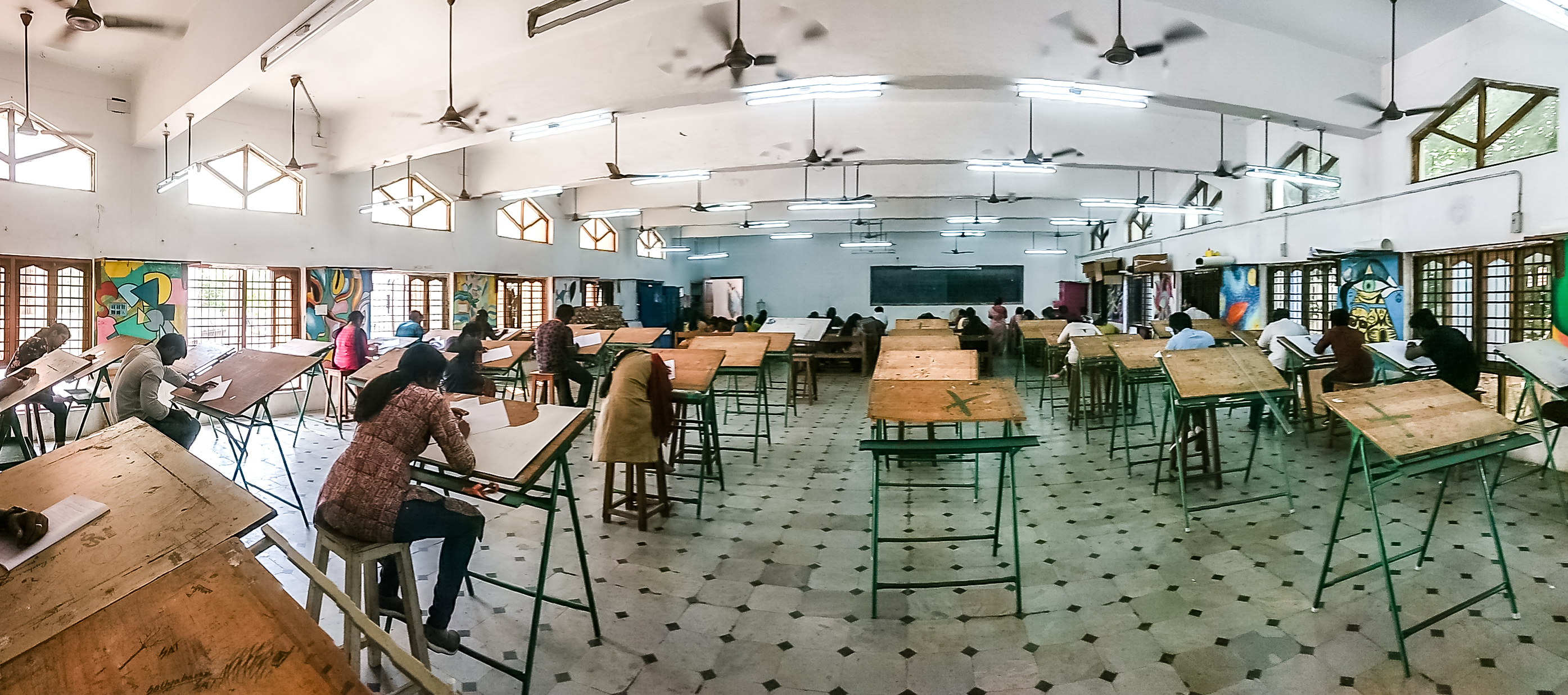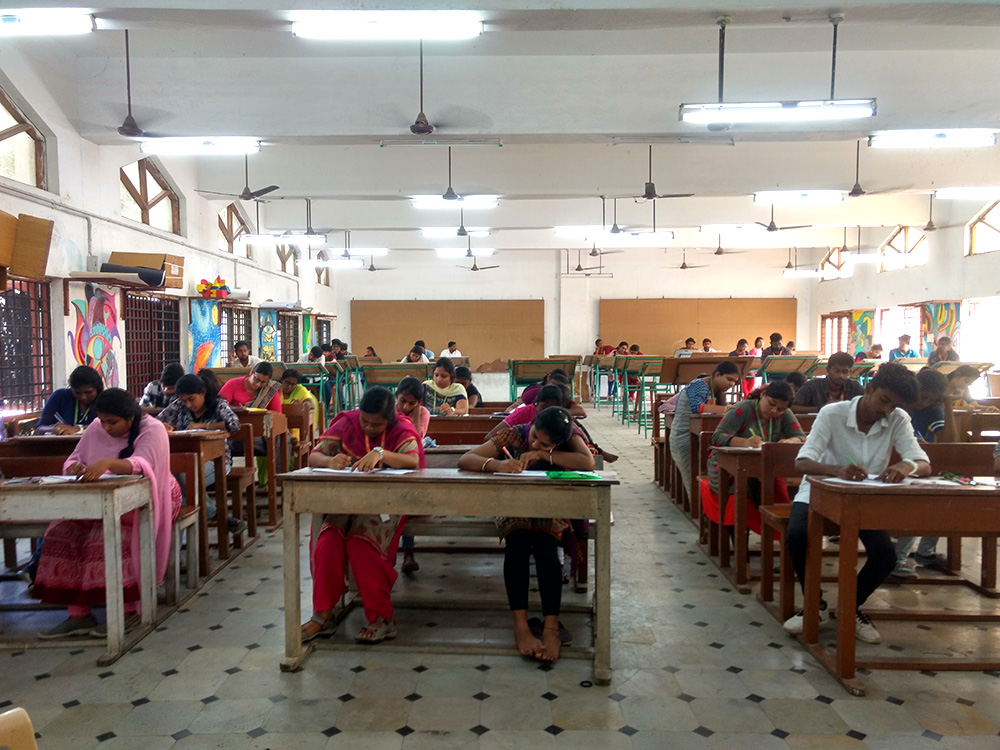 The Studio Classrooms are designed to accommodate studio based activity. This involved lectures, group discussions, case study presentations, concept development, drawing and detailing.
Library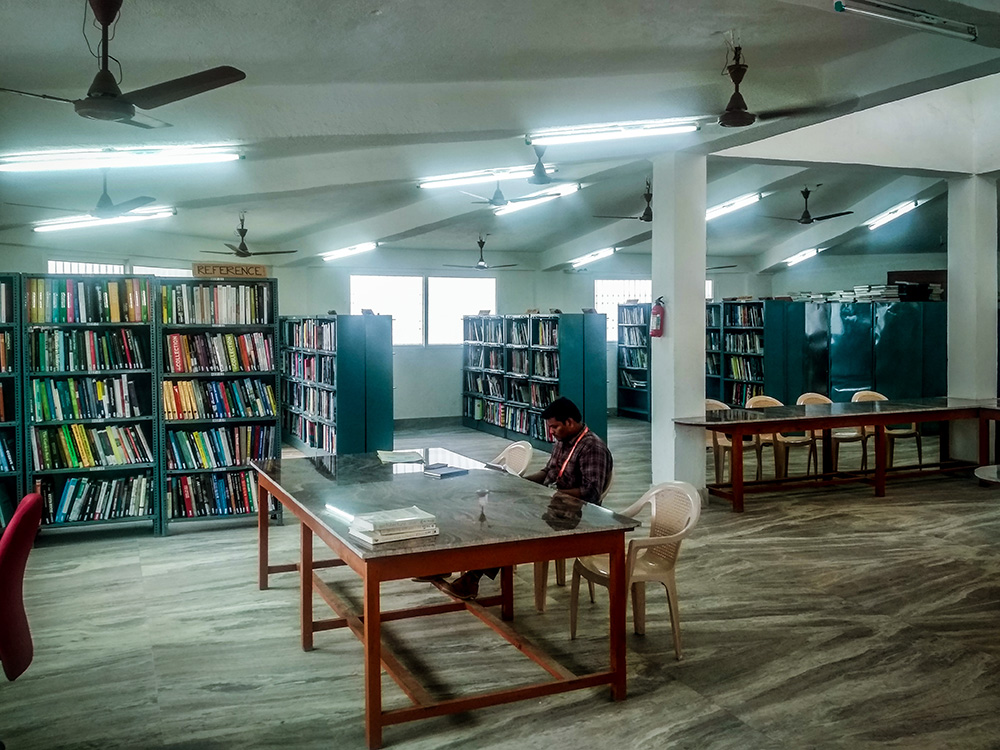 The Library has over 5000+ volumes of books to nurture creativity for our future think-tanks.
Auditorium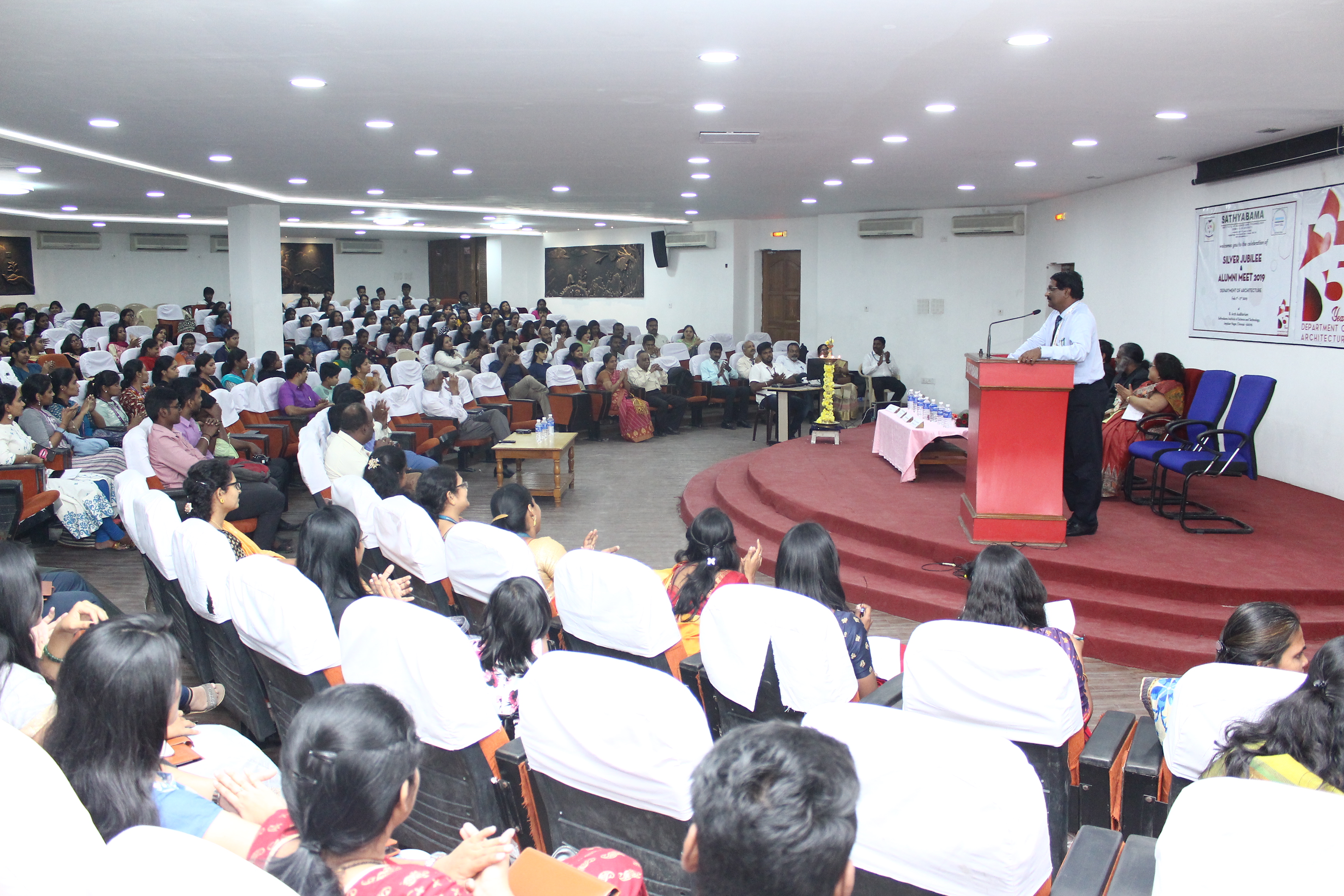 The 350-seater auditorium is exclusively located in the architecture department building catering to a number of events, workshops, lectures and development programs.
Student Activity Center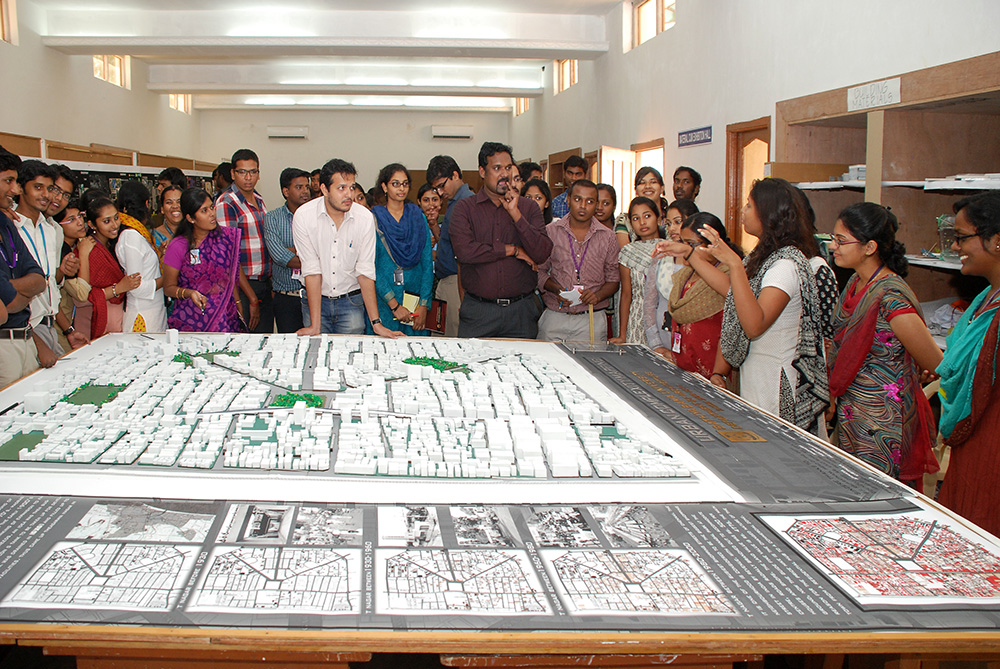 The Student Activity Center is a large working space for the students to brainstorm, exchange ideas, and exhibit their creativity.
Open Air Theater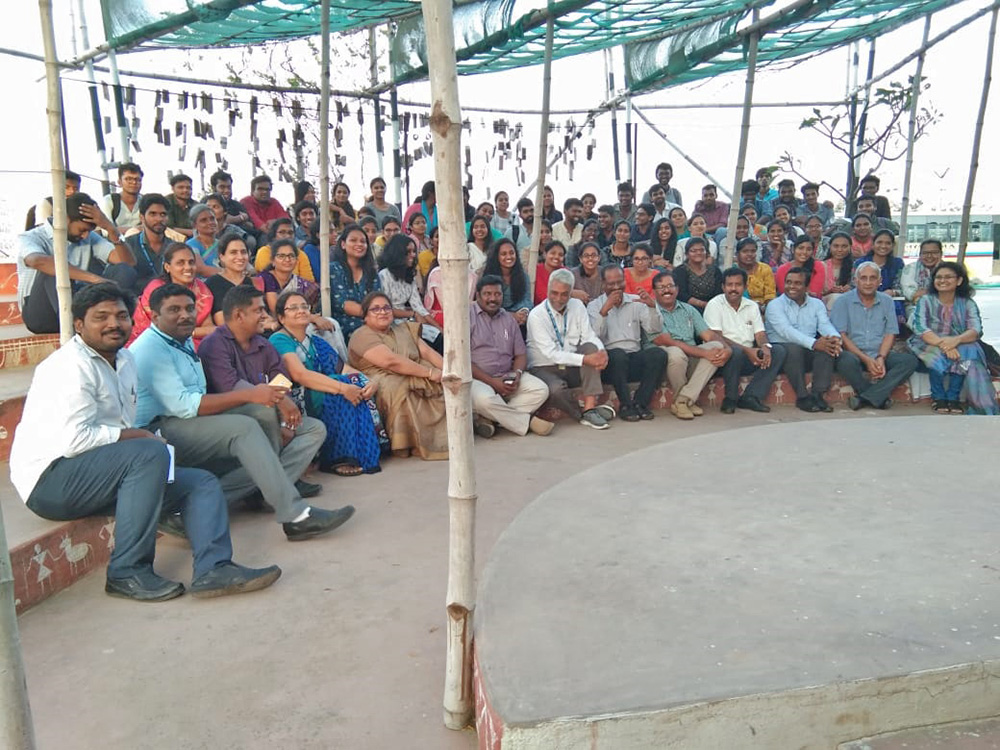 The Open Air Theater with a 150 seater capacity serves as an alternative zone for learning and interaction.
Laboratories
Computer Laboratory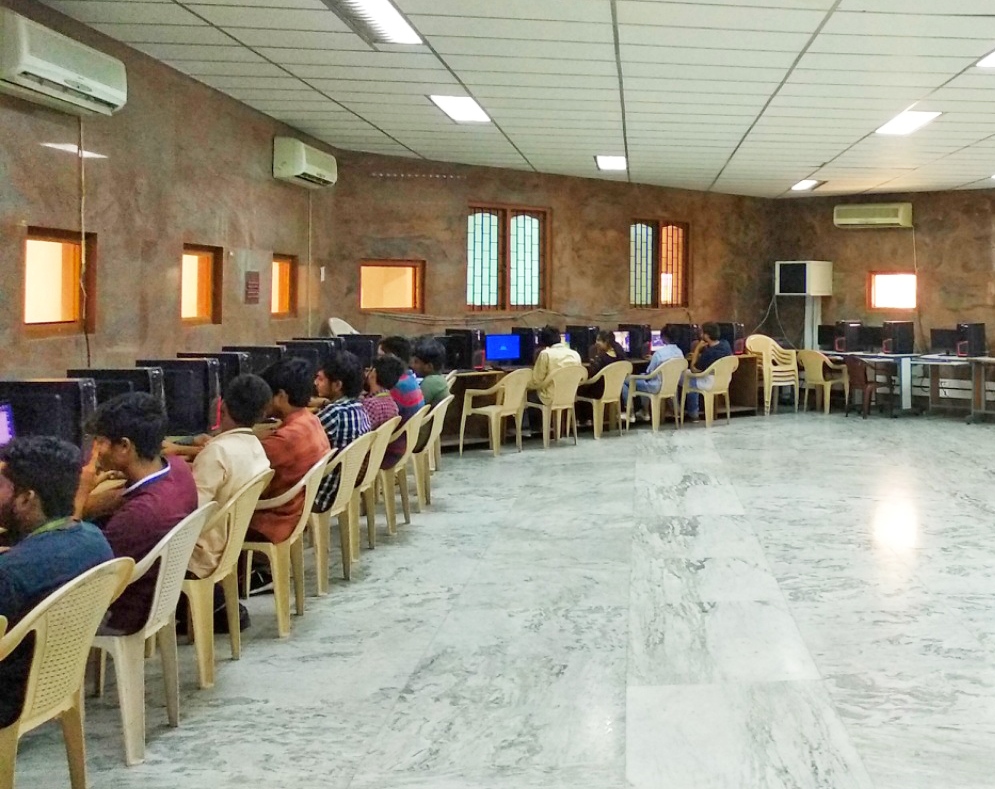 The Computer Laboratory is fully equipped with 80+ workstations that have the tools to handle varied tasks such as 2D and 3D visualizations, image and video editing, walkthroughs, energy analysis and project management. A large format plottter is also available for printing drawings at the required scale.
Material Lab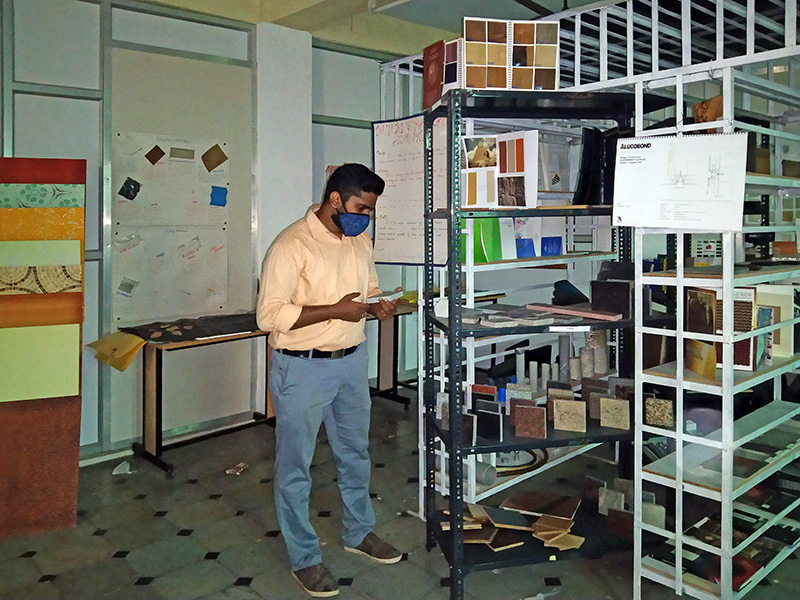 The material laboratory is constantly updated with the latest architectural and interior materials for the students to keep abreast with developments in material technology.
Urban Climate and Built Environment Laboratory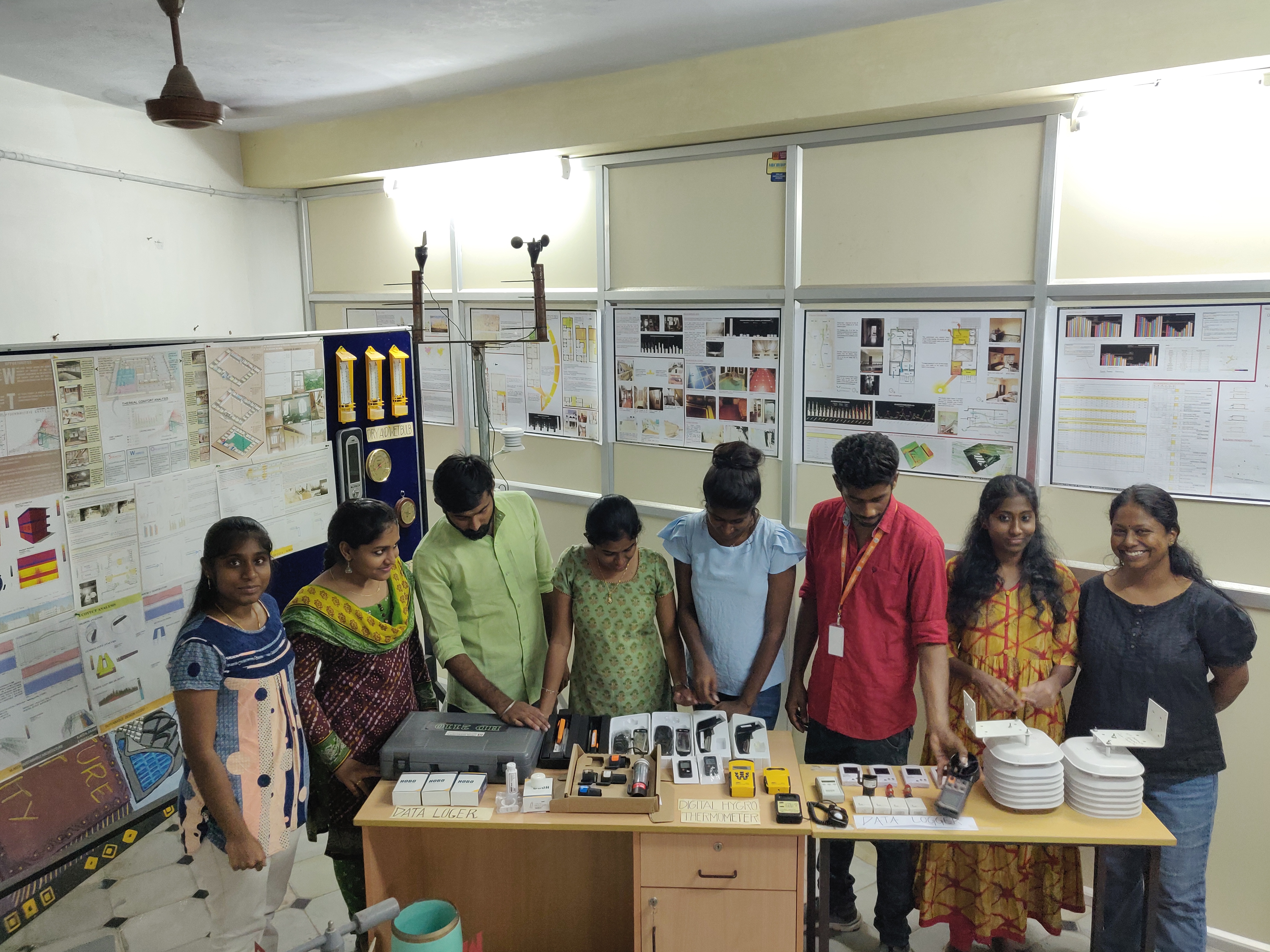 The Urban Climate and Built Environment Laboratory is an exclusive facility for students pursuing their post graduation to perform energy and climate based analysis.
Modelmaking Lab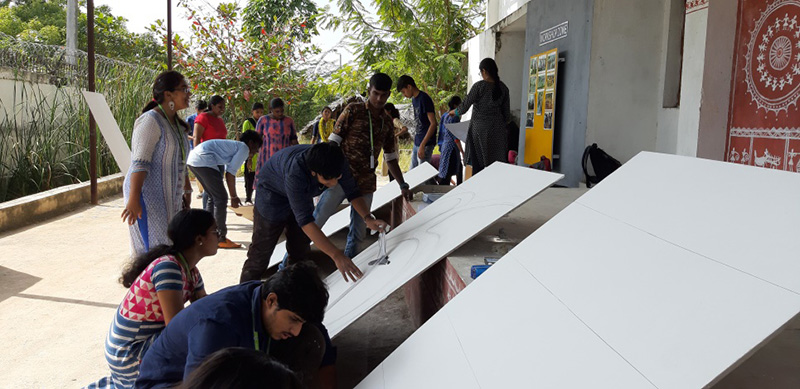 The Modelmaking lab helps the students learn the nuances of working with different materials, scales and proportions.
Services Lab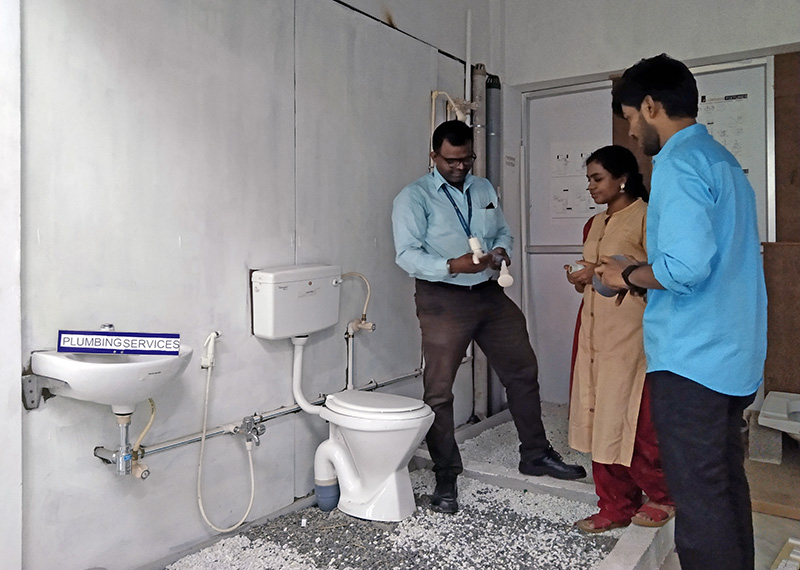 The Services Lab is well equipped for students to get hands on expercience with various architectural and interior services including plumbing & drainage, electrical and HVAC.
Construction Yard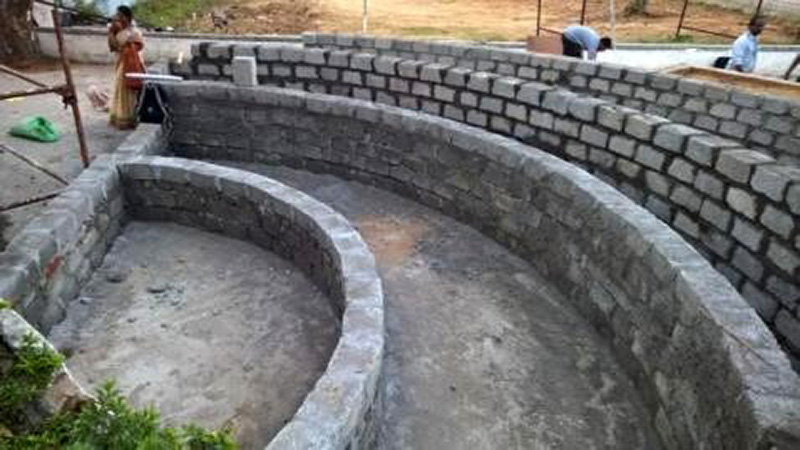 The vast construction yard helps in providing students with hands-on exposure to real-life simulations.
Events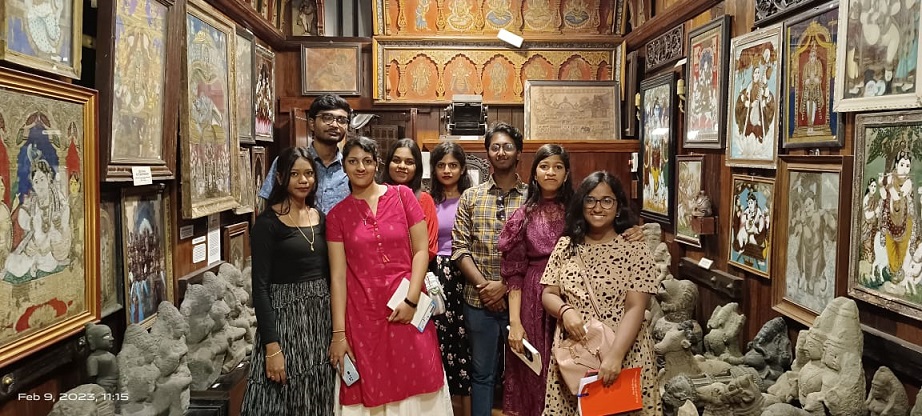 The III Year students of B.Des (Interior Design) as a part of their curriculum were taken to different spaces portraying various products and design solutions from 7th – 10th Feb 2023. The students explored different spaces and documented the same for their design studio and services studio reference. Detailed demonstration along with exposure to various materials, lighting, and their application in interiors gave them an insight into the theoretical knowledge they have gained. Working principles, Installation, and maintenance procedures were demonstrated to the students through technicians. The large display of different artworks in the Kochi biennale and the buildings in which they were displayed helped them to gain more experience with different lighting systems, accessories, and fixtures.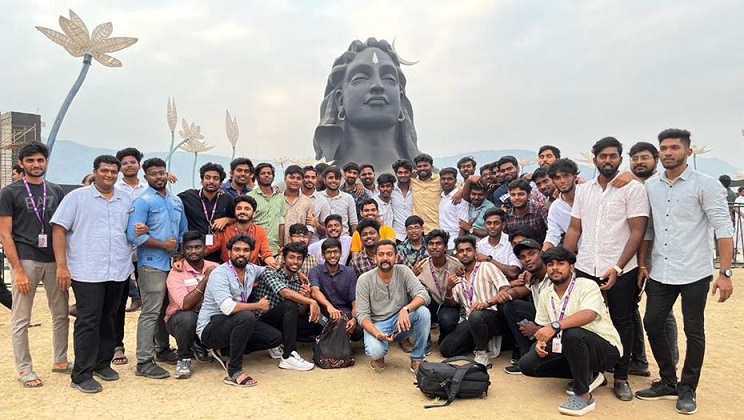 For the Batch 2019 - 2024 of Department of Architecture regarding case studies for Architectural Design VII, they visited the Codissia Trade Fair Complex, PSG Convention Centre, and Kongu Convention centre in Coimbatore from 19.02.23 to 22.02.23. The management team of the infrastructure facility provided valuable information about the design and operations of the facility to the students .Apart from the above projects, we visited Tex Valley – A textile Commercial Mall at Erode and ISHA spiritual Yoga Centre at Coimbatore. Altogether 91 students and 3 faculties of the department participated in this study trip.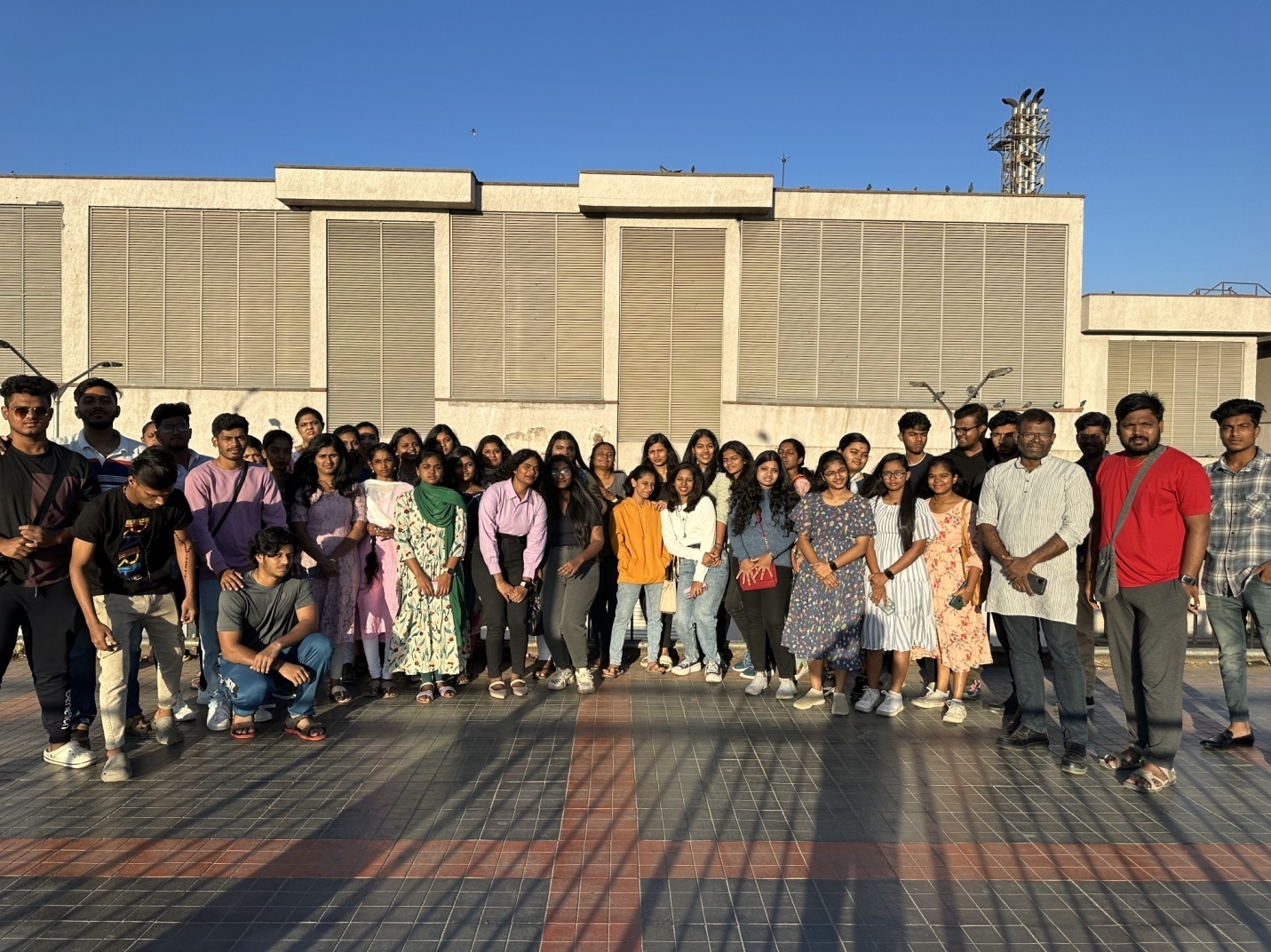 As a part of academic curriculum the III year students (Batch 2020-2025) of the Department of Architecture were taken to Bangalore from 13.2.2023 to 17.2.2023 along with 3 staff. The objective of the trip was to understand the various typologies of public spaces in relation to architecture.
The students visited Shanthinagar & Majestic bus terminus, IIM-B campus, Sai Baba temple, Freedom Park, Bangalore international center (BIC), National gallery of modern art (NGMA), Orion Mall Public Plaza as well as the public walkway on M.G. Road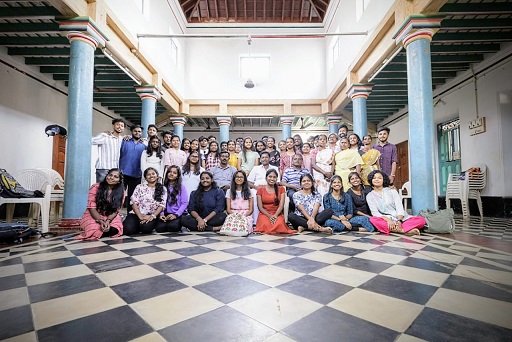 As a part of academic curriculum the II year students (Batch 2021-2026) of the Department of Architecture were taken to the village of Paganeri near Kaaraikudi from 13.2.2023 to 20.2.2023 along with 4 faculties. The objective of the trip was to understand the Physical, Social, Economic and Visual aspects of the rural settlement holistically. The students also documented 6 houses each in both tha Old Valavu and the New Valavu of Paganeri. They were also taken to Athangudi tile factory to understand the process of making the tiles.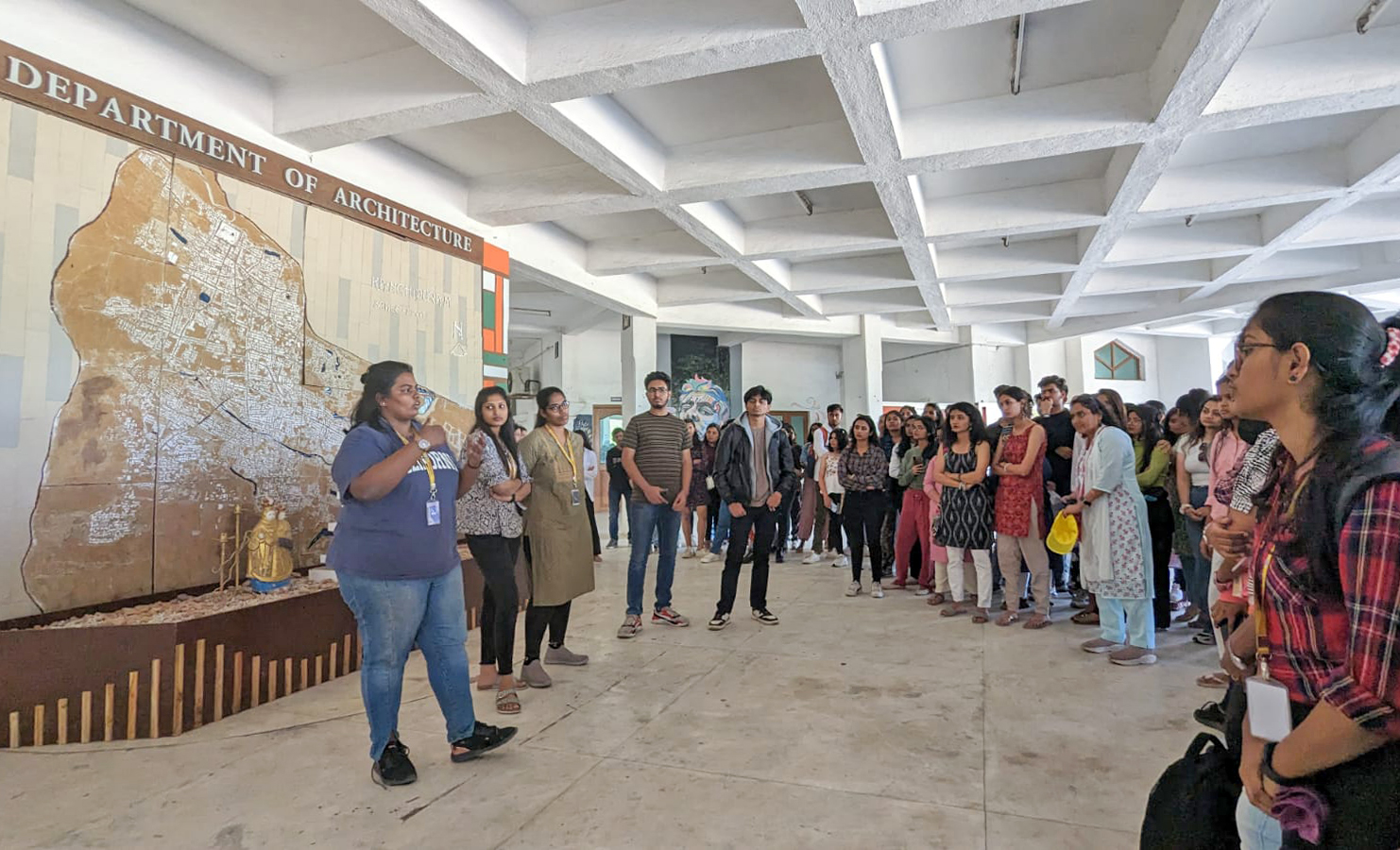 B.Arch faculty and students of 2nd & 3rd year from S.B. Patil College of Architecture & Design, Pune visited the Department of Architecture, Sathyabama Institute of Science and Technology on 28.01.23. They interacted with our faculty and students and got to see various works as well as the extensive infrastructure facilities within the department.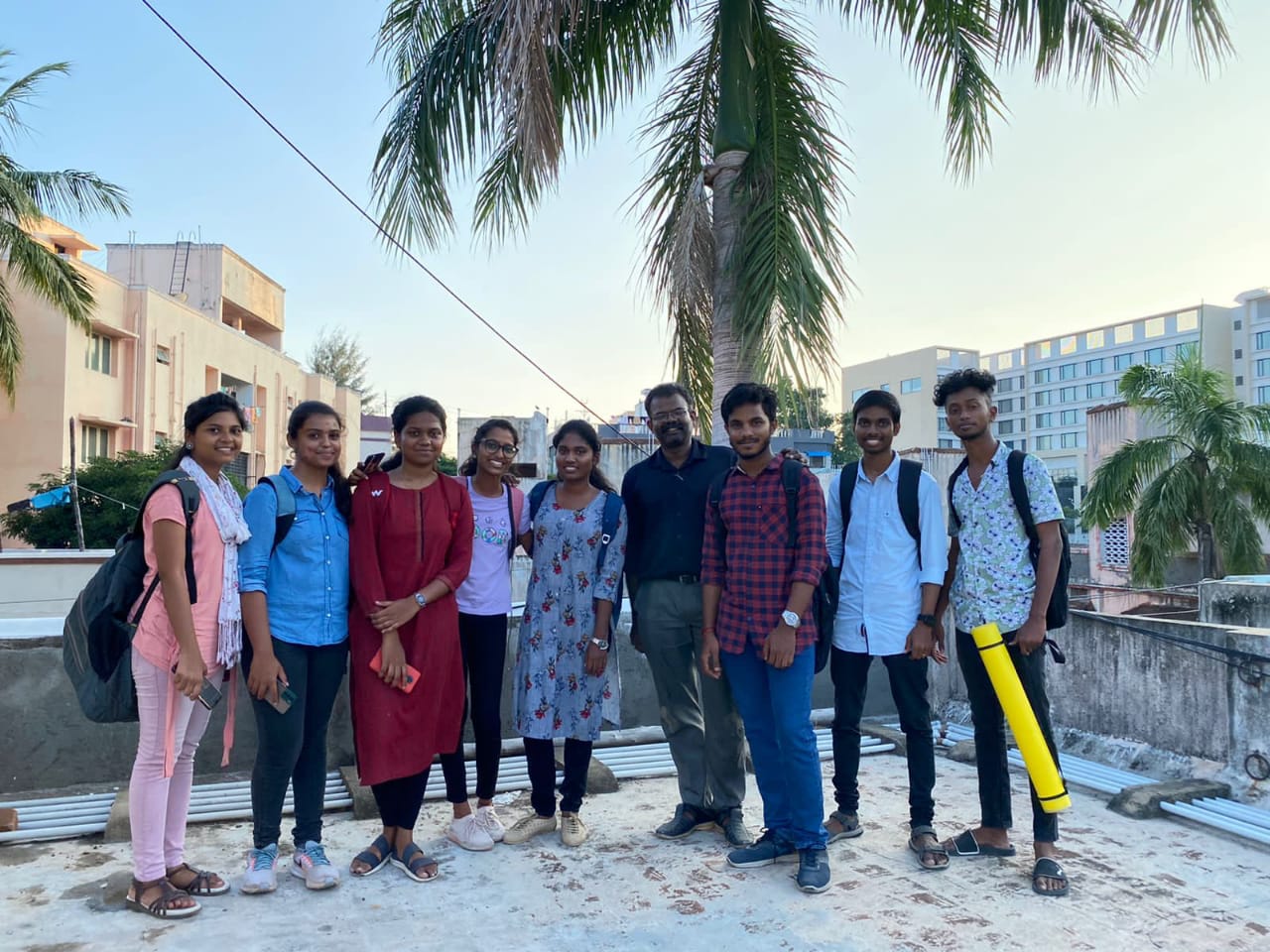 A session by one of the leading aluminium window fabricators from Thoraipakkam was delivered on 22nd August 2022 for Architecture students pursuing 5th semester as part of the material and construction studio. Besides, an insight into to UPVC window manufacturing was given.
Site visit - Red-oxide flooring and wall finish @ Chennai
III Sem B.Arch students were taken on a site visit to one of the office spaces opposite to MIOT hospital, where the clients were executing red-oxide flooring and wall finish. Having an experience to see red-oxide works is very rare these days. Students were very much interested in learning a dying skill, directly from the craftsmen. Since they were trying our sample mixes at the site on the day of the visit, students were given a chance to trail mixes and there were lots of enjoyment in learning a dying skill.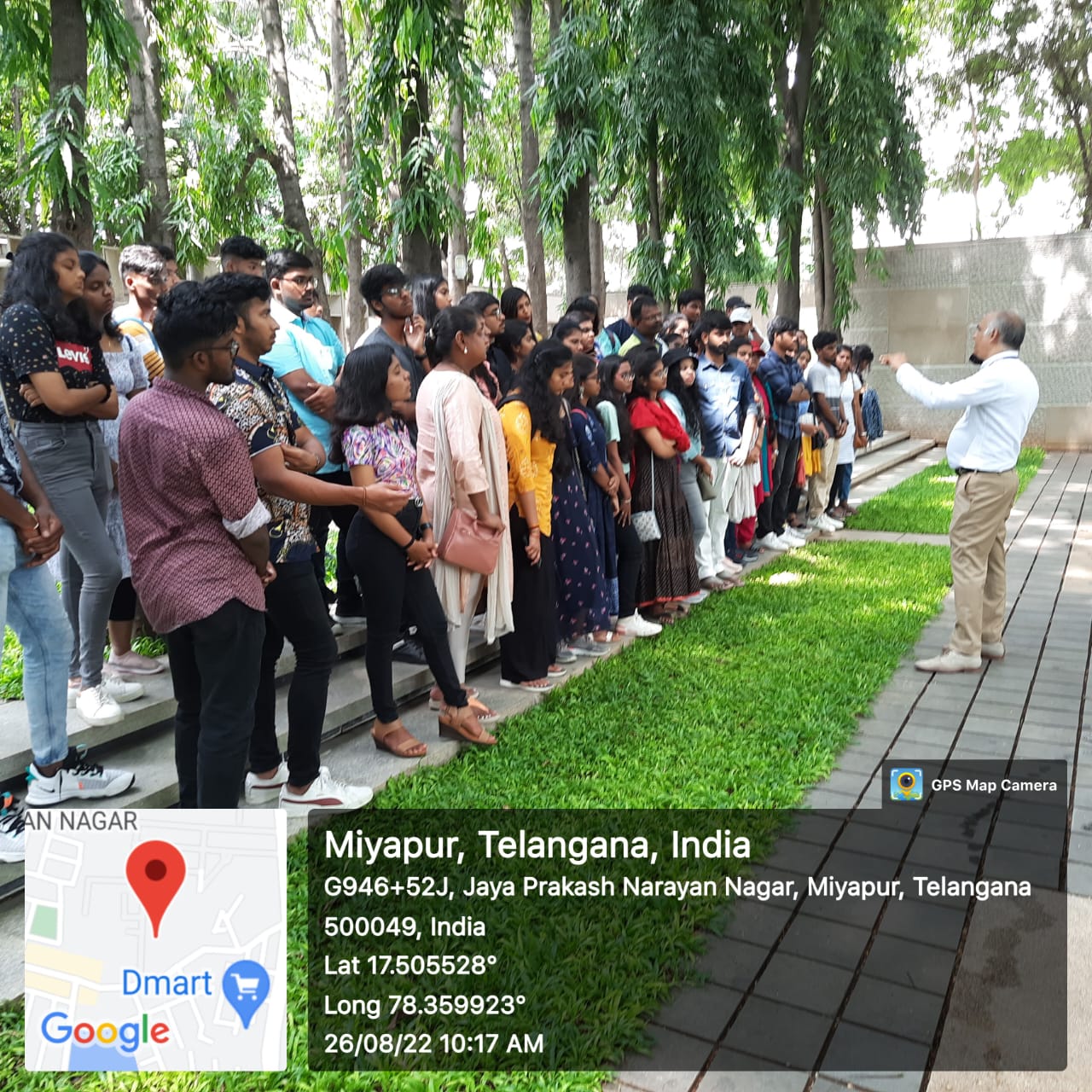 Third year architecture students visited Anji Reddy memorial at Hyderabad. Every aspect of the memorial was very meticulously observed and discussed onsite. Students got a great deal of ideas about designing a memorial complex, which is evident from their design studio works. Also along with the memorial students were taken to various architectural spaces around Hyderabad, including Shilparamam, Ramoji Film city, car museum, Chowmahalla palace, Organo rurban Community, Birla Mandir, Charminar complex, Golconda fort, Brighton Horizon school, IKEA from 23rd to 28th August 2022. The visit to both the contemporary buildings as well as the heritage complexes facilitated the students to construct rich knowledge about the tangible and intangible channels to creativity. Besides, the students were able to experience the role of geometry, materials, paradox, history and historicism, symbolism, metaphors in evolving unique ideas in architectural design. The students also learnt the importance of coordination, time management, and cooperation etc during the visit.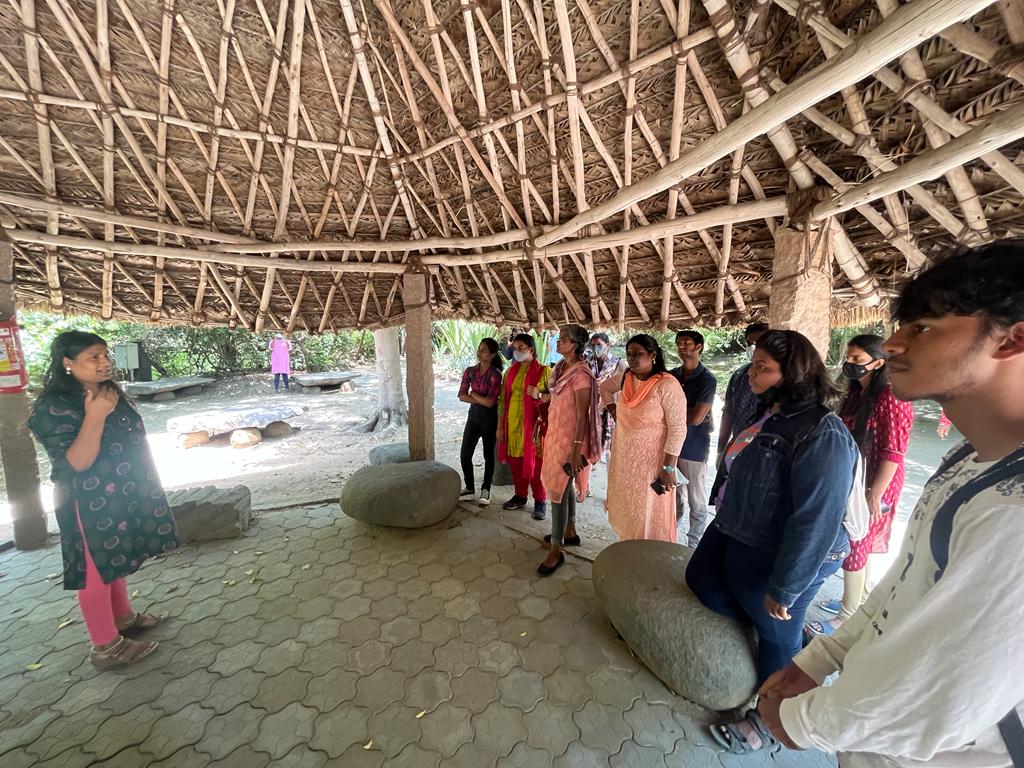 Third year B.Arch students pursuing architecture visited the Tholkappia poonga on 13th August 2022. The students unravelled the interactions between the biotic and the abiotic realm through experiential learning. The visit sensitized the students about the essence and the importance of 'context driven approach' by retaining the natural elements and other features in architectural design. The visitors got an insight into 'eco'. Apart from this, the students got diverse ideas about integrating the natural features in site planning in their respective design studios.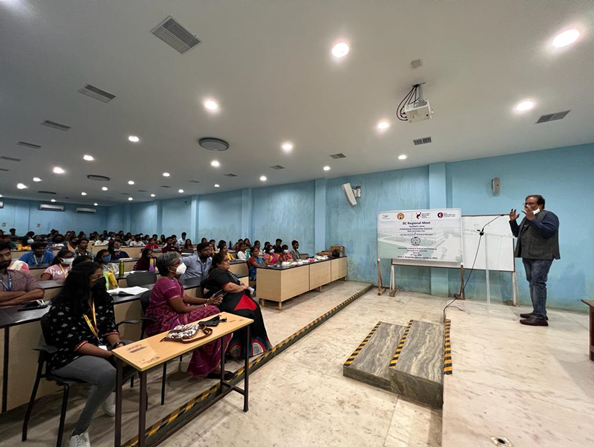 An expert talk was given on the topic "Symbolism Driven Design Thinking in Architecture" on 25th July 2022, by Ar. Murali Murugan expressing the various facets for the design of the memorial for late ex-chief minister Jayalalitha for the students pursuing third year B.Arch, Department of Architecture.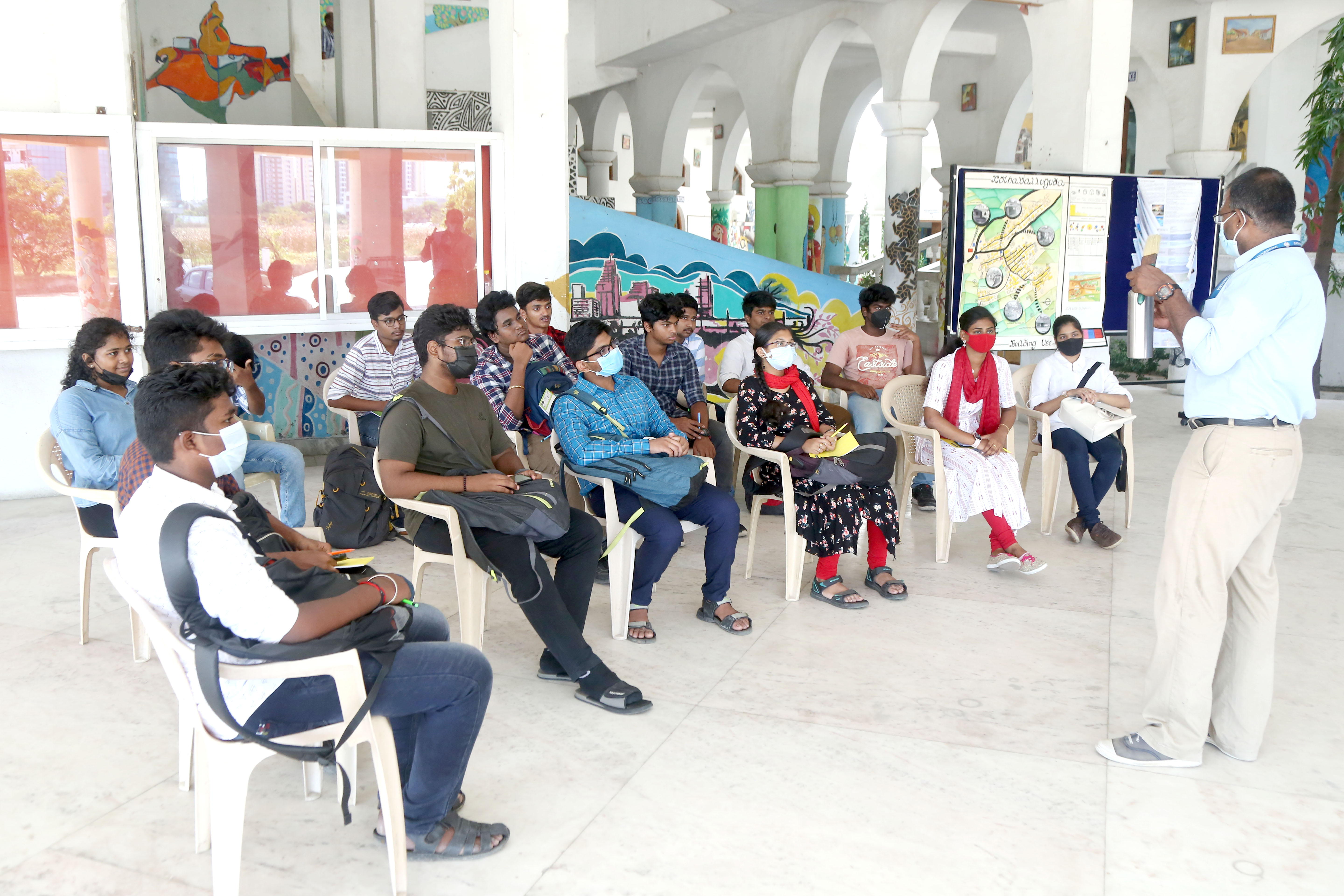 Pathfinder 2022 - Pathfinder 3.0 was conducted for three consecutive days from 13th to 15 June 2022 to create awareness among school kids who aspire to take up Architecture as their profession. An overview of how to prepare for the NATA entrance examinations and various topics were elaborated by subject experts online and an overall view about the course and our institution was given by the Dean Dr.Devyani.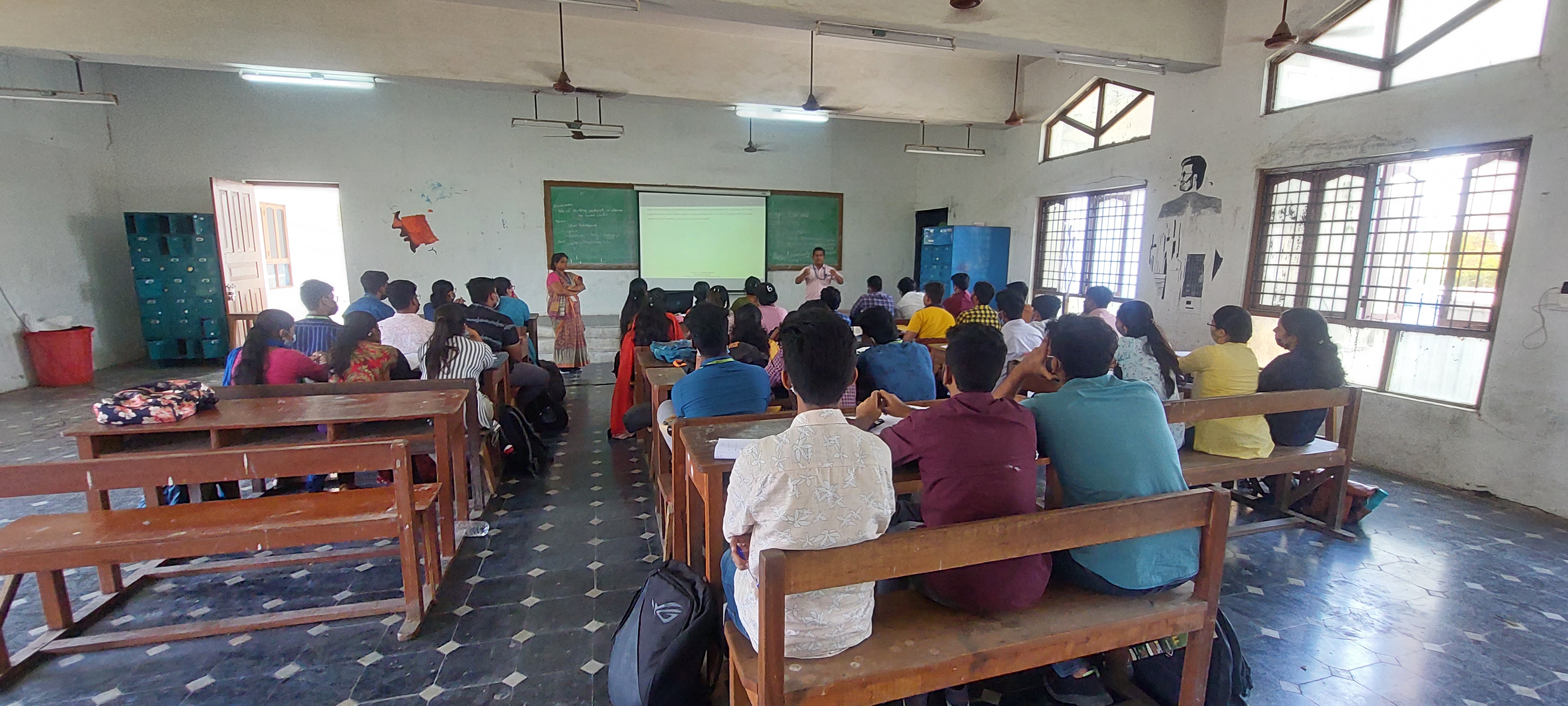 Thesis workshop - A workshop for the final year students was conducted from 13th to 15th June 2022 to give them an opportunity and insight to carry forward their final year Thesis project in a methodical manner. Various sessions were conducted in order to give them a clear understanding about different aspects and approaches to complete a thesis. On the third day students came up with their work which was discussed with individual supervisors to evaluate their inference and interpretation of the ideas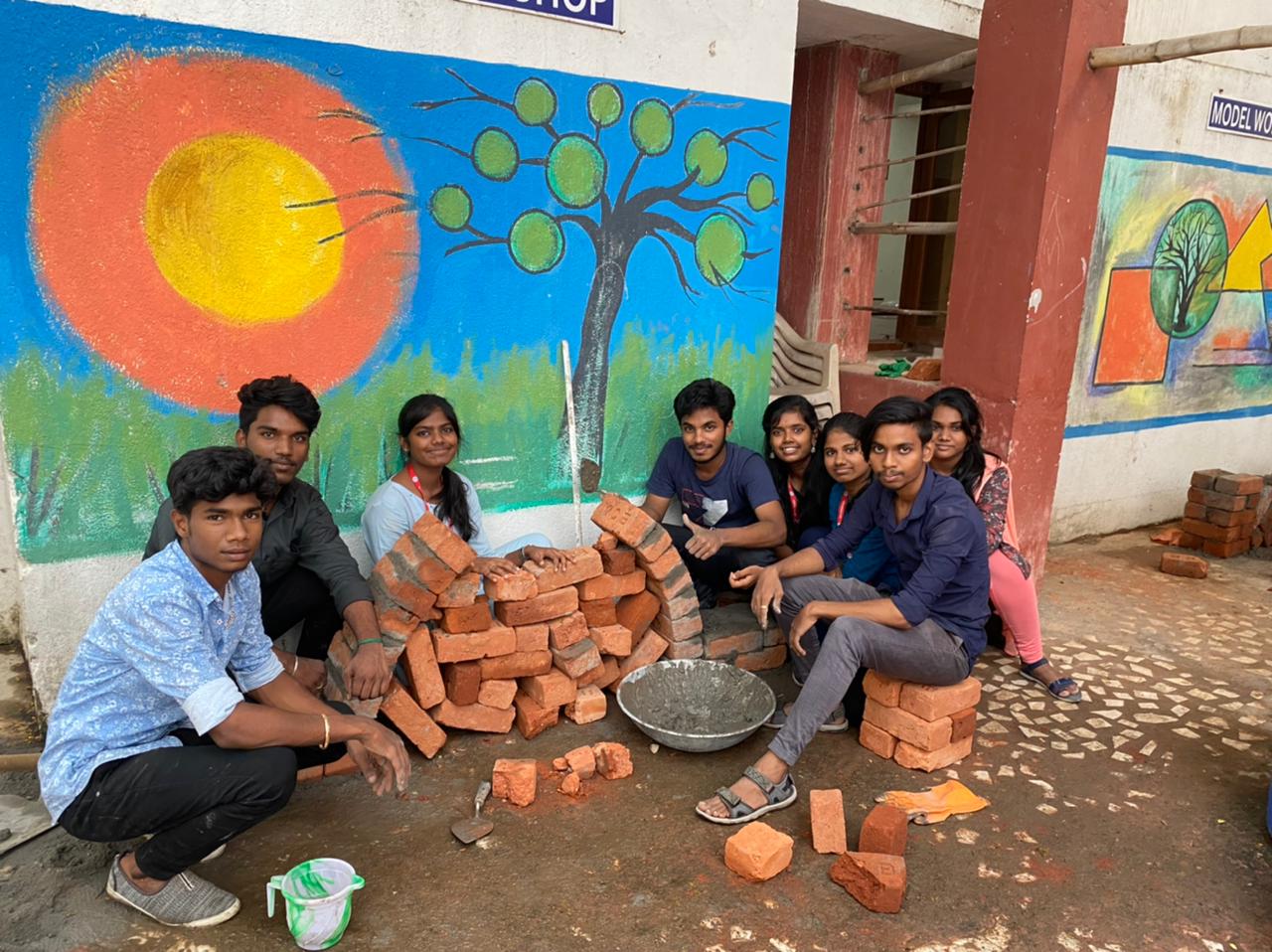 Brick Construction Workshop - A hands on workshop in Brick construction on 9th and 10th May 2022 for the first year students of B.Arch. The hands on practicum revolved around types brick bonding, construction of arches and dancing columns.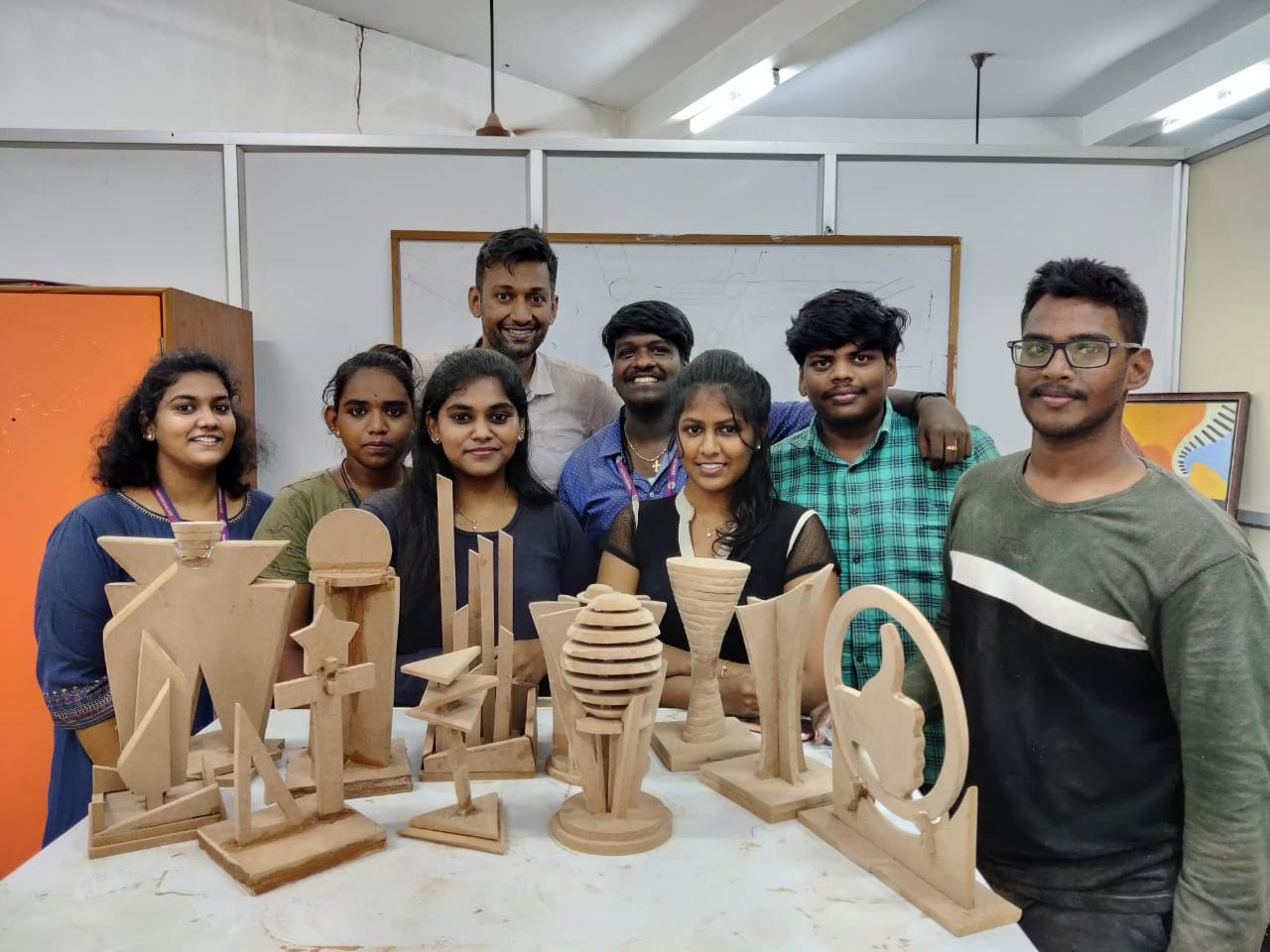 Model Making Workshop – The third year students had a demo in the starting of the semester and were exposed to carpentry and wood work tools and machinery. Taking lead from the demonstration they had and after having theoretical knowledge from the subject Fabrication Design a workshop for design and model making was conducted on 11th – 13th April 2022.
Auroville site visit - The students pursuing architecture were taken for a study trip to Auroville, Pondicherry on 6th and 7th April 2022 as a part of the Design studio curriculum. The visited various buildings such as Unity Pavilion: The Hall of Peace, Savitri Bhavan, a centre for spiritual education, Bharat Nivas - Pavilion of India, Pavilion of Tibetan Culture, Auroville Visitors Centre, Auroville Earth Institute (AVEI), Verite, Auroville, Matrimandir - Soul of the City, Solar Kitchen, La Terrace Cafe and Auroville Sports Resource Centre (AVSRC).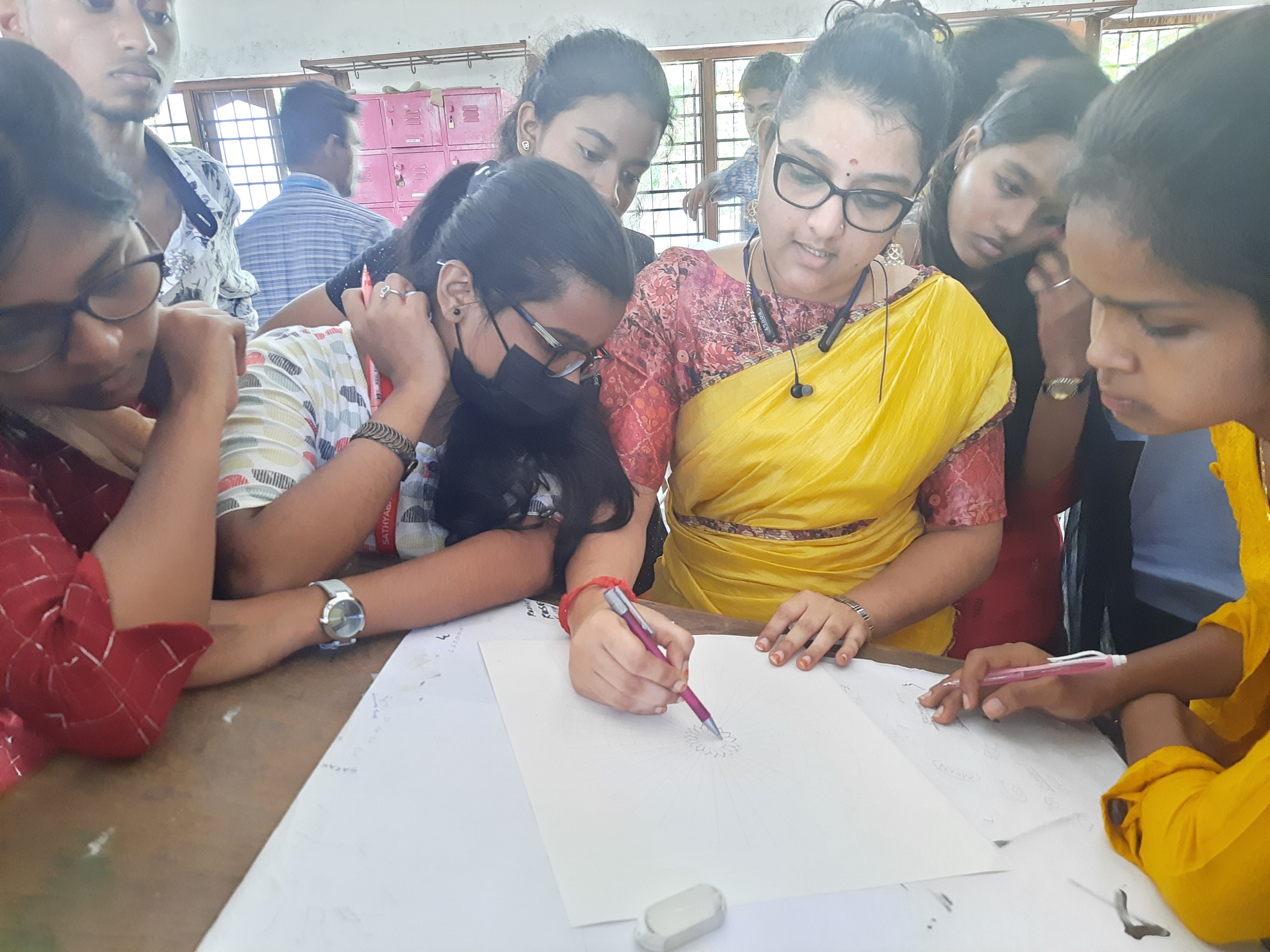 World Arts Day celebrations on 8th April 2022 - On account of World arts day 2022 celebrations, a workshop on 'Dancing shades of Mandala' was conducted and a talk on 'Fusion art + Design thinking' was given by Ar.Divya Murugesan.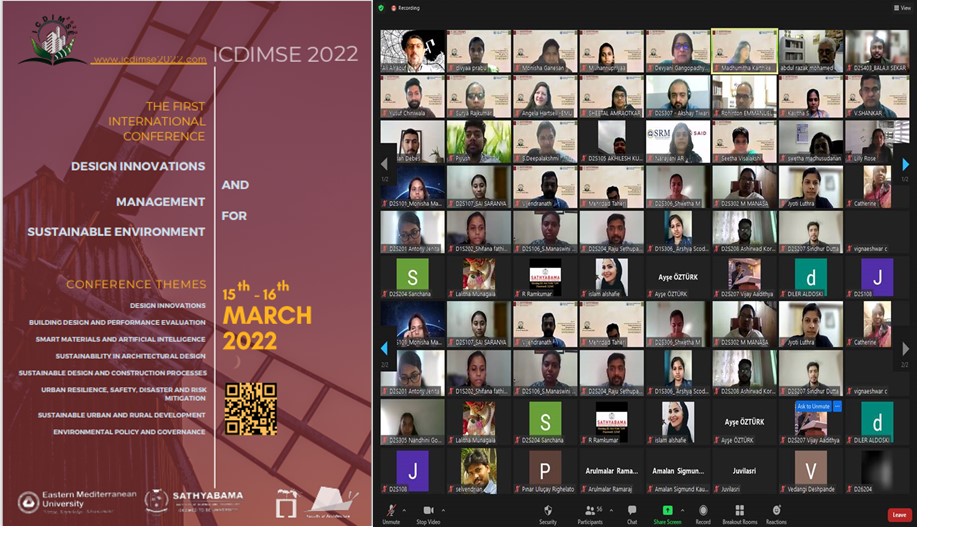 ICDIMSE-The First International Conference on Design Innovations and Management for Sustainable Environment 2022 was held from March 15 to16, 2022 with a collaboration between Sathyabama Institute of Science and Technology Chennai, India and Eastern Mediterranean University, Cyprus, that brought together, Sustainability professionals, Researchers from various places around the world to share and present most recent innovations, trends, concerns, practical encounters in building and environmental design and raise awareness concerning state-of-the-art strategies adopted in the fields of Sustainable Design of Built Environment.
The conference invited four key note speakers; Prof Dr. Shaleen Singhal, Prof.Dr.Ayşe Öztürk, Prof. Dr. Ali A. Alraouf and Prof.Dr.Rohinton Emmanuel to enrich the platform by sharing their knowledge and showcasing their works.
This International Conference led to strengthening the relations with our partner university and developing more ideas for a Sustainable Future.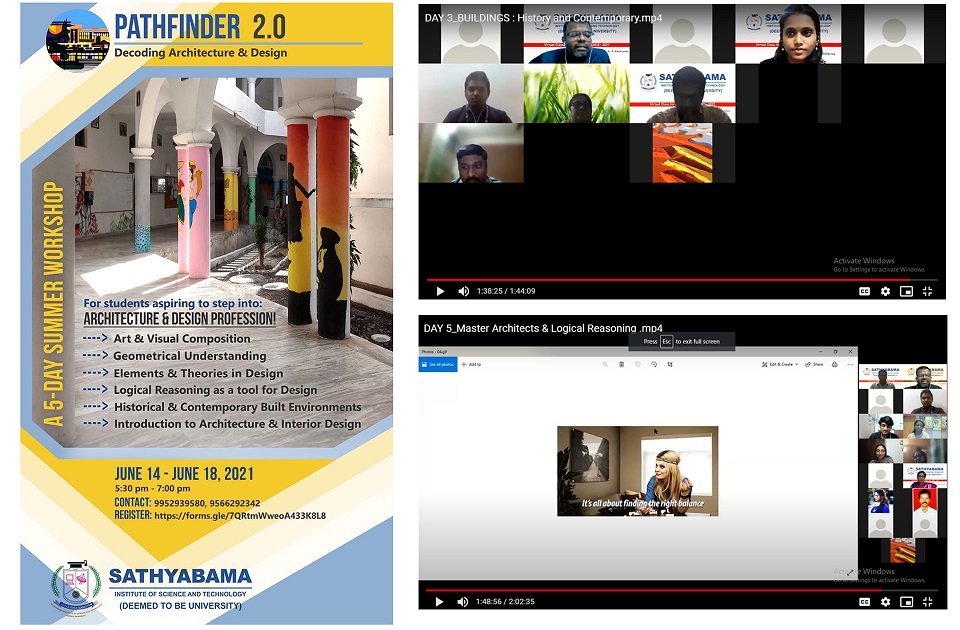 Pathfinder 2.0 Conducted from14th June to 18th June 2021. A five day summer workshop was organized by the Department of Architecture for school students aspiring to step into the Architecture and Design profession.The Objective of the workshop was to help the students to decode the competitive exams in the field of design.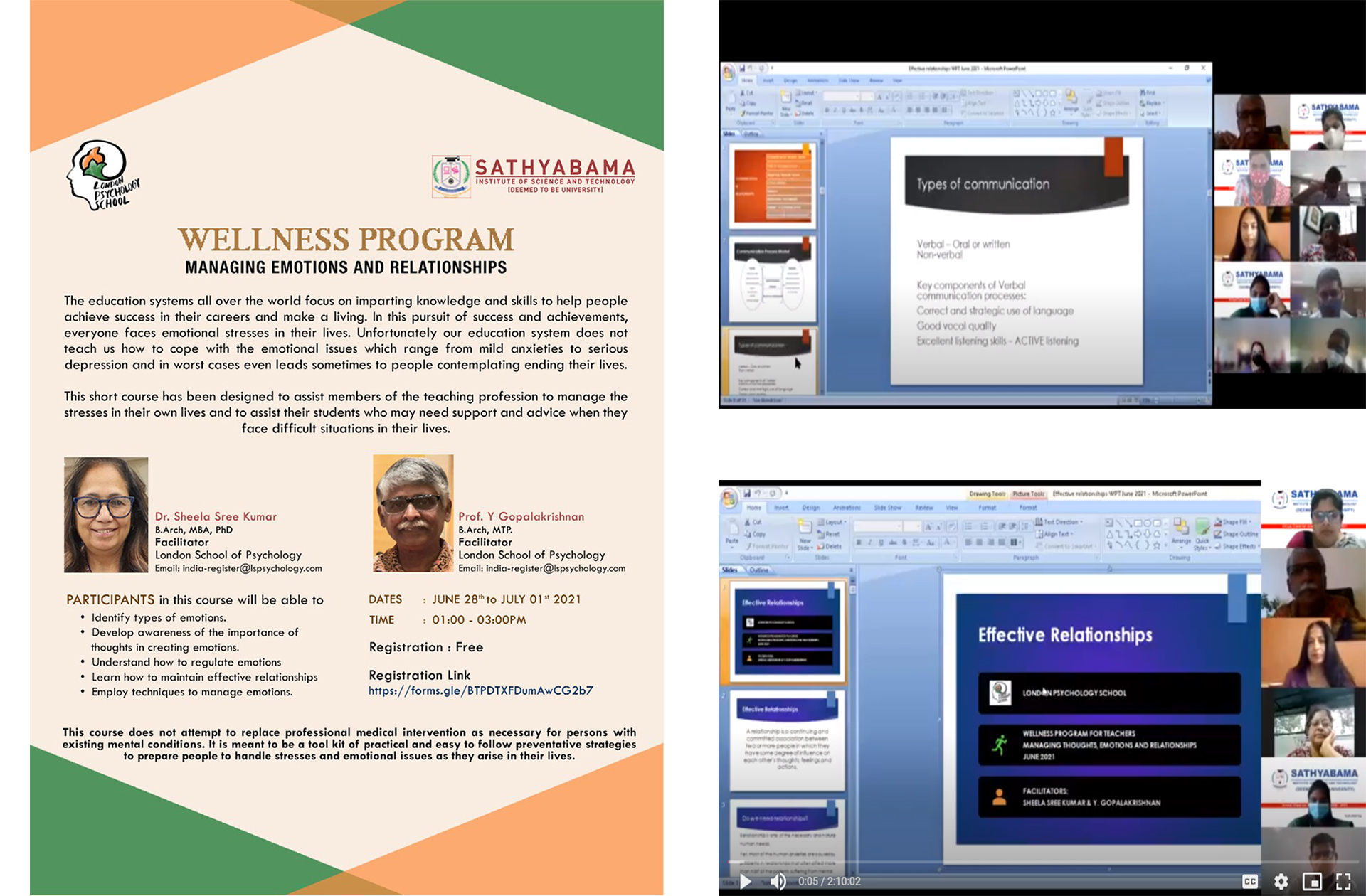 Wellness Program - Managing emotions & Relationships conducted from 28th June to 01st July 2021. A four day short course on stress management for teaching professionals was organized by the Department of Architecture. The program was intended to manage emotions and to enhance interpersonal relationships.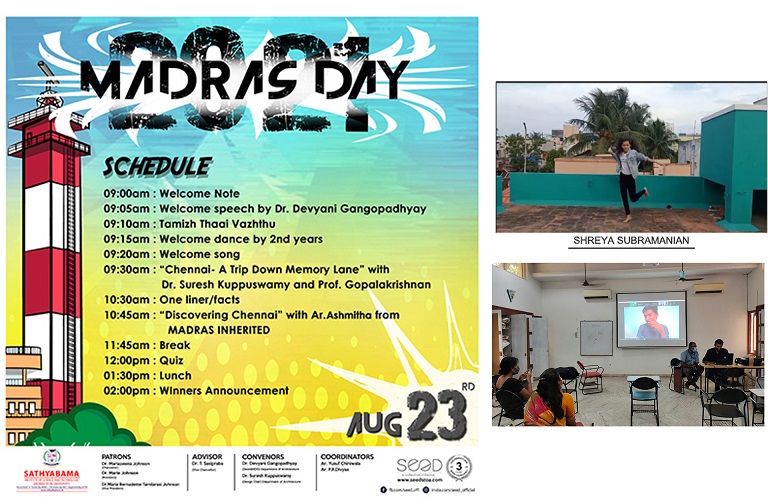 Madras Day Celebrations conducted from 18th August -23rd August 2021.The founding day of Madras is celebrated every year by the Department of Architecture, Sathyabama Institute of Science and Technology .The Madras Day celebrates the heritage of the city of Madras- Its history,culture and built forms and traditions.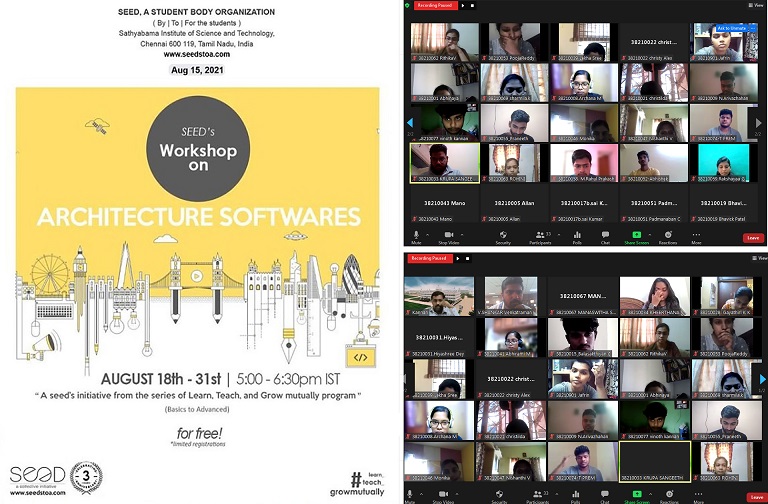 CADD workshop Initiated by SEED _A Student body Organization conducted from 24 Aug 2021- 27 Aug 2021.A four day CADD workshop was conducted for undergraduate students of Architecture- organized by "SEED", a student body organization, Sathyabama Institute of Science and Technology. The workshop was a platform for the students to enhance their Software skills.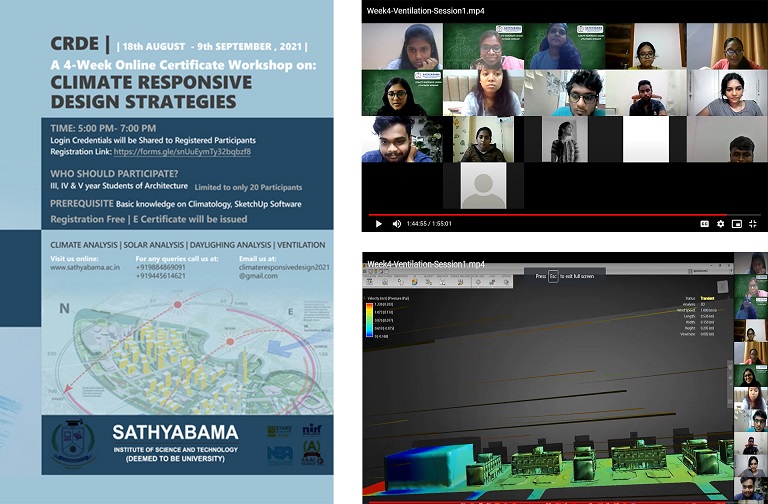 Climate Responsive Design Strategies Workshop (CRDE) conducted from 18th August-09th September 2021 A four week online workshop on Climate Responsive Design Strategies was organized by the Department of Architecture, Sathyabama Institute of Science and Technology. The workshop focused on exposing the undergraduate students to the basic parameters of climate and use of softwares and tools to design climate responsive buildings. The workshop imparted a comprehensive understanding of solar analysis, lighting analysis and Wind analysis through simulation software and simple manual calculations.
Faculty Development Programme on Architecture + Design Thinking in Association with COA_TRC conducted from 21st September -24th September 2021.A four day Faculty Development Programme was organized by Sathyabama Institute of Science and Technology, School of Building and Environment in collaboration with the Council of Architecture. Participants included faculty members from various schools of Architecture all over India. The program disseminated the idea of design thinking, problem-solving methods and techniques, and its application in Architectural Design.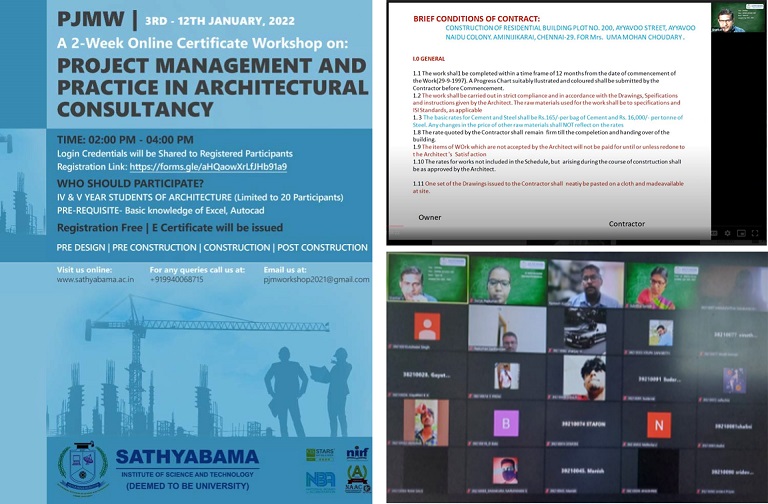 Project Management and Practice in Architectural Consultancy (PJMW) conducted from 3rd January-12th January 2022. A two-week online workshop on Project Management and Practice in Architectural Consultancy was organized by the Department of Architecture, Sathyabama Institute of Science and Technology. The workshop focused on exposing the undergraduate students to the basic parameters of pre-design, pre-construction, construction, and close-out in the building sector. The workshop imparted a comprehensive understanding of Project Management and consultancy.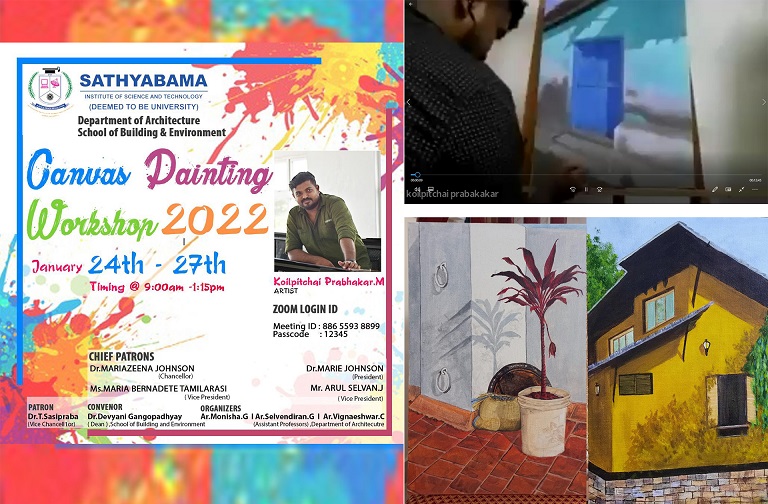 Canvas Painting Workshop conducted from 24th January-27th January 2022.A 4 day online workshop on Canvas Painting was organized by the Department of Architecture, Sathyabama Institute of Science and Technology. The workshop was intended to impart painting skills for the I year Undergraduate students.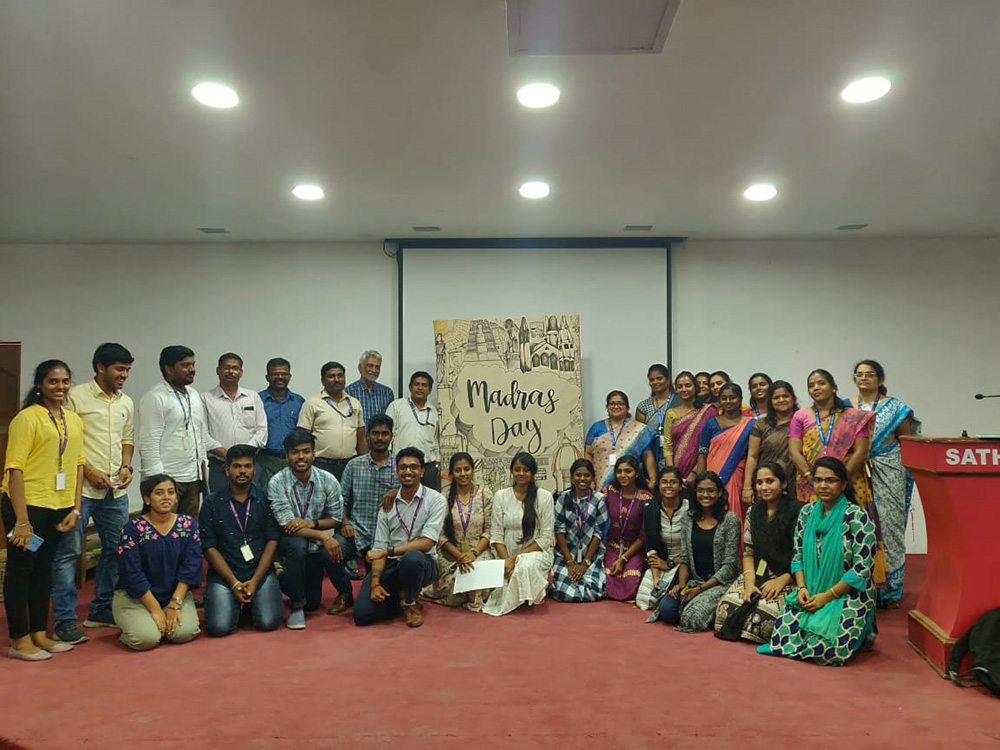 Our students and staff members during Madras Day celebrations
VIRTUAL CULTURAL NIGHT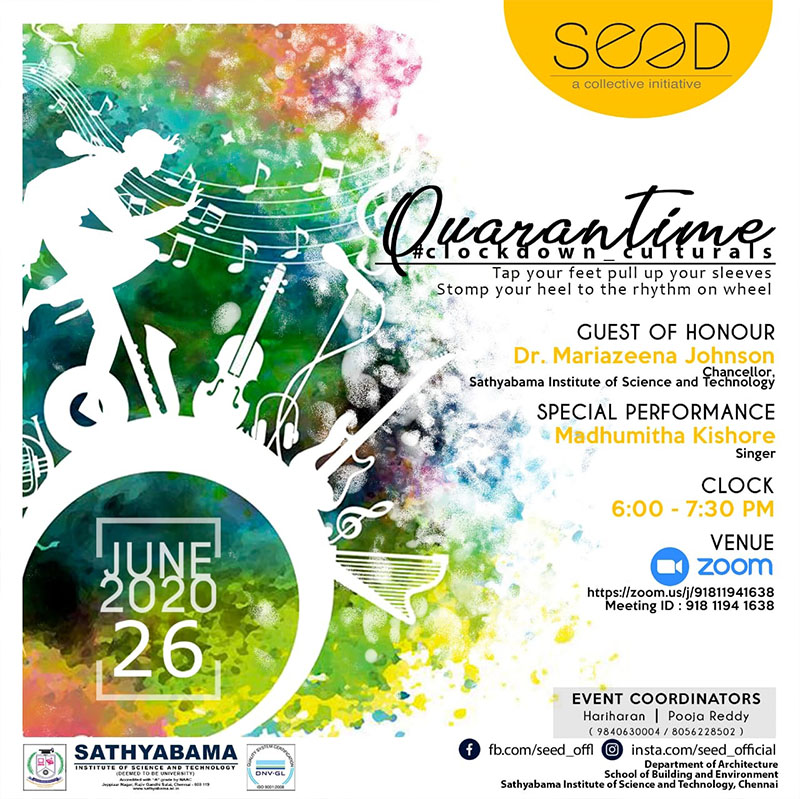 Cultural Night events conducted by our students virtually during quarantine.
WEBINARS - Talks and Events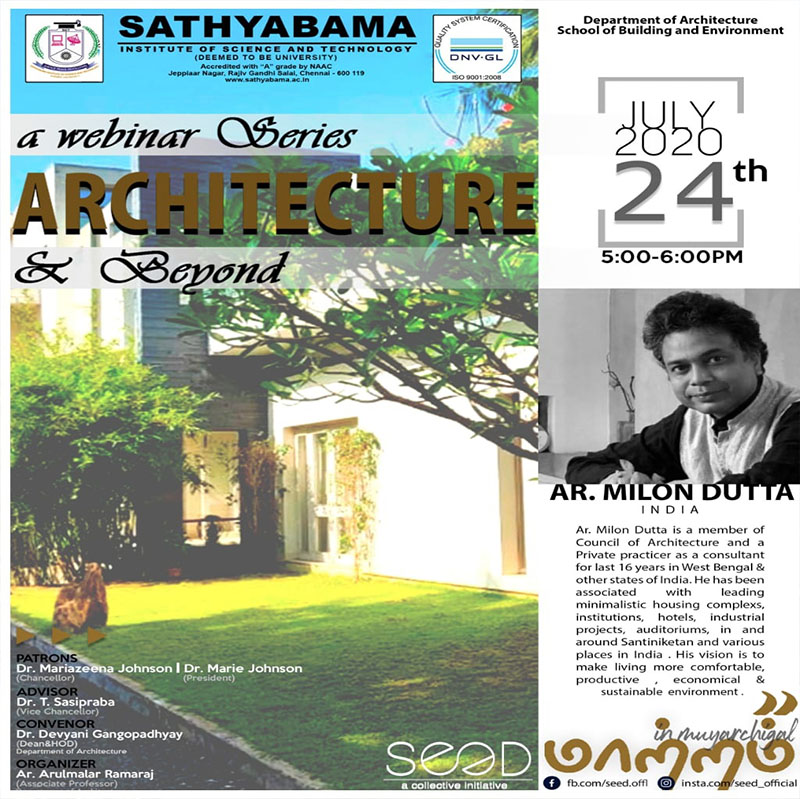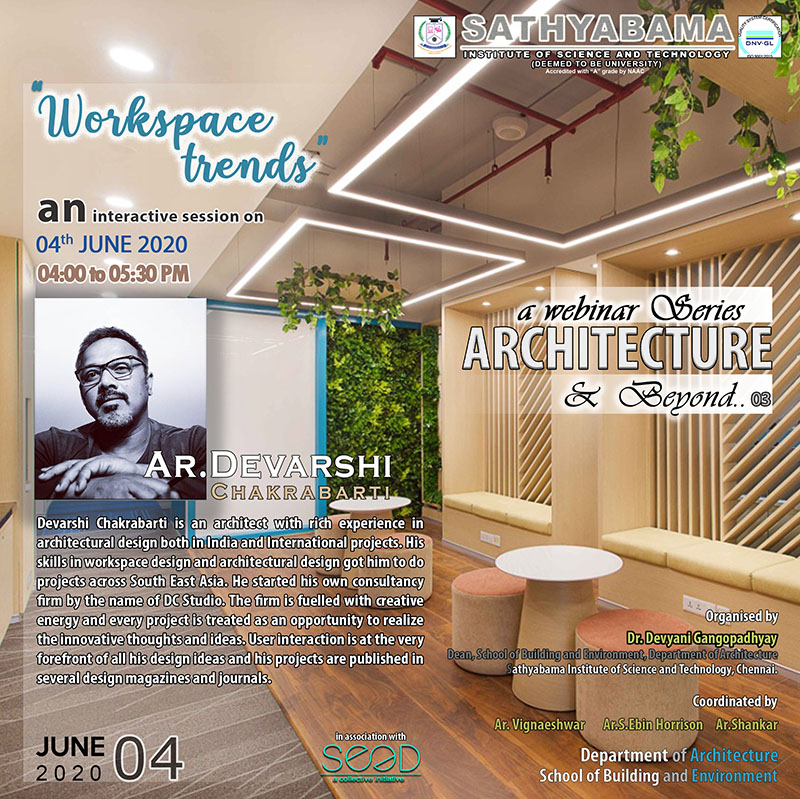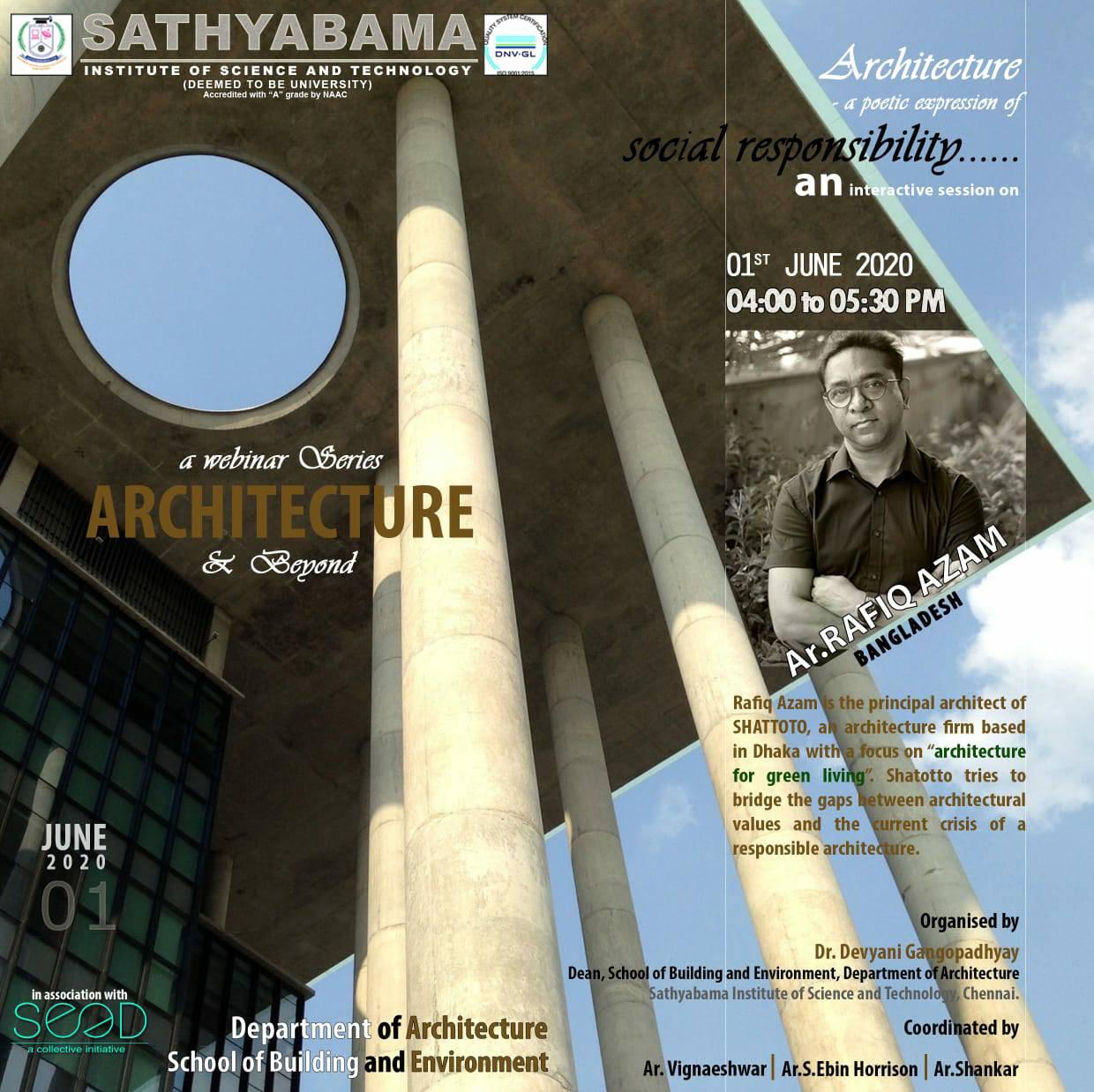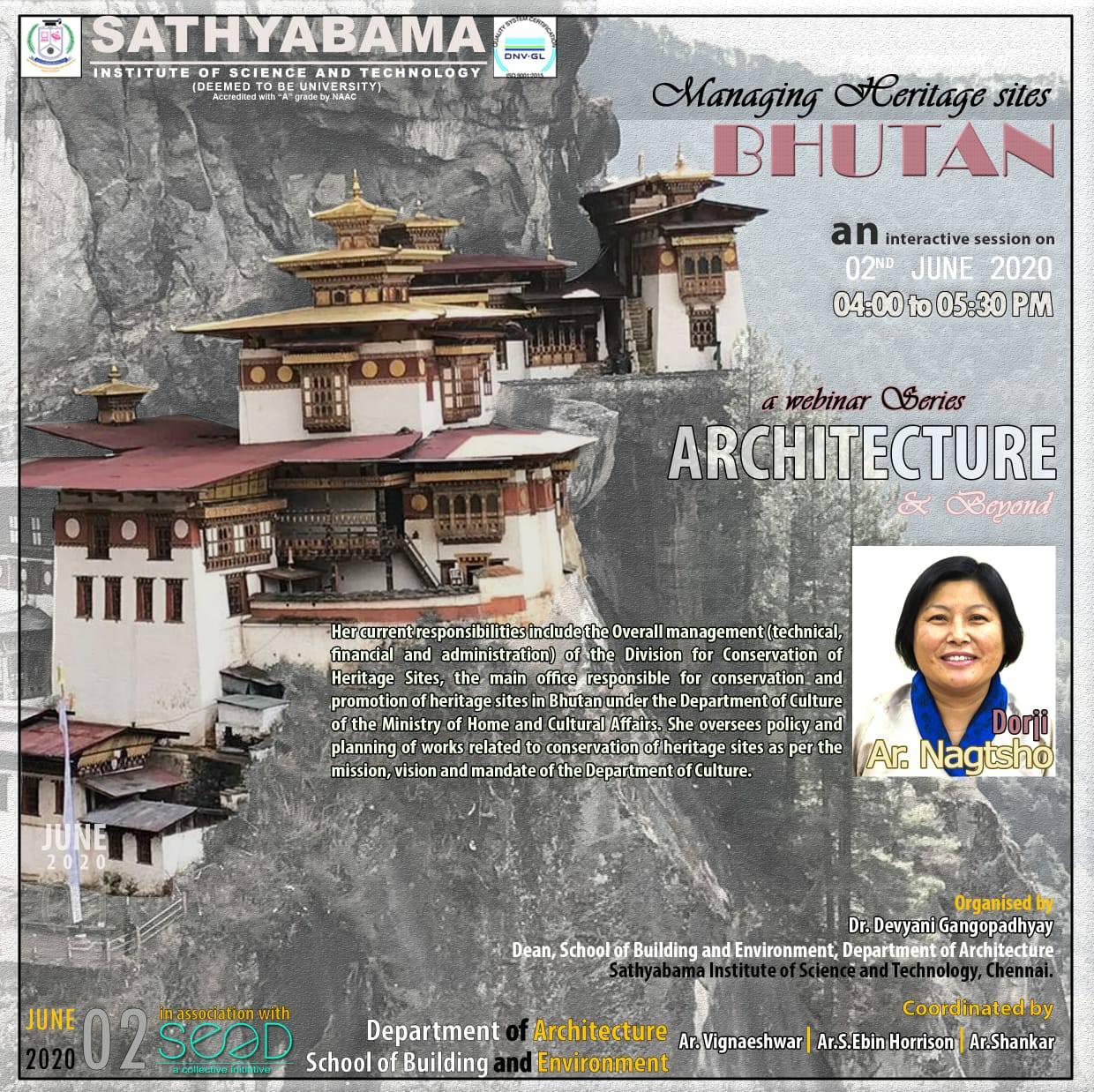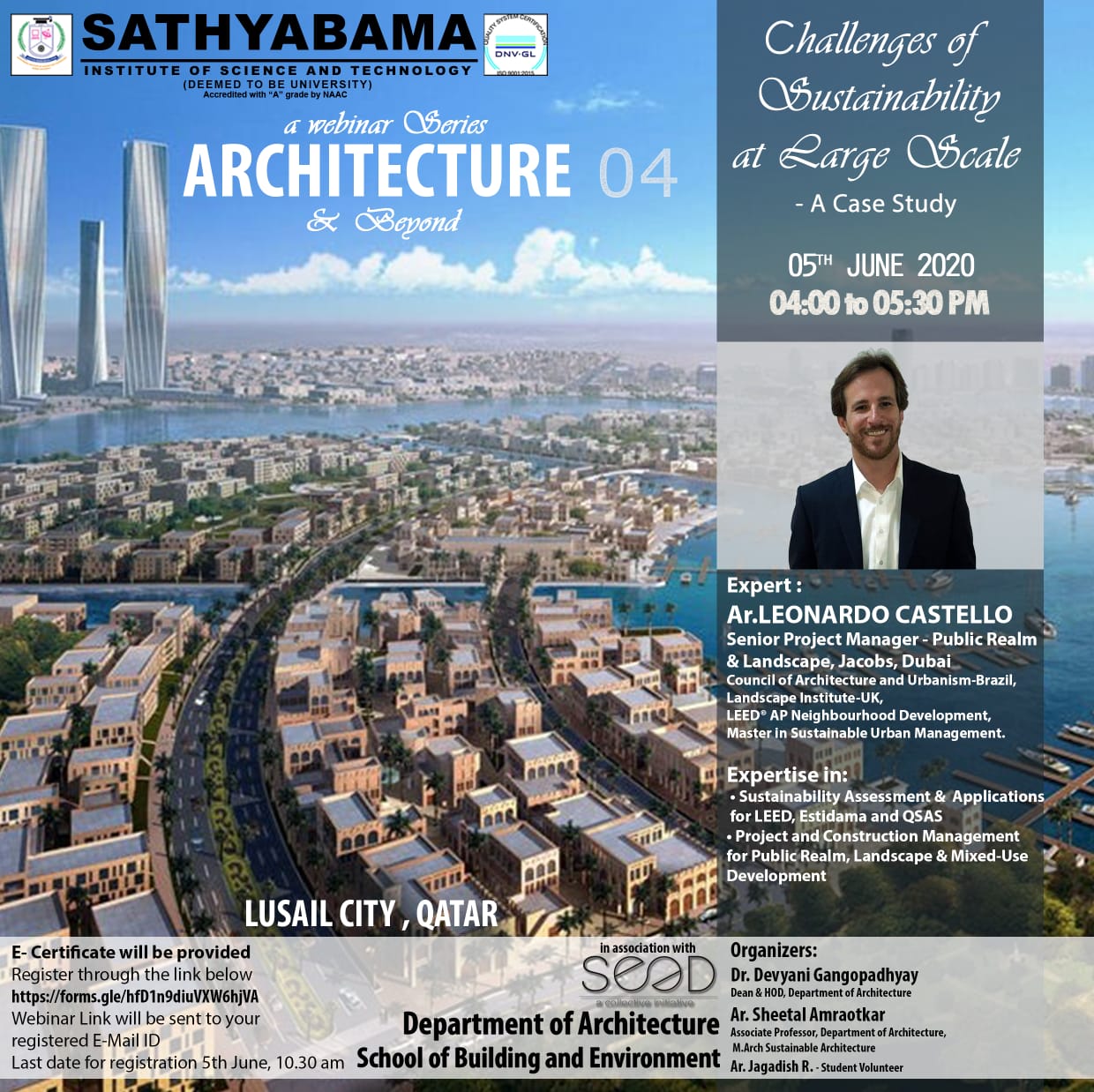 Web series of talks and lectures conducted by our students during the quarantine.
REUNIX XXV - The silver Jubliee Celebrations and Workshops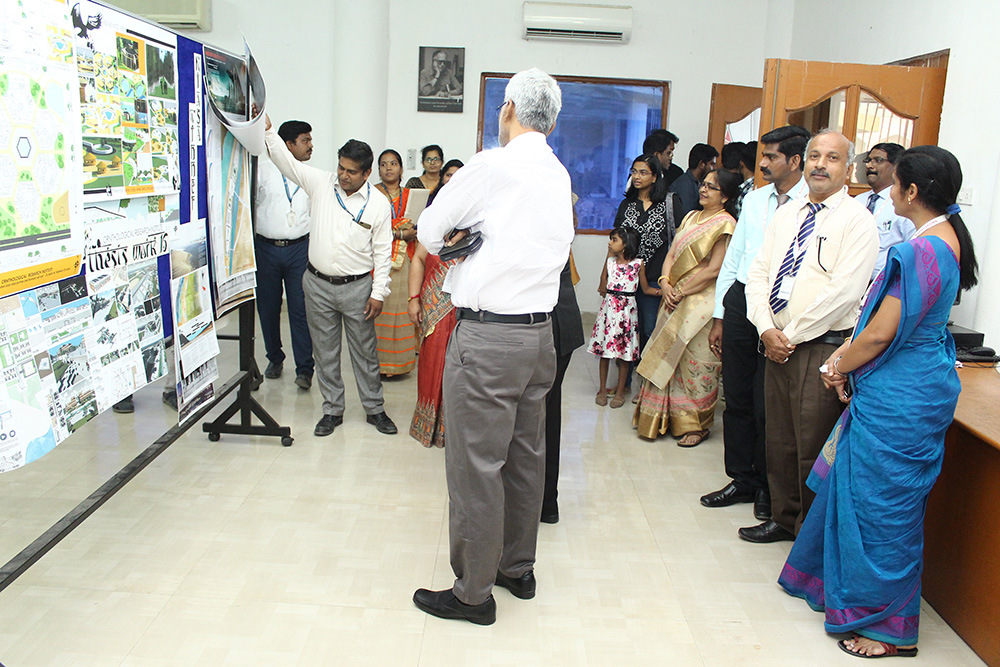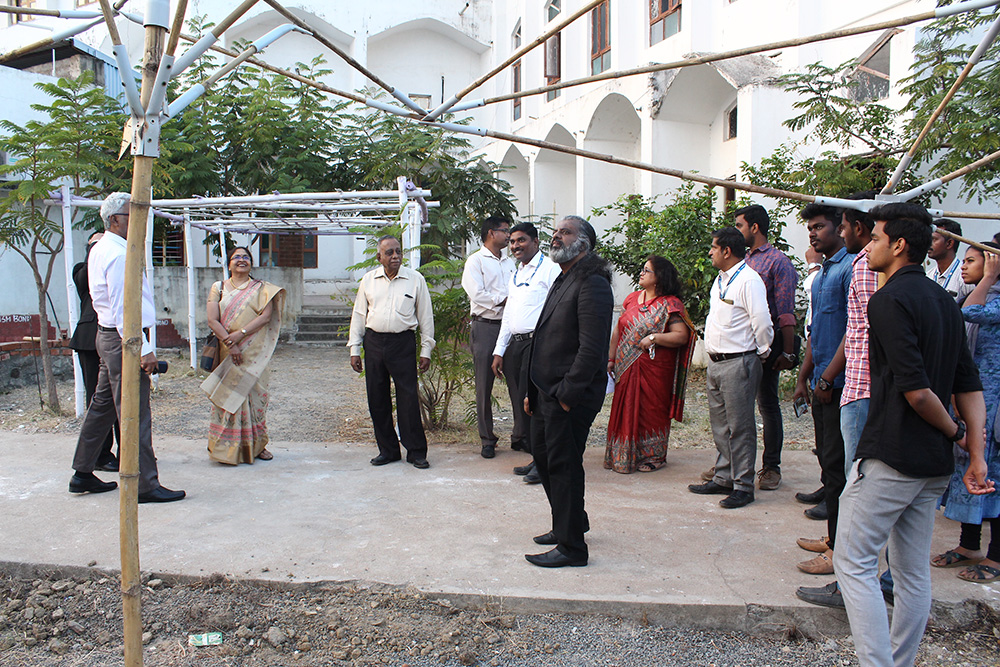 Ar. Palinda (Sri Lanka) discussing with our students and staff during REUNIX XXV events.
Faculty Development Programme in Association with Council of Architecture:
URBAN CLIMATE AND BUILT ENVIRONMENT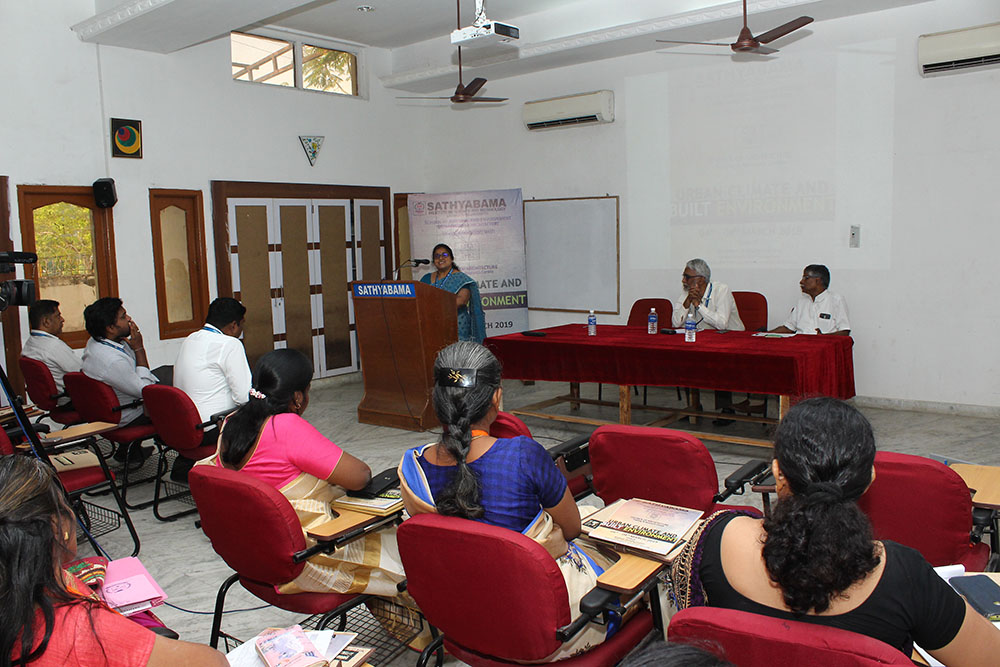 Our Dean addressing the staff during the Faculty Development Programme.
METHODOLOGY AND EXPLORATION IN ARCHITECTURAL RESEARCH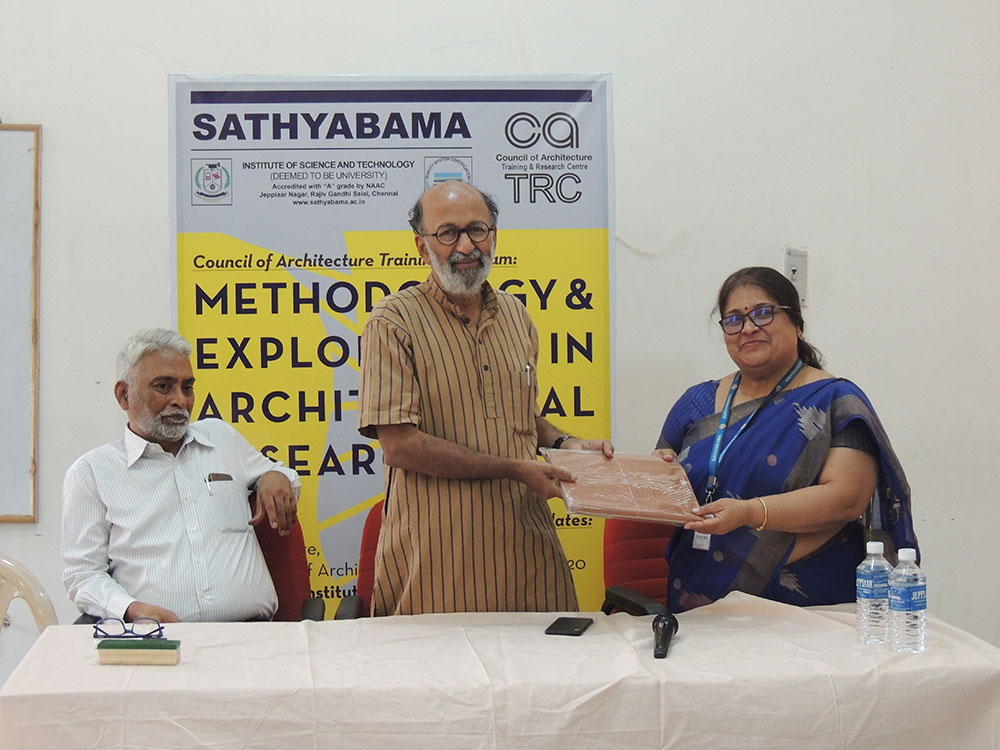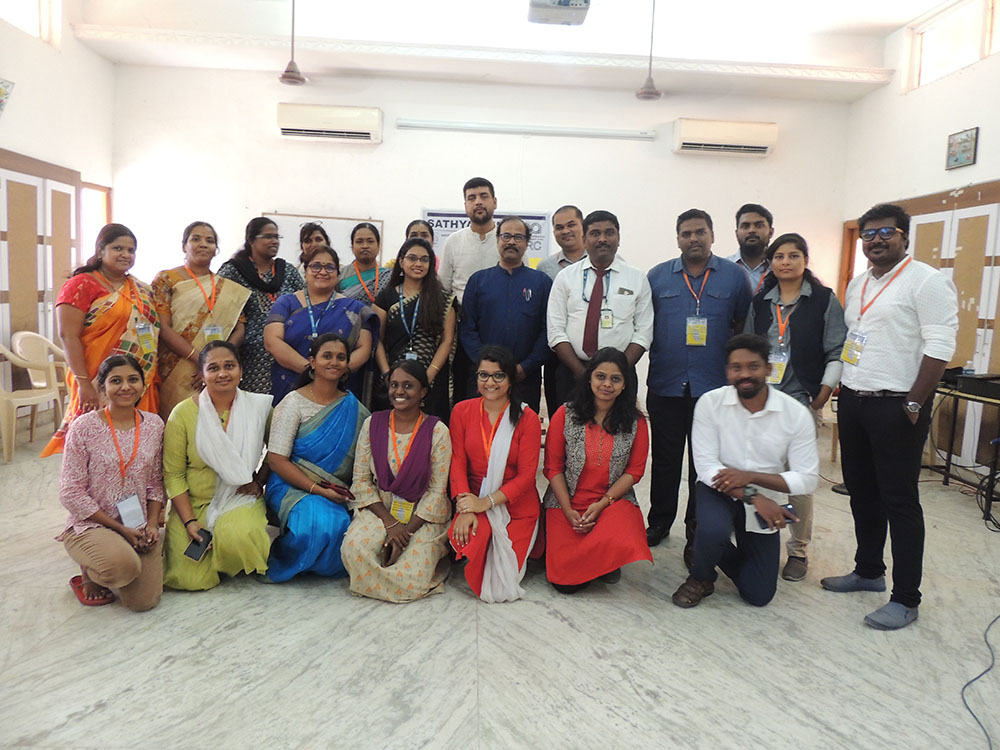 Valedictory function with Ar. Sathya Prakash Varanashi upon completion of the Faculty Development Programme.
Zonal Level NASA Convention:
GRIGORA 2018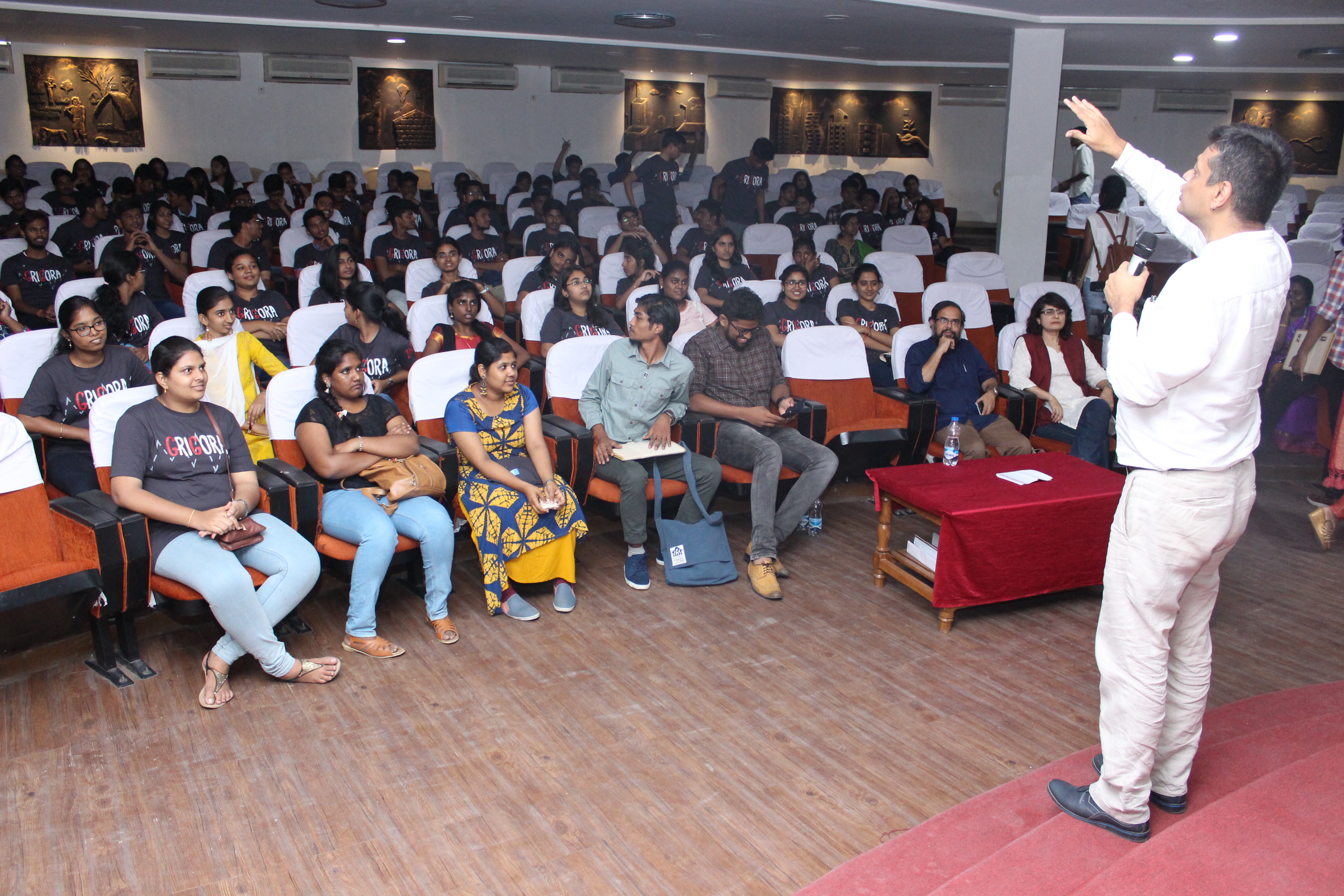 Eminent guests addressing our students during Grigora 2018 Zonal Nasa Convention.
Placement
Placement list
Here are few of our students who have been placed in various Architectural offices and companies globally.
| | | | |
| --- | --- | --- | --- |
| Name of the Alumni | Degree | Position | Placement/Organization |
| P. Karthik Kannan | B.Arch | Architect / Director | KKV group of companies |
| Anitha | B.Arch | Chief architect | Vibgyor |
| C. Ezhil Maran | B.Arch | Principal Architect | Arann Architects |
| Cynthia Susan Dimpu | B.Arch | Associate | Pithavadian and Partners |
| DHIVYA.J | B.Arch | Assistant professor | Rajalakshmi school of architecture |
| Sriranjani srinivasan | B.Arch | Assistant Professor | MEASI Academy of Architecture |
| Shikhar Singh | B.Arch | Principal architect | a+ud |
| ARUNKUMAR. P | B.Arch | Proprietor | JAK DESIGN'S & BUILD'S |
| Shreelalitha | B.Arch | Asst professor | ISA, Bengaluru |
| Jehu Villavarayar S | B.Arch | Assistant Professor | Mohamed Sathak AJ Academy of Architecture |
| Mahila Christopher | B.Arch | Utility Specialist 2 | State of Ohio |
| Judy Vinodhini.M.Ravikumar | B.Arch | Chief Architect | L&T Construction |
| RAAKESH NATARAJAN | B.Arch | Director | COOKSCAPE |
| Jeyavel Gandhan | B.Arch | Architect | V Dot Design |
| Sathyabama | B.Arch | Assoc. Prof | Impact school of architecture |
| Monisha Martin | B.Arch | Architect | C R Narayan Rao Architects |
| Kamal Chand | B.Arch | Architect | Kamal Chand |
| Arvind kumar | B.Arch | Director | Designhaaus Pvt. Ltd. |
| Manjari krishnamoorthy | B.Arch | Assistant Professor | SRM IST KTR |
| Naveenbalajie | B.Arch | architect | DNArchitects |
| Avinash S K | B.Arch | Senior BIM Architect | Studio Parametric |
| P.M.Preetha | B.Arch | Senior Architect | R.Chakarapani & Sons |
| Ashwathy Radhakrishnan Nair | B.Arch | Business Development Manager | Starlight Shipping L.L.C |
| P.M.Preetha | B.Arch | Senior Architect | R.Chakarapani & Sons |
| Yasin Ahamed M. S. | B.Arch | Managing Director | 4th Dimension Creations Pvt. Ltd. |
| Sathyabama alumni | B.Arch | HOD | Sree Sastha School of Architecture |
| Diwakar Kaushik | B.Arch | Sr General Manager & Lead Masterplanner - South | CBRE |
| Siby | B.Arch | Associate Professor | Acharya Institutions |
| Abraham Abraham | B.Arch | Architect | Hamerkop design studio |
| Vidhya Ramkumar | B.Arch | Architect | Homelane. |
| Lisjo Sunny Thekkanath | B.Arch | Sr. Architect & Technical Coordinator | LANE (Salini Impregilo group of companies) |
| Anushya rajaram | B.Arch | Proprietor | AV Designs |
| T Ganesh Sharada | B.Arch | Regional Transformation Head | Oyo |
| Hanna Raju | B.Arch | Principal Architect | Locus Architecture Studio |
| Henya Stephi | B.Arch | Associate professor | care school of architecture |
| DhivyaJ | B.Arch | Assistant Professor | Rajalakshmi School of Architecture |
| Karthick KA | M.Arch | Architect | FOURSPACES |
| Ibrahim. E | B.Arch | Project Head | AL RAWDHA ENGINEERING CONSULTANTS LLC, SHARJAH, UAE |
| Apeksha Mehra | B.Arch | Assistant Architect | North Delhi Municipal Corporation |
| Arun Madhav M | B.Arch | Chief architect | Rm am architecture |
| Chitra Prabha Karthikeyan | B.Arch | Assistant Professor | Crescent School of Architecture |
| Niharika Shyam | B.Arch | Assistant project lead | Jones Lang LaSalle (JLL) |
| Roopa Sree Ram | B.Arch | Architect | Taamaesek engineering consortium |
| Keerthana k t | B.Arch | Architect | K T Dinesh babu Associates |
| DINESH RAGHAVAN E S | B.Arch | Associate Professor | School of Architecture, Vellore Institute of Technology |
| Juhi Newton | B.Arch | Interior Designer/ Architect | Peril Interiors |
| S.Mirunaalini | B.Arch | Interior Designer | Livspace |
| LATHISH punitharaj | B.Arch | Architect | Amitdesignstudio |
| Mohamed Ashish Gafoor | B.Arch | Principal Architect | ESS EMM DESIGN |

Our Entrepreneurs
| | | | | |
| --- | --- | --- | --- | --- |
| Name of the Alumni | Degree | Year - Passed Out of Sathyabama | Employment/ Studies Status | Present Employer Name |
| Navin Lucas Sebastian | B.Arch | 2016 | Entrepreneur | Navin architects |
| Godfrey J | B.Arch | 2017 | Entrepreneur | G2 architects and interiors |
| Karthick KA | M.Arch | 2018 | Entrepreneur | FOURSPACES |
| Dhivakar Ramachandran | B.Arch | 2018 | Entrepreneur | Orange Ink's |
| Vignesh k | M.Arch | 2018 | Entrepreneur | Turn key projects |
| Ramesh pillai | M.Arch | 2018 | Entrepreneur | Design and build |
| LATHISH punitharaj | B.Arch | 2019 | Entrepreneur | Amitdesignstudio |
| Mohamed Ashish Gafoor | B.Arch | 2019 | Entrepreneur | ESS EMM DESIGN |
| Samritha Yogesh | B.Arch | 2019 | Entrepreneur | Fi-desighn and development private limited |
| Deepika | B.Arch | 2019 | Entrepreneur | 7k constructions |
| Judah michal | M.Arch | 2019 | Entrepreneur | K&J Architects |
| Samritha | M.Arch | 2020 | Entrepreneur | ELA GREEN |
Being an architect is the epitome of being an entrepreneur. Here are some of our students who have become budding entrepreneurs in their field.
Student's Work
Basic Design- First Year Studio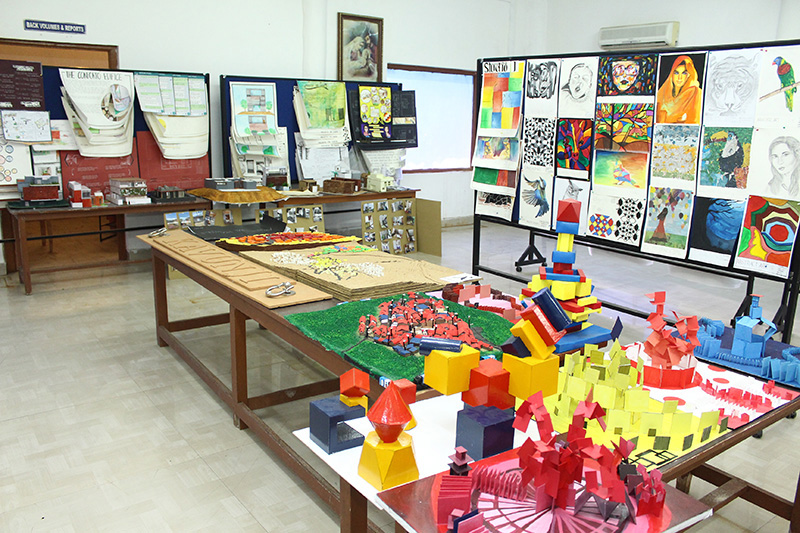 Display of models and sheets of students from the first year.
Model- First Year Studio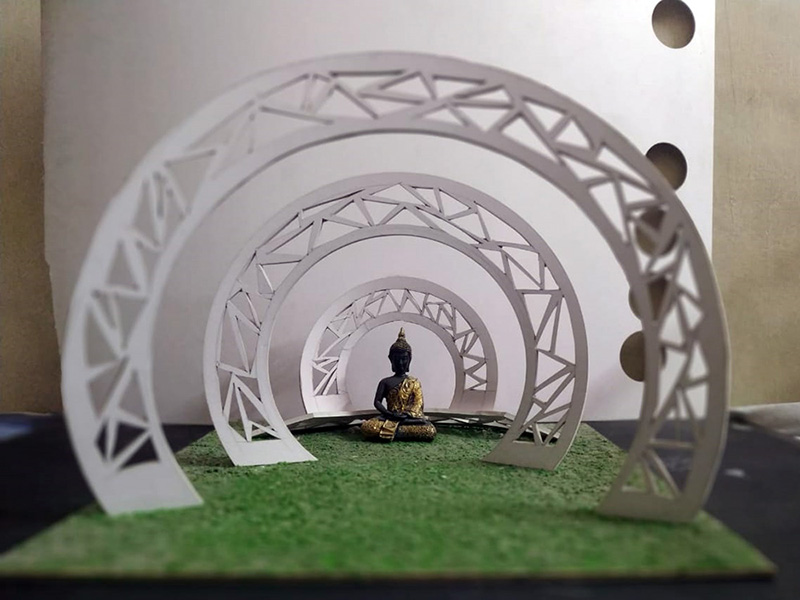 Pavillion design model by first year students
Paper cup models- First Year Studio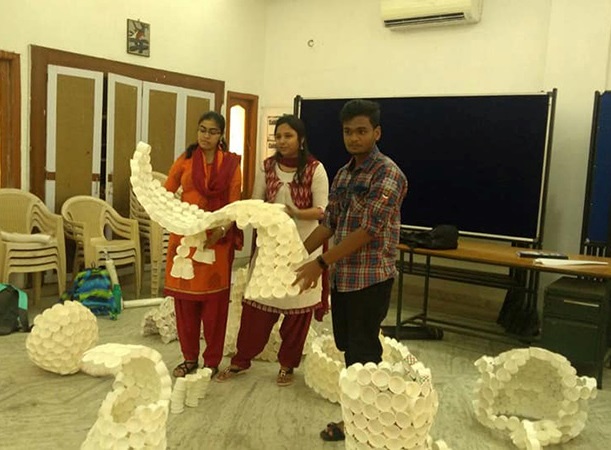 Students making large paper cup structures at the model making workshop.
Documentation and Survey- Second Year Studio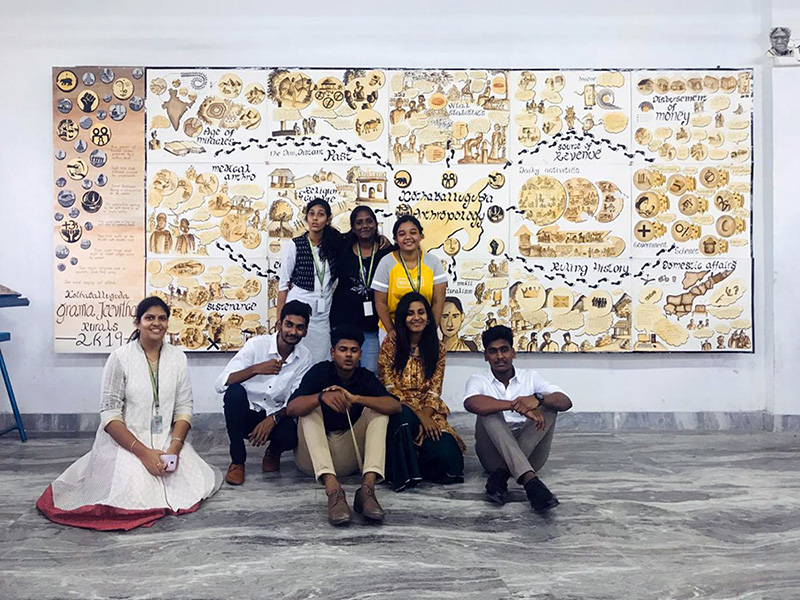 Students with the display of their rural documentation studio sheets.
Terracotta mosaic murals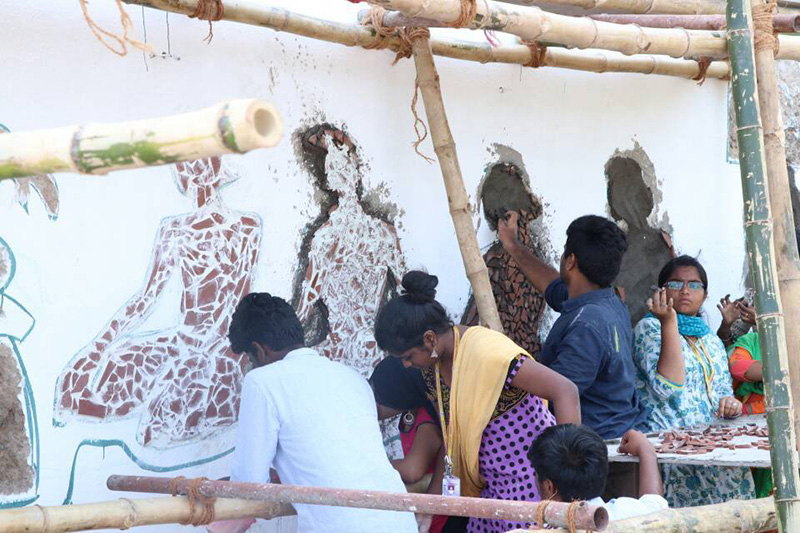 Students working on a terracotta mosaic mural at our construction yard
Thesis- Final Year
3 dimensional visualization of final year student thesis project
Terracotta Workshop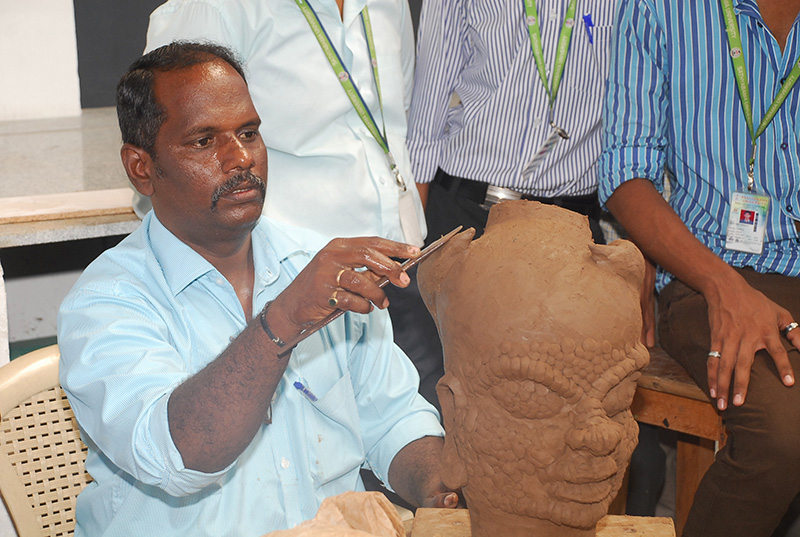 Master artisan teaching students sculpting techniques with terracotta
Ferrocement Workshop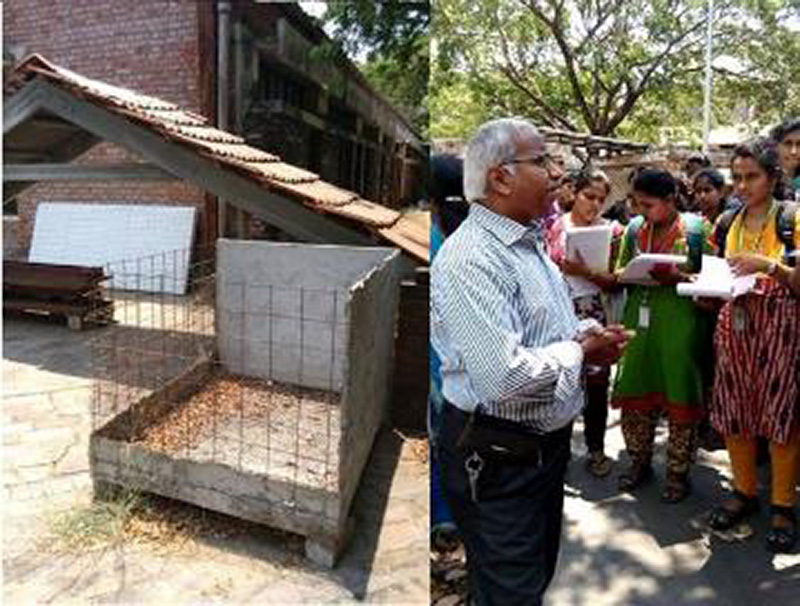 Structural specialist explaining ferrocement construction techniques
Arch Building Workshop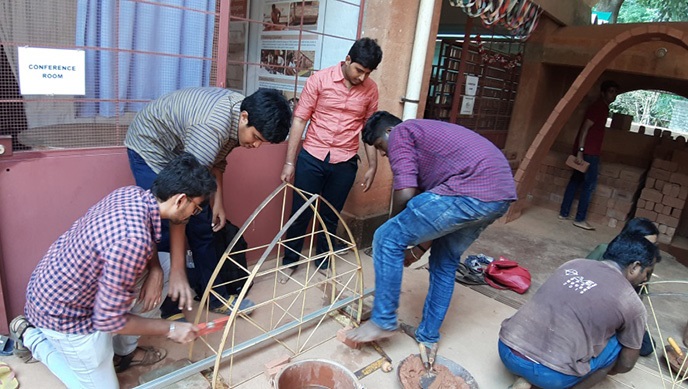 First year students exploring hands-on traditional arch building techniques.
Bamboo Construction Workshop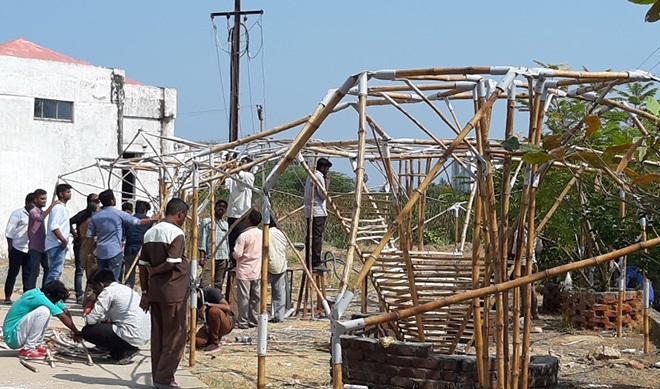 Bamboo construction and joinery being taught to students at the construction yard
Rammed Earth Workshop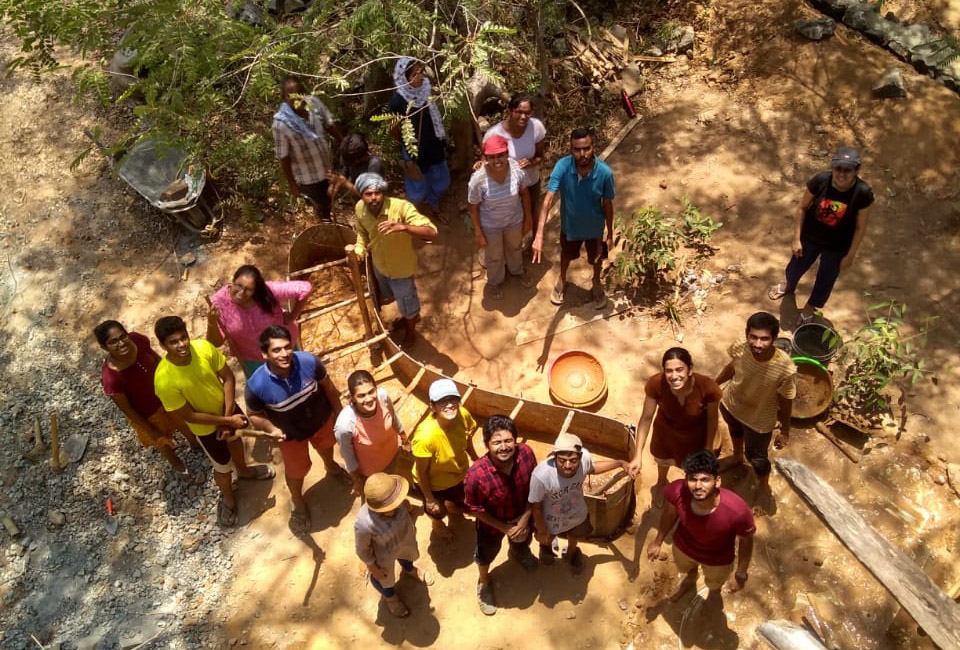 Our students on site learning about building various rammed earth elements.
Curriculum
The Architecture degree programme have a choice based credit curriculum with syllabi consisting of core theory, studios and Electives. The Program is revised every year to meet the needs and trends of the industry
General core subjects comprising of Mathematics, Mechanics of Structures, History of Architecture, Theory of Architecture, Building Materials, Urban Housing, Project Management, Specification and Estimation, Contemporary Architecture, Introduction to Human settlements, Professional Practice etc,
Studio oriented subjects comprising Building Construction, Building Services, Interior Design, Climatic Design, Site Planning, Structures & Construction etc
Distinguished Alumni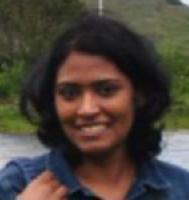 Ar. Antoinette Charles (2003-2008), Glasgow Caledonian University, UK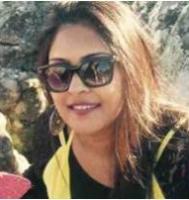 Ar. Anuradha Koka (1994-1999), Director, Grids Contracting & Décor, UAE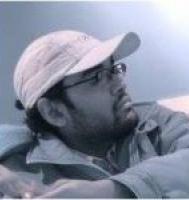 Balaji L (1998-2003), Jacobs Engineering Group, London, UK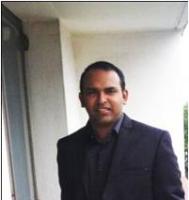 Jack Chandy (2003-2008), Chief Architect, Chandy Consultants, Kerala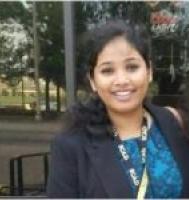 Roshni Cheriyan (2008-2013), SCAD Collaborative Learning Center, Georgia
Dr.Devyani Gangopadhyay B.Arch.,MTP.,P.hD
Dean - School of Building Environment
+91 9840753787 / 044 - 24501837 Extension:5602