School of Bio and Chemical Engineering

Welcome to the School of Bio and Chemical Engineering!
The School of Bio and Chemical Engineering is committed to provide the students with a wide range of opportunities in the modern world. The School of Bio and Chemical Engineering comprises of Biotechnology, Biomedical Engineering, Bioinformatics and Chemical Engineering departments. The various undergraduate programs offered by the school include B.Tech. in Biotechnology, B.Tech. in Biomedical Engineering, B.Tech. in Chemical Engineering, B.Sc. Biotechnology, B.Sc. Microbiology, B.Sc. Biochemistry and B.Sc. Data Science and Bioinformatics. To promote higher education, the following postgraduate programs are also offered by the school; M.Tech. in Biotechnology, M.Tech. in Medical Instrumentation and M.Sc. in Data Science and Bioinformatics. The school fosters Ph.D. in bioengineering, Chemical Engineering and life sciences.
The departments are equipped with state-of-the-art technology to empower the students compete in the global arena. The school aims to inculcate the students with value education and ample practical skills. The strength of the departments lies in the academic laboratories with adequate instrumentation to impart practical technical skills to the students. A wide range of laboratories including the basic Biochemistry laboratory to the advanced Molecular Biology laboratory reinforces theoretical knowledge. The Chemical engineering laboratories comprising of Environmental Engineering laboratory, Mass transfer laboratory, Fluid mechanics laboratory and Chemical reaction engineering laboratory aids in practical learning. The Biosciences laboratory along with the Electronic devices laboratory and Biotherapeutic laboratory ensures effective learning of Biomedical concepts. A biocomputing laboratory satisfies the need for computer-enhanced technical knowledge transfer. The faculty members publish research papers in impactful journals in synergy with research centres. A central research facility - CBiRD (Centre for Bioresource Research and Development) is a place for promoting research amongst the faculty and students.
The School has entered an MoU (Memorandum of Understanding) with various industries wherein collaborative research and training for students in real-time under industry conditions are provided. A steady placement record of the school, above 90% every year, provides a direction for the aspiring graduates. The study abroad programme ensures a launchpad for the students who would want to pursue higher studies abroad. In coordination with the Technology Business Incubator cell of Sathyabama, young entrepreneurs are nurtured leading to startups. By promoting extracurricular activities (NSS, NCC, YRC and other student development cell activities) the school ensures all-round development in the students.
Program Offered
B.Tech. - Biotechnology
B.Tech - Biomedical
B.Tech - Chemical
B.Sc - Biotechnology
B.Sc - Microbiology
B.Sc- Bioinformatics and Data Science
B.Sc -Medical Lab Technology
B.Sc -Clinical and Nutrition and Dietetics
M.Tech - Biotechnology
M.Tech - Medical Instrumentation
M.Sc- Bioinformatics and Data Science
The Department of Chemical Engineering at Sathyabama Institute of Science and Technology is committed to excellence in teaching and research built over the last 20 years. The expertise faculty members engaged in providing a quality programs in chemical engineering education, R&D activities and expert consulting support to process industries. The Department is provided with state-of-the-art research equipment facilitates to do research. The research ecosystem in the Department continues to grow healthier as research scholars grow in number. The Department has strong links with industry and international collaborations ensure the research and continuing education. The alumni are important stakeholders and have provided bighearted support in different ways.
Research
Funded Projects
Publications
Patents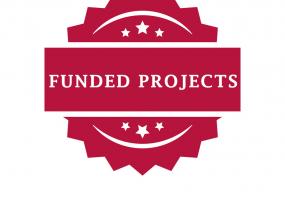 Funded Projects
The Chemical Engineering Department & Research Centers actively engage with various academic departments and encourage interdisciplinary research. All research projects are funded by extramural agencies like DST, DBT, ISRO, DRDO, etc., The various ongoing research projects are given below: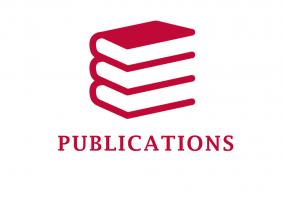 Publications
The research outcome of Chemical engineering department Sathyabama Institute of science and technology in terms of publications in international journals is increasing exponentially.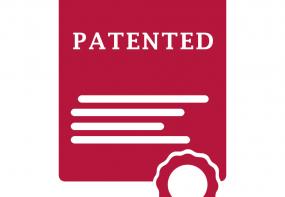 Patent
A patent is a form of intellectual property that gives its owner the legal right to exclude others from making, using, selling and importing an invention for a limited period of years, in exchange for publishing an enabling public disclosure of the invention. In most countries patent rights fall under civil law and the patent holder needs to sue someone infringing the patent in order to enforce his or her rights.
With regards to Sathyabama Institute of Science thereby encouraging the faculty and researchers to engage in innovative research leading to patents.
The faculty members based on the research work carried out at SATHYABAMA have filed the following patents:
Vision
We empower the student community to maximize their potential for the development and transfer of technical competence in the field of Chemical Engineering through academic and research excellence extending service to the mankind.
Mission
To produce socially responsible chemical engineers of high academic pursuit who will contribute to challenges and improvement of process industries worldwide.
To excel in research with an in-depth knowledge of core principles for providing solutions in process industries.
To enhance the experienced learning in collaboration with esteemed National and International Institutes/ Universities/ Industries.
To develop sustainable solutions for the societal needs.
Program Educational Objectives (PEO's)
PEO1: Excellence in Carrier: Compete globally with strong domain knowledge, updated with modern technology to provide effective solutions for engineering problems.
PEO2: Professional Expertise: Design of plants and process equipments with research attitude, lifelong learning, investigative approach and multidisciplinary thinking.
PEO3: Exercising leadership: Exhibit strong managerial and communication skills to work efficiently as individual as well as in teams.
PEO4: Societal Contribution: Succeed as an entrepreneur and as environmental developer/consultant to solve the practical problems.
Programme Outcomes (PO's)
PO1 Engineering knowledge: Apply the knowledge of mathematics, science, engineering fundamentals, and an engineering specialization to the solution of complex engineering problems.
PO2 Problem analysis: Identify, formulate, review research literature, and analyze complex engineering problems reaching substantiated conclusions using first principles of mathematics, natural sciences, and engineering sciences
PO3 Design/development of solutions: Design solutions for complex engineering problems and design system components or processes that meet the specified needs with appropriate consideration for the public health and safety, and the cultural, societal, and environmental considerations.
PO4 Conduct investigations of complex problems: Use research-based knowledge and research methods including design of experiments, analysis and interpretation of data, and synthesis of the information to provide valid conclusions.
PO5 Modern tool usage: Create, select, and apply appropriate techniques, resources, and modern engineering and IT tools including prediction and modeling to complex engineering activities with an understanding of the limitations.
PO6 The engineer and society: Apply reasoning informed by the contextual knowledge to assess societal, health, safety, legal and cultural issues and the consequent responsibilities relevant to the professional engineering practice
PO7 Environment and sustainability: Understand the impact of the professional engineering solutions in societal and environmental contexts, and demonstrate the knowledge of, and need for sustainable development
PO8 Ethics: Apply ethical principles and commit to professional ethics and responsibilities and norms of the engineering practice.
PO9 Individual and team work: Function effectively as an individual, and as a member or leader in diverse teams, and in multidisciplinary settings.
PO10 Communication: Communicate effectively on complex engineering activities with the engineering community and with society at large, such as, being able to comprehend and write effective reports and design documentation, make effective presentations, and give and receive clear instructions.
PO11 Project management and finance: Demonstrate knowledge and understanding of the engineering and management principles and apply these to one's own work, as a member and leader in a team, to manage projects and in multidisciplinary environments.
PO12 Life-long learning: Recognize the need for, and have the preparation and ability to engage in independent and life-long learning in the broadest context of technological change.
Programme Specific Objectives (PSO's)
Chemical Engineering graduates will be able to:
Evaluate and develop solutions with research abilities in process safety, process systems engineering, applied thermodynamics and biochemical engineering.
Demonstrate sound understanding of Chemical engineering fundamentals to solve practical problems using Heat and Mass transfer, process control and engineering economics.
Design and develop green technology to address pollution problems and energy demand for sustainable environments.
Students
Sathyabama Institute of Science and Technology places emphasize on co-curricular and extracurricular activities These activities are student centered and primarily aims to supplement regular curricular activities.Its goal is to represent the student body in making the study experience as rewarding and enjoyable as possible.
Department Highlights
The Department of Chemical Engineering has well experienced faculty members and expertise in various domains.
The Department is determined to nurture new technocrats and create leaders and entrepreneurs who can bring value added to the chemical industries.
The Department has aligned with goals and objectives to make students employable through holistic education and skill development.
The faculty members possess high standards of professional ethics and are pioneered in setting up education standards at par excellence by inducting the ideas from the expertise's and our Alumni who are working with Leading Multinational companies globally.
The faculties of the Department are continuously progressing in research and receiving funds from various R&D and Government organizations for carrying out research.
The total fund generated was Rs.122.67 lakhs- and funded by DST, ISRO, MHRD Govt. of India.
The Faculty members have published more than 125 research articles in high impact journals.
The credentials of the publications are (8 Books and Chapters, 50 Web of Science Journals, 98 Scopus and 24 in SCI journals) in peer reviewed indexed Journals during the last three assessment years from 2017-2020.
The department holds citation count of 600, and cumulative Impact factor of 129.19 .
Faculty members and students conducted and participated in events associated with professional bodies like IEEE, IIChE, ISI, IAEnG etc.
The faculty members themselves actively involved in nourishing their knowledge by attending courses (75 altogether courses in past 3 years) offered at SWAYAM, online courses like Coursera, Udemy and University of Harvard etc.
The faculty members as a mentor encouraged and motivated the students to attend online courses. The faculty members are also reviewers in more than 5 High impacted Journals.
In addition to these credentials the faculty members are honored and have received awards by various registered societies.
International Relations
Centre for Academic Partnership & International Relations is an initiative of Sathyabama Institute of Science and Technology devoted to promote academic alliances with Universities and Institutes at National and International level. The Centre establishes a link through Memorandum of Understanding to facilitate Research Collaboration, Student Exchange Programmes and Faculty Exchange Programmes.
Insights
Collaboration and MOU's
Facilities
Department of Chemical Engineering, Sathyabama Institute of Science and Technology signed a MOU with SEED FOR SAFETY on 17th Feb 2020. The MoU will facilitate hands on training and internship program for the B.Tech students. It will also paves the way to work effectively and to assist each other to carry out their roles and responsibilities in HSE's (Health, Safety and Environment), BBS (Behaviour Based Safety) and in Industry Safety auditing.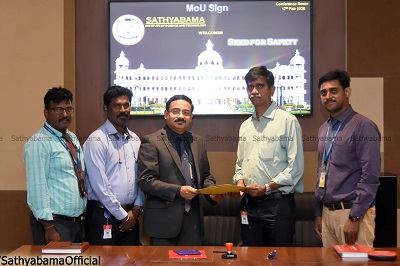 STUDENTS SEMESTER ABROAD PROGRAMMME
Department of Chemical Engineering Student is at Universiti Malaysia, Pahang for Semester Abroad Programme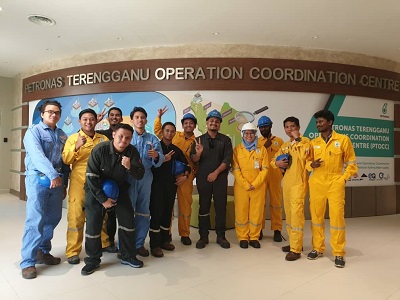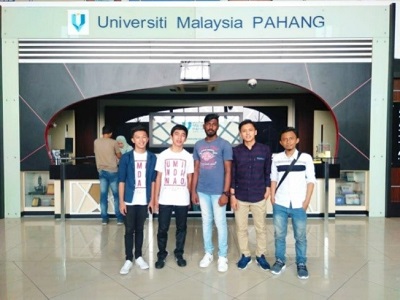 Corporate Actions & Responsibility towards Environmental Sustainability (CARES) an awareness programme for Chemical Engineering students with Korean Students pursuing Corporate Social Responsibility (CSR) Projects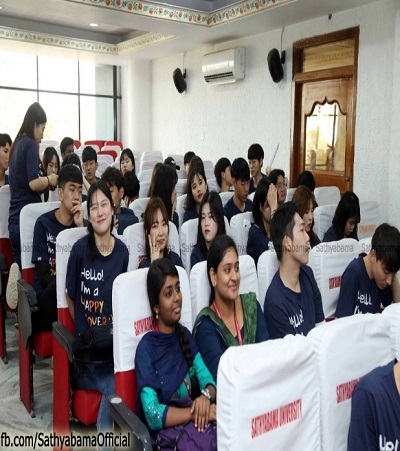 Ms.Deepika Davulluri (Alumni- 2012-16 batch) during her NASA Visit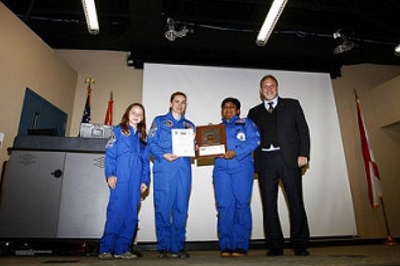 Frontier lecture series by Dr.Rowland Travis from University Of Nottingham on Fuel cells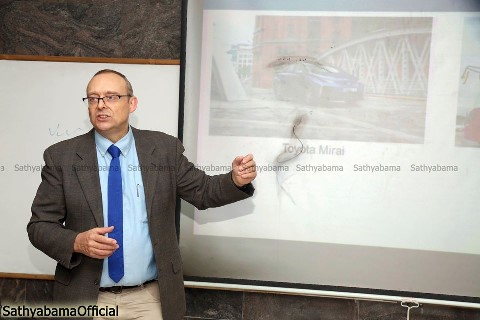 SMART CLASS ROOMS
The classrooms are well designed rooms to incorporate everything needed for a pleasant learning atmosphere. The wide spacious classrooms contain a white board, a smart board and a projector that is used for teaching. So, a professor can switch to different modes of teaching which may not be monotonous and the lectures are put across in the best way possible. This hi-tech equipment enables our faculty to conduct classes in a way that enable students to make use of every available resource from one point at the click of a button. These classrooms are also often used for seminars and events from time to time
SOLAR COOKING SYSTEM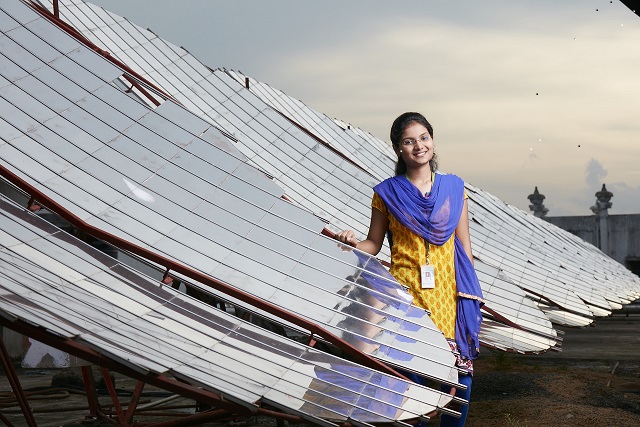 A unique solar cooking system is very convenient to cook and can easily be moved around. It uses a compound parabolic collector to generate heat and this heat is transferred for cooking.
Laboratories
Mass Transfer Lab: The basic concepts of diffusion and leaching. To enhance the practical knowledge of industrial equipments, students perform the practicals on Distillation Column, Solid-Gas and Liquid -Gas contact equipments.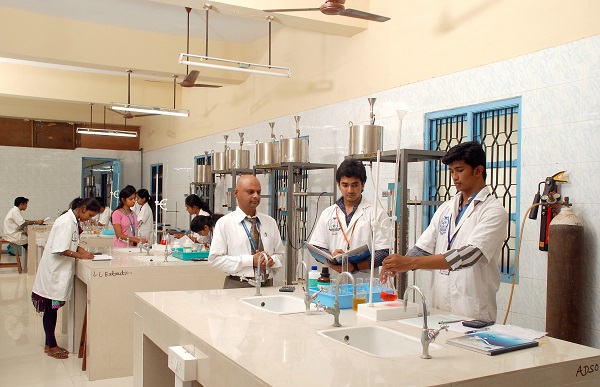 Chemical Reaction Engineering: To demonstrate the students with various types of reactors and to study about the applications of principles of chemical reaction engineering.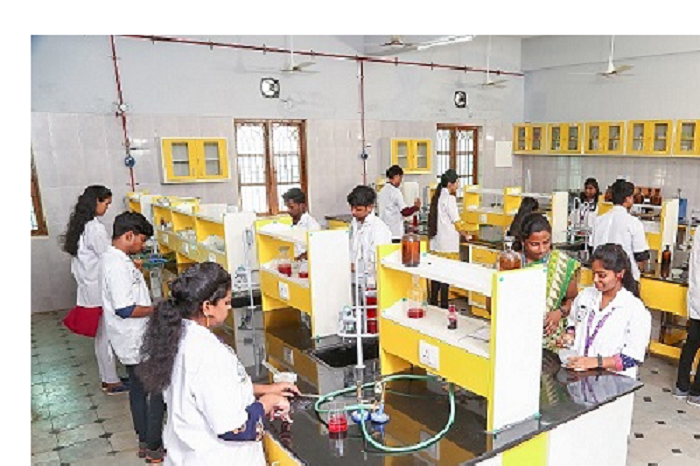 Organic Process Laboratory-To demonstrate the students with various types of synthesis of organic compounds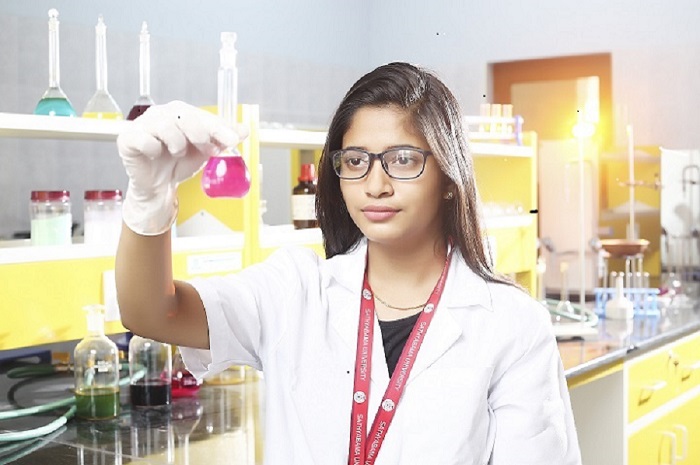 Technical Analysis Laboratory - The course covers the hands-on experience on most of the basic analysis used in the process industries.
Events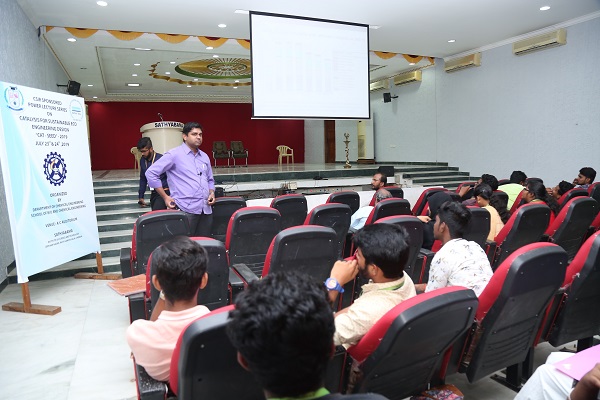 CSIR Sponsored Power Lecture Series (23.07.2019 -24.07.2019) -Professor Vinu, Department of Chemical Engineering, Indian Institute of Technology, Madras.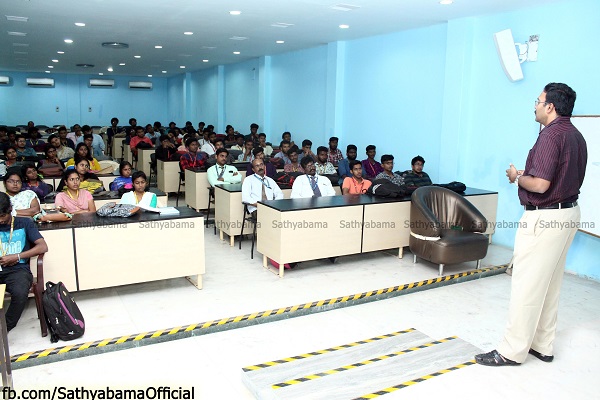 Guest Lecture- Dr.Vignesh Muthu Vijayan (IIT-M) on 8th September 2017. It is a way of enriching our students with the latest updates of the Industries and Technicalities. We Invite Eminent personalities form various Industries and Institutions to lend valuable Information from their Experiences to our students.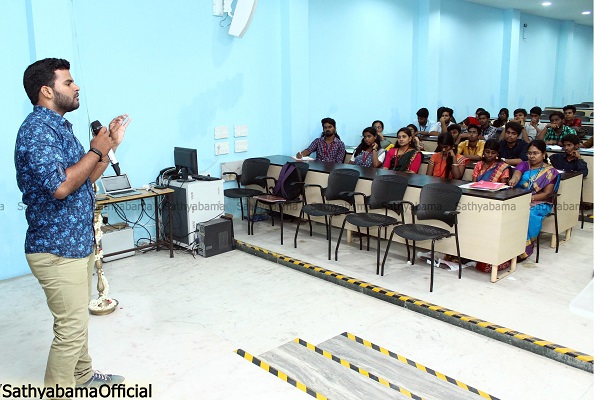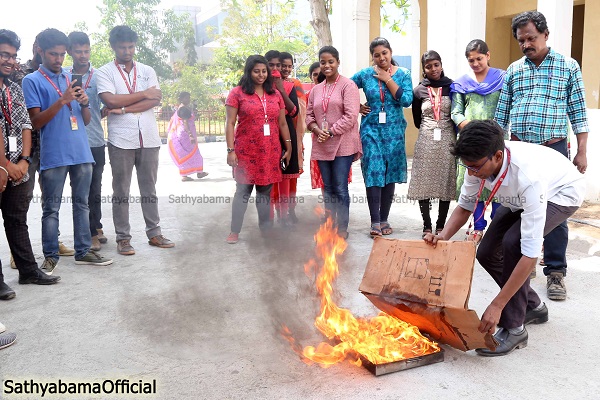 A workshop provides a way to create an intensive educational experience in a short amount of time, when the time for a more comprehensive effort may not be available.(12th April 2019) "Hands on Training-Fire and safety on 15-16 th September 2016"
Curriculum
The course curriculum introduce students to core Chemical Engineering courses such as inorganic chemical technology, momentum transfer, process calculation, organic chemical technology, physical chemistry, transforms and partial differential equations, Chemical Engineering thermodynamics, particulate science and technology, Corrosion engineering, fluid mechanics lab, physical chemistry lab. Chemical Engineering involves designing, manufacturing and operating machinery and plant to achieve large-scale industrial chemical, biological and related processes. Moreover, professionals in this field are working to translate chemical information to formulate designs of valuable products. This makes Chemical engineering one of the most popular and lucrative career options for students who are discovering something new about the nature of the world. The Chemical Engineering Syllabus covers some of the specialized disciplines of Science and Mathematics in order to develop a greater depth of Chemical Engineering skills, knowledge in the field and complete a wider range of project work. Chemical Engineering courses are delivered through a combination of lectures, seminars, tutorial, extensive practical lab work, project work (for individual and group) and computer practice sessions. The degree is provided on completion of a substantial research and development project or presentation. Here is a list of syllabus for Chemical Engineering and subjects covered under undergraduate Regular and Part time programs respectively:
An overview of the curriculum for undergraduate regular and part time programmes is available from the following link.
UG (PART TIME)
Distinguished Alumni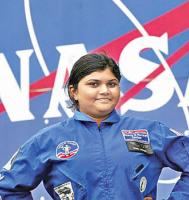 Ms. Deepika Davuluri (2012 BATCH) Indian | ISEI Ambassador | Co founder Cosmagen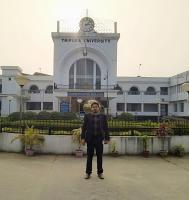 Dr.Harjeetnath (2008 BATCH) Assistant Professor, Dept of Polymer and Chemical Engineering, Tripura University.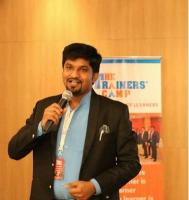 Mr.Abhishek Jhawahar (2009 BATCH) Director National Abacus & Life Skills at Udhyam Shala EduSupport Pvt Ltd.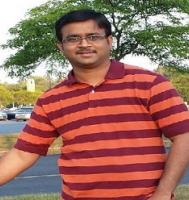 Mr. R.Rajan (2004 BATCH) SAP Project Manager, HCL-Axon Technologies, Texas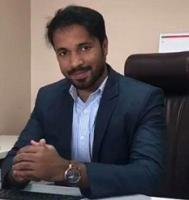 Mr.Mohammed Sheriif 2009 (BATCH), Maintenance Engineer, Aramco Drilling Operations, Saudi