School of Science & Humanities

The school of Science and Humanities since its inception in the year 1988, functions with a team of committed faculty members who strongly believe in imparting quality education through the courses of basic science and humanities, catering the requirements of Engineering, Science and arts students.  With the passage of time, the role of the Department has widened quite significantly. Currently, the   school  of Science and Humanities,  houses various programmes like Physics, Chemistry, Maths, English, Psychology and Viscom that are offered at Under Graduate, Post Graduate and PhD level. All the programmes offered under this school, actively engage in student research activities enabling and preparing the students to the societal and industrial needs. Apart from the programmes offered, an extensive array of study areas are facilitated through institutional and industrial collaborations. 
Programme Offered
B.Sc - Mathematics
B.Sc - Chemistry
B.Sc - Physics
B.Sc - Psychology
B.Sc - Visual Communication 
B.A - English
B.Com - General
B.Com - Financial Accounting
B.B.A
M.Sc - Mathematics
M.Sc - Chemistry
M.Sc - Physics
M.Sc - Visual Communication 
M.A - English
The Department of Chemistry was started right from the inception of Sathyabama in the year 1988. Initially, the department was inducted to teach undergraduate engineering courses of the Institute. The department has started its research programme in the year 2001 and established the undergraduate and post graduate courses in the year 2015. Ever since, it has spread its wings in multi-directional research with a cutting edge technology in health care treatment, industrial catalysis and in socially relevant research projects in water and wastewater treatment using nanotechnology. It has well-established laboratories equipped with sophisticated instruments, which fulfill the needs of PG and Ph.D students. The department has highly qualified faculty and more than 20 Ph.D students. It has doctorates from reputed institutions like IIT, NIT CECRI, NML, etc. and published more than 160 research papers in reputed journals with high impact factor. h-Index of the department is 17 (as on 2019). The department has undertaken many research projects funded by CSIR, ISRO, DST and IGCAR.
85
Average Placement Percentage
Research
Funded Projects
Publications
Patents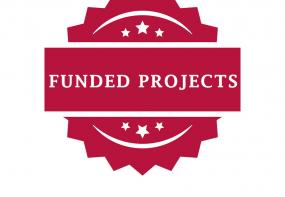 Projects
The Faculty members are expertise in the area of material chemistry, catalysis, bio-inorganic chemistry and supramolecular chemistry with a focus on providing solutions to real world problems in tackling cancer to energy crisis thereby creating an impact in the welfare of the society.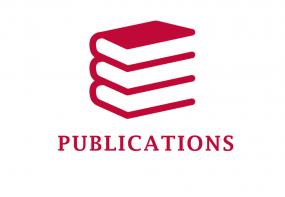 Publications
As per the UGC guidelines, Faculties are focused to publish research and review articles in SCI / WOS journals of National / International repute to expose their research in national and international arena.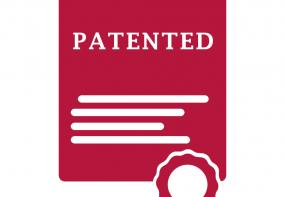 Patents
Patents ignites a culture of research and innovation which stimulates commercialisation and entrepreneurship leading to generation of funds for future research initiatives.Patent creates a positive environment to move bench scale lab research to market place at larger scale. The department has filed two patents
1.Sustainable and Environmental Benign Biodiesel-Diary Waste Scum and Eggshell/seashell (Application Number 201741043884)-Published.
2. Development of polymer Nanocomposite for EMI shielding application.(Application Number-201911054049)-Filed
Vision
"To explore new frontiers in chemical sciences through innovation and collaboration"
Mission
To inspire and educate undergraduate and postgraduate students in chemistry by providing a platform to solve the challenges of global significance.
To discover, create and understand basic scientific concept in chemistry by fostering research aptitude among students.
To build partnership with industries as solution provider by collaborating both within and external to Sathyabama.
To develop and strengthen ties between our Alumni by providing diverse tangible benefits and to inspire students and graduates.
To cultivate our young brains as professional competence leaders by infusing ethics and moral values in their careers.
Program Educational Objectives (PEOs)
PEO1:To strengthen the fundamental principles of chemical sciences with modern experimental and computational skills.
PEO2:To mould student graduates to solve the practical problems relevant to environmental, safety, ethical and socio economic aspects.
PEO3:To produce chemistry graduates with good managerial skills to demonstrate leadership qualities.
Program Specific Objectives (PSOs)
PSO1:Students get expertise in inter-disciplinary research to solve cutting-edge problems at the interface of chemical sciences and engineering technology.
PSO2:The students acquire knowledge in theoretical and practical tools to exemplify in academic and research organizations.
PSO3:The students are trained to transcend competitive examinations to pursue research and higher studies in globally recognised institutions.
Program Outcomes (PO)
PO1:Students will be able to explore new areas of research in both chemistry and allied fields of chemical science and technology.
PO2:Students will be able to integrate chemical science as life long learning tools for addressing social, economic and environmental problems.
PO3:Students will be able to function as a member of an interdiciplinary research.
PO4:Students will be able to communicate and defend the results of scientific work in oral and electronic formats to public at large.
Department Highlights
Department has well qualified staffs from reputed Government and central Government institutions.
h-index of the Department is 17 with Highest Impact Factor of 12.06.
Members in professional bodies like ACS, INSA.
Generated an income of around 1 crore through Funding agencies.
PG students are placed in well reputed pharmaceuticals companies, research labs with a placed record of 85% and an annual income is 4-5 lakhs.
Social activities " Out reach" in association with Tamil Nadu Government for imparting NEET coaching to under privileged and economically stressed students.
Dissemination of science to young minds by" School on wheels" under Government Bharat Unnat Abhiyan.
Students
Sathyabama Institute of Science and Technology places emphasize on co-curricular and extracurricular activities These activities are student centered and primarily aims to supplement regular curricular activities.Its goal is to represent the student body in making the study experience as rewarding and enjoyable as possible.
International Relations
Centre for Academic Partnership & International Relations is an initiative of Sathyabama Institute of Science and Technology devoted to promote academic alliances with Universities and Institutes at National and International level. The Centre establishes a link through Memorandum of Understanding to facilitate Research Collaboration, Student Exchange Programmes and Faculty Exchange Programmes.
Insights
Collaboration and MOU's
Facilities
An MOU was signed with International Institute of Biotechnology and Toxicology (IIBAT) on 2nd August 2017 to foster opportunities for collaborative research, research consultancy, joint publications, guest lecture, industrial visits and to develop interdisciplinary project.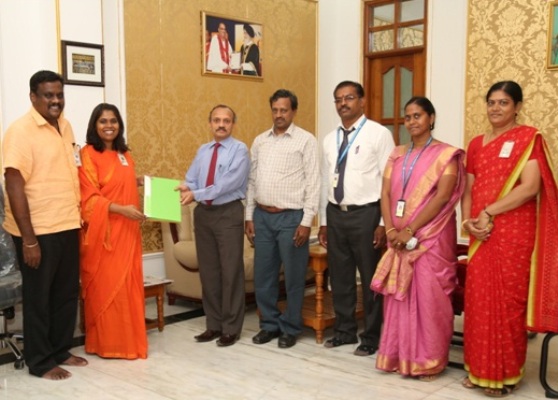 The chemistry laboratory is designed for wet chemical analysis involving the preparation of solid and liquid samples suitable for further analysis by sophisticated instrumentation. Vacuum Rotatory Evaporator used for concentrating and purifying the samples with subsequent analysis in NMR, GC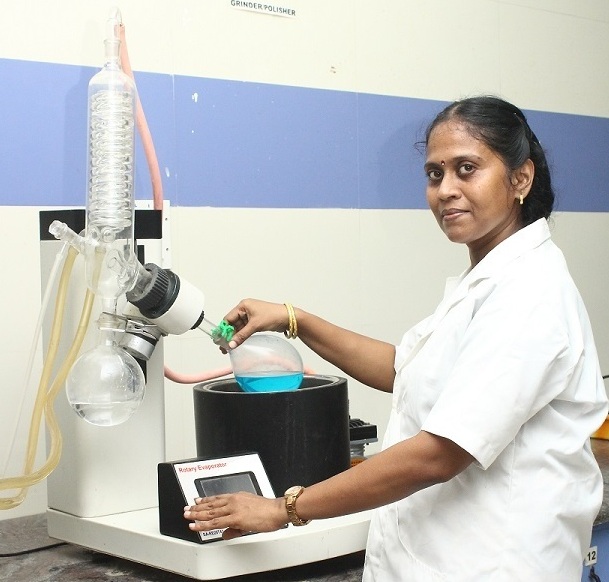 Experiments on preparation of volatile samples and catalyst are carried out inside a fumehood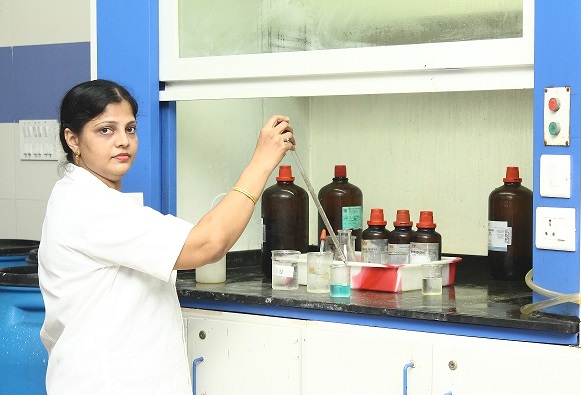 Chemistry Laboratory
The chemistry laboratory is designed for wet chemical analysis, catalyst preparation by wet chemical methods. It houses traditional equipments which includes glasswares, muffle furnace, air-oven equipment, pH meters, conductivity meters, potentiometers, bench scale photocolorimeters for the preparation of solid and liquid samples and standards suitable for further analysis by sophisticated instrumentation. It can accommodate 160 students with a spacious area of 14000 sq.ft.area.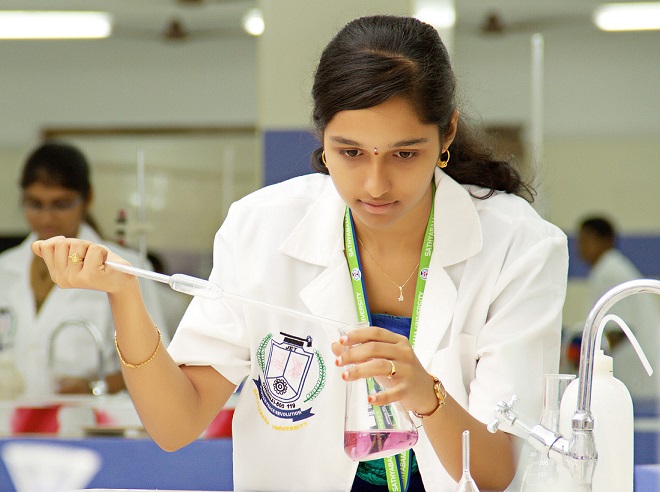 Events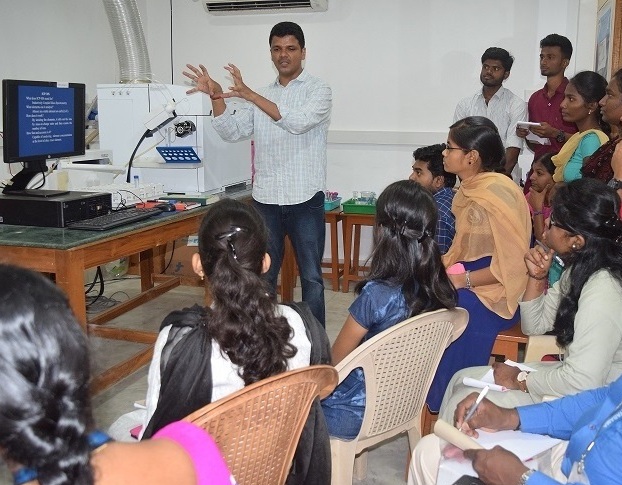 Dr.T.Y Suman. addressing the participants by explaining GC-MS and ICP-MS in "Instrumental Methods of Analysis" organized in association of Ministry of Earth science to promote Interpretation of spectroscopic results among post graduates students.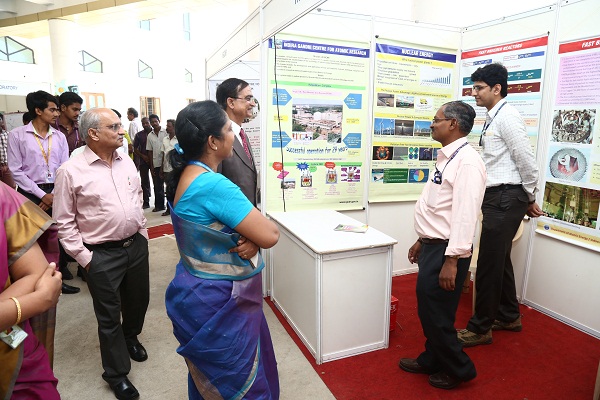 Dr.B.Sheela Rani, Director-Research, SIST interacting with the participants on the current scenario of nuclear energy in Nuclear Energy- Environment, Demand and Supply (NEEDS-2016).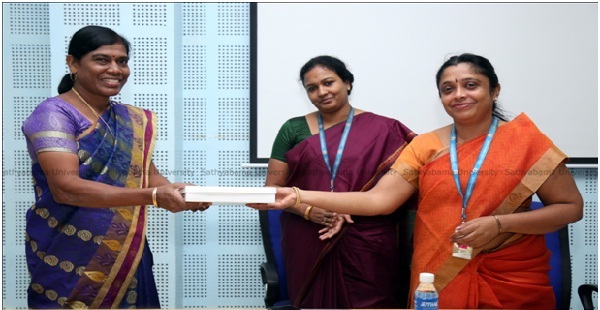 Dr.S.Thamaraiselvi, Professor, CIDT, Anna University receiving Memento from Dr. B.Sheela Rani, Director Research, SIST seen along with them Dr.T.Sasi Prabha, Vice Chancellor of SIST in Women Empowerment through Science and Technology (2016)
Dr. K. Chennakesavulu interacting with the participants and give an insight on surface morphology of materials in Workshop on Interpretation of Instrumental Methods- WIIM 2017.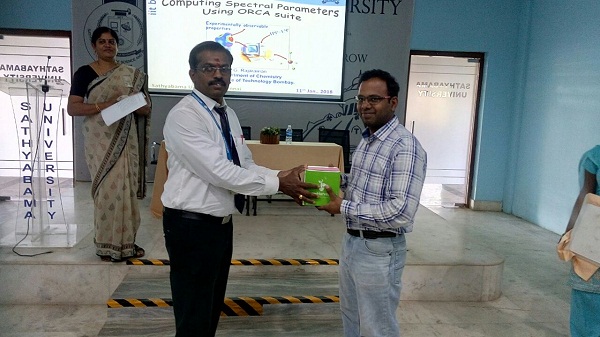 Dr.J.Karthikeyan presenting a Memento to Dr.G.Rajaramam, IIT Mumbai in Challenges and Advances in Computational Chemistry- CACCh
Curriculum
The curriculum strives to provide a strong scientific technical foundation in defining problem and act as solution provider for industrial requirement. For Bachelor's programme, the student must complete a 10 core subjects with an average credit of 90. The programme offers equal importance to mathematics, physics and humanities to compete with competitive examinations. For Master's programme, the student will be exposed to equal weightage in physical, organic and inorganic chemistry domains to meet the industrial requirements.
My Saturday University
'My Saturday University' is designed for school students aged 8 to 16 years to explore their curosity, creativity, knowledge in wide variety of university level courses. It helps them to enrich their potential both academically and socially which pave way to prepare for their university life.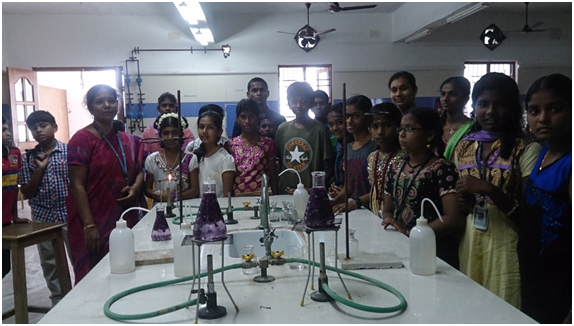 School Students are given hands-on-training in wet chemistry lab in preparing pH paper and testing on samples
Faculty Fellowship
Sl. No.

Name of Faculty

Name of the Institute

Duration

Sponsored by

Remarks

1

Dr.V.Kavitha

BARC, Mumbai

56 days

2017

Indian Academy of Science, Bangalore.

Summer Fellowship

2

Dr. K. Chennakesavalu

University of Madras,

26 days

2016

UGC - HRDC

UGC FDP – Orientation programme

3

Dr.J.Karthikeyan

IITB, Mumbai

56 days

2015

Indian Academy of Science, Bangalore.

Summer Fellowship

4

Dr. K. Chennakesavalu

University of

Hyderabad

24 days

2015

UGC – HRDC

UGC FDP – Refresher course

5

Dr.M.Kannan

University of Madras,

56 days

2016

Indian Academy of Science, Bangalore.

Summer Fellowship
Faculty Exchange Programme
Staffs are motivated to hone their skills by collaborating and associating with foreign universities through faculty exchange programme. Staffs are encouraged to upgrade themselves in both research and academics through Staff mobility programme and Col. Dr. Jeppiaar Research exchange programme
Dr.J.Karthikeyan, Head, Department of Chemistry was addressing the Faculty of Health Sciences students at POWISLANSKI UNIVERSITY, Kwidzyn in POLAND as a part of STAFF MOBILITY PROGRAM-Eramus+- during 20th May to 25th May, 2019.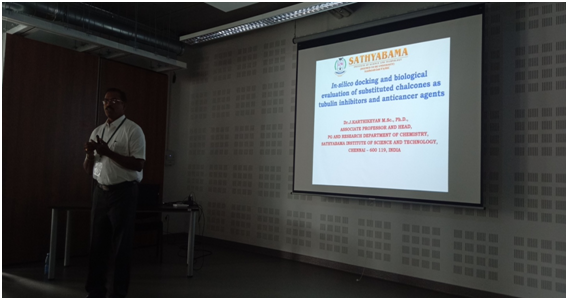 Dr.J.Karthikeyan presented the topic of "INSILICO DOCKING CHARACTERISTICS OF CHALCONS ON TUBILIN BINDING"at POWISLANSKI UNIVERSITY, Kwidzyn in POLAND as a part of STAFF MOBILITY PROGRAM-Eramus+- during 20th May to 25th May, 2019.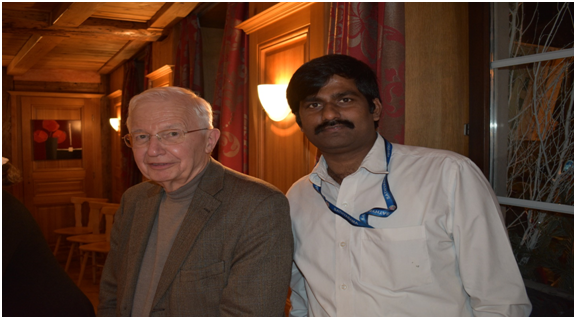 Dr. K. Chennakesavulu, Associate Professor , Department of Chemistry, Sathyabama Institute of Science and Technology is working in Laboratory of Prof. JEAN MARIE LEHN(NOBEL LAUREATE IN SUPRAMOLECULAR CHEMISTRY IN 1987) at Institute of Supramolecular Science and Engineering, University of Strasbourg, Strasbourg, France as a part of Col. Dr. Jeppiaar Research exchange programme.
Distinguished Alumni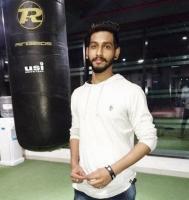 B. Karthik(2017) Research Executive, SOLARA Active Pharma Science Ltd, Chennai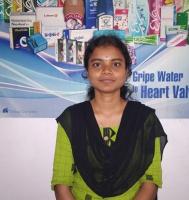 Sangeetha(2018), Quality Chemist, TTK Health Care Ltd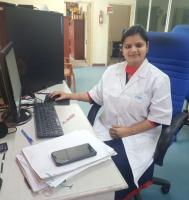 Dr.S.Anitha(2015), Scientific Officer, Department of Forensic Sciences, Chennai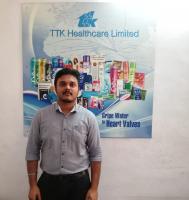 Boopathy R,Quality Chemist, TTK Health Care Ltd, Chennai.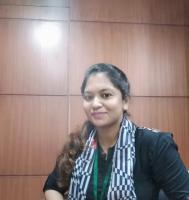 Jacintha Mary (2020),Research Trainee, PAR Formulations Pvt.Ltd., Chennai.