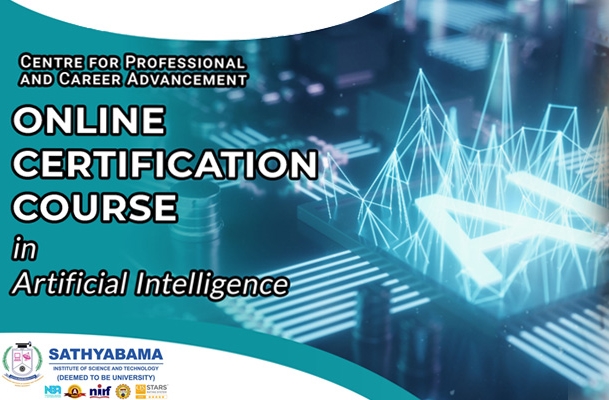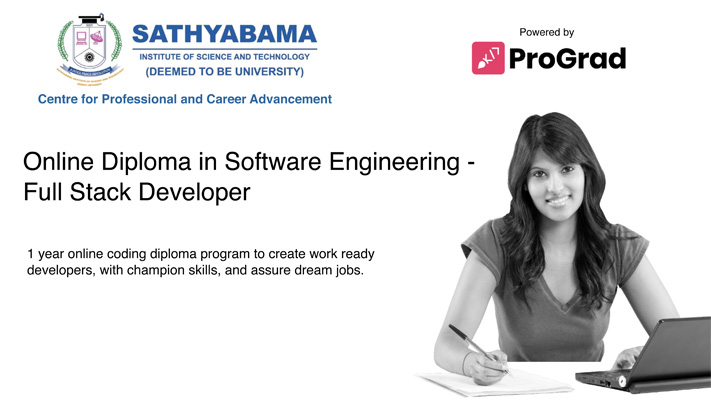 In line with the Government of India initiatives, to make higher education available and affordable to all, Sathyabama Institute of Science and Technology through the establishment of the Centre for Professional and Career Advancement has devised a mechanism to offer value added Technology and Skill based programs for Graduates who are in their mid-career as well as for the students who are already pursuing an Engineering or Science. The Centre for Professional and Career Advancement will be the first of its kind to offer Certification, Diploma and Graduate Courses by providing Choice Based Credit System (CBCS) for the selection of courses in the program and with a Problem Based Learning Approach (PBLA) in the relevant areas of demand.
The Centre will function as an autonomous body in the Institution governed by separate Guidelines and Regulations for the Conduct of online entry level examinations, Admission process, Online Video Lectures/Face to Face Contact Classes, Proctored Online Examinations, Assessments, Submission of Assignments, Quizzes, Projects etc., Sathyabama Institute of Science and Technology having expertise in Engineering, Technology, Paramedical Sciences, Media Sciences and Management through the Centre for Continuing Education will offer Programmes catering to need of freshers, early and mid-career professionals to become competent and stand an edge ahead among their peers graduating from other institutions.
Vision and Mission
Vision
To provide a life-long learning platform for all aspiring learners in order to reskill or upskill their knowledge and become an industry-ready workforce through a systematic approach.
Mision
To connect the digital and software applications in all fields of Engineering, Technology, Science and Management in order to facilitate effective online education.
To make the expertise and state-of art digital and infrastructure facilities of the institute available to takers across the globe
To enhance the placement and job elevation opportunities for the takers of the Programmes.
To effectively translate the collaborations established with reputed industries and other partnering organizations by imparting knowledge on real time applications
To cater to the needs of student communities who have discontinued education by providing them Skill based Vocational and Technology related courses that will make them eligible for employment in a short span of time.
Our Programs
Sathyabama Centre for Professional and Career Advancement, offers the following Online Certification / Diploma programmes
Admissions
Eligibility Criteria: Completion of any UG Degree course from any university recognized under UGC.
1. Degree Entry The learner who wants to acquire a Bachelors or Master degree through online will join through this degree entry mode.
There are three exit options for those who enter the program via Degree Entry mode:
Exit 1. Certification after completing 6 months / one semester satisfying credit requirement.
Exit 2. Diploma with specialization based on the electives selected after completion of 1 year/2 semesters satisfying credit requirement.

 
2.Certification / Diploma Only Entry
This certification / Diploma Only Entry are targeted to assist learners or working professionals who already hold a degree and who wish to improve their mid career. The learners admitted through this entry mode cannot continue any degree courses. They acquire a certification or Diploma from Sathyabama Institute of Science and Technology.
Courses Offered
1.Artificial Intelligence (AI) Certifications
Sathyabama Centre for Professional and Career Advancement is offering Specialised Certification courses on Artificial Intelligence and Data Science. The certifications are offered for applications of Artificial Intelligence in various domains. The courses would be offered by faculty along with Industry Experts.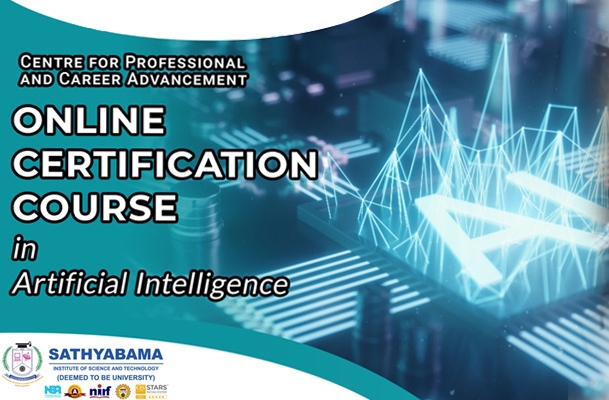 Specialization certificate programs
AI and Data science for Cloud Services
AI and Data science for Cognitive Technologies
AI for predictive modeling and analytics
AI for Robotics and Automation
AI for Assistive Healthcare
AI for Guided Investments
AI for Innovative Investment
AI for Effective Governance
AI for Biomedical Sciences
2.Online Diploma In Software Engineering - Full Stack Developer
This program offered by the Centre of Professional and Career Advancement, Sathyabama Institute of Science and Technology in association with ProGrad is designed to create developers who can be readily deployable in the industry.
In this journey, a student is taught a concept which is cemented via hands-on programming. This program takes this a step further by exposing students to real-world projects. These real-world projects are built into the curriculum. Further using tools and techniques like pair programming we bring the student close to a real work-environment.
We ensure all round development by a learn-by-doing approach in which students are put in a rigorous hands on environment including labs with prewritten test cases and building projects with real-life use cases.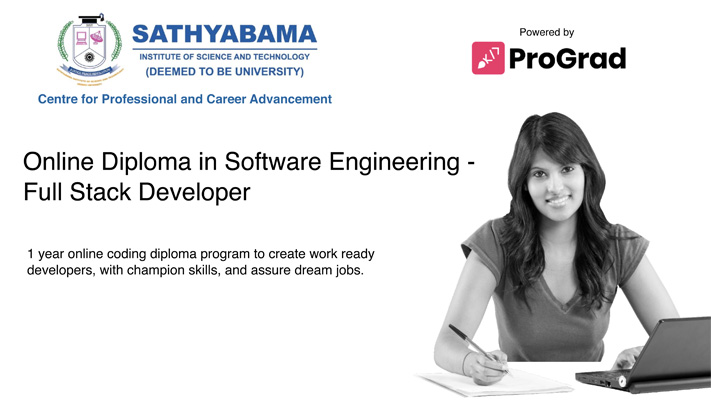 Team
Chair Person
Dr. T. SASIPRABA  ,Vice Chancellor
Coordinators
Dr. Nandhitha. N.M,Dean, School of Electrical and Electronics Engineering
Dr. B. Bharathi,Professor, Department of Computer Science and Engineering
Dr. V. Vijaya Baskar,Professor and Head, Department of Electronics and Tele Communication Engineering
Dr. Dawn. S.S,Scientist E and Professor, Centre for Waste Management
Dr. Krupakar Parthasarathy,Scientist D and Associate Professor, Centre for Drug Discovery and Development
Mr. Kaja Bantha Navas,Assistant Professor, Department of Mechanical Engineering,
Contact Us
Centre for Professional and Career Advancement
Sathyabama Institute of Science and Technology(Deemed to be University)
Jeppiaar Nagar,Chennai-119, Tamil Nadu
Phone Number:+91 44 24503814, +91 94436 56637, +91 94446 57879
E-Mail:[email protected]